Can Indoor Playgrounds use Robots to Take Care of Children in the Future?
Views: 4967 Update date: Jun 25,2017
Thanks to the advancement of modern technology, our society, mostly witnessed by people's life, has taken on great changes. For example, with the help of modern automatic machines, we can now travel from one place to another in several hours by train or bus, we can send a message to people far away within several seconds, and we can get a lot of housework done by washing machines or vacuums. Probably we can say that people nowadays can't live a very comfortable life without these automatic helpers. It seems that machine can even do things much faster and more efficient than human beings. Therefore, some people put up a assumption that whether robots can be used to take care of kids in the indoor playgrounds in the future. Can robot work better than babysitter in the indoor playgrounds? Let's talk about it in the following passage.
On the one hand, it is true that robots can't take the place of human beings no matter how smart they are designed, and there are unavoidable emergencies that the robots broke down or ran out of power. But we can't deny the fact that robot can arrange things faster and better than babysitters in some situations. Indoor playgrounds, as a busy and noisy place, needs stuff who can work in high efficiency so that nothing goes wrong. Babysitters, however, can't pay attention to all the children in the area because he will get tired after work for a longtime. Then robots can do a pretty good job is this aspect and make sure every kid plays within their sight in the indoor playground.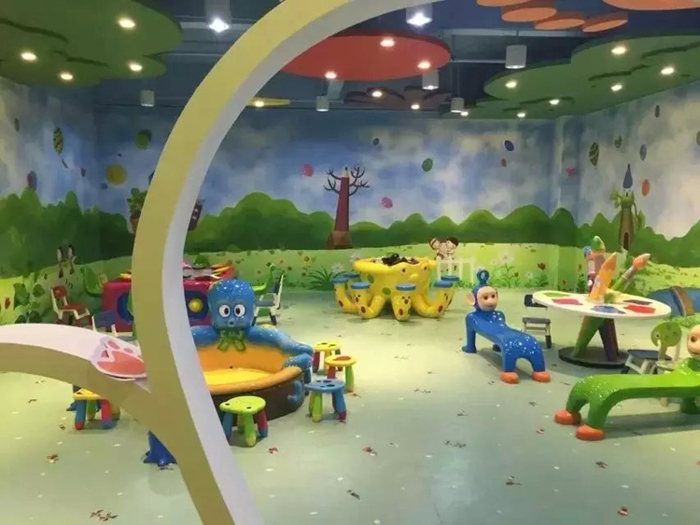 On the other hand, robots are to the like of most children in the indoor playgrounds, which means that kids will find it more interesting to be surrounded by automatic robots rather than babysitters. While robot is following the direction given by kids, they at the same time amuse the kids and make it easier for kids to obey the rules in the indoor playground. Robots are actually a part of children's toys in the indoor playgrounds. But the difference lies in that they are set with procedures to protect the kids. Babysitter, smarter as they are, they can function as something to children's liking.
In conclusion, I believe it is okay to use robots in the indoor playgrounds to take care of children in the near future. However, every coin has two sides, so does indoor playground. So it will be wiser for people to take a careful though before put the use of robot into practice.
Copyright Reserved by Angel Playground Equipment Co.,Ltd.
Comments

Nestor Says:
Buenos dias, Agradezco mas informacion sobre sus productos, precios, proceso y tiempo de entrega. Gracias

Angel Playground Equipment CO.,LTD Says:
Gracias por su mensaje, ¿habla inglés?, por favor revise su correo electrónico para los equipos de cooperación y el proceso de inicio de este negocio

Megan Says:
Catalogue Please

Angel Playground Equipment CO.,LTD Says:
Hi Gegan, Have sent, pelase check!

SAKTHI R Says:
happy morning! I m from India (Chennai). I have plan to open indoor play station for children in my area.

Angel Playground Equipment CO.,LTD Says:
Hi Sakth, Nice day! We are pleasure to make proposal for your indoor playground, please check our reply to your email for process.

Braden Bills Says:
I want to make sure that my kids have a fun place to play. It makes sense that I would want to get some fun playground equipment for that. That seems like a good way to ensure that I handle things correctly.

Angel Playground Equipment CO.,LTD Says:
Thanks for your comment, If anything we can help you please let me know.

Jasmine Jordan Says:
Looking for grant for indoor swing for kids

Angel Playground Equipment CO.,LTD Says:
Hi,Jasmine, Please check our reply for price list in email, please confirm items and quantity.
Leave a Reply
Your Phone & Email address will not be published. Required fields are mareded*