Interiérová hřiště, dětské hřiště Vnitřní
Views: 2967 Update date: Apr 05,2021
dětské hřiště including včetně Rodinného zábavního centra, měkkého hřiště, hřiště pro batolata,
trampolínového parku, lezecké stěny a kurzu Ninja warrior.
Komerční dodavatel krytých dětských hřišť, jak je uvedeno níže, si můžete vybrat jako
svého obchodního partnera.
1. Indoor Playgrounds International v USA
2. Soft Play v USA
3. Orcacoast play v Kanada
4. Go Play Systems v USA
5. Cheer Amusement v Čína

6. Angel Playground Equipment v Čína
7. KidSteam v USA
8. iPlayCo v Kanada
9. ELI Play v Nizozemsko
10. Worlds of WOW v USA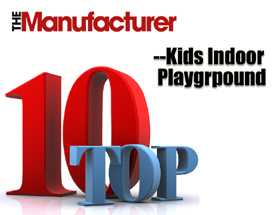 Kliknutím na níže uvedené obrázky navštívíte webové stránky dodavatelů
Pokud hledáte vnitřní sady pro domácí použití, pro vaše vlastní děti doma, měli byste navštívit níže
webové stránky cedarworks.com, wayfair.com, stateofplay.com, Costco, Homedepost, Amazon. Mohou
také provést rychlou dodávku a mohou také vybrat díly a materiály pro kutily sami.
1. Indoor Playgrounds International v USA

Jsme vaším poskytovatelem vnitřních herních struktur a všeho zábavného pro rodinná zábavní centra (FEC). Pomohli jsme
stovkám firem přizpůsobit jejich herní řešení. Pokud hledáte nejlepší kryté hřiště, můžete nás kontaktovat. Jako lídr v oboru
nabízíme více než jen produkt, nabízíme, že se s námi budeme procházet procesem a poskytovat naše bohaté znalosti o tomto
odvětví a o tom, jaké to je provozovat FEC. Náš partner výrobce dodržuje naše vysoké standardy, pokud jde o kvalitu a
bezpečnost, a každé hřiště nastavené k prodeji je kryto 18měsíční zárukou!
2. Soft Play v USA

V roce 1984 čtyři inovátoři v garáži založili Soft Play® aby znovu vystavěl vybavení hřiště. Zakladatelé společnosti vyvinuli alternativu k
tradičním venkovním herním strukturám, rychle přerostli garáž a získali důvěru některých z největších amerických značek. Dnes jsme
globálním lídrem v oblasti vybavení uzavřených dětských hřišť s instalacemi ve více než 60 zemích. Naše odborné znalosti, zkušenosti a
závazek k dokonalosti znamenají, že můžete svým zákazníkům a jejich dětem poskytnout zábavný a pozitivní zážitek.

3. Orcacoast play v Kanada

Společnost Orca Coast byla založena v roce 2004 a je rodinným podnikem, který dnes začal zlepšovat kvalitu a pohodu v oboru. Naše
pověst je klíčem k našemu úspěchu a tomu, co z nás udělalo přední společnost pro vnitřní hry na světě, která svěřila váš podnik. Víme,
že tím, že se skutečně víme o naše produkty a klienty, jsme udělali rozdíl. S možná nejlepším bezpečnostním záznamem, strategií
stažení forexu a nejlepší míru spokojenosti v oboru budete v noci spát snadno s vědomím, že vaše investice je v dobrých rukou.
4. Go Play Systems v USA
Hledáte další informace o společnosti Go Play Systems? Jste na správném místě! Instalovali jsme vnitřní hřiště a zábavní atrakce po
celém světě. Jsme odborníci na 3D design, konfiguraci, temace a instalaci komerčních systémů vnitřních hřišť pro děti i dospělé všech
věkových kategorií! Naši zástupci a projektoví manažeři vás projdou procesem od návrhu až po instalaci a konečnou dodávku. Vaše
spokojenost je naší prioritou číslo jedna. Naše instalační týmy vybudovaly vysoce kvalitní soft play systémy od malých místností až po
masivní sklady a vše mezi tím. Naši 3D designéři jsou odborníky nejen na maximalizaci prostoru, ale také na vytváření bezpečných
prostor pro děti. Náš tým společně spojuje roky zkušeností s úspěšným spuštěním systémů vnitřních dětských hřišť

5. Cheer Amusement v Čína

Cheer Entertainment je jedním z největších výrobců na světě, který se specializuje na návrhy, výrobu a instalace vysoce kvalitního a
cenově dostupného vybavení vnitřních hřišť určeného pro komerční aplikace. Instalovali jsme a dohlíželi na instalace více než 1 000
úspěšných projektů po celém světě a získali jsme velkou popularitu v odvětví vybavení dětských hřišť.
Také spolupracujeme s řadou slavných soft play společností v Severní Americe a Evropě. Abychom byli spokojeni, vždy splňujeme
vysoké standardy a požadavky na kvality a služby těchto společností.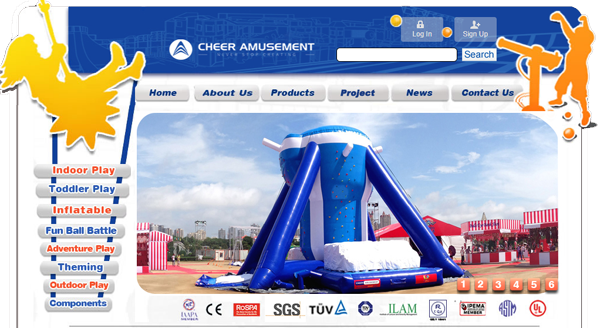 6. Angel Playground Equipment v Čína

Andělské hřiště jsou kombinovány Podnikem vývojové výroby a prodeje. Výrobek má vstupní krásu a design funkcí s nejlepší
charakteristikou kombinace zahraničního a domácího stylu, přátelského a bezpečného hřiště. Všechny výroby jsou vyrobeny z
nehostinných a ekologických surovin, které byly testovány a zkontrolovány přísně před opuštěním továrny, Všechny produkty
splňují bezpečnostní normy pro hřiště CE, ISO TUV atd. Tímto způsobem! Andělská hřiště si získala důvěru zákazníků po celé
zemi v odvětví dětských hřišť. Děti ze 70 zemí si užívají naše vybavení hřiště jako Amerika, Kanada, Brazílie, Panama, Kolumbie,
Holandsko, Finsko, Švédsko, Ukrajina, Rusko, Korea, Španělsko, Itálie, Belgie, Česko, Slovensko, Slovinsko, Řecko, Singapur,
Japonsko, Korea, AU, SAE........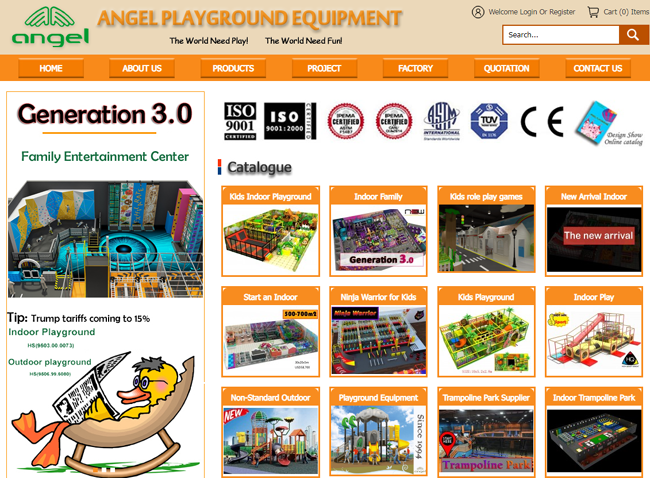 7. KidSteam v USA

KidSteam je mezinárodním lídrem přísných bezpečnostních norem pro vybavení vnitřních dětských hřišť a společností se sídlem
v USA, která navrhuje, vyrábí a instaluje atrakce pro zábavu v místech po celém světě. KidSteam se sídlem v Dallasu v Texasu
navrhuje, vyrábí a instaluje řešení na klíč, která podporují zdraví a celkovou pohodu dětí. Naším cílem je nejen vytvářet zábavná
řešení, která jsou postavena tak, aby vydržela, ale také ta, která nepoškozují naše životní prostředí. Zelená iniciativa KidSteamu
je poháněna našimi "zelenými produkty", jako je naše komerční vybavení vnitřních hřišť a jízdy ručními automobily poháněnými
děti. S nulovou uhlíkovou stopou a obnovitelnou energií nebyl náš závazek v oblasti zdraví a bezpečnosti nikdy větší.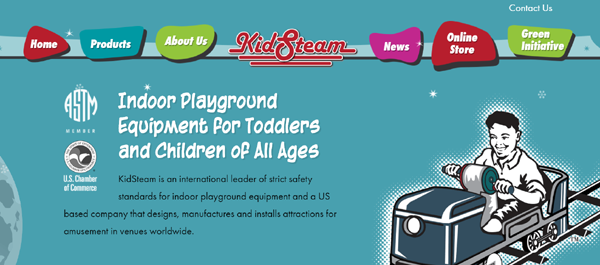 8. iPlayCo v Kanada

iPlayCO má nyní kanceláře a výrobní závody v Severní Americe, Evropě a Asii. Naše severoamerické provozy budou i nadále
zásobovat zákazníky v Americe a po celém světě, naše asijské operace IREC Corporation se zaměří na dodávky zákazníkům v
asijsko-tichomořském regionu. Zákazníci v Evropě budou mít také prospěch z našich výrobních a distribučních operací. Trh
společnosti Iplayco byl vždy globální a nyní budeme mít schopnosti zásobovat naše zákazníky ze tří různých kontinentů. Vyrábíme na
zakázku navržené dětské vnitřní herní struktury z našeho závodu v Langley, Britská Kolumbie, Kanada.Společnost iPlayCO byla
založena v roce 1999 a má roky zkušeností s navrhováním, výrobou a instalací vnitřních a venkovních herních struktur.

9. ELI Play v Nizozemsko
Vítejte v našem dynamickém světě sportu a hry. Jsme předním evropským výrobcem a dodavatelem vnitřních hřišť, trampolínových parků a sportovních kurzů. Všechny naše znalosti a zkušenosti se používají k navrhování, výrobě, instalaci a údržbě vybavení pro vnitřní skoky a hry nejvyšší kvality.
ELI Play, European Leisure Industries, začala v roce 1994 čištěním bazénů. Mezitím se společnost rozrostla na mezinárodního výrobce herní techniky. Naše sídlo a výrobní závod se nachází na jihu Nizozemska (Boxtel), kde působíme s týmem asi 75 zaměstnanců. Kromě toho máme prodejní kanceláře ve Francii, Německu a Dánsku. To za účelem poskytování nejlepších možných služeb zákazníkům po celém světě.


10. Worlds of WOW v USA
Worlds of Wow vytváří směšně chladné tematované prostředí a hřiště. Poskytujeme originální umělecká díla a grafiku, abychom vaše
nápady přivedli k životu! Ať už jste multi-site, mobilní kostel nebo jen dáváte svému prostoru zcela nový vzhled, víme, co to vyžaduje
od úplně první konverzace, když sníme společně, až po úplně poslední hřebík na místě. Milujeme tvůrčí proces spolupráce s vámi
prostřednictvím vývoje konceptů, postav, prvků a příběhů. Je naší úlohou přivést tuto vizi k životu. Naše témata jsou vždy originální,
nikdy si nepůjčená. Od check-inu, po chodby až po velké skupinové místnosti jsou naše témata navržena tak, aby vyprávěla příběh a
vytvářela destinace, kde děti chtějí být. Témata se liší pro každého partnera. Ve Worlds of Wow vás provádíme kreativním briefem,
abyste plně porozuměli své DNA, kultuře, vizi a cílům. To nám umožňuje vytvořit pro vás perfektní téma, které vypráví váš příběh
a odpovídá vaší vizi.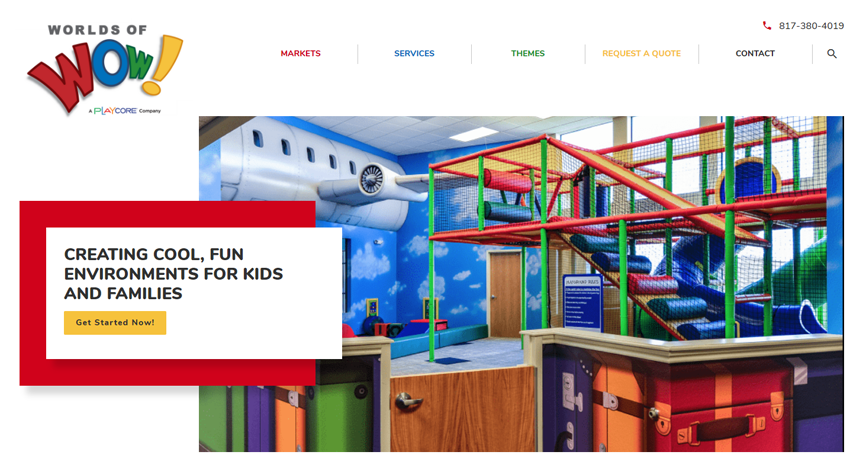 Comments

Juan Says:
Request catalog


Rajit Says:
Already have an indoor playground of 5000sqft, looking for a new outlet, what do you suggest for 15000sqft space?

Angel Playground Equipment CO.,LTD Says:
Indoor Playground is 100% customzied, We will make proposal as soon as you provide layout to us, Please check projects files in your email for reference!

Kerry Somerville-Brown Says:
request for a catalog. Can you send it please? Thank you. Kerry

Angel Playground Equipment CO.,LTD Says:
Hi Kerry: Please check files in your email, we have advise the process of order kids playground, please follow.

Mayra Says:
Buenas tardes me interesa adquirir un área de juegos

Angel Playground Equipment CO.,LTD Says:
Gracias por su mensaje, por favor revise nuestra respuesta por correo electrónico, Esperando obtener más información de su lado

william fore Says:
Looking for the musical items

Angel Playground Equipment CO.,LTD Says:
Hi William: Thanks for your message on the outdoor playsets, Cataloge please check your email.
Leave a Reply
Your Phone & Email address will not be published. Required fields are mareded*