10 best Indoor playground in Little Rock & Fort Smith, Arkansas, USA
Views: 6736 Update date: Oct 23,2021
01 Urban Air Trampoline and Adventure Park

Address: 801 S Bowman Rd, Little Rock, AR 72211

02 DEFY Little Rock

Address 4711 Talley Rd, Little Rock, AR 72204

03 Little Rock Climbing Center

Address:12120 Colonel Glenn Rd #7000, Little Rock, AR 72210

Little Rock, Arkansas, USA
04 Play Town

Address:19800 I-30 #11, Benton, AR 72019

05 Chuck E. Cheese

Address:2706 S Shackleford Rd, Little Rock, AR 72205
06 Share the Love Kidsclub

Address:911 Oak St, Conway, AR 72032

07 The Monkey House

Address:5504 Wheeler Ave #8826, Fort Smith, AR 72901
08 Elevate Adventure Park & Trampolines

Address:2920 S Zero St, Fort Smith, AR 72901

09 Spartan Adventure Park Fort Smith

Address:7601 Rogers Ave, Fort Smith, AR 72903
10 Kid's Play Inflatable Rentals

Address:1216 Knoxville St, Fort Smith, AR 72901
01 Urban Air Trampoline and Adventure Park
If you're looking for the best year-round indoor amusements in the Sherwood, Maumelle, Crystal Hill, Roland, Wrightsville and West Little Rock areas, Urban Air Adventure park will be the perfect place! With new adventures behind every corner, we are the ultimate indoor playground for your entire family. Take your kids' birthday party to the next level or spend a day of fun with the family and you'll see why we're more than just a trampoline park.
Since the beginning, we have always gone above and beyond to keep our guests safe and healthy. We're excited to welcome you to our park and with even more safety measures in place, our guests are thrilled too. Hear from families just like you who've come to Urban Air since we reopened.
Address: 801 S Bowman Rd, Little Rock, AR 72211
Phone: (501) 404-7422
https://www.urbanairtrampolinepark.com/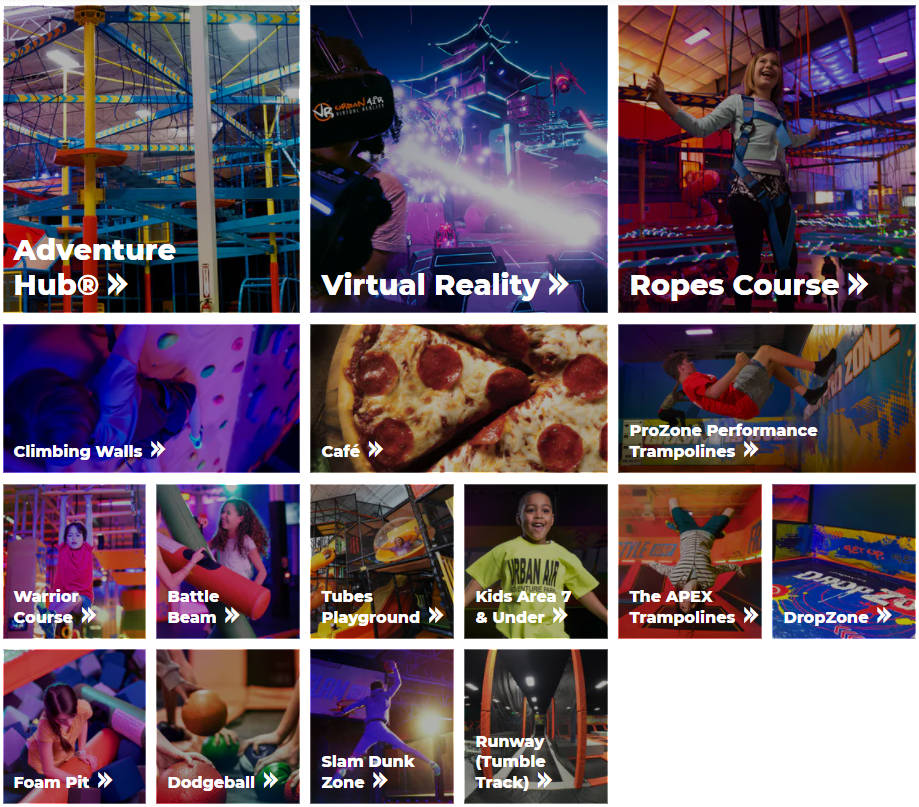 02 DEFY Little Rock
DEFY is an attitude and a rallying cry promoting individualism and freedom from the norm. It's a collection of extreme air sport parks across America that are rewriting the rules of sport — giving our communities a place where they're free to express and push themselves.
Society has tons of expectations and rules, but DEFY gives everyone a safe place to defy those constraints. We're for fiercely independent, fearless individuals who pass on organized sports in favor of nonconforming ones that challenge them in non-traditional ways.
Addres 4711 Talley Rd, Little Rock, AR 72204
(501)313-0100
https://defy.com/locations/defy-little-rock/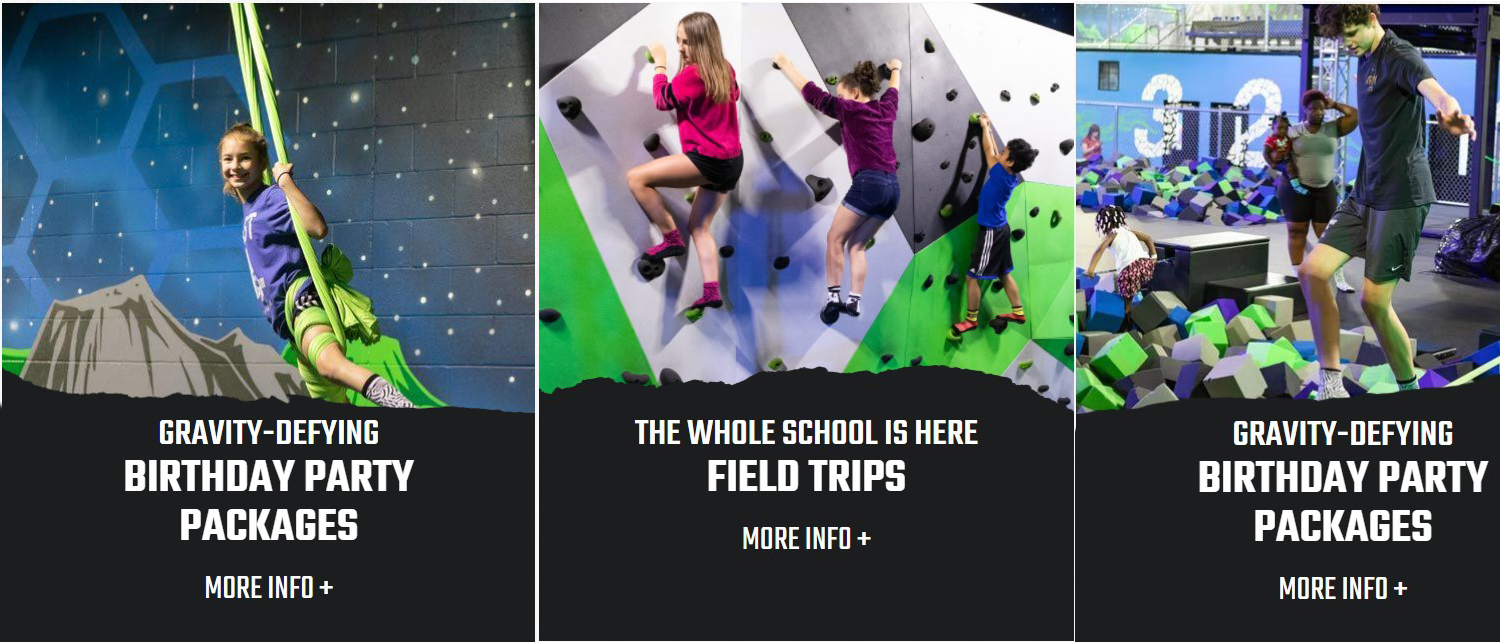 03 Little Rock Climbing Center
Little Rock Climbing Center is the place for fun and excitement in central Arkansas. And indoor rock climbing is a fun alternative to the average workout. Young or old, experienced climbers and absolute beginners - the Little Rock Climbing Center has something for everyone to enjoy!
Address:12120 Colonel Glenn Rd #7000, Little Rock, AR 72210
Phone:(501) 227-9500
https://www.littlerockclimbingcenter.com/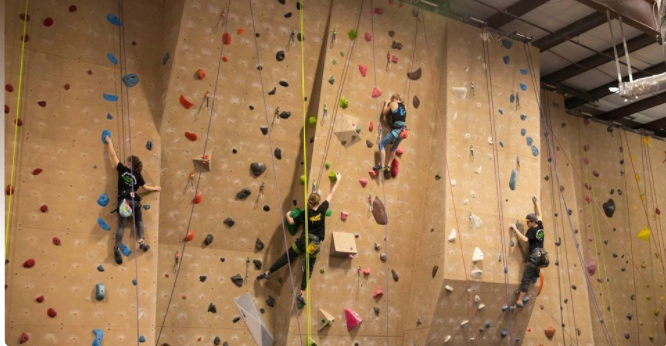 04 Play Town
Play Town is an imaginative play center designed for parents and children ages 6 months to 8 years old to play together and learn. We provide an indoor interactive town with 16 centers for kids ages 3-8.
Play Town is a public place. While we will continue to clean, sanitize and take every possible precaution, we cannot guarantee anyone's personal safety or the possibility of transmission of any illness. You play at your own risk.
We have created a fenced in area geared toward your little ones aged 6 months to 36 months called our Kiddie Corral. Let them laugh and play safely on a padded floor with age appropriate toys to keep them smiling and entertained for hours. Since admission is valid all day, you can leave and come back for more play time.
Address:19800 I-30 #11, Benton, AR 72019
Phone:(501) 794-5677
https://playtownbenton.com/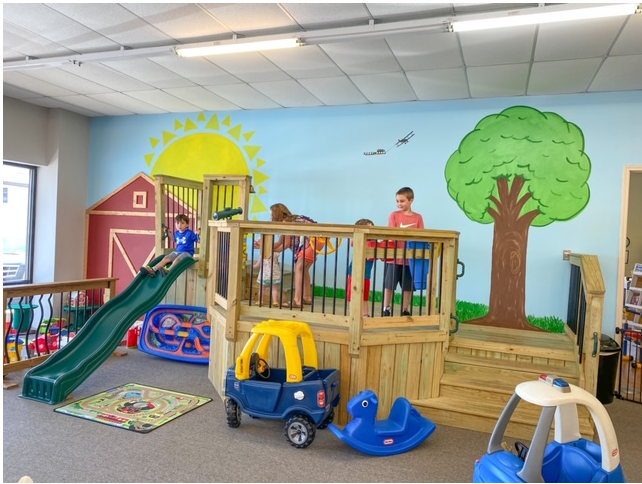 05 Chuck E. Cheese
Our Kid Check® system gives your kids the freedom to run and play, worry-free. Here's how it works. You and your child will each receive an invisible, matching stamp upon entry, and when you leave, you'll show that same stamp. This ensures that everybody who comes together, leaves together!
Address:2706 S Shackleford Rd, Little Rock, AR 72205
Phone:(501) 225-2200
https://locations.chuckecheese.com/

06 Share the Love Kidsclub
Your kids are sure to enjoy our 3,000+ square feet of indoor play space. All of our play activities are focused on sensory and imaginative play to help your child develop their cognitive, social, physical, emotional and creative skills! We also love to partner with awesome local businesses to provide your children with hands on exploratory learning. Check out our schedule of classes here.
Address:911 Oak St, Conway, AR 72032
Phone:(501) 499-9859
https://sharethelove.club/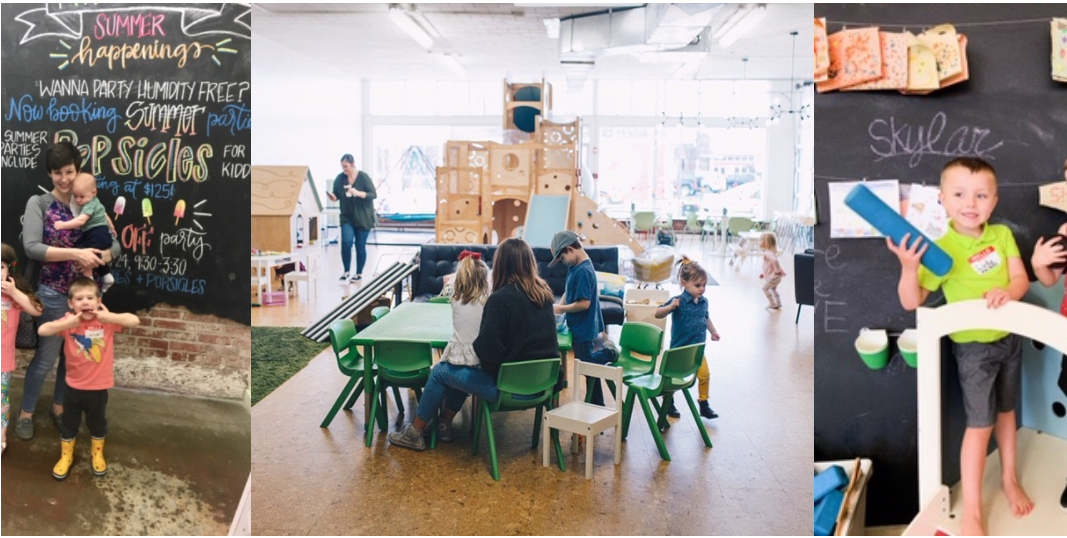 Indoor playground in Arkansas,Fort Smith, USA
07 The Monkey House
We welcome kids of all ages to come play with their family and friends on 9 of the most fun and clean inflatable bouncers in the area!!
Light concession is available for your enjoyment including canned drinks, bottled water, juicers, chips, candy, and freshly baked pizza and wings.
The Monkey House offers open play for everyone who wants to come in, as well as options for both parties that can be scheduled during open play for longer bouncing opportunities, or as a private party where bounce time is limited to one-hour.
We enjoy hosting carefree parties so that the parents get a chance to visit with family and guests while we do all the work! If this sounds appealing to your needs, please give us a call at 479.226.3400, click on our "Book Now" tabs to schedule your party, and "like" us on FaceBook so you can follow all of our exciting events!! Check back here on our "Specials" tab to see what kind of great deals we may be offering!!
Address:5504 Wheeler Ave #8826, Fort Smith, AR 72901
Phone:(479) 226-3400
http://monkeyhousebounce.com/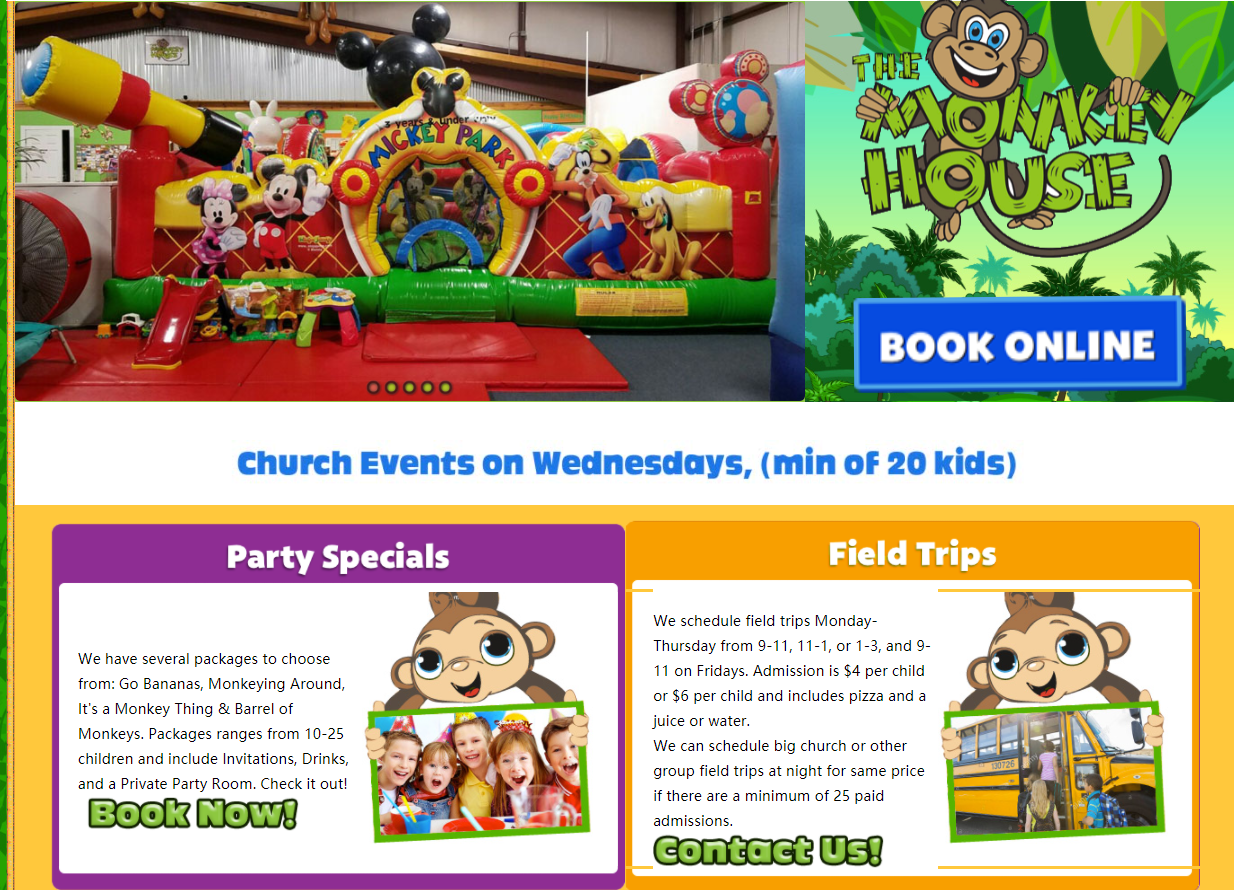 Indoor playground in Arkansas,Fort Smith, USA
08 Elevate Adventure Park & Trampolines
Enjoy some good clean fun as we prioritize your safety with Covid compliant measures. Not only do we offer great food & drinks (Must be 21 to consume Alcohol) inside of Time-Out Grill, but check out our awesome game room along with so many fun & exciting activities such as:
High Speed Zip Rail
Cage - Fun City Tubes
Climbing Pillars
Rock Climbing Walls
Dodgeball
Ninja Course
Trampolines
Airbags & Mores.
Address:2920 S Zero St, Fort Smith, AR 72901
Phone:(479) 242-2121
https://www.fortsmithadventurepark.com/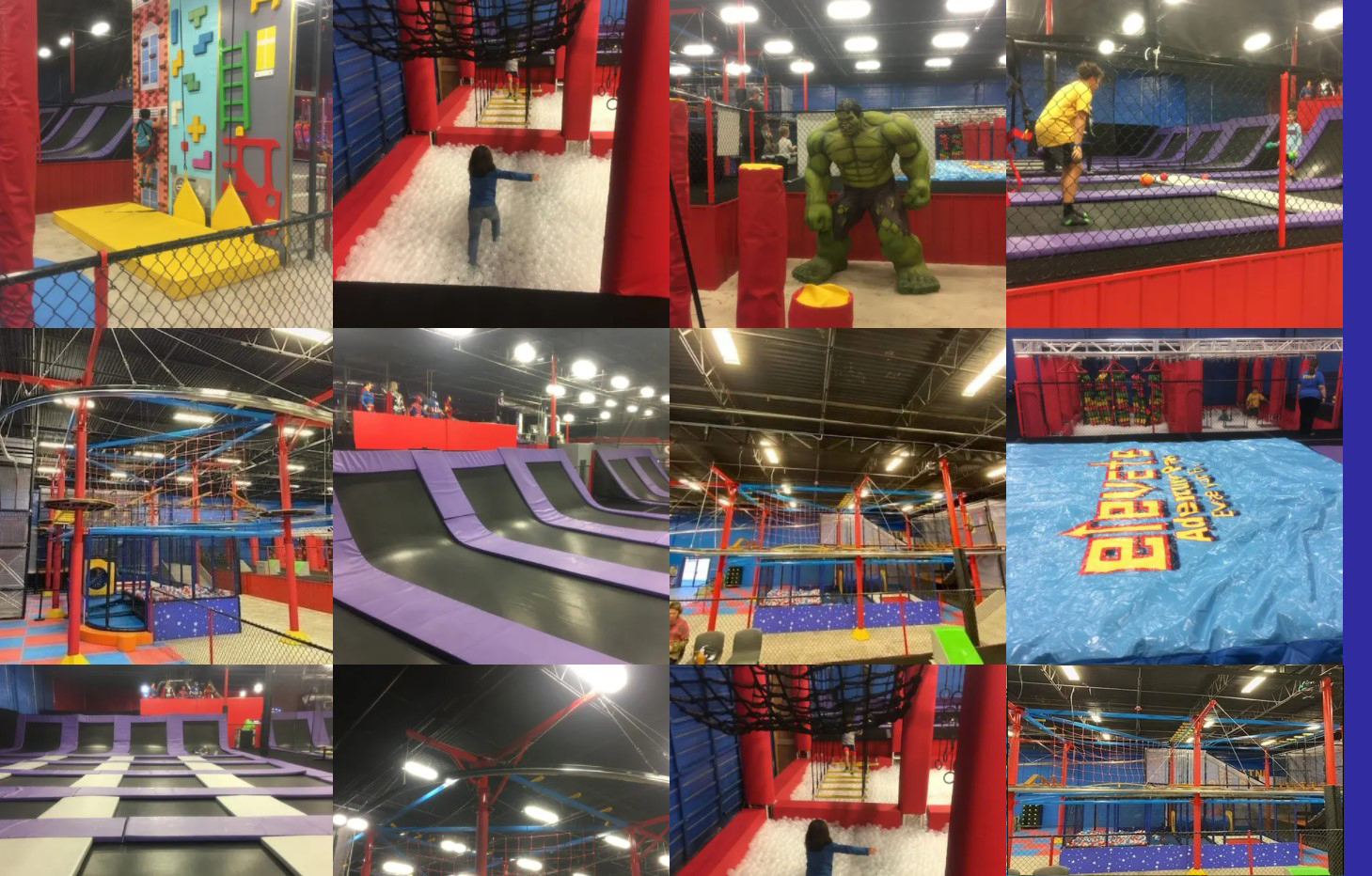 Indoor playground in Arkansas,Fort Smith, USA
09 Spartan Adventure Park Fort Smith
There's nowhere in the Fort Smith area offering the variety of family fun entertainment at our affordable prices. We offer a place for your children and their friends to play no matter what the weather is outside. By offering a variety of attractions in one location, Spartan Adventure Park makes it easy to gather with friends and family for a day of fun or a family celebration.
Address:7601 Rogers Ave, Fort Smith, AR 72903
Phone:(479) 769-2828
https://www.spartanadventurepark.com/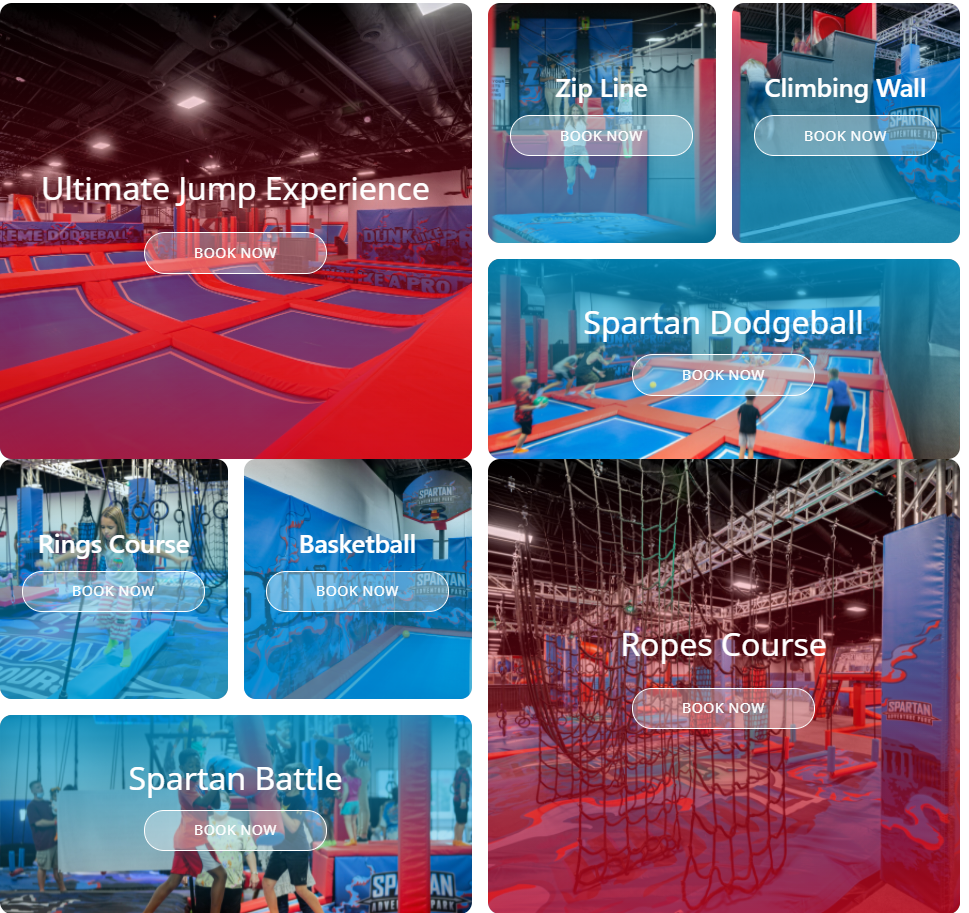 Indoor playground in Arkansas,Fort Smith, USA
10 Kid's Play Inflatable Rentals
Combo units are the perfect for kids ages 2 years old up to 12. Combo units are a combined Bounce House unit with a attached 12ft slide.
We offer many shapes and themed units to make your next party special.
Address:1216 Knoxville St, Fort Smith, AR 72901
Phone:(479) 784-2368
http://www.kidsplayrentals.com/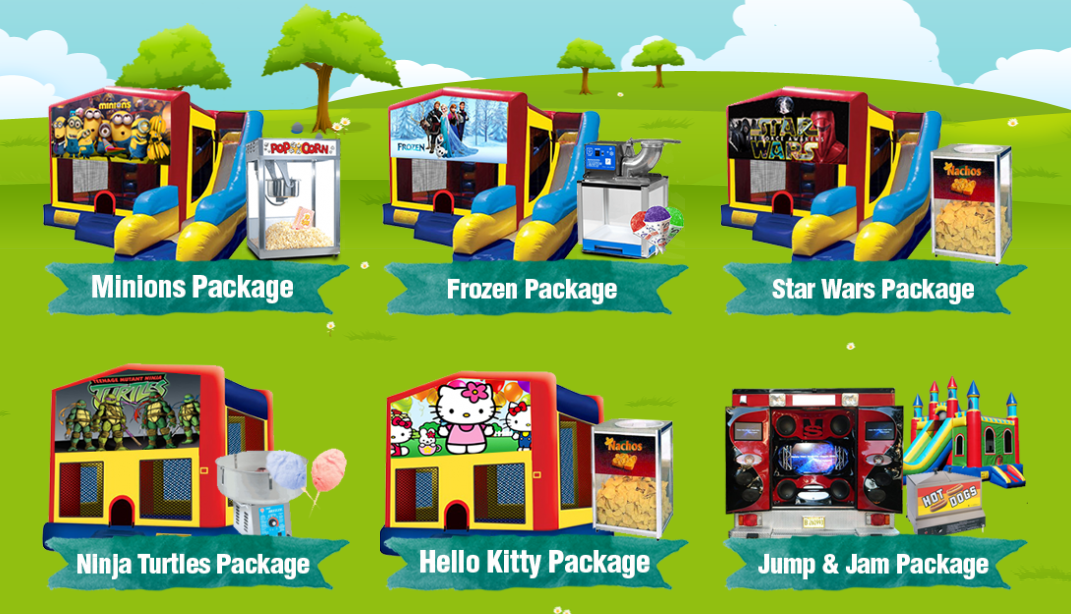 Comments

Rakesh Patel Says:
Indoor Soft play setup for 3 to 10 year age group..plz reply with design and setup cost.

Angel Playground Equipment CO.,LTD Says:
Hope this message find you well, we are pleasure to make proposal for your kids play area, please check our reply to your email. Thanks!

Siri Says:
Hi would like to know the logistics to setup a playarea and party hall for kids

Angel Playground Equipment CO.,LTD Says:
Already sent, Please check. Looking forward to your reply.

Alicia Says:
May I have a catalogue with pricing? Thank you

Angel Playground Equipment CO.,LTD Says:
Got your message, Thanks! Please check your email for process of start indoor playground, Looking forward your reply with layout information.

Rakesh Says:
We are keen to open one of indoorplay park in our town in new zealand. Pls send us information to get ideas

Angel Playground Equipment CO.,LTD Says:
Nice day! All price online are real, If anyone you like just let me know, we are pleasure to share you details, Process please check your email.

Shukria Says:
Hi I would like to open indoor playground in Toronto Canada . Do u guys access to Canada . I really like it the Rush fun park . I would like to talk about how much it cost and what is the progress

Angel Playground Equipment CO.,LTD Says:
Nice day! Please check your email for catalog, please follow the process and provide floor plan, We will make a good design for you.
Leave a Reply
Your Phone & Email address will not be published. Required fields are mareded*