indoor speeltoestellen
Views: 5352 Update date: Apr 01,2021
Top 10 fabrikanten van indoor speeltoestellen
Indoor Speeltoestellenwaaronder including Het Centrum van het vermaak, Zachte speeltuin,
Peuterspeelplaats, Trampoline park, Trampolinepark, Klimmuur en and Ninja krijger apparatuur.
Commerciële binnenspeeltuin leverancier zoals hieronder, u kiezen als uw zakenpartner.
1. Indoor Playgrounds International in de VS
2. Soft Play in de VS
3. Orcacoast play in Canada
4. Go Play Systems in de VS
5. Cheer Amusement in China

6. Angel Playground Equipment in China
7. KidSteam in de VS
8. iPlayCo in Canada
9. ELI Play in Netherlands
10. Worlds of WOW in de VS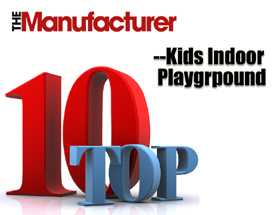 Klik op onderstaande afbeeldingen om de website van leveranciers te bezoeken
Als u op zoek bent naar binnenspeelsets voor thuisgebruik, voor uw eigen kinderen thuis, dan moet u de
onderstaande website bezoeken cedarworks.com, wayfair.com, stateofplay.com, Costco, Homedepost,
Amazon. Ze kunnen snel leveren en kunnen ook zelf onderdelen en materialen selecteren om zelf te doen.
1. Indoor Playgrounds International in de VS

Wij zijn uw go-to aanbieder van indoor speelstructuren en alles wat leuk is voor Family Entertainment Centers (FECs). We hebben
honderden bedrijven geholpen hun speeloplossing aan te passen. Als u op zoek bent naar de beste Indoor speeltoestellen, u
contact met ons opnemen. Als marktleider bieden we meer dan alleen een product, bieden we aan om samen met u door het
proces te lopen en onze schat aan kennis over de industrie te bieden en hoe het is om een FEC te exploiteren. Onze fabrikant
partner houdt zich aan onze hoge normen als het gaat om kwaliteit en veiligheid, en elke speeltuin set te koop wordt gesteund
door een garantie van 18 maanden!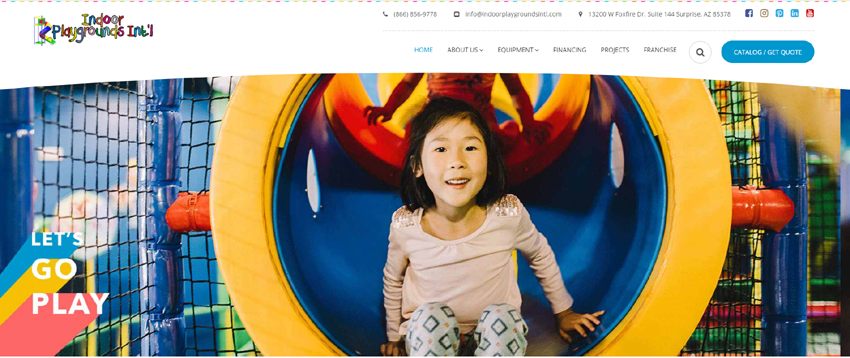 2. Soft Play in de VS

In 1984 startten vier innovators in een garage Soft Play® om speeltoestellen opnieuw uit te vinden. De oprichters van het bedrijf
ontwikkelden een alternatief voor traditionele buitenspeelstructuren, waardoor de garage snel werd ontgroeid en het vertrouwen van
enkele van amerika's grootste merken werd verdiend. Vandaag de dag zijn we de wereldleider in ingesloten speeltoestellen met
installaties in meer dan 60 landen. Onze expertise, ervaring en toewijding aan uitmuntendheid zorgen ervoor dat u uw klanten en
hun kinderen een leuke en positieve ervaring bieden.

3. Orcacoast play in Canada

Orca Coast, opgericht in 2004, is een familiebedrijf dat is gestart om de kwaliteit en het welzijn van de huidige industrie te verbeteren. Onze
reputatie is de sleutel tot ons succes en wat ons het belangrijkste indoor speelbedrijf ter wereld heeft gemaakt om uw onderneming toe te
vertrouwen. We weten dat we door echt om onze producten en klanten te geven het verschil hebben gemaakt. Met misschien wel het beste
veiligheidsrecord, forex pullback-strategie en het beste tevredenheidspercentage in de branche slaapt u 's nachts gemakkelijk wetende dat
uw investering in goede handen is.
4. Go Play Systems in de VS
Op zoek naar meer informatie over Go Play Systems company? Dan bent u bij ons aan het juiste adres! We installeerden indoor speeltuinen
en amusementsattracties wereldwijd. Wij zijn experts in het 3D-ontwerp, de configuratie, het thema en de installatie van commerciële
binnenspeeltuinsystemen voor kinderen en volwassenen van alle leeftijden! Onze vertegenwoordigers en projectmanagers begeleiden u
door het proces van ontwerp tot installatie en uiteindelijke oplevering. Uw tevredenheid is onze eerste prioriteit. Onze installatieteams
hebben zachte speelsystemen van hoge kwaliteit gebouwd, van kleine ruimtes tot enorme magazijnen en alles daartussenin. Onze
3D-ontwerpers zijn experts in het maximaliseren van de ruimte, maar ook het creëren van veilige ruimtes voor kinderen om te spelen.
Ons team brengt jarenlange ervaring samen in de succesvolle lancering van indoor speelsystemen

5. Cheer Amusement in China

Cheer Amusement is een van de grootste fabrikanten ter wereld die gespecialiseerd is in de ontwerpen,
fabrikanten en installaties van hoogwaardige en betaalbare binnenspeeltoestellen die zijn ontworpen voor
commerciële toepassingen. We hebben meer dan 1.000 succesvolle projecten geïnstalleerd en begeleid
de wereld en hebben een grote populariteit verdiend in de speeltuin apparatuur industrie. We hebben ook meegewerkt.
met tal van beroemde soft play bedrijven in Noord-Amerika & Europa. Om te voldoen, ontmoeten we elkaar altijd
de hoge normen en eisen aan de kwaliteiten en diensten van deze bedrijven.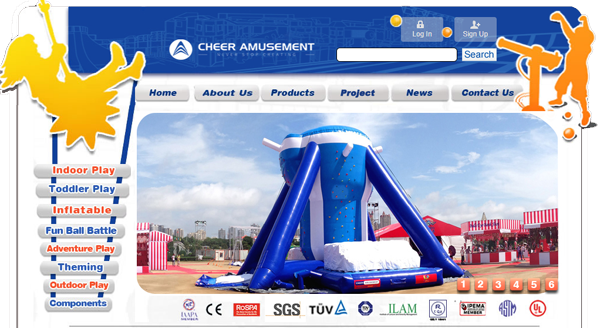 6. Angel Playground Equipment in China

De speelplaats van de engel wordt gecombineerd Onderneming van ontwikkelingsproductie en verkoop. Het product heeft inputschoonheid
en functieontwerp met het beste kenmerk van de combinatie van buitenlandse en binnenlandse stijl, Vriendschappelijke en veilige
speelplaats. Alle producties zijn gemaakt van niet-nucleaire en milieugrondstoffen die strikt zijn getest en geïnspecteerd voordat ze de
fabriek verlaten, alle producten voldoen aan de veiligheidsnormen voor speeltuin van CE, ISO TUV enz. Op deze manier! Angel
playgrounds hebben landelijk het vertrouwen van de klant in de speeltuinindustrie verdiend. Kinderen uit 70 landen genieten van onze
speeltoestellen zoals Amerika, Canada, Brazilië, Panama, Colombia, Nederland, Finland, Zweden, Oekraïne, Rusland, Korea, Spanje, Italië,
België, Tsjechië, Slowakije, Slovenië, Griekenland, Singapore, Japan, Korea, AU, VAE........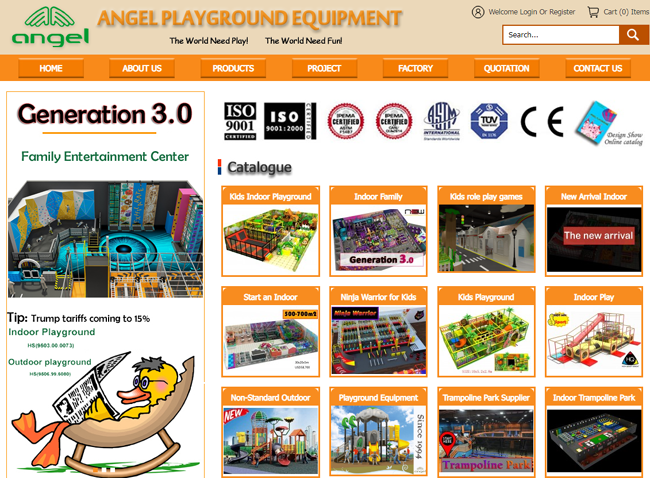 7. KidSteam in de VS

KidSteam is een internationale leider van strikte veiligheidsnormen voor binnenspeeltoestellen en een in de VS gevestigd bedrijf
dat attracties ontwerpt, produceert en installeert voor amusement in locaties over de hele wereld. Gevestigd uit Dallas, Texas,
KidSteam ontwerpt, produceert en installeert turnkey oplossingen die de gezondheid en het algehele welzijn van kinderen bevorderen.
We streven ernaar om niet alleen leuke oplossingen te creëren die zijn gebouwd om lang mee te gaan, maar ook oplossingen die ons
milieu niet schaden. KidSteam's groen initiatief wordt aangedreven door onze "groene producten", zoals onze commerciële indoor
speeltoestellen en handautoritten. Met nul CO2-voetafdruk en afkomstig van hernieuwbare energie, heeft onze toewijding aan gezondheid
en veiligheid nooit groter geweest.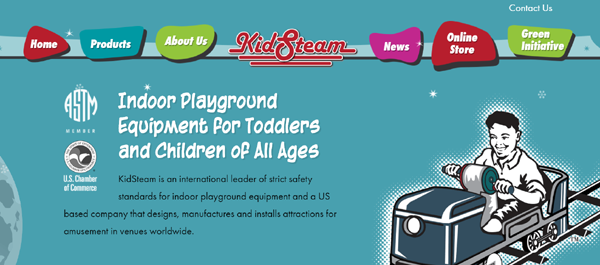 8. iPlayCo in Canada

iPlayCO heeft nu kantoren en productielocaties in Noord-Amerika, Europa en Azië. Onze Noord-Amerikaanse activiteiten zullen
klanten blijven leveren in Amerika en wereldwijd, onze Aziatische activiteiten IREC Corporation zullen zich richten op het leveren
van klanten in de regio Azië-Pacific. Klanten in Europa zullen ook profiteren van onze productie- en distributieactiviteiten. De
markt van Iplayco is altijd wereldwijd geweest en nu hebben we de mogelijkheden om onze klanten uit drie verschillende
continenten te bevoorraden. Wij produceren op maat ontworpen kinder indoor speelstructuren vanuit onze fabriek in Langley,
British Columbia, Canada. Opgericht in 1999 heeft iPlayCO jarenlange ervaring in het ontwerpen, produceren en installeren van
binnen- en buitenspeelstructuren.


9. ELI Play in Netherlands

Welkom in onze dynamische wereld van sport en spel. Wij zijn de toonaangevende Europese fabrikant en leverancier van indoor speeltuinen, trampolineparken en sportcursussen. Al onze kennis en ervaring wordt gebruikt voor het ontwerpen, produceren, installeren en onderhouden van indoor spring- en speeltoestellen van de hoogste kwaliteit.
ELI Play, European Leisure Industries, begon in 1994 met het schoonmaken van balbaden. Inmiddels is het bedrijf uitgegroeid tot een internationale fabrikant van speeltoestellen. Ons hoofdkantoor en productiefaciliteit bevinden zich in het zuiden van Nederland (Boxtel), waar we werken met een team van ongeveer 75 medewerkers. Daarnaast hebben we verkoopkantoren in Frankrijk, Duitsland en Denemarken. Dit om klanten over de hele wereld zo goed mogelijk van dienst te kunnen zijn.


10. Worlds of WOW in de VS

Worlds of Wow creëert belachelijk coole themaomgevingen en speeltuinen. Wij bieden originele illustraties en afbeeldingen aan
breng uw ideeën tot leven! Of u nu een multi-site, een mobiele kerk of gewoon het geven van uw ruimte een geheel nieuwe look, we weten
wat er nodig is vanaf het allereerste gesprek terwijl we samen dromen tot de allerlaatste spijker die op zijn plaats wordt gezet. We houden
van het creatieve proces van samenwerking met u door de ontwikkeling van concepten, personages, elementen en verhalen. Het is gewoon
onze rol om. deze visie tot leven.
Onze thema's zijn altijd origineel, nooit geleend. Van inchecken, gangen tot grote groepsruimtes, onze thema's zijn ontworpen
om een verhaal te vertellen en bestemmingen te creëren waar kinderen willen zijn. Thema's zijn voor elke partner anders. Bij Worlds of Wow,
we nemen je mee door een creatieve opdracht om je DNA, cultuur, visie en doelen volledig te begrijpen. Dit stelt ons in staat om de perfecte
thema voor u dat uw verhaal vertelt en past bij uw visie.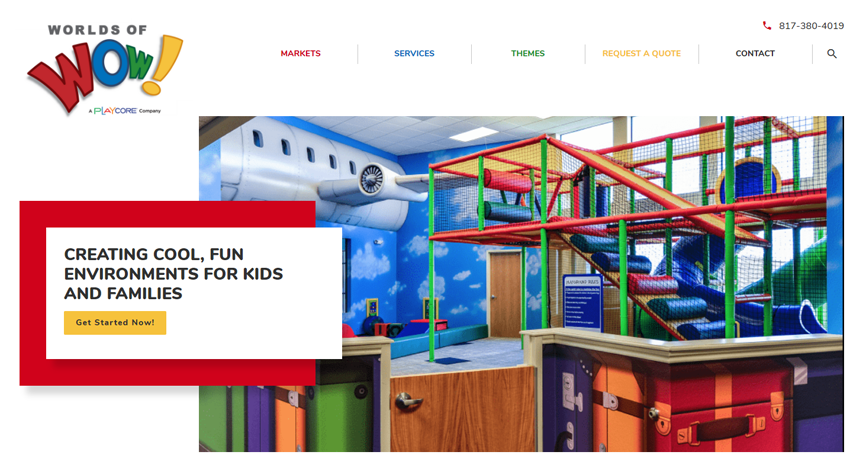 Comments

Khalid Says:
I would like to setup play ground for kind to teens indoor activities approximately how much it will cost

Angel Playground Equipment CO.,LTD Says:
Thanks for your message, Plase check our reply to your email about the process.

Sahar Says:
I would like to get the price and catalog please

Angel Playground Equipment CO.,LTD Says:
Hi Sahar, Nice day. please check our reply to your email regarding catalog. Looking forward to setup your kids play center

Fabiola Magana Says:
I will love a copy of pricing ,sizing,and contact info ..thank you so much!

Angel Playground Equipment CO.,LTD Says:
Hi Fabiola Magana, Thanks for your message, please check our reply to your email for the process and catalog. Looking forward to your reply

Amelia Lau Says:
Please send catalogue

Angel Playground Equipment CO.,LTD Says:
Hi Amelia, Nice day, Please check catalog in your email, hope you find what you like, Appreciate your feeback.

Hari Says:
Please send the catalouge

Angel Playground Equipment CO.,LTD Says:
Thanks for your message,We are pleasure to make suggestion for your play enter, please check our reply to your email, Any questions let me know.
Leave a Reply
Your Phone & Email address will not be published. Required fields are mareded*