Knowledge of Indoor playground mats
Views: 4233 Update date: Jul 09,2017
That are two kinds of mats for indoors playground, EVA mats and soft sponge mat!

Child may fall down from desk or platform by accident, Mat can absorb this impact protect child away from hurt.
Mat also make indoor play center have better look! So mat can be see in each indoor playground! But how to chose the good one and what is the different between mats may confuse you, Angel playground are happy to help you figure it out!

A)EVA mat
Distinguish by specification, The thickness from 0.5cm to 2.5cm. Thickness on 0.5cm and 1cm usually have cartoon image on it, But this mat not for indoor playground, It is for home use, Baby climbing and play toys on it, separate children away from dirty and cold floor.
1.5cm-2.5cm mat suit for indoor playground, But there are huge different even on same thickness, Some mats have strongfoam small, It is stink, edge easy become warped. Good mat are environment-friendly, but price will be 50% expensive than low quality mat!

For indoor playground, Angel playground suggest you take size 100x100cm, 2cm or 2.5cm environment-friendly mat. For home use can choice 60x60cm mat with 1cm thickness.

EVA mat also distinguish by color, decorative pattern and theme! Color usually are Red, Green, Yellow and Blue, Pattern usually are maple left, dot, plane, theme could be imitate solid wood or ocean theme, So many choice, Angel playground recommend Maple-left bi-color mat. Maple-left can increase friction force, So kids not slide down, Bi-color can use both side and more color choice. Overturn it after one side get damaged, You get fresh mat again with different color!

B) Soft sponge mat!
In fact this mat is a version of Gymnasium mats and platform!
Also have two different choice for soft sponge mat! With or without board inside!

With board inside, (board, double sponge layer wrapped by PVC cloth), Have 11 colors for choice and never edge warping.

Without board mean only made by sponge and then wrapped by PVC cloth, This mat can take big impact, So usually use under climbing board and trampoline!

Advantage of Soft sponge mat is easier clear, More strong and more soft.
Defect of Soft sponge mat is too expensive, smooth surface!

If you still get questions on mat, Send message to Angel playground!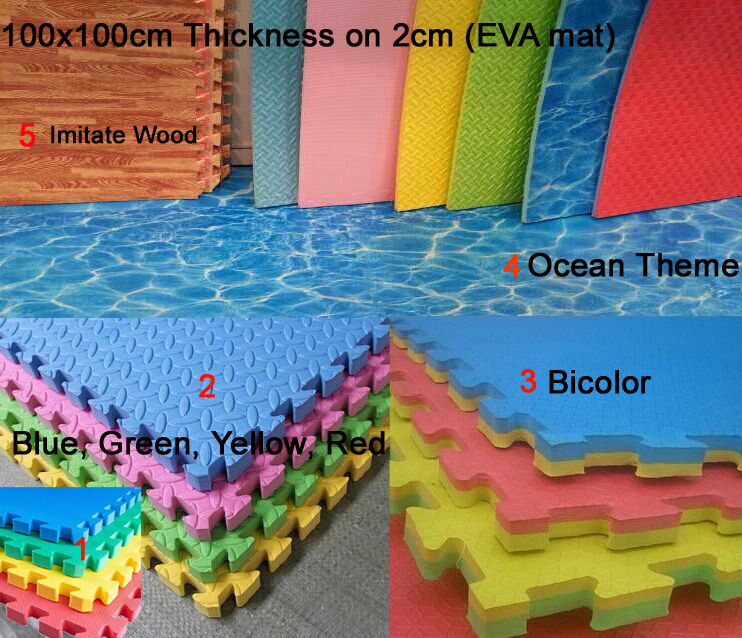 Comments

Juan Says:
Request catalog


Rajit Says:
Already have an indoor playground of 5000sqft, looking for a new outlet, what do you suggest for 15000sqft space?

Angel Playground Equipment CO.,LTD Says:
Indoor Playground is 100% customzied, We will make proposal as soon as you provide layout to us, Please check projects files in your email for reference!

Kerry Somerville-Brown Says:
request for a catalog. Can you send it please? Thank you. Kerry

Angel Playground Equipment CO.,LTD Says:
Hi Kerry: Please check files in your email, we have advise the process of order kids playground, please follow.

Mayra Says:
Buenas tardes me interesa adquirir un área de juegos

Angel Playground Equipment CO.,LTD Says:
Gracias por su mensaje, por favor revise nuestra respuesta por correo electrónico, Esperando obtener más información de su lado

william fore Says:
Looking for the musical items

Angel Playground Equipment CO.,LTD Says:
Hi William: Thanks for your message on the outdoor playsets, Cataloge please check your email.
Leave a Reply
Your Phone & Email address will not be published. Required fields are mareded*