Should Indoor Playground Equipment Play Cartoons for Kids?
Views: 7563 Update date: Jun 25,2017
As a place for games and fun, indoor playground has now become a playing center mingled with a variety of activities. Equipment for fun ranges from trampoline bad to DIY programs. However, On the problem of whether there should be cartoons played in the indoor playground, parents showed different opinion. Some say that cartoons can be played at home, indoor play equipment should be a place for physical exercise; others say that cartoons is something cater to children's interests and will bring laughter and happiness to children's life. As for me, I am for the latter.
To begin with, it is the principle of indoor playground equipment to gratify the need of kids as much as possible. Watching cartoons is no doubt the need of most kids. Why would Disney land famous among people all over the world, including parents? The reason is not hard to understand. It's cartons bring people back to their old days when they were little kids who had special love for their cartoon cheaters. Therefor, keep cartoons away from your children is like keep a seed from its ground, without which, they would fail to sprout nor thrive.
In addition, the time for cartoon will seldom incongruent with the time for activities. The cartoon room is a superstar one that are for children who feel tired after playing in a long time or get in trouble with other students, in case that they may start s fight and cause in damage to each other, children can be sent to the cartoon room to have a rest and get some time to get their anger eradicated by watching some interesting cartoons. This is a good way to cultivate friendly atmosphere in indoor playground and thus providing kids with a comparative safe and happy environment to play.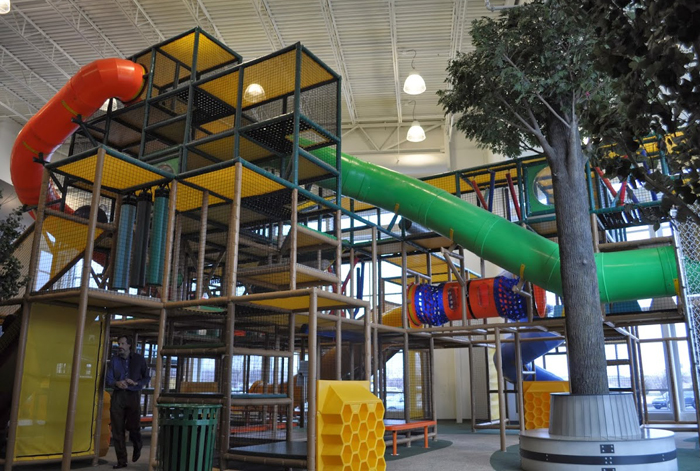 What's more, it is a good way to limit their time for watching cartoons all day long at home. Cartoons are important, but too much will also lead to damage both physical and mentally. You may set a rule in your home that if the kids have been to the indoor playground equipment and have watched cartoons there, they shod not be allowed to watch more at home, otherwise, they will lose the chance to go there again. I believe most kids will choose not to watch at home. Therefore, parents can take the chance to have them focus more on book stories rather than computer screens.
In conclusion, according to above analysis, we can see that the advantages of playing cartoons outweighs its disadvantages, therefore, I hold the view that indoor playground should play cartoons for kids.
Copyright Reserved by Angel Playground Equipment Co.,Ltd.
Comments

Rakesh Patel Says:
Indoor Soft play setup for 3 to 10 year age group..plz reply with design and setup cost.

Angel Playground Equipment CO.,LTD Says:
Hope this message find you well, we are pleasure to make proposal for your kids play area, please check our reply to your email. Thanks!

Siri Says:
Hi would like to know the logistics to setup a playarea and party hall for kids

Angel Playground Equipment CO.,LTD Says:
Already sent, Please check. Looking forward to your reply.

Alicia Says:
May I have a catalogue with pricing? Thank you

Angel Playground Equipment CO.,LTD Says:
Got your message, Thanks! Please check your email for process of start indoor playground, Looking forward your reply with layout information.

Rakesh Says:
We are keen to open one of indoorplay park in our town in new zealand. Pls send us information to get ideas

Angel Playground Equipment CO.,LTD Says:
Nice day! All price online are real, If anyone you like just let me know, we are pleasure to share you details, Process please check your email.

Shukria Says:
Hi I would like to open indoor playground in Toronto Canada . Do u guys access to Canada . I really like it the Rush fun park . I would like to talk about how much it cost and what is the progress

Angel Playground Equipment CO.,LTD Says:
Nice day! Please check your email for catalog, please follow the process and provide floor plan, We will make a good design for you.
Leave a Reply
Your Phone & Email address will not be published. Required fields are mareded*