Top 10 Indoor Playground Equipment Manufacturers
Views: 18361 Update date: Dec 21,2020
Indoor playground equipment including Family Entertainment Center, Soft playground, Toddler play area, Trampoline park, Climbing wall and Ninja warrior course.
Commercial indoor playground supplier as below, you can choose as your business partner.
1. Indoor Playgrounds International in USA
2. Soft Play in USA
3. Angel Playground Equipment in China
4. Go Play Systems in USA
5. Cheer Amusement in China

6. Orcacoast play in Canada
7. KidSteam in USA
8. iPlayCo in Canada
9. ELI Play in Netherlands
10. Worlds of WOW in USA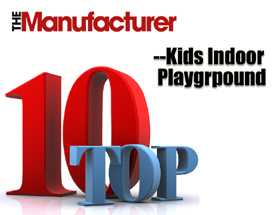 Click below images to visit the website of suppliers
If you are looking for indoor playsets for Home use, For your own kids at home then you should visit below website cedarworks.com, wayfair.com, stateofplay.com, Costco, Homedepost, Amazon. They can make fast delivery also can select parts and materials to DIY by yourself.
1. Indoor Playgrounds International in USA

We are your go-to provider of indoor play structures and all things fun for Family Entertainment Centers (FECs). We have helped hundreds of businesses customize their play solution. If you are searching for the best Indoor playground set, you can contact us. As an industry leader we offer more than just a product, we offer to walk alongside you through the process and provide our wealth of knowledge on the industry and what it's like to operate an FEC. Our manufacturer partner adheres to our high standards when it comes to quality and safety, and each playground set for sale is backed by an 18 month warranty!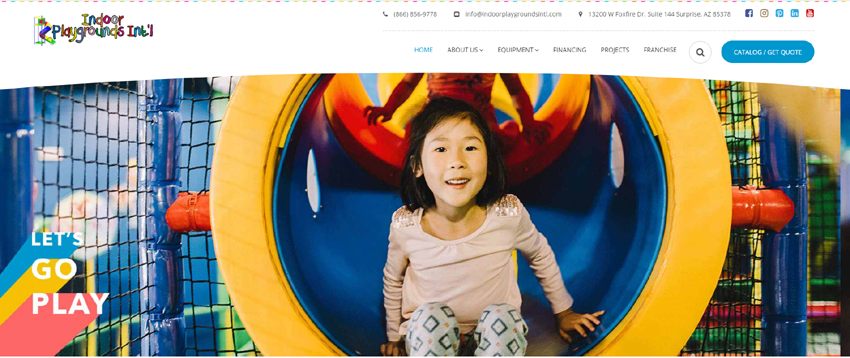 2. Soft Play in USA

In 1984 four innovators in a garage started Soft Play® to reimagine playground equipment. Company founders developed an alternative to traditional outdoor play structures, quickly outgrowing the garage and earning the trust of some of America's biggest brands. Today, we're the global leader in contained playground equipment with installations in more than 60 countries. Our expertise, experience and commitment to excellence mean that you can deliver a fun and positive experience to your patrons and their children.

3.Angel Playground Equipment in China
Angel playground are combined Enterprise of development production and sales. The product has input beauty and function designing with the best characteristic of the combination of foreign and domestic style, Friendly and safe playground. All productions are made of nonpoisonous and environmental raw materials which have been tested and inspected strictly before leaving factory, All product has meet the safety standards for playground of CE, ISO TUV etc. In this way! Angel playgrounds have earned the confidence of customer nationwide in playground industry. Children from 70 countries are enjoying our playground equipment as America, Canada, Brazil, Panama, Colombia, Holland, Finland, Sweden, Ukraine, Russia, Korea, Spain, Italy, Belgium, Czech, Slovakia, Slovenia, Greece, Singapore, Japan, Korea, AU, UAE........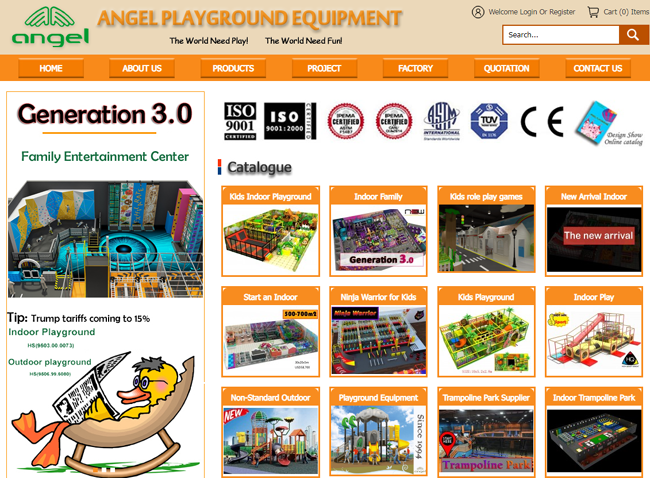 4. Go Play Systems in USA
Looking for more information about Go Play Systems company? You have come to the right place! We installed indoor playgrounds and amusement attractions worldwide. We are experts in the 3D design, configuration, theming and installation of commercial grade indoor playground systems for kids and adults of all ages! Our representatives and project managers will walk you through the process from design to installation and final delivery. Your satisfaction is our number one priority. Our installation teams have built high quality soft play systems from small rooms to massive warehouses, and everything in between. Our 3D designers are experts at not only maximizing space, but also creating safe spaces for children to play. Together, our team brings together years of experience in the successful launch of indoor playground systems

5. Cheer Amusement in China

Cheer Amusement is one of the largest manufacturers in the world who specializes in the designs, manufactures and installations of high quality and affordable indoor playground equipment designed for commercial applications. We have installed and supervised installations over 1,000 successful projects all over the world and have earned great popularity in the playground equipment industry.
Also, we've been cooperating with numerous famous soft play companies in North America & Europe. In order for satisfaction, we always meet the high standards and requirements on the qualities and services of those companies.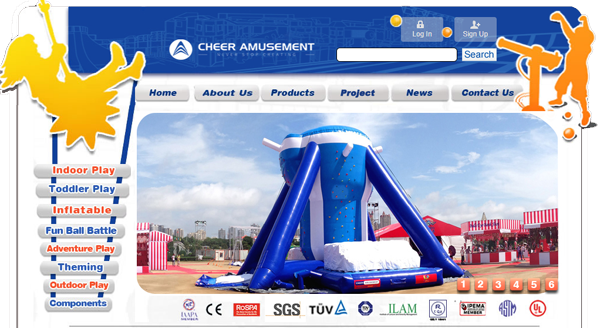 6.Orcacoast play in Canada
Founded in 2004, Orca Coast is a family business that was started to improve the quality and well being of play in the industry today. Our reputation is the key to our success and what has made us the premier indoor play company in the World to entrust with your venture. We know that by truly caring about our products and clients we have made a difference. With possibly the best safety record, forex pullback strategy and the best satisfaction rate in the industry you will sleep easy at night knowing your investment is in good hands.
7. KidSteam in USA

KidSteam is an international leader of strict safety standards for indoor playground equipment and a US based company that designs, manufactures and installs attractions for amusement in venues worldwide.Based out of Dallas, Texas, KidSteam designs, manufactures and installs turnkey solutions that promote the health and overall well-being of children. We aim to not only create fun solutions that are built to last but also ones that do not harm our environment. KidSteam's green initiative is powered by our "green products," such as our commercial indoor playground equipment and kid-powered hand car rides. With zero carbon footprint and sourced by renewable energy, our commitment to health and safety has never been greater.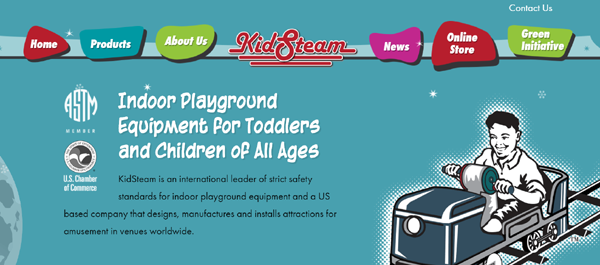 8. iPlayCo in Canada

iPlayCO now has offices and manufacturing locations in North America, Europe and Asia. Our North American operations will continue to supply customers in the Americas and worldwide, our Asian operations IREC Corporation will focus on supplying customers in the Asia-Pacific region. Customers in Europe will also benefit from our manufacturing and distribution operations. Iplayco's market has always been global, and now we will have the capabilities to supply our customers from three different continents. We manufacture custom designed children's indoor play structures from our plant in Langley, British Columbia, Canada.Established in 1999 iPlayCO has years of experience in the design, manufacturing and installation of indoor and outdoor play structures.

9. ELI Play in Netherlands
Welcome to our dynamic world of sports and play. We are the leading European manufacturer and supplier of indoor playgrounds, trampoline parks and sport courses. All our knowledge and experience is used to design, produce, install and maintain indoor jump and play equipment of the highest quality.
ELI Play, European Leisure Industries, started in 1994 with cleaning ball pool areas. Meanwhile the company has grown into an international manufacturer of play equipment. Our head office and production facility are located in the south of the Netherlands (Boxtel), where we operate with a team of about 75 employees. In addition, we have sales offices in France, Germany and Denmark. This in order to provide the best possible service to customers all over the world.

10. Worlds of WOW in USA
Worlds of Wow creates ridiculously cool themed environments and playgrounds. We provide original artwork and graphics to bring your ideas to life! Whether you are a multi-site, a mobile church or just giving your space a whole new look, we know what it takes from the very first conversation as we dream together to the very last nail put into place. We love the creative process of working with you through the development of concepts, characters, elements and stories. It's just our role to bring this vision to life.Our themes are always original, never borrowed. From check in, to hallways, to large group rooms, our themes are designed to tell a story and create destinations where kids want to be. Themes are different for each and every partner. At Worlds of Wow, we take you through a creative brief to fully understand your DNA, culture, vision and goals. This allows us to create the perfect theme for you that tells your story and matches your vision.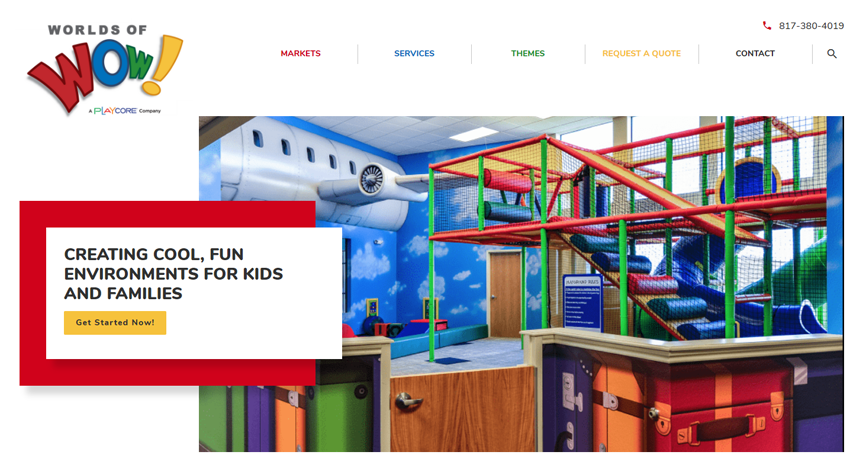 Comments

Khalid Says:
I would like to setup play ground for kind to teens indoor activities approximately how much it will cost

Angel Playground Equipment CO.,LTD Says:
Thanks for your message, Plase check our reply to your email about the process.

Sahar Says:
I would like to get the price and catalog please

Angel Playground Equipment CO.,LTD Says:
Hi Sahar, Nice day. please check our reply to your email regarding catalog. Looking forward to setup your kids play center

Fabiola Magana Says:
I will love a copy of pricing ,sizing,and contact info ..thank you so much!

Angel Playground Equipment CO.,LTD Says:
Hi Fabiola Magana, Thanks for your message, please check our reply to your email for the process and catalog. Looking forward to your reply

Amelia Lau Says:
Please send catalogue

Angel Playground Equipment CO.,LTD Says:
Hi Amelia, Nice day, Please check catalog in your email, hope you find what you like, Appreciate your feeback.

Hari Says:
Please send the catalouge

Angel Playground Equipment CO.,LTD Says:
Thanks for your message,We are pleasure to make suggestion for your play enter, please check our reply to your email, Any questions let me know.
Leave a Reply
Your Phone & Email address will not be published. Required fields are mareded*