Top 10 Producentów kryty plac zabaw dla dzieci
Views: 8911 Update date: Mar 29,2021
Top 10 Producentów kryty plac zabaw dla dzieci
Kryty plac zabaw, w tym Centrum Rozrywki Famly, Miękki plac zabaw, plac zabaw dla małych dzieci, park trampolin, ścianka wspinaczkowa i kurs wojownika Ninja.
Komercyjny dostawca kryty plac zabaw, jak poniżej, można wybrać jako partnera biznesowego.
1. Indoor Playgrounds International w USA
2. Soft Play w USA
3. Orcacoast play w Kanada
4. Go Play Systems w USA
5. Cheer Amusement w Chiny

6. Angel Playground Equipment w Chiny
7. KidSteam w USA
8. iPlayCo w Kanada
9. ELI Play w Holandia
10. Worlds of WOW w USA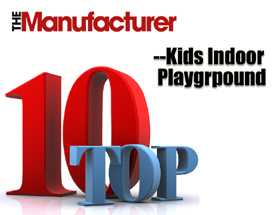 Kliknij poniżej zdjęcia, aby odwiedzić stronę internetową dostawców
Jeśli szukasz kryty playsets do użytku domowego, Dla własnych dzieci w domu, to należy odwiedzić poniżej
strony internetowej cedarworks.com, wayfair.com, stateofplay.com, Costco, Homedepost, Amazon. Mogą one
dokonać szybkiej dostawy również można wybrać części i materiałów do DIY przez siebie.
1. Indoor Playgrounds International w USA

Jesteśmy twoim dostawcą wewnętrznych struktur zabaw i wszystkiego, co przyjemne dla rodzinnych centrów rozrywki (FEC).
Pomogliśmy setkom firm dostosować ich rozwiązanie do gry. Jeśli szukasz najlepszego zestawu kryty plac zabaw, możesz się z
nami skontaktować. Jako lider w branży oferujemy coś więcej niż tylko produkt, oferujemy, aby przejść obok Ciebie przez proces
i zapewnić nasze bogactwo wiedzy na temat branży i jak to jest obsługiwać FEC. Nasz partner producenta przestrzega naszych
wysokich standardów, jeśli chodzi o jakość i bezpieczeństwo, a każdy zestaw zabaw na sprzedaż jest objęty 18-miesięczną gwarancją!
2. Soft Play w USA

W 1984 roku czterech innowatorów w garażu rozpoczęło Soft Play® na nowo wyobrazić sobie sprzęt zabaw. Założyciele firmy opracowali
alternatywę dla tradycyjnych struktur do zabawy na świeżym powietrzu, szybko przerastając garaż i zdobywając zaufanie niektórych z
największych amerykańskich marek. Obecnie jesteśmy światowym liderem w dziedzinie urządzeń z wyposażeniem na plac zabaw z
instalacjami w ponad 60 krajach. Nasza wiedza, doświadczenie i zaangażowanie w doskonałość oznaczają, że możesz dostarczyć
zabawne i pozytywne doświadczenie swoim patronom i ich dzieciom.

3. Orcacoast play w Kanada

Założona w 2004 roku, Orca Coast to firma rodzinna, która rozpoczęła się w celu poprawy jakości i dobrego samopoczucia w branży
dzisiaj. Nasza reputacja jest kluczem do naszego sukcesu i co sprawiło, że jesteśmy premier kryty grać firmy na świecie powierzyć
swoje przedsięwzięcie. Wiemy, że dzięki troski o nasze produkty i klientów zrobiliśmy różnicę. Z prawdopodobnie najlepszym rekordem
bezpieczeństwa, strategią wycofywania forex i najlepszym wskaźnikiem satysfakcji w branży będziesz spać spokojnie w nocy, wiedząc,
że twoja inwestycja jest w dobrych rękach.
4. Go Play Systems w USA
Szukasz więcej informacji o firmie Go Play Systems? Jesteś we właściwym miejscu! Zainstalowaliśmy kryte place zabaw i atrakcje
rozrywkowe na całym świecie. Jesteśmy ekspertami w projektowaniu 3D, konfiguracji, motywowaniu i instalacji komercyjnych
systemów krytych placów zabaw dla dzieci i dorosłych w każdym wieku! Nasi przedstawiciele i kierownicy projektów posunie cię
przez proces od projektu do instalacji i ostatecznej dostawy. Twoja satysfakcja jest naszym priorytetem numer jeden. Nasze
zespoły instalacyjne zbudowały wysokiej jakości systemy soft play od małych pomieszczeń po ogromne magazyny i wszystko pomiędzy.
Nasi projektanci 3D są ekspertami nie tylko maksymalizując przestrzeń, ale także tworząc bezpieczne przestrzenie dla dzieci do zabawy.
Razem nasz zespół łączy wieloletnie doświadczenie w udanym uruchomieniu systemów krytych placów zabaw

5. Cheer Amusement w Chiny

Cheer Amusement jest jednym z największych producentów na świecie, który specjalizuje się w projektach,
producentów i instalacji wysokiej jakości i niedrogich urządzeń do pomieszczeń zabawowych
komercyjnych. Zainstalowaliśmy i nadzorowaliśmy intallations ponad 1000 udanych projektów na całym
i zdobyły dużą popularność w branży sprzętu zabaw. Ponadto współpracujemy z
z wieloma znanymi firmami soft play w Ameryce Północnej & Europie. Aby zaspokoić, zawsze spotykamy się
wysokie standardy i wymagania dotyczące jakości i usług tych przedsiębiorstw.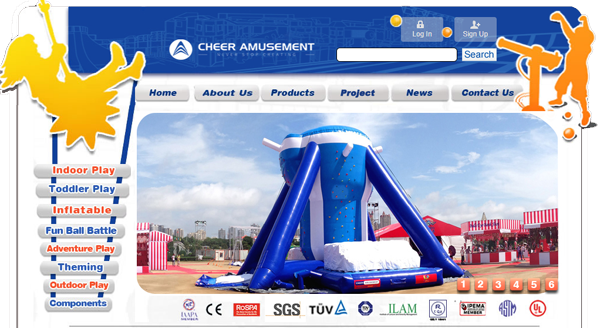 6. Angel Playground Equipment w Chiny

Angel plac zabaw są połączone Przedsiębiorstwo rozwoju produkcji i sprzedaży. Produkt posiada wejście piękno i funkcję projektowania z
najlepszą cechą połączenia stylu zagranicznego i domowego, Przyjazny i bezpieczny plac zabaw. Wszystkie produkcje są wykonane z
surowców niepozysownych i środowiskowych, które zostały przetestowane i sprawdzone ściśle przed opuszczeniem fabryki, Wszystkie
produkty spełniają normy bezpieczeństwa dla placu zabaw CE, ISO TUV itp. W ten sposób! Angel place zabaw zdobyły zaufanie klientów
w całym kraju w branży zabaw. Dzieci z 70 krajów korzystają z naszego sprzętu placu zabaw jak Ameryka, Kanada, Brazylia, Panama,
Kolumbia, Holandia, Finlandia, Szwecja, Ukraina, Rosja, Korea, Hiszpania, Włochy, Belgia, Czechy, Słowacja, Słowenia, Grecja, Singapur,
Japonia, Korea, UA, ZJEDNOCZONE EMIRATY ZJEDNOCZONE........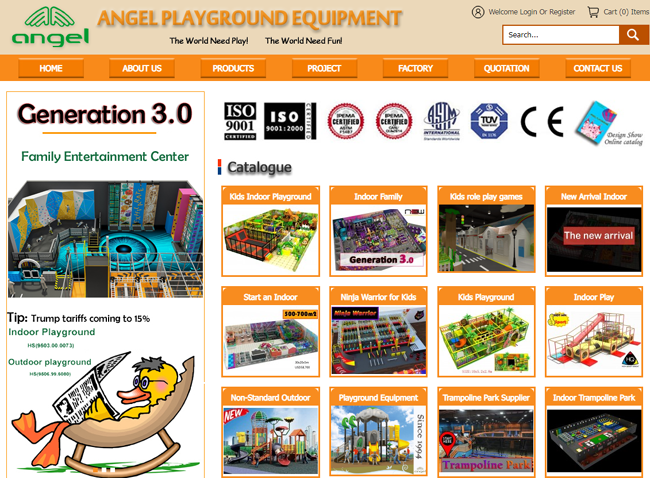 7. KidSteam w USA

KidSteam jest międzynarodowym liderem surowych norm bezpieczeństwa dla wyposażenia kryty plac zabaw i firmy z siedzibą w USA
że projekty, produkuje i instaluje atrakcje dla rozrywki w miejscach na całym świecie. Z siedzibą w Dallas w Teksasie,
KidSteam projektuje, produkuje i instaluje rozwiązania "pod klucz", które promują zdrowie i ogólne samopoczucie dzieci.
Naszym celem jest nie tylko tworzenie zabawnych rozwiązań, które są budowane tak, aby przetrwać, ale także tych, które nie szkodzą
naszemu środowisku. KidSteam's zielona inicjatywa jest napędzana przez nasze "zielone produkty", takie jak nasz komercyjny sprzęt do
użytku wewnętrznego placu zabaw i ręczne przejażdżki samochodem. Dzięki zerowemu śladowi węglowemu i energii odnawialnej nasze
zaangażowanie na rzecz zdrowia i bezpieczeństwa nigdy nie była większa.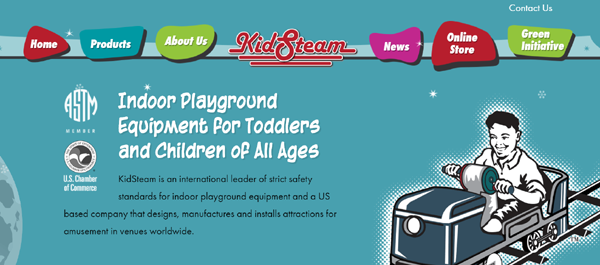 8. iPlayCo w Kanada

iPlayCO posiada obecnie biura i zakłady produkcyjne w Ameryce Północnej, Europie i Azji. Nasza działalność w Ameryce Północnej
będzie nadal dostarczać klientom w obu Amerykach i na całym świecie, nasza azjatycka działalność IREC Corporation skupi się na
dostarczaniu klientów w regionie Azji i Pacyfiku. Klienci w Europie skorzystają również na naszej działalności produkcyjnej i
dystrybucyjnej. Rynek Iplayco zawsze był globalny, a teraz będziemy mieli możliwości zaopatrzenia naszych klientów z trzech różnych
kontynentów. Produkujemy specjalnie zaprojektowane konstrukcje zabaw dla dzieci z naszego zakładu w Langley, Kolumbia Brytyjska, Kanada.
Założona w 1999 roku firma iPlayCO ma wieloletnie doświadczenie w projektowaniu, produkcji i instalacji wewnętrznych i zewnętrznych
struktur zabawowych.


9. ELI Play w Holandia

Witamy w naszym dynamicznym świecie sportu i zabawy. Jesteśmy wiodącym europejskim producentem i dostawcą krytych placów zabaw, parków trampolin i kursów sportowych. Cała nasza wiedza i doświadczenie jest wykorzystywana do projektowania, produkcji, instalacji i konserwacji sprzętu do skoków i zabawy w pomieszczeniach najwyższej jakości.
ELI Play, European Leisure Industries, rozpoczęła działalność w 1994 roku od czyszczenia basenów z kulkami. W międzyczasie firma stała się międzynarodowym producentem sprzętu do zabawy. Nasza siedziba i zakład produkcyjny znajdują się w południowej części Holandii (Boxtel), gdzie współpracujemy z zespołem około 75 pracowników. Ponadto posiadamy biura sprzedaży we Francji, Niemczech i Danii. To w celu zapewnienia jak najlepszej obsługi dla klientów na całym świecie.


10. Worlds of WOW w USA

Worlds of Wow tworzy śmiesznie fajne środowiska tematyce i place zabaw. Dostarczamy oryginalne dzieła sztuki i grafiki do użyć swoich pomysłów!
Niezależnie od tego, czy jesteś multi-site, mobile church lub po prostu nadając swojej przestrzeni zupełnie nowy wygląd, wiemy, to, co trwa od pierwszej
rozmowy, jak marzymy razem do ostatniego paznokci wprowadzone w życie. Kochamy twórcze proces pracy z tobą poprzez rozwój koncepcji, postaci,
elementów i historii. To tylko nasza rola, aby tę wizję życia.
Nasze tematy są zawsze oryginalne, nigdy nie pożyczone. Od odprawy, przez korytarze, po duże pokoje grupowe , nasze motywy są projektowane
opowiadać historię i tworzyć miejsca, w których dzieci chcą być. Tematy są różne dla każdego partnera. W Worlds of Wow,
zabierzemy Cię przez twórczy brief, aby w pełni zrozumieć Twoje DNA, kulturę, wizję i cele. Pozwala nam to stworzyć idealne motyw, który opowiada
twoją historię i pasuje do Twojej wizji.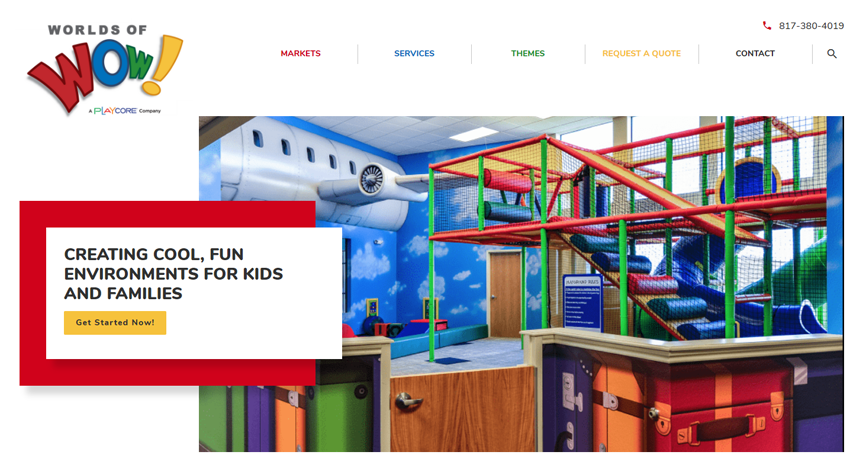 Comments

Rakesh Patel Says:
Indoor Soft play setup for 3 to 10 year age group..plz reply with design and setup cost.

Angel Playground Equipment CO.,LTD Says:
Hope this message find you well, we are pleasure to make proposal for your kids play area, please check our reply to your email. Thanks!

Siri Says:
Hi would like to know the logistics to setup a playarea and party hall for kids

Angel Playground Equipment CO.,LTD Says:
Already sent, Please check. Looking forward to your reply.

Alicia Says:
May I have a catalogue with pricing? Thank you

Angel Playground Equipment CO.,LTD Says:
Got your message, Thanks! Please check your email for process of start indoor playground, Looking forward your reply with layout information.

Rakesh Says:
We are keen to open one of indoorplay park in our town in new zealand. Pls send us information to get ideas

Angel Playground Equipment CO.,LTD Says:
Nice day! All price online are real, If anyone you like just let me know, we are pleasure to share you details, Process please check your email.

Shukria Says:
Hi I would like to open indoor playground in Toronto Canada . Do u guys access to Canada . I really like it the Rush fun park . I would like to talk about how much it cost and what is the progress

Angel Playground Equipment CO.,LTD Says:
Nice day! Please check your email for catalog, please follow the process and provide floor plan, We will make a good design for you.
Leave a Reply
Your Phone & Email address will not be published. Required fields are mareded*