Mini playground equipment
Product Description
Send Inquiry
Small size outdoor play equipment and larger size outdoor play structure on sale!
Name

playground-equipment-ireland-A1502

specification

380x510x305

Modules

Roof, Slid, Stair, Platform, Plastic Panel, Climbing, Footplate, Fastener,stainless steel screw...

Capacity

10-30 Children

Plastic

LLDPE (thickness 6mm)

Pillar

Diameter 114mm galvanized pipe (thickness 2.2mm)

Handrail
Guardrail

With Dia-60mm, Dia-32mm, Dia-25 mm, thickness 2.2 mm .

HS code

95069900

Coating

Rubber cover on stair and platform

Package

Standard export packing


User Ages

3-12 Years old

Advantage

1.Anti-UV
2.Anti-static
3.Security
4.Environmental-Friendly
5.Color not fade

Certificate

ISO9001, TUV-EN1176,CE...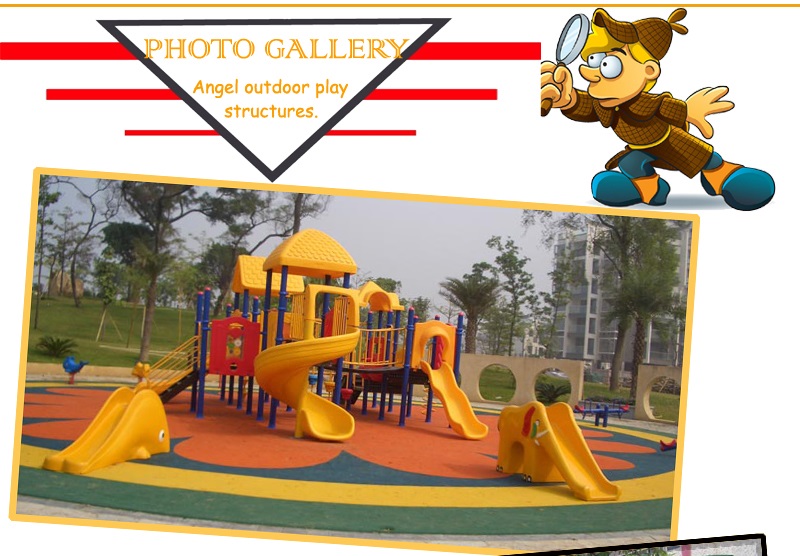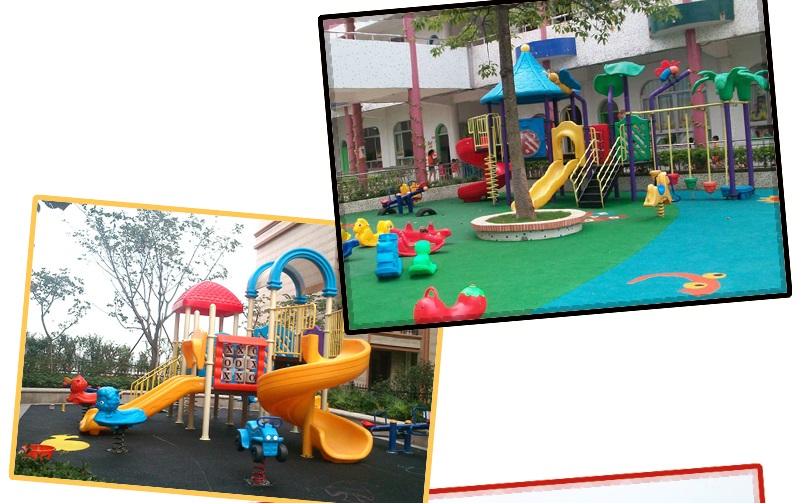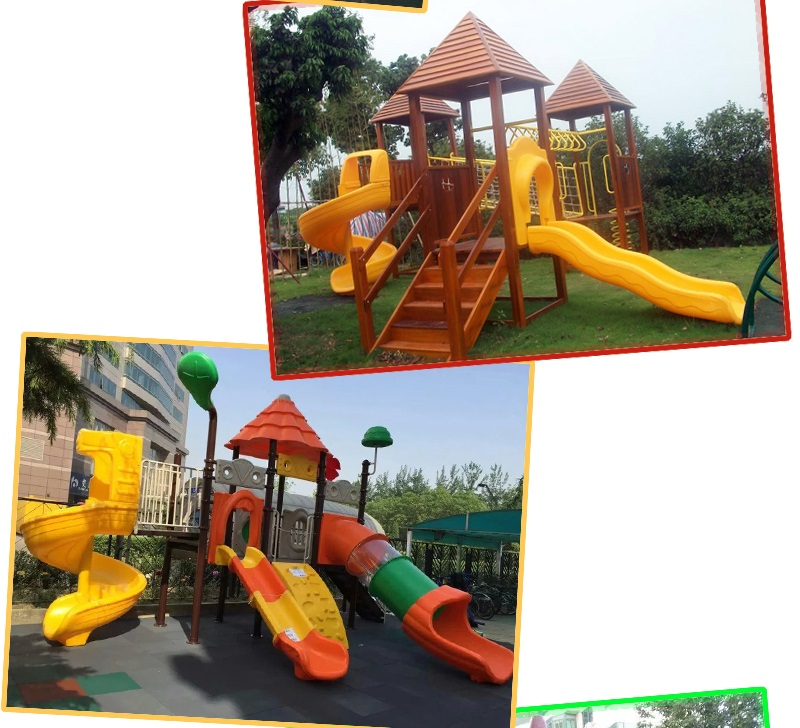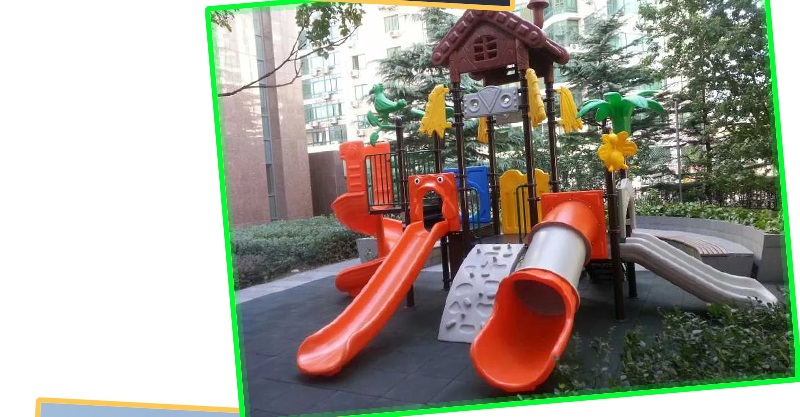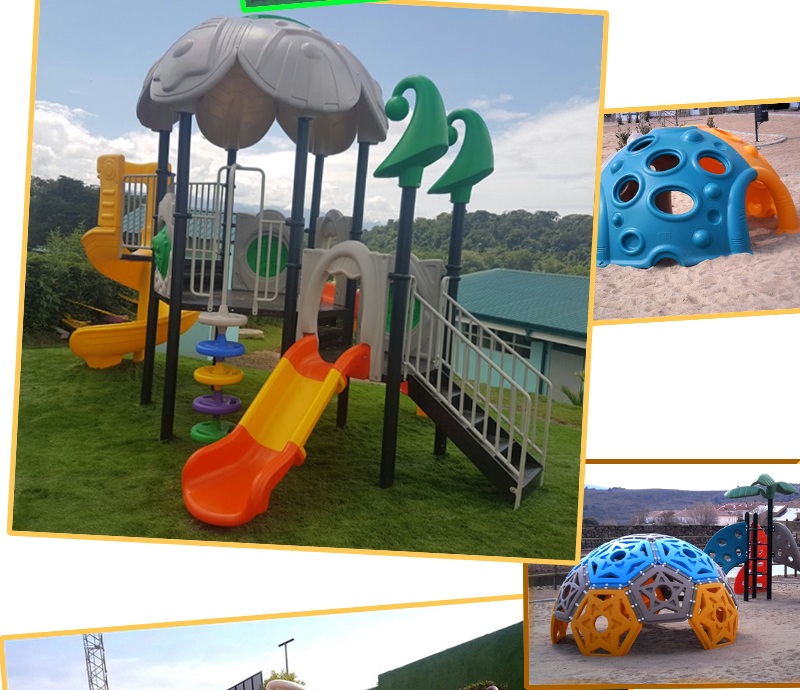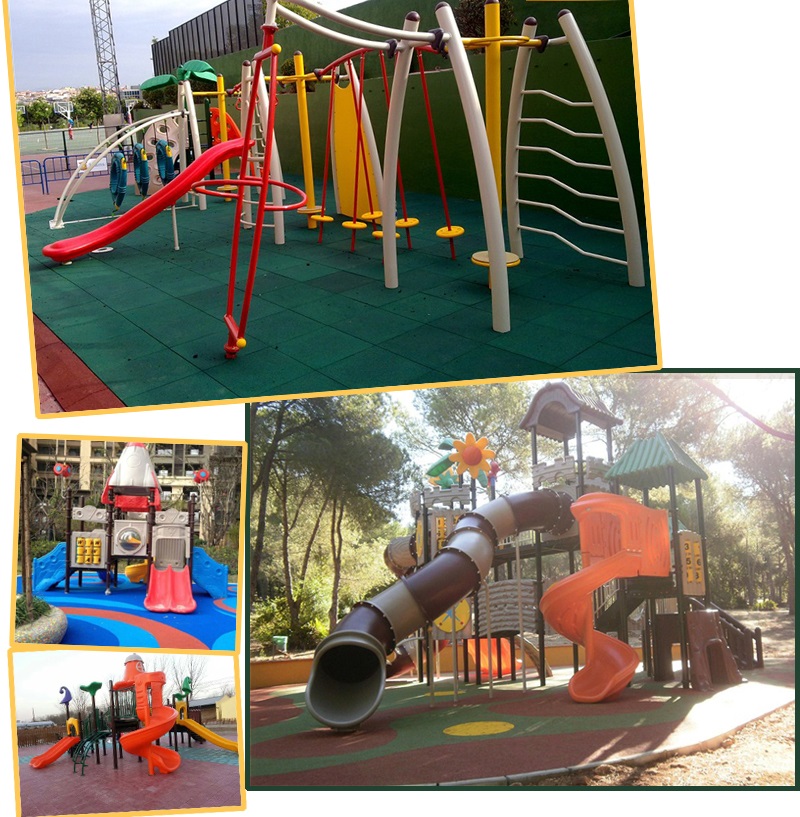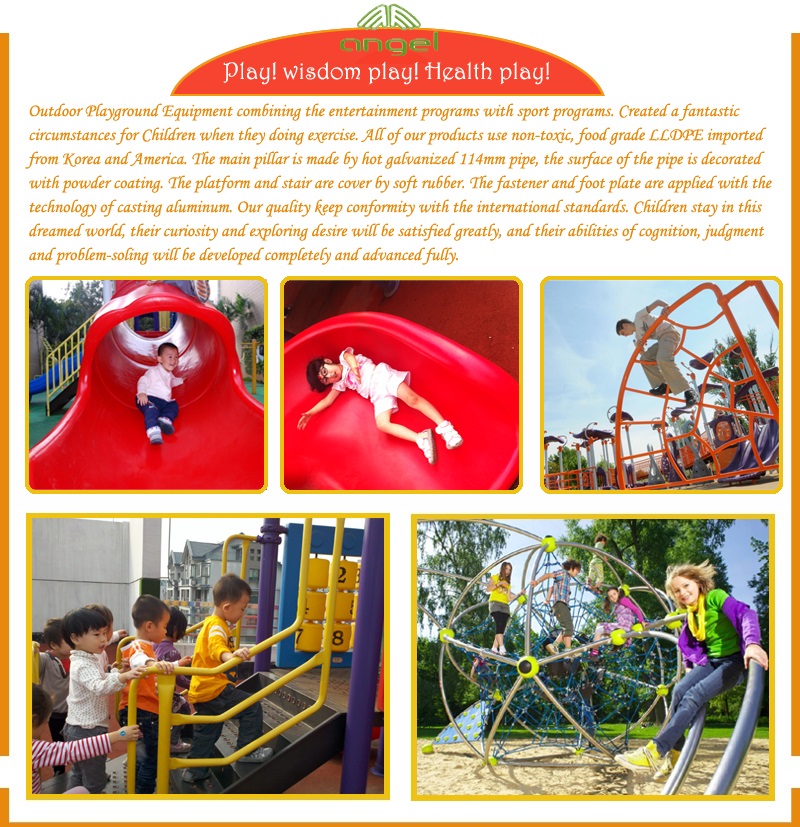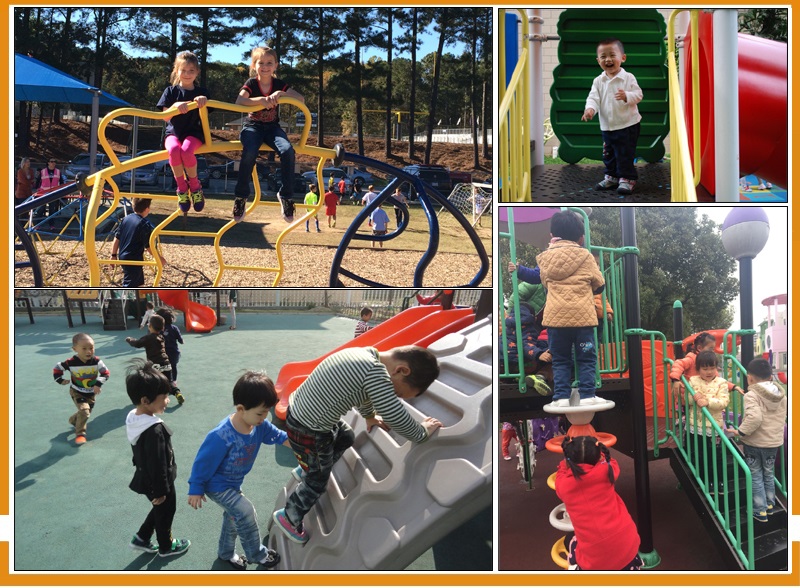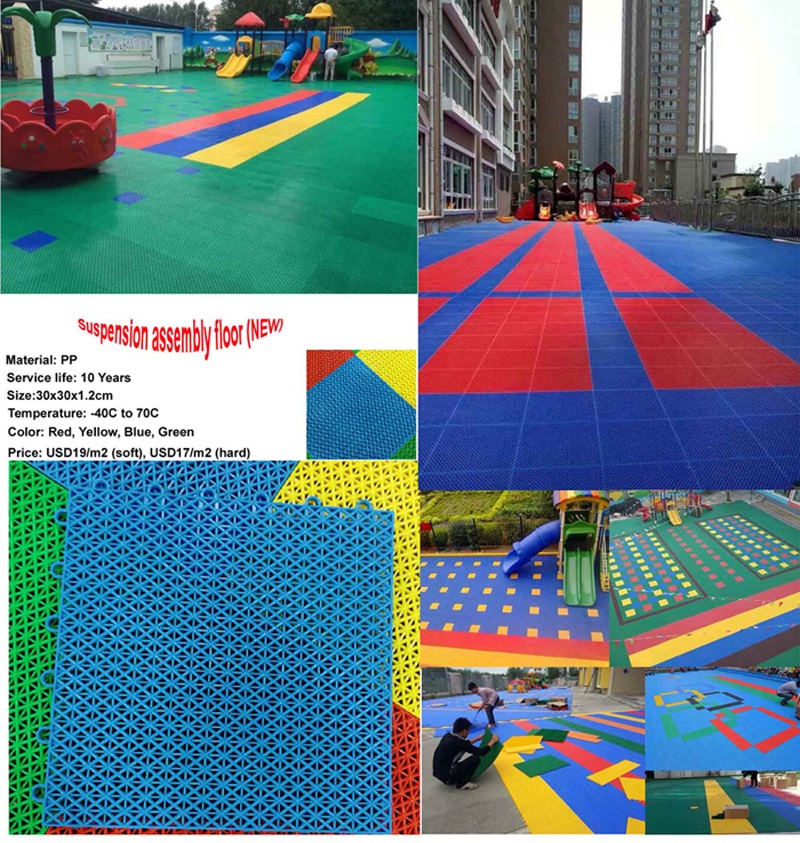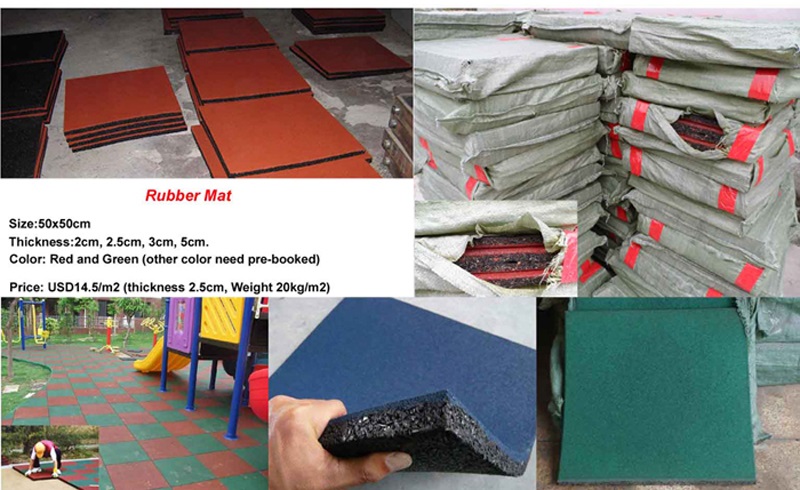 Let's Go To the Outdoor Playground to Have Your Children Wheat
The summer, with a temperature of above 30 degree centigrade at eh beginning of June, is going to be very hot this year, there is no doubt parents will keep their kids away from any outdoor activities for they don't want their kids go get brown or fall ill under the burning sun. Children are fettered in the house or in the personal nursery where there are air-conditioner to cool the hot air down, so some kids may never wheat for the whole summer. Such action reminds me of the flowers in the greenhouse, which look good from the outside, but actually easy to get withered once placed in a natural environment. Therefore, in my opinion, it is necessary to bring some outdoor activities into their life, and the outdoor playground at your neighborhood will be a good choice because you can go eh these outdoor playgrounds at dawn or dust without worrying about the burning sun or the transportation. And what's more important is that your kids will wheat while playing in the outdoor playground, which is of great beneficial to their health.
First thing first, doing activities in outdoor playground cultivate their physical health. On the one hand, outdoor playground provides kids with activities of all kids with helps to exercise body form from different parts, such as their legs, arms or hands. These activities cost energy passion, which means that your kids will no doubt wheat while doing all these activities. Wheat is the best way to keep the balance of the digest and ingest of your body, to maintain healthy in your skin. On the other hand, children can get a chance to walk out of their home to have a deep breath of the air outside, though it is hot, they would not feel very uncomfortable.
Next, equipment and activities in outdoor playground light up their dull life and bring them with more interests and happiness. Children who stayed at home have nothing to do except reading books, watching TV, playing with small toys; these are far from enough to have them satisfy with their days. They are eager to play outside; to meet with their friends, forbid them from going outside is indeed hinder the way of finding happiness.
From the above analysis, I can safely draw a conclusion that the outdoor playground is of great necessity to children's life. Hot temperature should never be treated as a reason to keep your kids away from all the activities outside, including the activities in the outdoor playground. On the contrary, it is of great beneficial to have your kids' wheat in those outdoor playgrounds near your home.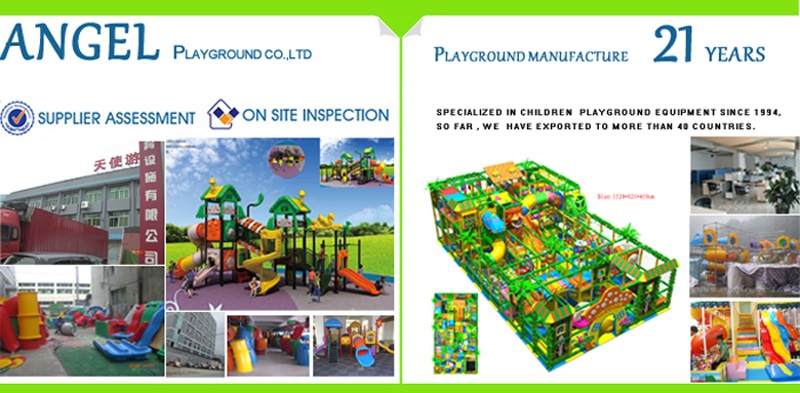 Reviews


Kate Says:
Can you please email me a catalogue

Angel Playground Equipment CO.,LTD Says:
Hi Take, Please let me know where are you from and plan for your play area, we are pleasure to make proposal for your play center.


SHARADA Says:
CAN U PLEASE SEND CATLOG

Angel Playground Equipment CO.,LTD Says:
Hi Sharada, Wish you have a nice day, please check our catalog and reply with details of your place.


Olga Says:
Hi, Could you send me the catalog?

Angel Playground Equipment CO.,LTD Says:
Hi Olga: You have a nice day, please check catalog to your email. Thanks


Andrzej Suchocki Says:
Hi, can you please share catalog

Angel Playground Equipment CO.,LTD Says:
Hi Andrzej Suchocki: Thanks for your message, We are pleasure to share catalog with you, please check our reply and feedback with more details of your inquire.


Jerica Says:
Hi can you please share catalog

Angel Playground Equipment CO.,LTD Says:
Dear Jerica: please check our reply to your email for catalog, wish get your reply soon.
Add a Review
Your Phone & Email address will not be published. Required fields are mareded*
ANY QUESTION?