Playground 50-100m2
Product Description
Send Inquiry
This four level design have very good look and rich on play equipment, this indoor playground have slide on the building from level four to level three, on level four have lot of tunnel, which kids can watch their friends play on below level, on level three have net tunnel cross the structures, on level one and level two have different slide to the ball pit.
Turn-Key indoor playgrounds supply by Angel playground!
Inclusive Ce Approved Indoor playground equipment on competitive price- Angel playground!
This set purchased by Intersystem EU s.r.o in Dukelska 295/34,014 01 Bytca,Slovakia.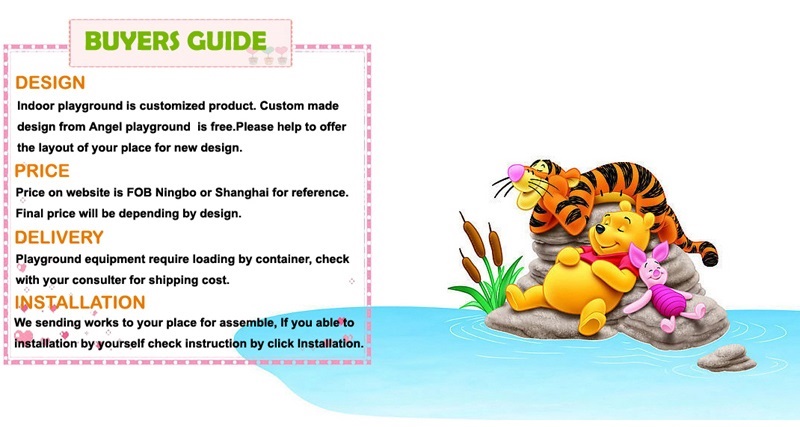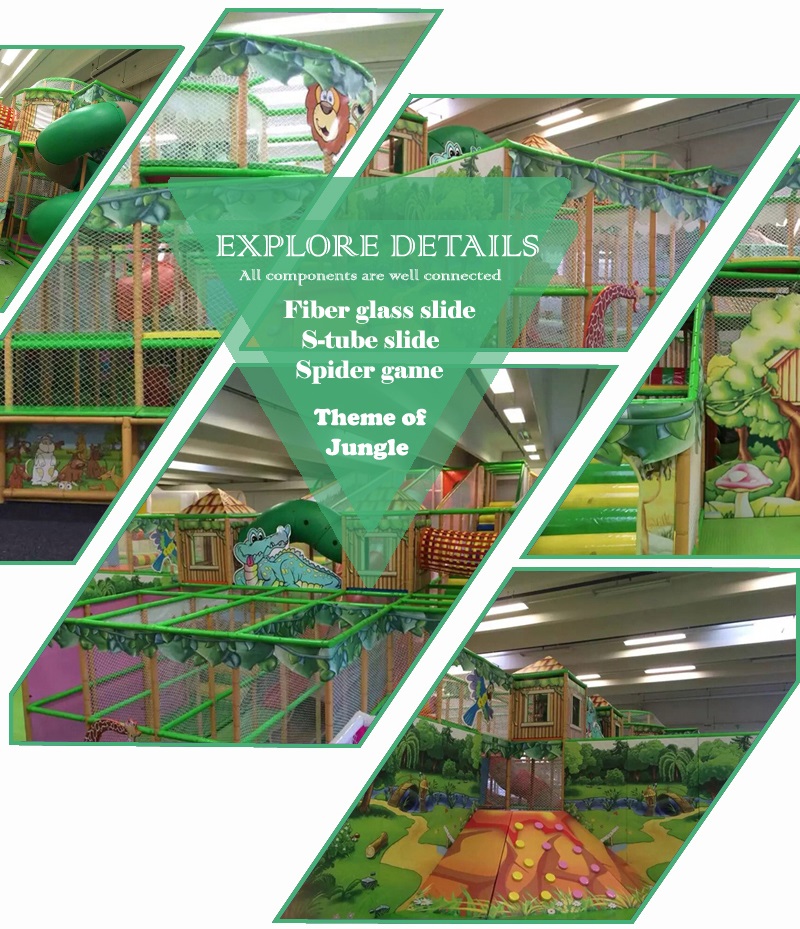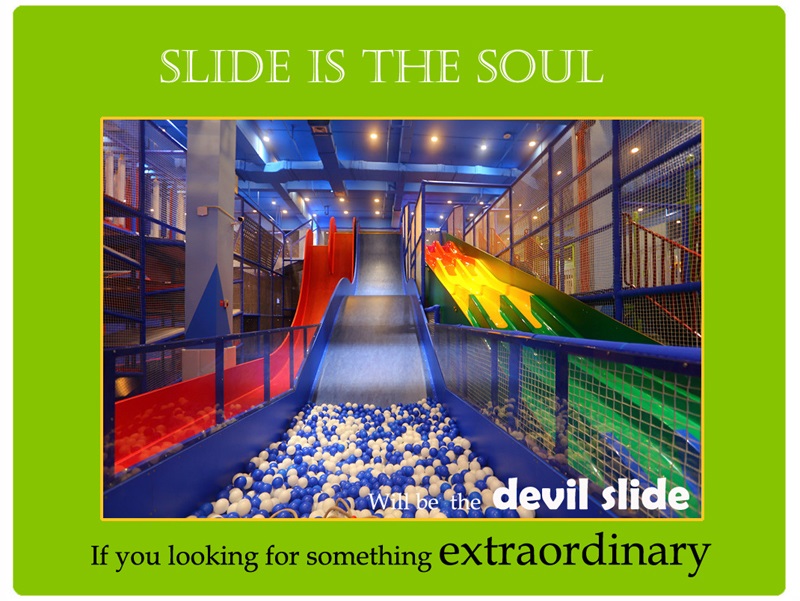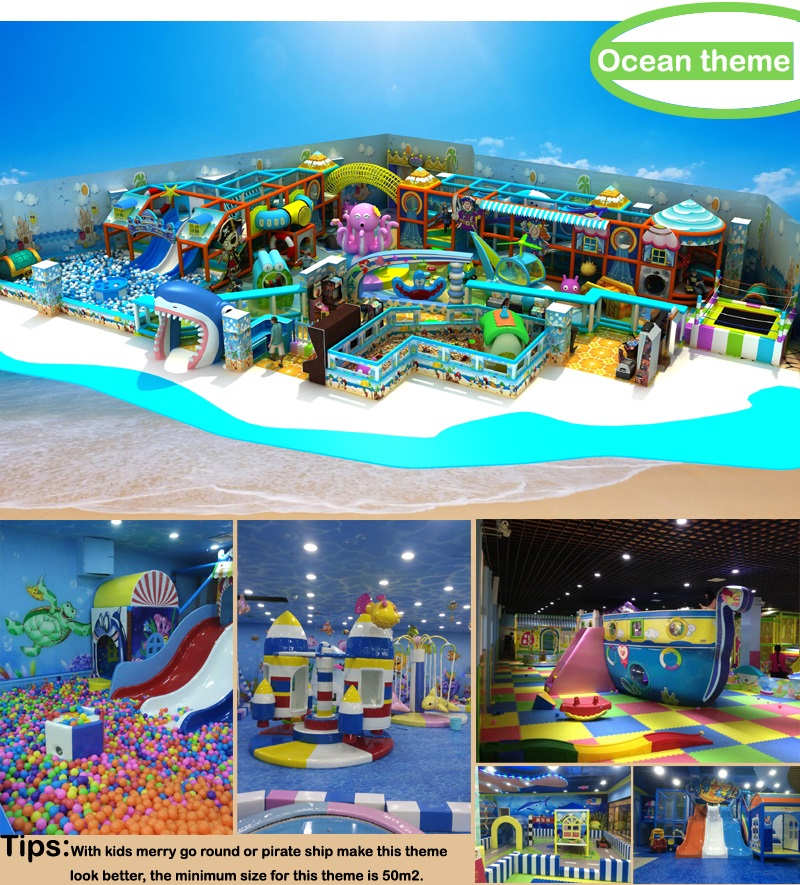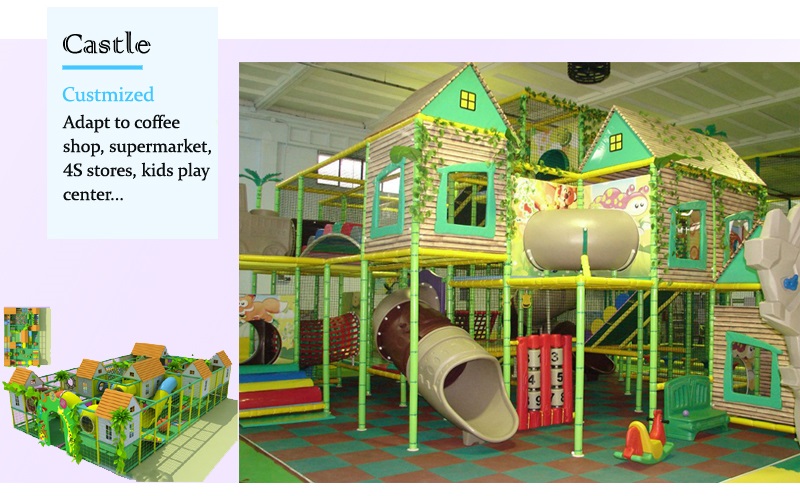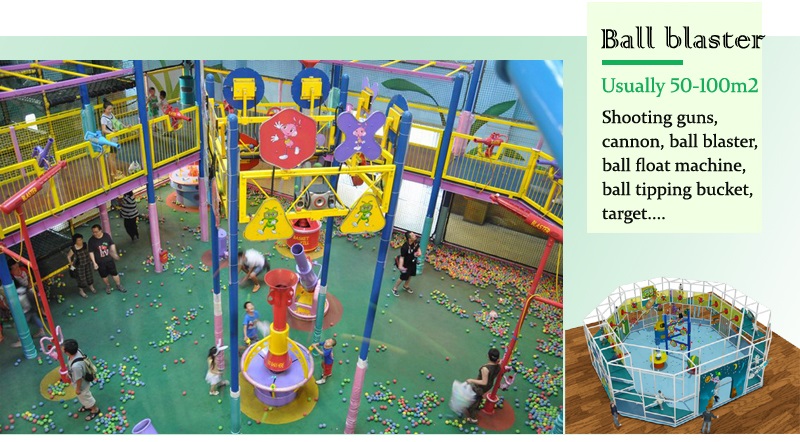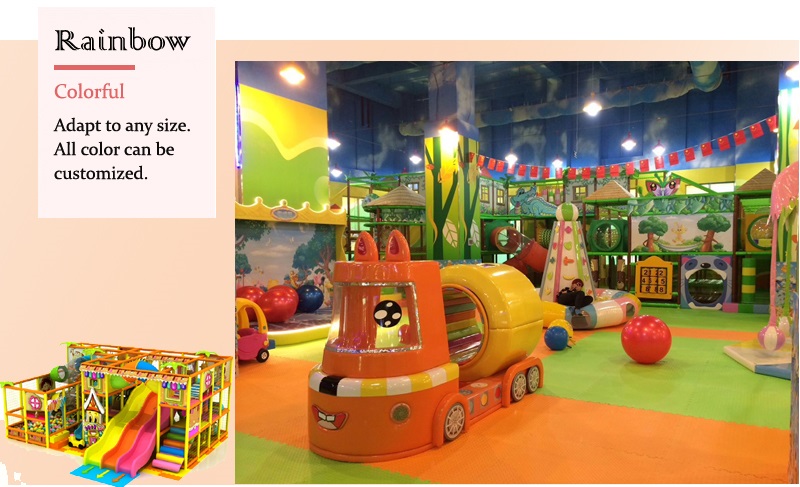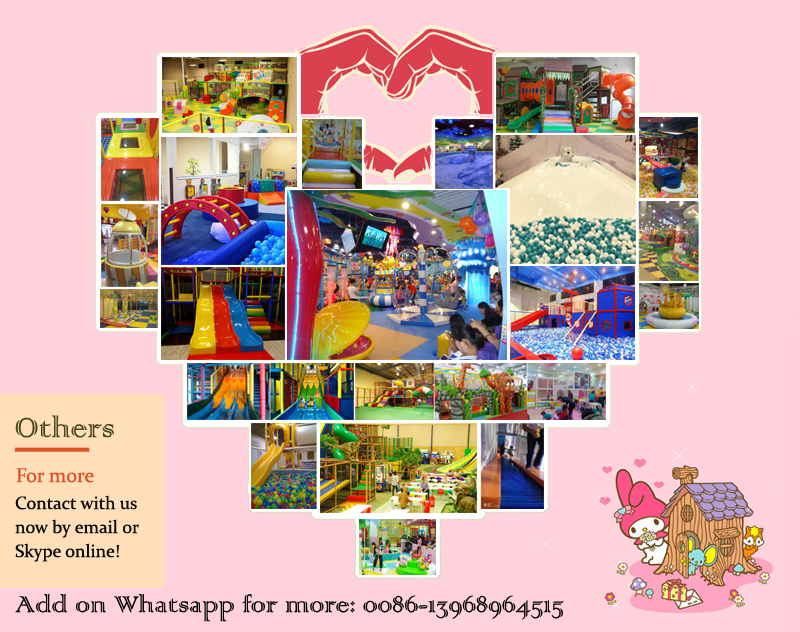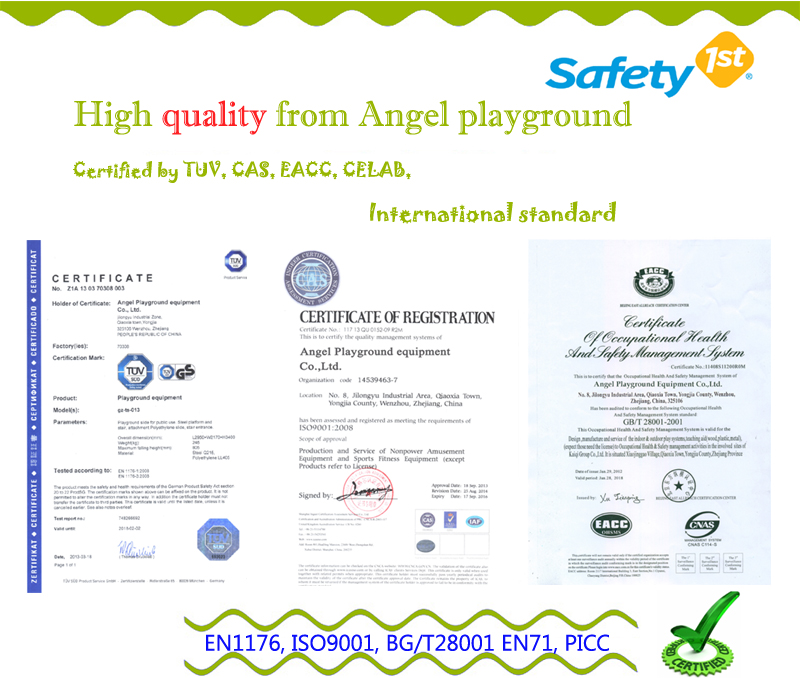 Does New Semester Mean the Disappear of Indoor Play Centre for Children?
The happy vocation finally comes to the end, children have to leave the indoor playground equipment and get their stuffs prepared for the new semester. This must be the most unpleasant moment in the whole summer. Children are reluctant to part with their dear friends and the Indoor Play Centre in which they have fun for the vocation. The new semester and school life in children's mind symbolize the fare well with their beloved playground. You can imagine how heartbreaking it will be! But does it really like what the children are thinking of? Maybe the kids are just worrying too much.
To begin with, there are many school activities organized by schools or education institution to gratify children's intention to play and have fun. These indoor playground activities include activities organized in classes, in other play center by teachers. Therefore, even though parents forbid kids from playing in the indoor playground, children can get the chance to by attending activities organized by schools instead. These school activities will be no less interesting than indoor playground activities because kids have a lot of partners and friends and they will get rewarded by the teacher when they finish the task fast and well.
In addition, children seem to forget about their weekend time. Going to school doesn't mean that all the time has to be devoted to classes and homework. It's okay to ask parents to take you out to relax and have fun after you finish the task assigned by the teachers. If you don't play tricks to your parents, it is very likely that they will permit to have you enjoy your time in the indoor playground for a while. Kids should believe that every kid is born with the right to play, so it is reasonable to ask your parents for the right.
Last but not least, children can try to make good use of the equipment set in schools for students to play, during the breaks or after schools, invite some of your good friends to play with you, though the equipment may be not as comfortable than that of indoor playground, they equal in the function of bringing fun and happiness to children. It is a very efficient access to building up good relationship with your classmates and at the same time killing your lonely time at home.
In conclusion, the start of the semester never means the disperse of Indoor Play Centre from children's daily life. If you like, everywhere can be an indoor aground.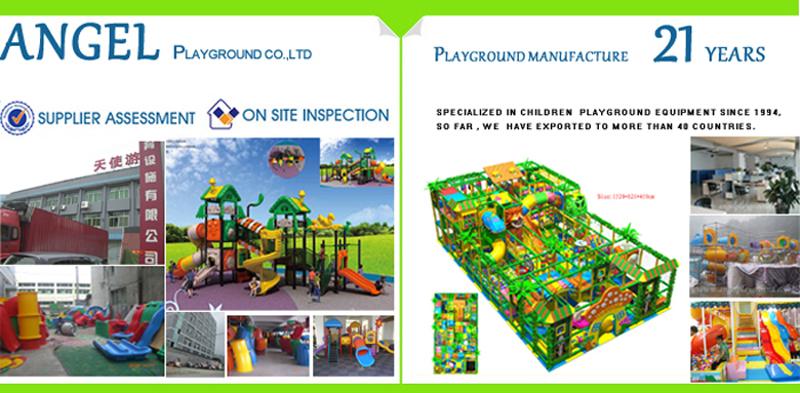 Reviews


Lourdes Says:
Buenos días Quisiera recibir más información sobre vuestros productos. ¿Sería posible el envío de un catálogo? Gracias.

Angel Playground Equipment CO.,LTD Says:
Gracias por ponerse en contacto con nosotros! ¿Sabes hablar inglés? Estamos muy bien placer de hacer la propuesta para su área de juego interior. Por favor, compruebe el proceso a continuación y advsie su plan: 1, Diseño: 100% personalizado, por favor envíenos el plano de planta en el archivo CAD para un nuevo diseño (por lo general, tome 2-3 días). A, Para asegurarse de que el diseño se ajuste perfecto, marque la información en el plano de planta (altura limpia, entrada, ubicación y tamaño de la columna, lugar para la sala de lavado, café, sala de fiestas, etc.) B, Se puede personalizar (color, tema, componentes) de acuerdo con el presupuesto previsto. 2, Producción: Nuestro tiempo de liderazgo del producto es de 15-30 días dependen del diseño. Haremos la instalación de prueba antes de la entrega (pieza de metal y plástico), proporcionaremos imágenes reales y diagrama de instalación 3D, para obtener más detalles, haga clic en (Proyecto-Instalación) en nuestro sitio web. 3, Podemos cuidar de Delviery (Por favor, avise el envío a qué puerto). Mucho diseño en nuestro sitio web con precio FOB en EE. UU. Dólar, Deseo que pueda obtener el ideal de costo aproximado. Cualquier pregunta por favor no dude en ponerse en contacto!


Laure Njoya Says:
Good morning, Do you ship to Cameroon? Please send me you catalog for outdoor commercial kids playground. I need that to have better idea for the floor plan. Thank you

Angel Playground Equipment CO.,LTD Says:
Hi Laure Njoya: Shipping to Cameroon is fine, Please confirm models and quantity you needs. Price list please check your email.


Blake Thompson Says:
Do you ship to Los Angeles CA? I'd like to get an email of your catalogue and pricing. I will then send you my floor plan to have you help create a design.

Angel Playground Equipment CO.,LTD Says:
Hi Blake Thompson: Shipping to Los Angeles no problem, we have done some projects in AL before. Please share me the floor plan by emial.


Fjolla Says:
Please can you email, a catalog our company is interested for indoor children playground. Thank you.

Angel Playground Equipment CO.,LTD Says:
Dear Fjolla: Just sent you G3.0 Catalog by email, please check and provide the layout of your indoor playground area.


viktoria Says:
I would like to have a catalog of your playgrounds so that I can see them fully and make better-informed decisions about what I want and need for my business. Thanks

Angel Playground Equipment CO.,LTD Says:
Thanks for your message! Please share me more information of your inquiry, Indoor playground is 100% cusotmzied? Do you already have the place or try to collect information before rent one.
Add a Review
Your Phone & Email address will not be published. Required fields are mareded*
ANY QUESTION?