10 Best Kids Indoor Playgrounds in Tampa, Florida, USA
Views: 5766 Update date: Nov 26,2021
01
Playgrounds of Tampa
4535 S Dale Mabry Hwy, Tampa, FL 33611
02
Altitude Trampoline Park Tampa
4340 W Hillsborough Ave, Tampa, FL 33614
03
K Peas Place
13966 Lynmar Blvd, Tampa, FL 33626
04
Little Play Place
14425 N Dale Mabry Hwy, Tampa, FL 33618
05
Urban Air Trampoline and Adventure Park
6250 Commerce Palms Dr, Tampa, FL 33647
06
Bounce House
5208 W Linebaugh Ave, Tampa, FL 33624
07
We Rock the Spectrum - Tampa
1076 E Brandon Blvd #102, Brandon, FL 33511
08
The Airosphere, Inflatable Park & Arcades
622 Ware Blvd, Tampa, FL 33619
09
Sky Zone Trampoline Park
10137 E Adamo Dr #800b, Tampa, FL 33619
10
Flying Squirrel Trampoline Park Lutz
35225 US Hwy 19 N, Palm Harbor, FL 34684
01
Playgrounds of Tampa
Playgrounds of Tampa is a bright, playful destination for young children, parents and caregivers. We make a big deal out of providing a safe, clean and active environment.
We are uniquely designed for open play in addition to hosting extraordinary birthday parties. Playgrounds invites you to relax, enjoy coffee, tea & WIFI and connect with other adults, as your children explore our 7,500 sq. foot indoor play space. We are located in the heart of Tampa, FL!
Address:4535 S Dale Mabry Hwy, Tampa, FL 33611
Phone:(813) 835-7529
https://www.playgroundsoftampa.com/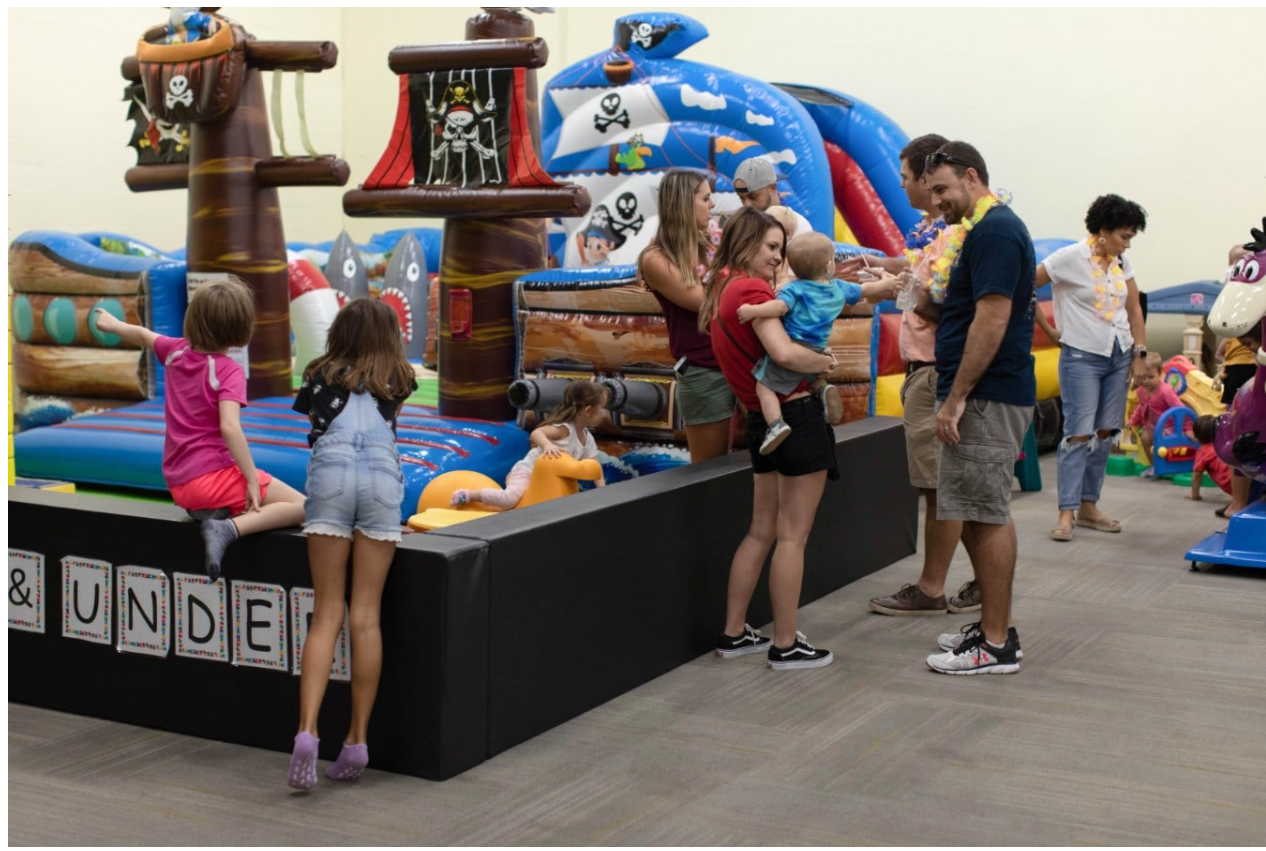 02
Altitude Trampoline Park Tampa
Channel your energy, cut loose with your best flips and tricks, and prepare for the Jump Life℠ Featuring 30,000 square feet of indoor trampolines and other attractions, Altitude Trampoline Park is an exciting destination for families, groups, and individual jumpers to have healthy, athletic fun.
Ready for jumps and jams? For all you dodgeball dynamos and wipe-out wonders ready to be free and play—we're ready too! Grab a jump pass and find the location nearest you.
Address:4340 W Hillsborough Ave, Tampa, FL 33614
Phone: (813) 399-1529
https://www.altitudetrampolinepark.com/locations/tampa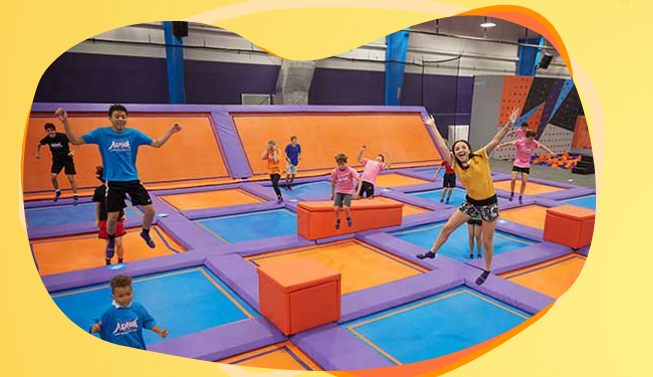 03
K Peas Place
K Peas Place is an indoor playground in Tampa dedicated to creating a safe and fun playground for kids and caregivers. Our 3,000 ft facility in the Westchase area of Tampa is an
enriching environment to connect, play and celebrate together.
Address:13966 Lynmar Blvd, Tampa, FL 33626
Phone:(813) 814-4193

04
Little Play Place
Pretend play awakens your child's imagination. It can help build their social confidence by encouraging friendship through cooperation, listening and taking turns.
Each play space has been designed for your children -up to 8 years of age – and in consultation with fellow parents, early childhood educators, pediatric occupational therapists and speech pathologists.
The Little Littles is our baby area. It features sensory toys and a few role-play dress ups designed to provide interest and stimulation for the smallest of people.
Sunshine, heat, cold, or rain, Little Play Place is Tampa's newest all-weather spot for making childhood memories.
Adress:14425 N Dale Mabry Hwy, Tampa, FL 33618
Phone:(813) 252-9944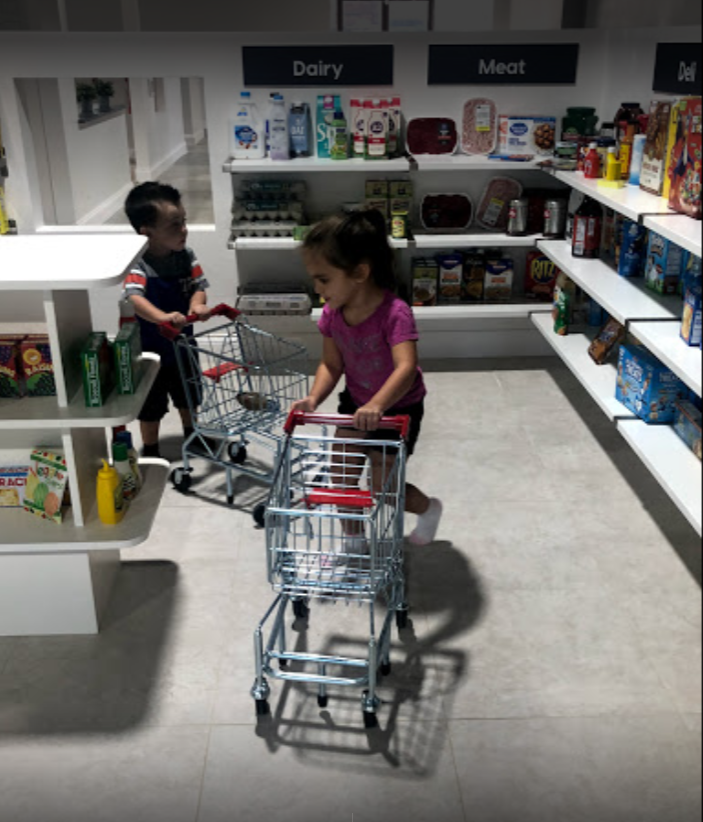 05
Urban Air Trampoline and Adventure Park
Address: 6250 Commerce Palms Dr, Tampa, FL 33647
Phone:(813) 522-5401
https://www.urbanairtrampolinepark.com/locations/florida/new-tampa
Welcome to New Tampa
If you're looking for the best year-round indoor amusements in the Winter Haven, Plant City, Brandon, Tampa, Lake Whales, Lake Buena Vista and Lakeland area, Urban Air Trampoline and Adventure park will be the perfect place. With new adventures behind every corner, we are the ultimate indoor playground for your entire family. Take your kids' birthday party to the next level or spend a day of fun with the family and you'll see why we're more than just a trampoline park.
Urban Air Adventure Park has been voted BEST Gym In America for Kids by Shape Magazine, BEST Place To Take Energetic Kids and BEST Trampoline Parks. Check out all of our awards on our Awards page.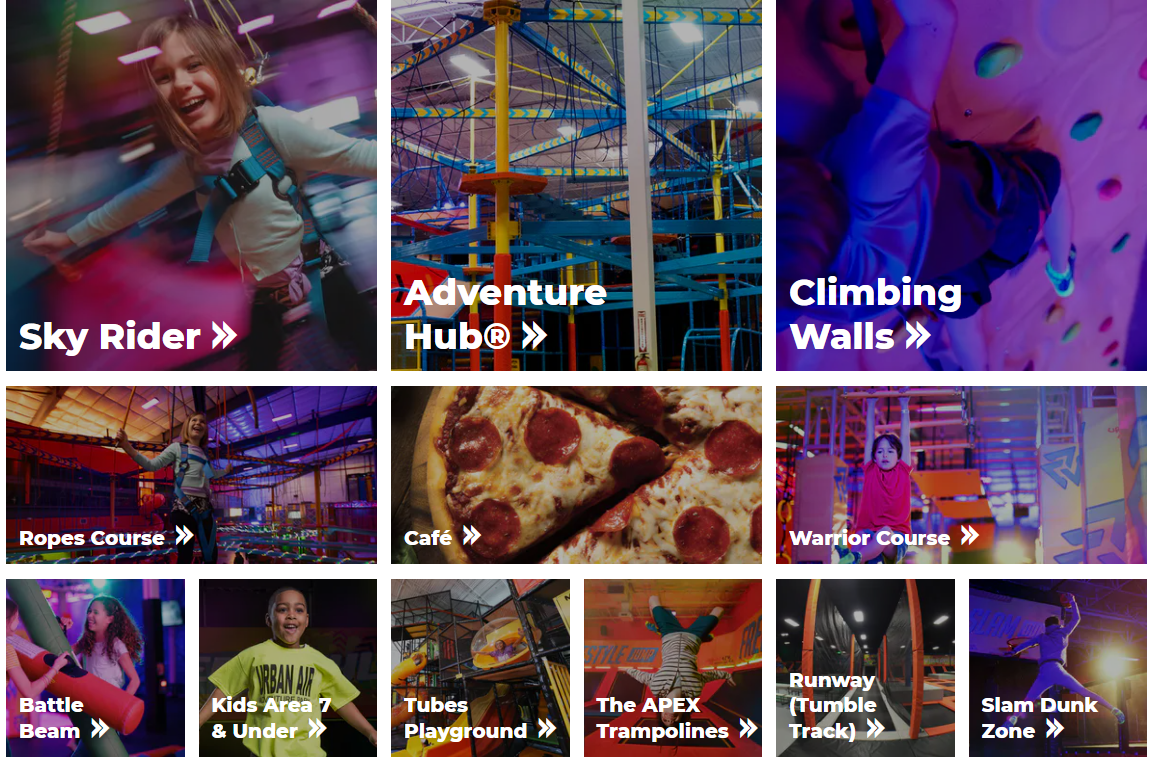 06
Bounce House
Bounce House Place is an indoor party and playtime center for children located in Tampa, Florida. Providing an inflatable playground for toddlers to 12 year olds, children can safely bounce, jump, and slide in our play center. As a neighborhood destination for family fun in a clean and creative environment, Bounce House Place offers "worry-free" parties and other private events as well as open play for our customers. Only at Bounce House Place will you find huge, custom-made inflatable jumpers and permanent structures that include the tallest and longest indoor inflatable slides. Our play facilities are award winning and offer the best equipment that is perfectly sized for kids to play in, ensuring an active, memorable and fun-filled experience for everyone!
Address:5208 W Linebaugh Ave, Tampa, FL 33624
Phone:(813) 265-8000
https://www.bouncehouseplace.com/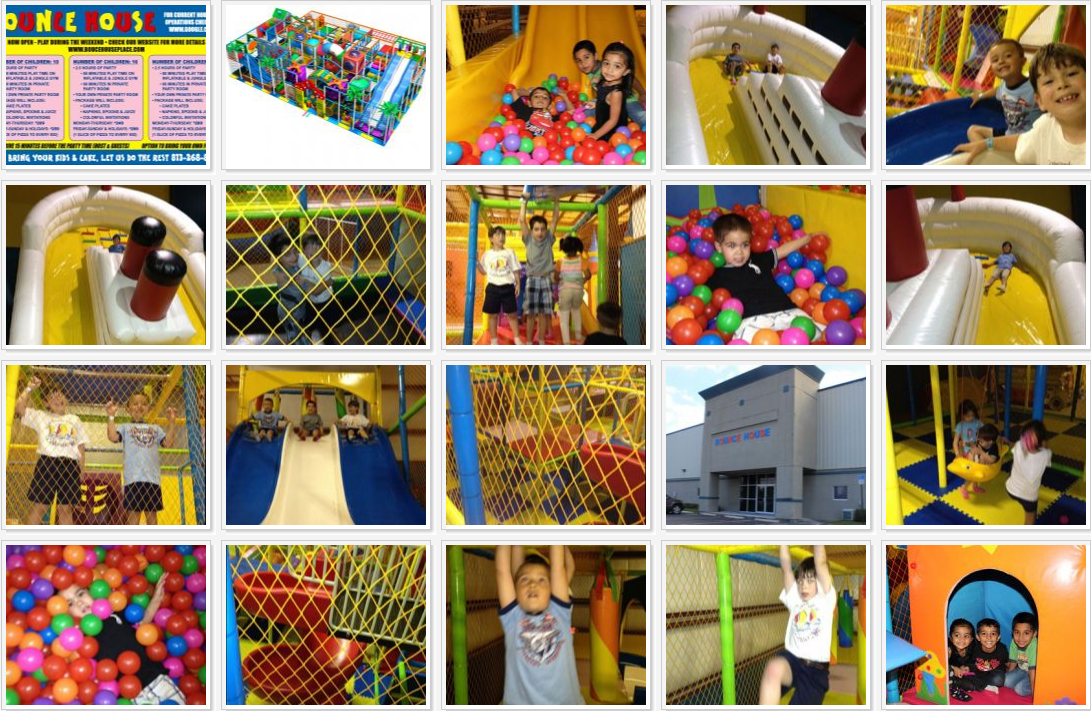 07
We Rock the Spectrum - Tampa
Suspended equipment with swings – for balance and vestibular treatment
Crash mats and crash pillows – for fun, motor planning, and strength
Zip line – for stress release and joint and body relaxation
Trampoline – for building leg and core strength
Indoor play structure – for climbing and increasing playground skills
Sensory-based toys – for improved auditory processing and fine motor skills
Fine Motor and Arts and Crafts Area – for improved hand-eye coordination
Address:1076 E Brandon Blvd #102, Brandon, FL 33511
Phone:(813) 571-1600
https://www.werockthespectrumtampa.com/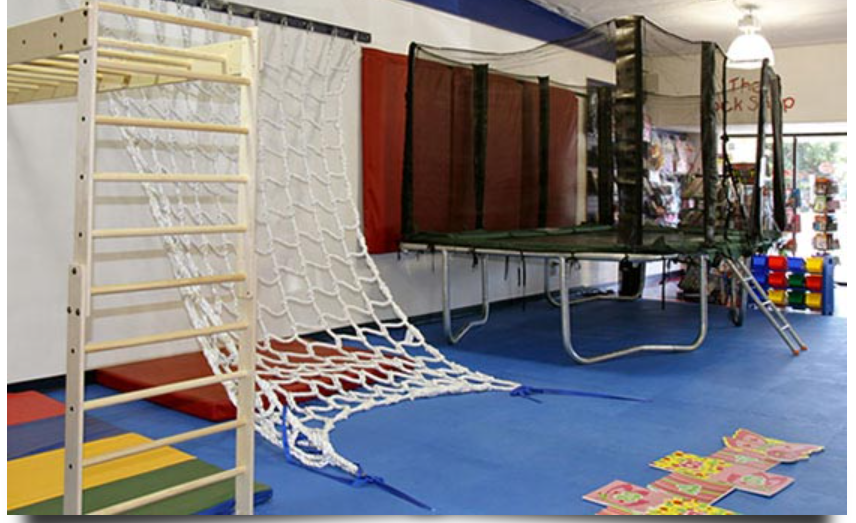 08
The Airosphere, Inflatable Park & Arcades
Fourteen different attractions in a giant inflatable park including an obstacle courses, slides, climbing wall, cliff jump, bungee run, wipe out balls, air mountain pall pit, and many more. There's even a dedicated toddler area for the little ones.
Jump and play, fresh pizza and drinks, and a state of the art arcade all make for the best experience ever! Birthday parties are a blast at The Airosphere. Group events, corporate events, and team building are all available at The Airosphere.
We want you to feel special when you come here in this space designed to bring all the fun and excitement to you!
Address:622 Ware Blvd, Tampa, FL 33619
Phone:(813) 341-4897
https://theairosphere.com/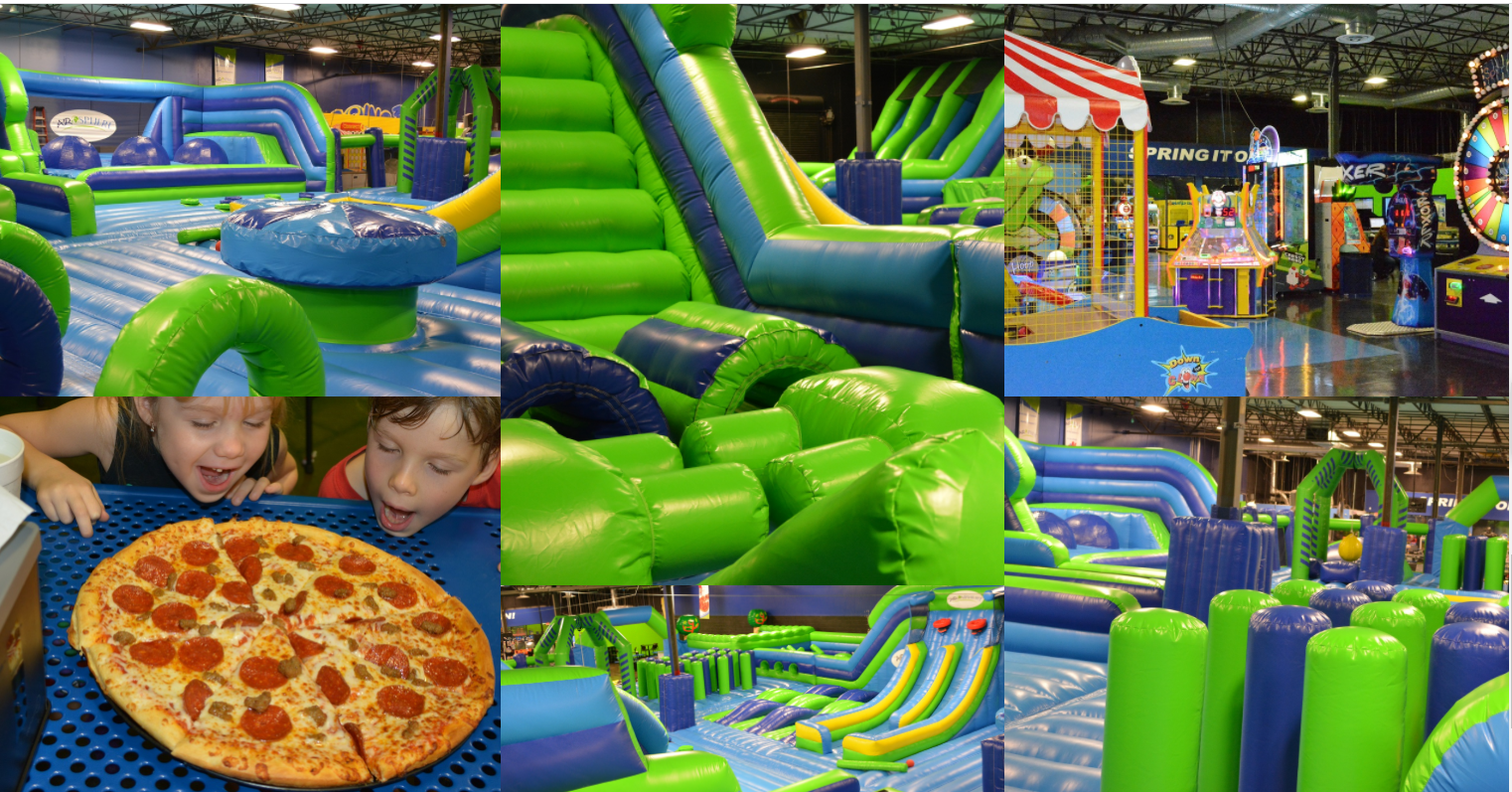 09
Sky Zone Trampoline Park
We're always working to invent epic new ways to play, gather, and compete. Even though we're the originators of wall-to-wall aerial action, we never stand still. The only way to understand it is to come experience it. So rally your crew and let's go!
Address:10137 E Adamo Dr #800b, Tampa, FL 33619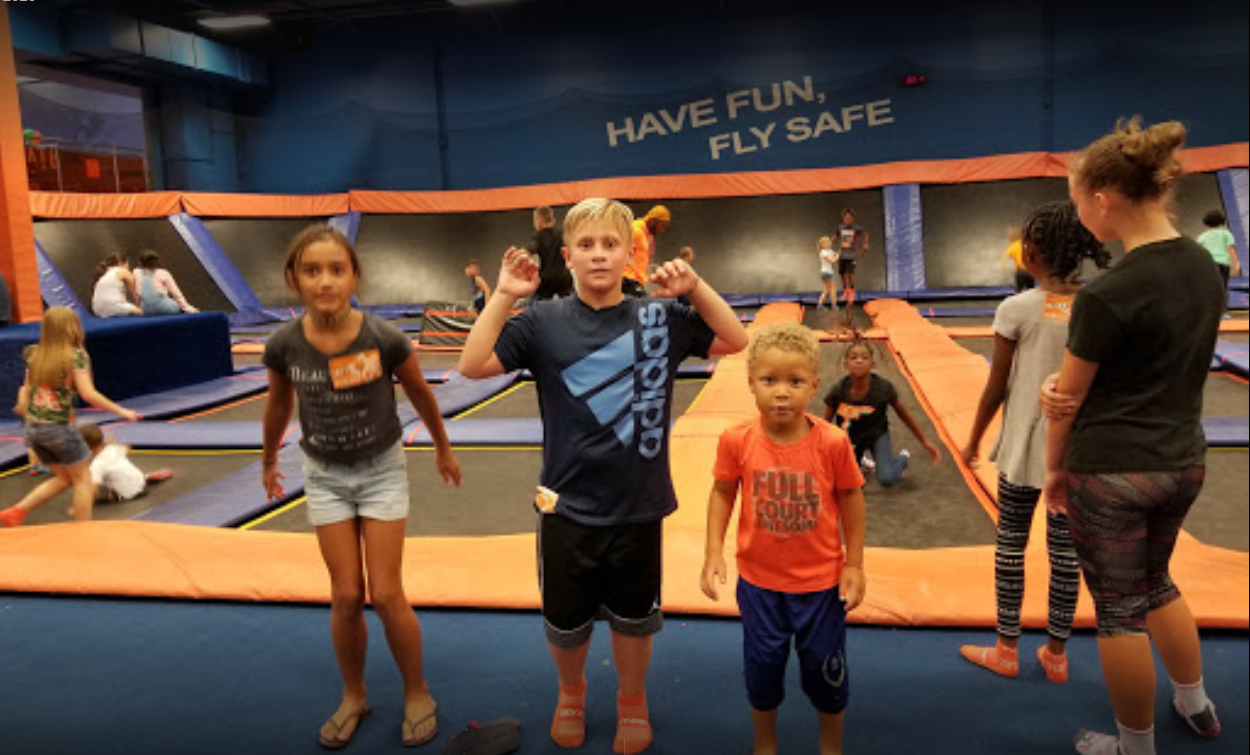 10 Flying Squirrel Trampoline Park Lutz
Flying Squirrel Sports is true fun for the whole family, where the rules of gravity no longer apply! It's a spring-loaded, urban playground like you've never seen before, and whether you're a seasoned adrenaline junkie or a family with toddlers and young children, everyone will enjoy themselves at Flying Squirrel. We make it our mission to offer premier trampoline services, in so many different forms. Form your own extreme dodgeball team, slam dunk like a pro, practice your best aerial acrobatics, and so much more. We take pride in being the area's best indoor fun park, and that means not only ensuring everyone has a good time, but everyone is safe, and in a completely clean facility at all times. It's important to us that our entire facility is spotless and up to our own standards each day, so we take the time to clean everything with an antimicrobial solution every single night. Don't feel like jumping today? We've still got you covered. Take a rest in the Drey Bar & Cafe (save a chicken wrap for me!), or relax in our lounge area with free WiFi, and watch the spectacle of people soaring around you. At Flying Squirrel, it's our mission to provide a fun environment for everyone who walks through the door. Take a look around our site to see the services and programs we offer, book your event space, or plan your next outing to the area! If you have any questions, feel free to contact us at any time – we're happy to help. See you soon!
Address:35225 US Hwy 19 N, Palm Harbor, FL 34684
Phone:(727) 286-6896
https://flyingsquirrelsports.us/
Comments

Khalid Says:
I would like to setup play ground for kind to teens indoor activities approximately how much it will cost

Angel Playground Equipment CO.,LTD Says:
Thanks for your message, Plase check our reply to your email about the process.

Sahar Says:
I would like to get the price and catalog please

Angel Playground Equipment CO.,LTD Says:
Hi Sahar, Nice day. please check our reply to your email regarding catalog. Looking forward to setup your kids play center

Fabiola Magana Says:
I will love a copy of pricing ,sizing,and contact info ..thank you so much!

Angel Playground Equipment CO.,LTD Says:
Hi Fabiola Magana, Thanks for your message, please check our reply to your email for the process and catalog. Looking forward to your reply

Amelia Lau Says:
Please send catalogue

Angel Playground Equipment CO.,LTD Says:
Hi Amelia, Nice day, Please check catalog in your email, hope you find what you like, Appreciate your feeback.

Hari Says:
Please send the catalouge

Angel Playground Equipment CO.,LTD Says:
Thanks for your message,We are pleasure to make suggestion for your play enter, please check our reply to your email, Any questions let me know.
Leave a Reply
Your Phone & Email address will not be published. Required fields are mareded*