How To maintenance and Cleaning Kids Indoor playground
Views: 17193 Update date: Mar 17,2018
Once you are in business of indoor play structures and soft play equipment, you have to consider cleaning, maintenance and repair. K ids Indoor play equipment and soft play area are our speciality, we offer a completely turnkey solution from planning through to installation and after service.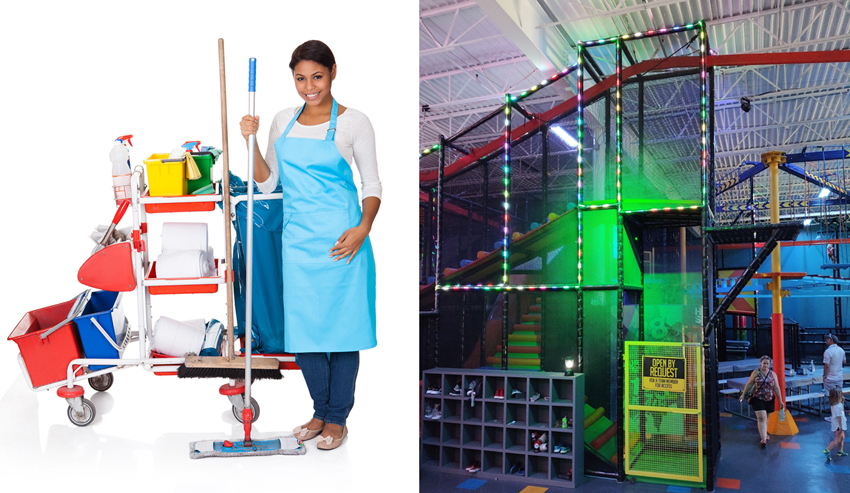 Previously prepared
Before you open for business, learn to identify potentially dangerous issues like sharp edges or improperly secured moving parts that could hurt or entangle children, check all metal parts especially screw not reach out any soft play parts, security net are well tight. Plastic and fiber glass material needs to be checked for any possible cracks and breakage, metal parts should be checked for rust, soft play parts should be checked for breakage and edge damage.Evaluate any existing equipment to ensure that it doesn't pose a risk of children getting trapped or harmed.
If you come across a problem, remove and repair with new parts, it is important that you repair or remove any potentially hazardous play equipment especially on slide. Ensure that all equipment is up to basic safety standards. All equipment present on a playground should minimize the possibility of children harming themselves while playing.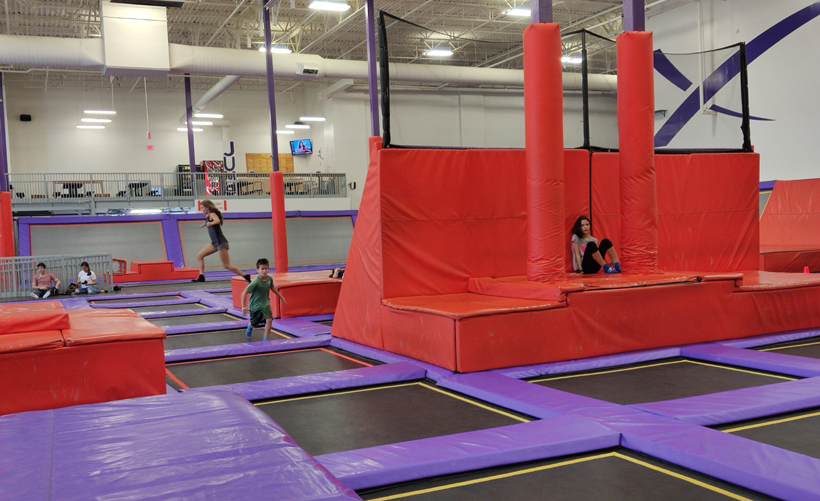 Inspection & Maintenance of Kids Playground Equipment
It's important to create a safe environment for kids, a proper playgrounds maintenance helps minimize the risk of preventable injuries, A proper maintenance schedule involves regular inspections and updates of play equipment are extremely important for keeping your play area safe for children.
Playground grounds and equipment should be inspected daily for health and safety hazards. Carefully check for trash, broken glass, and other hazardous items and debris. Other problems to check for include vandalism or other signs of inappropriate use of the playground area. This inspection should encompass playground equipment and a reasonably large surrounding area, including any facilities children may use while playing. If your playground has a sandbox or loose surfacing like mulch, it's particularly important that you carry out a close inspection for hidden dangers. While looking for debris, keep an eye out for natural hazards as well. Just like trash, new natural dangers can appear overnight. Look for anything that could cause harm to children like exposed tree roots, loose rocks, and sharp branches. Proper drainage is another key component of a safe and clean playground. Standing water and improperly drained surfaces are a cause for concern as they can cause illness and injury. When inspecting the grounds, don't forget to inspect surfacing for potential damage. Confirm that children have soft landing areas and no tripping hazards. Regular surfacing care is important because, depending on your playground's type of surfacing, portions may become loose or scattered over time.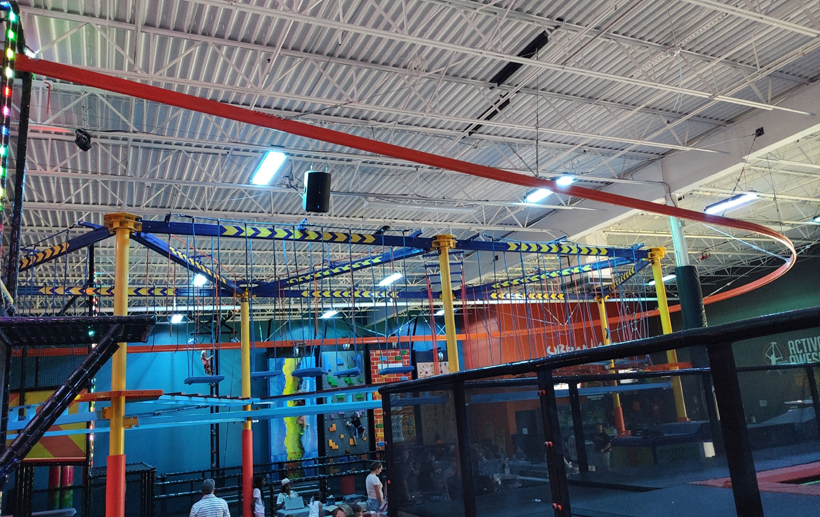 Cleaning and Sanitizing of Indoor Playground
Indoor playgrounds are great fun for families with kids, however, if not properly cleaned they can be become a hazard to public health and safety. An important part of ensuring playground safety is proper cleaning schedule. Clean environment Will help you play area provide the best possible play experience
Germs may still be present even if playground surfaces appear clean. Properly cleaning then sanitizing or disinfecting will reduce harmful germs and children's risk for illness and disease.
Cleaning: using soap and water to remove physical, chemical, and microbial substances from surfaces.
Sanitizing: using chemicals or other verified methods to reduce the number of germs on clean surfaces to a safe level.
Disinfecting: using chemicals to eliminate all of the germs listed on the product label, which may include bacteria, fungi, or viruses.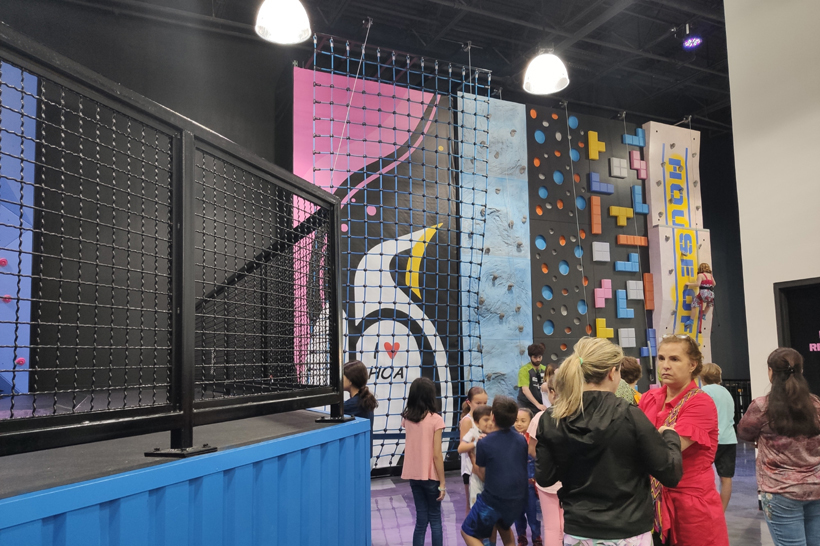 Routine cleaning and sanitizing
Indoor playground surfaces should be cleaned and sanitized daily, and spot cleaned throughout the day, even if they do not look dirty. Clean and sanitize surfaces immediately if dirt is present. Clean surfaces thoroughly with soapy water before sanitizing.
Soap & Water: mild antibacterial dish washing soap and warm water are recommended for cleaning. Use approximately 2 tablespoons to one gallon water. Never use degrease on any plastics, domes, or windows.
Soft cloths: clean, absorbent soft cotton cloths are best to use for cleaning. never use paper towels on domes or windows. It will scratch and dull the surface.
Soft bristle brush: use clean, soft bristle brushes for cleaning ropes and web crawls, and removing dust and debris from plastics. never use harsh chemicals such as bleach, chlorine, or other chemicals that may degrade or dull the plastic.
WD40: use WD40 to remove scuff-marks on plastic only. Wash and rinse the surface immediately after using to remove any residue.
Comments

Rakesh Patel Says:
Indoor Soft play setup for 3 to 10 year age group..plz reply with design and setup cost.

Angel Playground Equipment CO.,LTD Says:
Hope this message find you well, we are pleasure to make proposal for your kids play area, please check our reply to your email. Thanks!

Siri Says:
Hi would like to know the logistics to setup a playarea and party hall for kids

Angel Playground Equipment CO.,LTD Says:
Already sent, Please check. Looking forward to your reply.

Alicia Says:
May I have a catalogue with pricing? Thank you

Angel Playground Equipment CO.,LTD Says:
Got your message, Thanks! Please check your email for process of start indoor playground, Looking forward your reply with layout information.

Rakesh Says:
We are keen to open one of indoorplay park in our town in new zealand. Pls send us information to get ideas

Angel Playground Equipment CO.,LTD Says:
Nice day! All price online are real, If anyone you like just let me know, we are pleasure to share you details, Process please check your email.

Shukria Says:
Hi I would like to open indoor playground in Toronto Canada . Do u guys access to Canada . I really like it the Rush fun park . I would like to talk about how much it cost and what is the progress

Angel Playground Equipment CO.,LTD Says:
Nice day! Please check your email for catalog, please follow the process and provide floor plan, We will make a good design for you.
Leave a Reply
Your Phone & Email address will not be published. Required fields are mareded*