Knowledge of Outdoor playground mats
Views: 3814 Update date: Jul 09,2017
Safety mats reduce the damage of falling from outdoor play structure. Protect children from chase, horseplay. It is dangerous kids reverse play on
outdoor playground
or stretch body out fence on deck. But some naughty children still to it! Safety mats minimize these harm!
Here we introduce most common mats which have wide use for outdoor play structure!
Rubber safety mat! This mat have two layer! Surface layer made by high density plastic particles with four color for option (Yellow, Red, Blue, Green)
Ground layer extrusion forming by soft large plastic particles, We use environmental- friendly glue imported from Germany BASF company.
Thickness of safety mats from 2cm-5cm on specification 50x50cm. Safety mats is very heavy, One square meter 2.5cm mat is 20kg. Most of children park use 2.5cm mat! It is easy on assemble, Only need to brush glue on flat floor.
For mat on thickness 5cm, That is no need to glue on floor, It is too heavy can fixed itself!
That is one new mat for outdoor playground equipment! You can check by click (mat on floor) our website! This mat is made by PP with small size, 30x30x1.2cm (thickness), This mat have better looking, easier for drain away water, No need glue on floor, But is not as soft as Rubber mat!
Copy right by Angel playground equipment©
Please site the origination when you quote the information!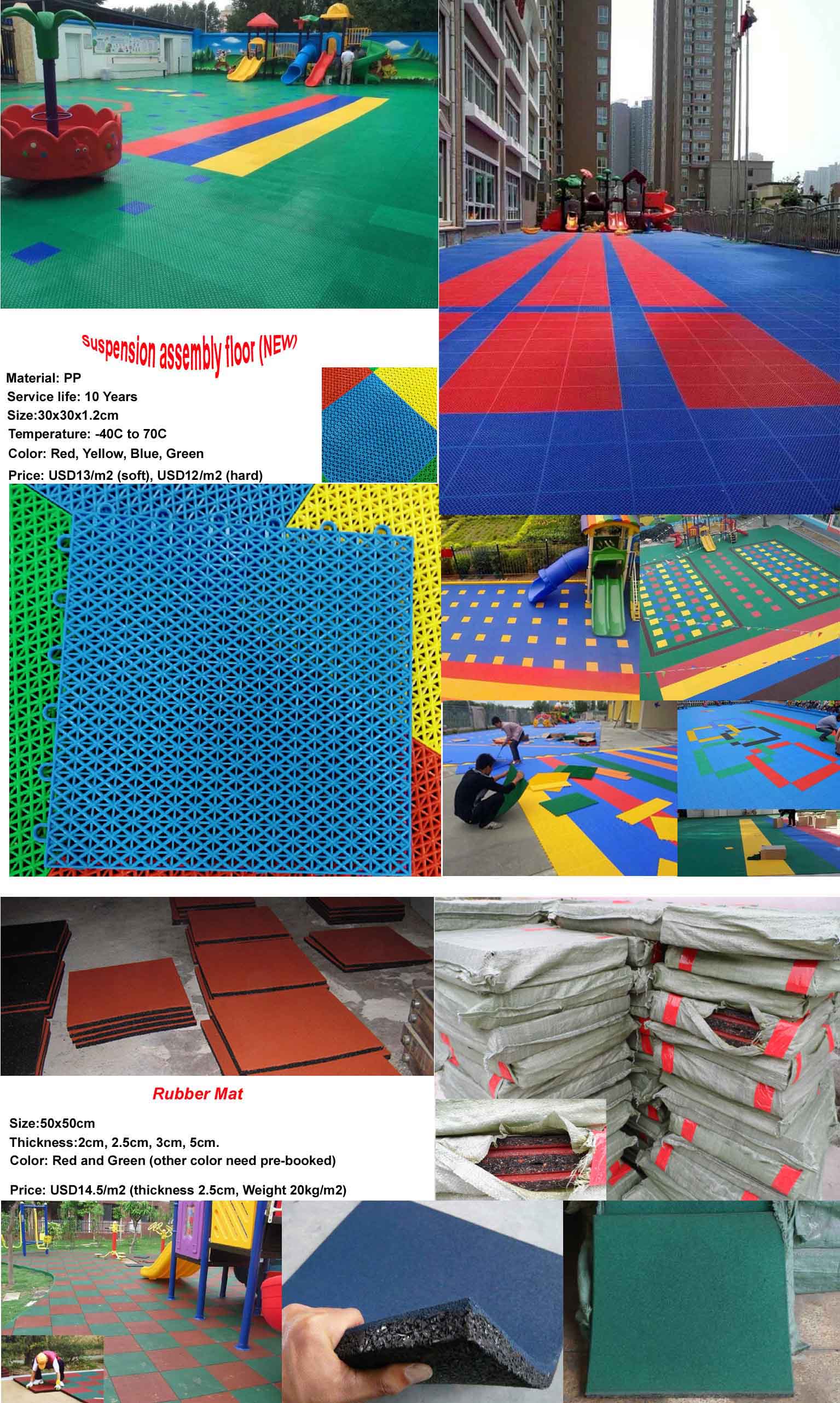 Comments

Rajit Says:
Already have an indoor playground of 5000sqft, looking for a new outlet, what do you suggest for 15000sqft space?

Angel Playground Equipment CO.,LTD Says:
Indoor Playground is 100% customzied, We will make proposal as soon as you provide layout to us, Please check projects files in your email for reference!

Kerry Somerville-Brown Says:
request for a catalog. Can you send it please? Thank you. Kerry

Angel Playground Equipment CO.,LTD Says:
Hi Kerry: Please check files in your email, we have advise the process of order kids playground, please follow.

Mayra Says:
Buenas tardes me interesa adquirir un área de juegos

Angel Playground Equipment CO.,LTD Says:
Gracias por su mensaje, por favor revise nuestra respuesta por correo electrónico, Esperando obtener más información de su lado

william fore Says:
Looking for the musical items

Angel Playground Equipment CO.,LTD Says:
Hi William: Thanks for your message on the outdoor playsets, Cataloge please check your email.

Hans Says:
Does the cost include shipping and container cost? To USA? total cost ?

Angel Playground Equipment CO.,LTD Says:
Hi Hans: Price we offer online is FOB price, shipping does not including, Please advise items you need and quantity, Also port name for check freight. Same message have reply to you by email.
Leave a Reply
Your Phone & Email address will not be published. Required fields are mareded*