Outdoor Playground Equipment for Family and Park
Views: 5576 Update date: Jun 26,2017
A well designed outdoor play structures are safe and encourage creativity, good playground equipment should can provide your children with exercise, entertainment and improve physical skills, should have lot of play elements so child with a wide range of physical abilities can enjoy it. Now the playground are become more and more carefully design, the connection of iron parts with plastic components, the stable and balance of slide, the distance of gaps of each parts, even the size of and height of each components need perfect meet kids body. To ensure kids maximize the free play opportunities playground have to meet their vivid imagination and providing props for their role-play.
So now outdoor playground have many different theme,the slide can be place at any height. the ladder have many options, not just steel ladder as before but can be animal shaped made by plastic, can be climbing board, can be twist iron, and fireman ladder. To make sure more kids can play same time and more play events for kids, lot of outdoor play structures have add swing, spring rider, climbing board, and other elements for kids to control their balance or exercise.
Having playground at home will not only allow you freedom, but also allow your child the opportunity to play on their schedule, with the ability to visit the park in their own backyard on their own time, children are much more likely to get more exercise, also help the bond of friends. Playground equipment will company with children for years, during these years a good playground will help you kids live in a positive environmental, they will enjoy years of active fun.
Other benefit is family time, you can have a swing and play together, you and your kids have some new things to do when kids get too boring inside. You can enjoy some quality family time whenever you want just need open up your backyard door. Your kids do not need to share the playground with others like in park, so they can play as long as they wish. Do you still remember the breeze on your face and dream about flying when lay down on a swing set, this are just happen on your kids on some bright day.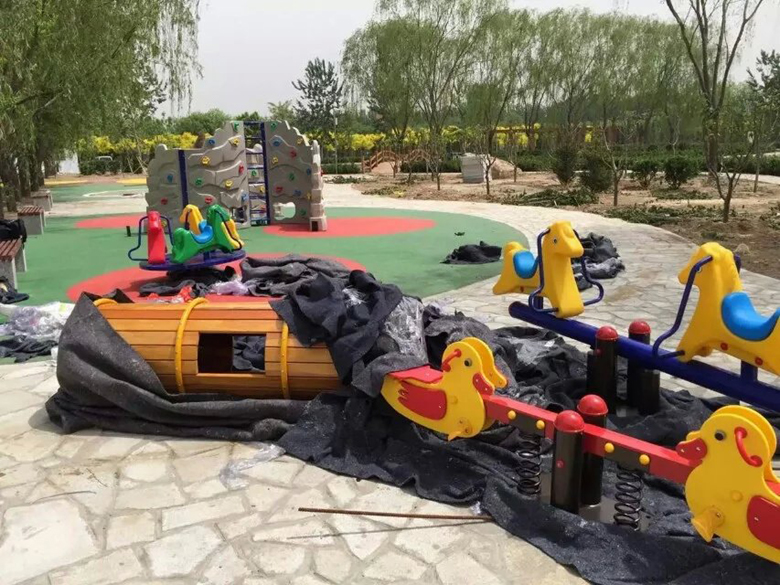 A welcome park must have comfortable benches set along the pathways. A park with picnic benches and bicycle racks invites people to linger, a clear and greenery park are paradise for neighborhood. A good park not just for adult, so beside fitness equipment must have some play equipment for kids. That is why inside a park always can find spring rider, swing, climbing board and outdoor play structures, these outdoor playground equipment make kids do exercise and games. So a good park should service for people in all age group, for kids have playground, for teenage have basket ball court, for old people have fitness equipment.
Copyright Reserved by Angel Playground Equipment Co.,Ltd.
Comments

Ram Says:
Please email the catalog and pricing. Thank you.

Angel Playground Equipment CO.,LTD Says:
Hi Ram: Thanks for your message, Please check our reply to your email

Keshini Says:
Catalog and pricing please

Angel Playground Equipment CO.,LTD Says:
Hi Keshini: Thanks for your message, Please check our reply to your email. Please also share us more details of your inquiry

Andrea Lowe Says:
Id love a copy of pricing ,sizing,and contact info ..thank you so much

Angel Playground Equipment CO.,LTD Says:
Hi Andrea: Please check our reply to your email about the process and catalog etc...

Kasia Says:
I'd like to see your catalogue please. I'm in the process of researching different products.

Angel Playground Equipment CO.,LTD Says:
Dear Kasia: Nice day! Please share me more information of your inquire, please check process in your email.

Geraldine Morales Says:
Hi, please send catalogue

Angel Playground Equipment CO.,LTD Says:
Already sent, please check, Wish get your reply soon.
Leave a Reply
Your Phone & Email address will not be published. Required fields are mareded*