Nature Theme
Product Description
Send Inquiry
Anti-UV Kids Outdoor Playground Equipment CE TUV for Residential Play Area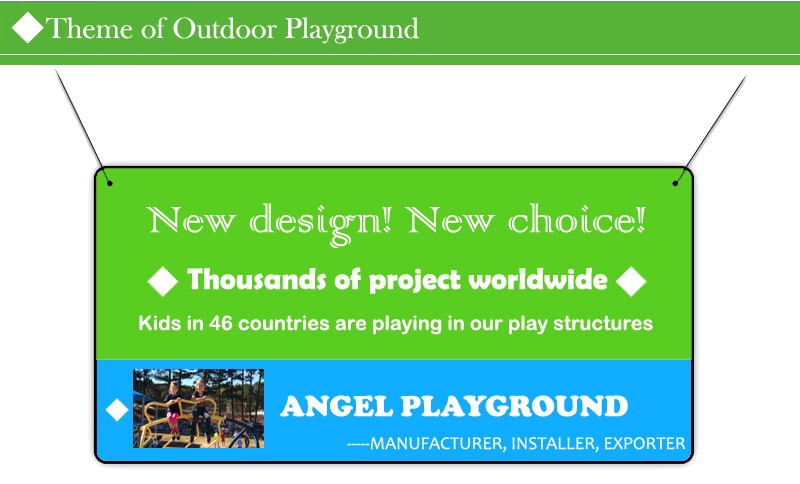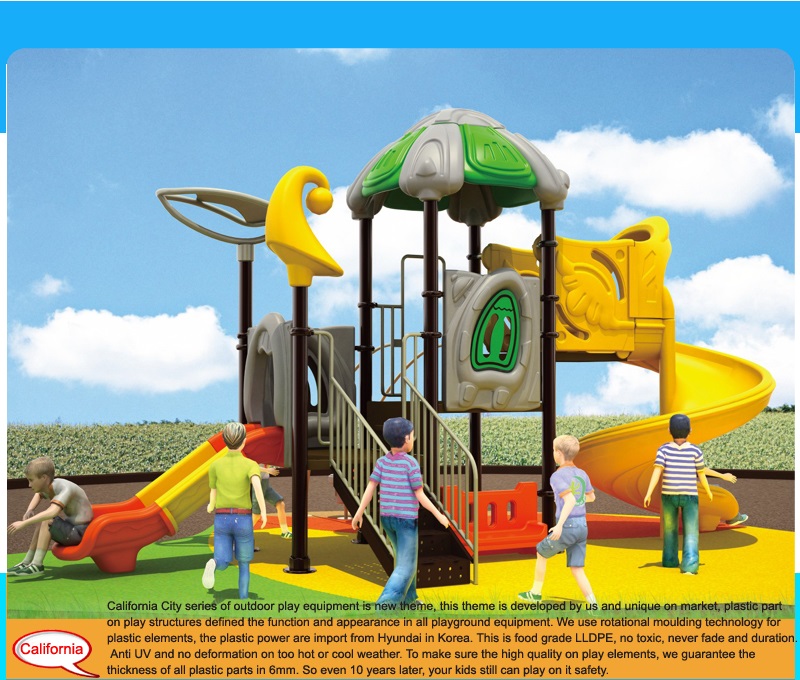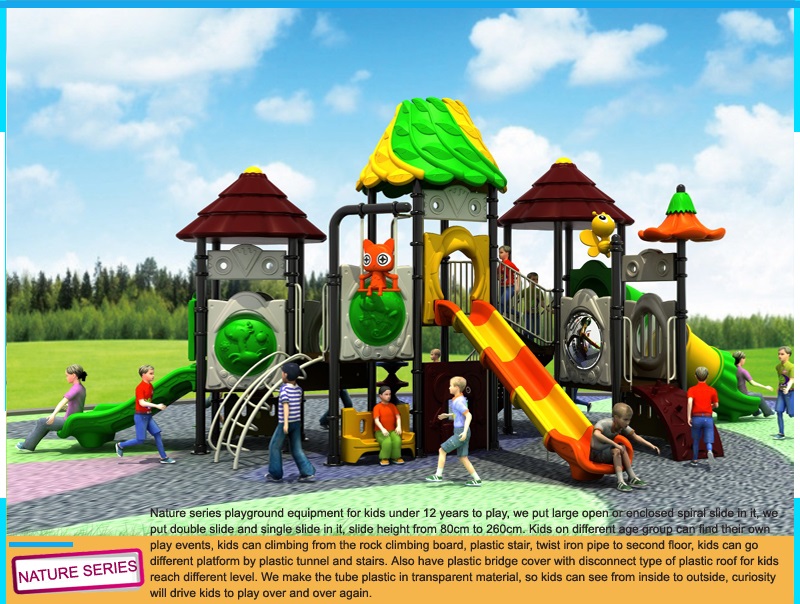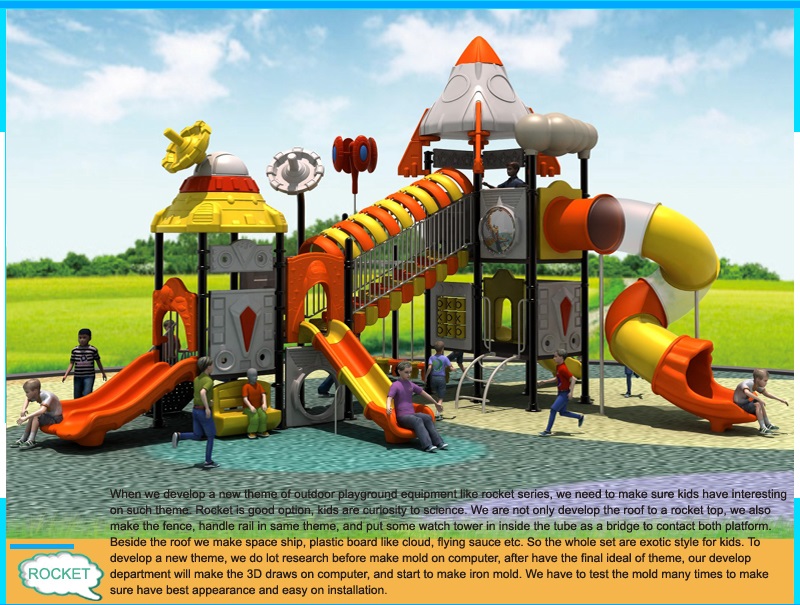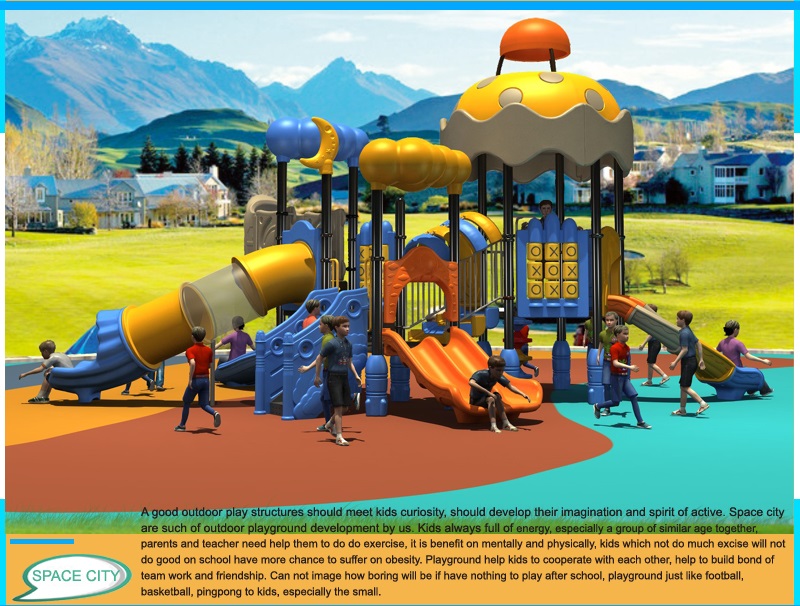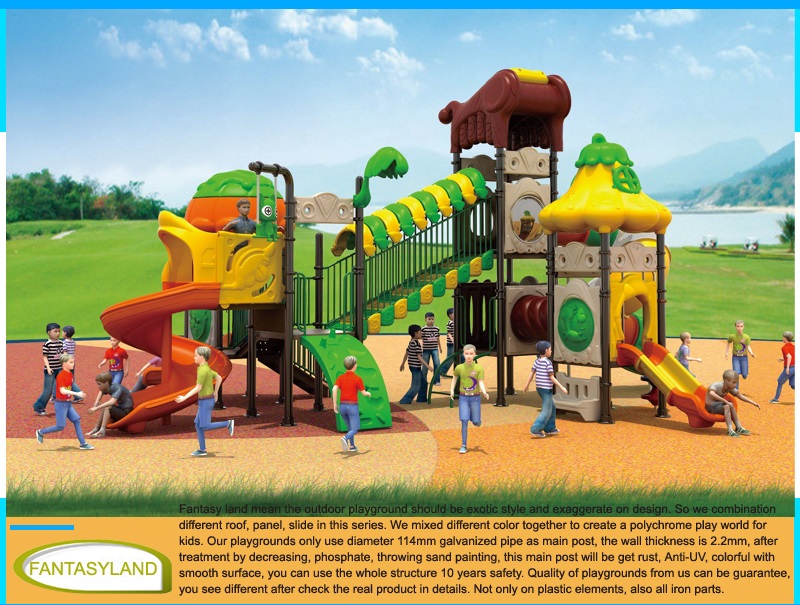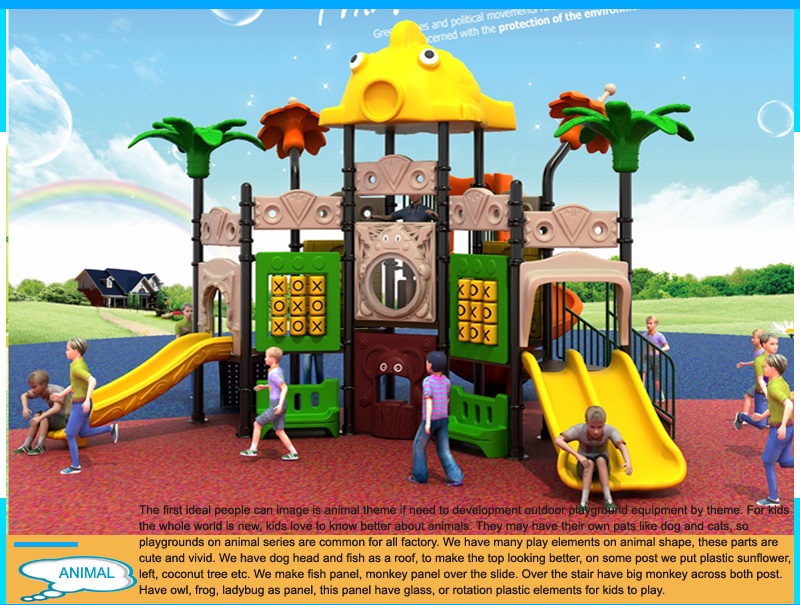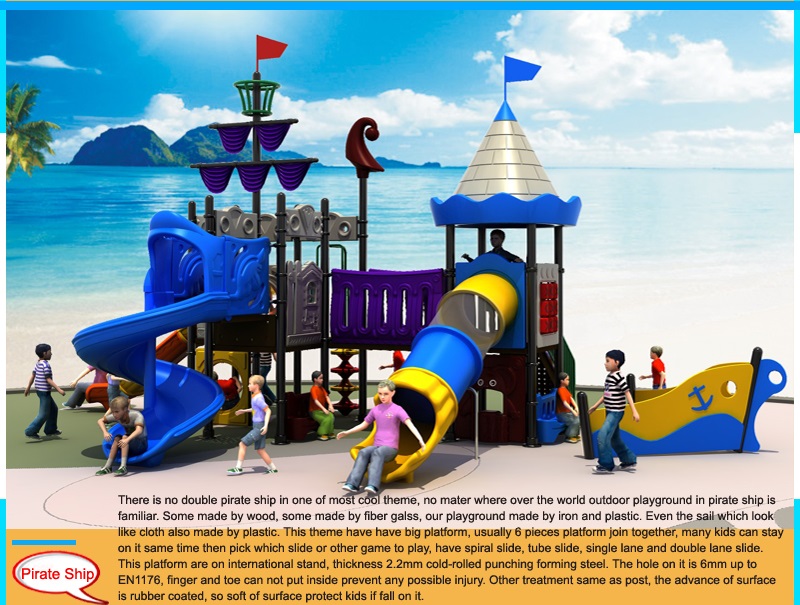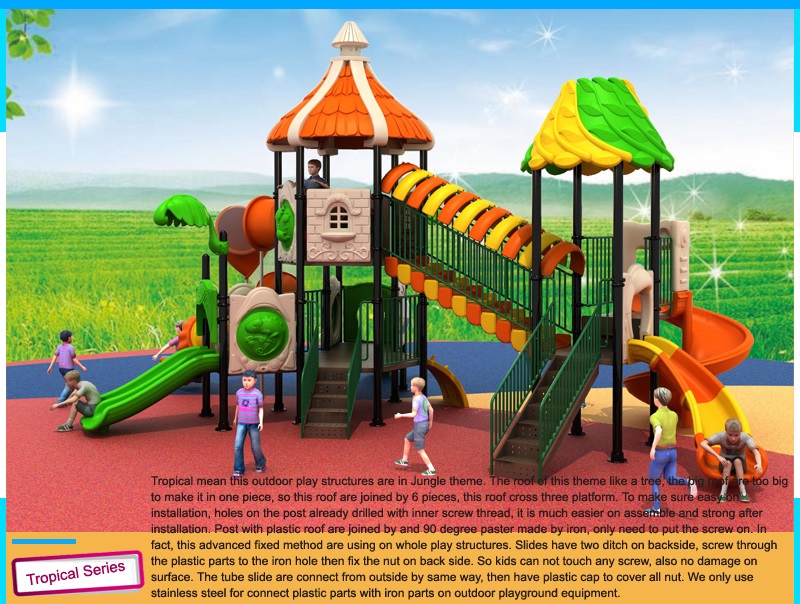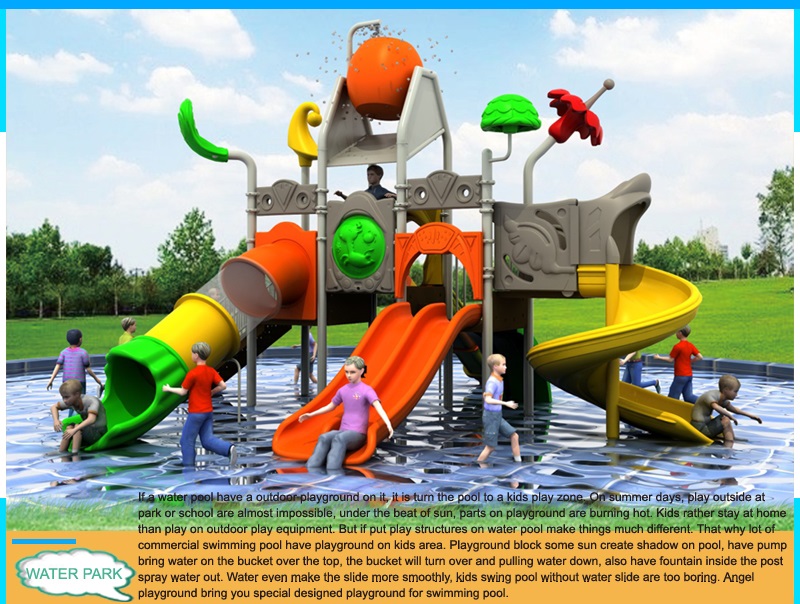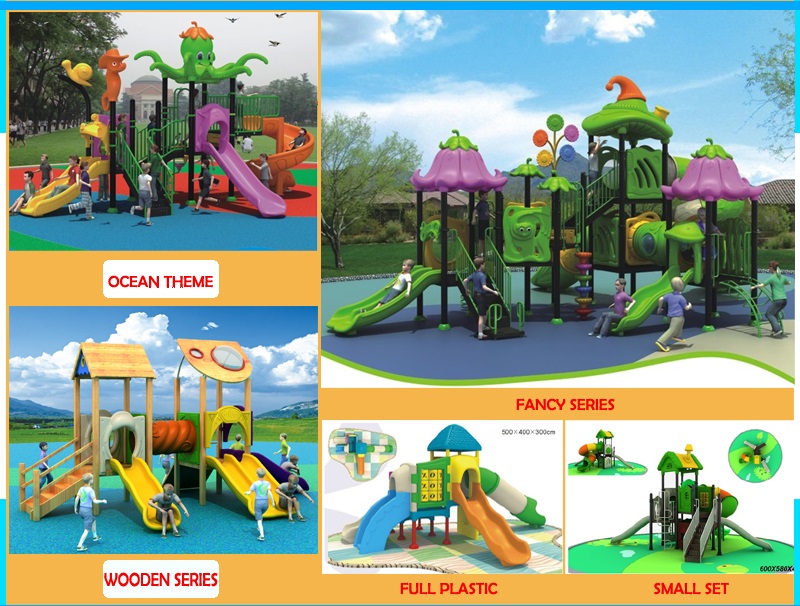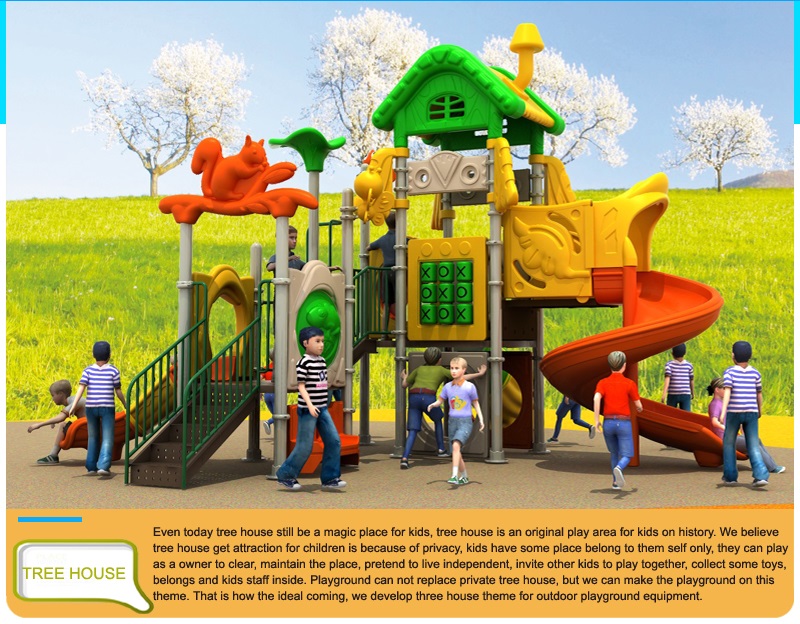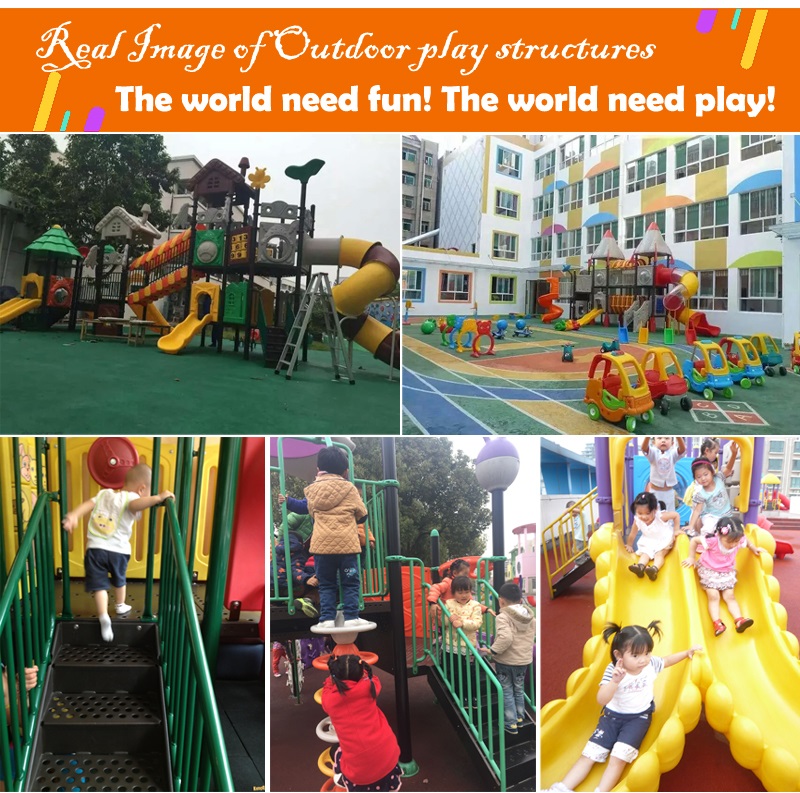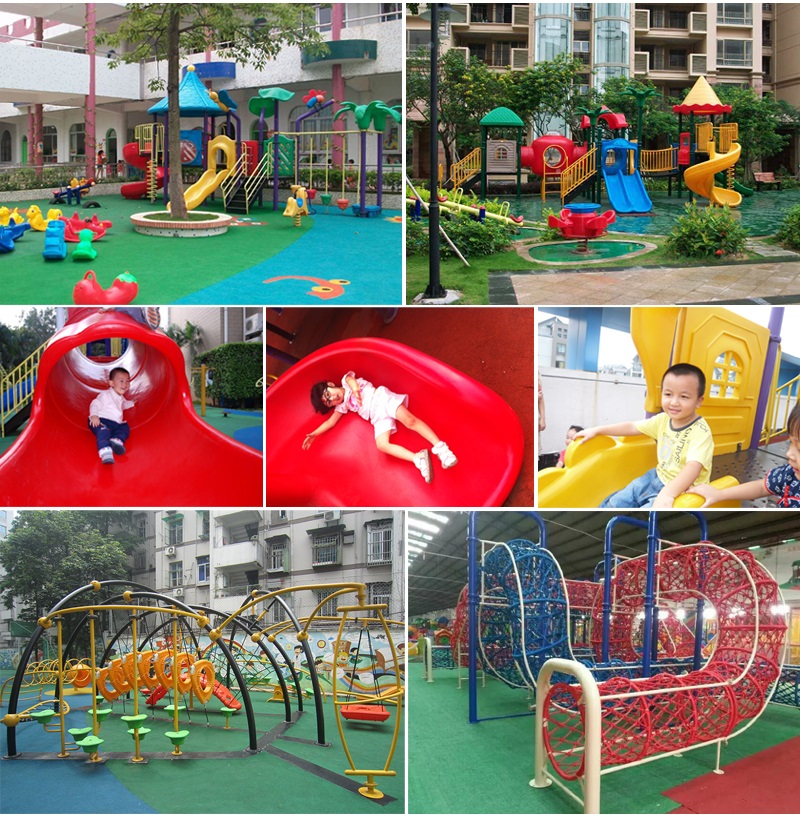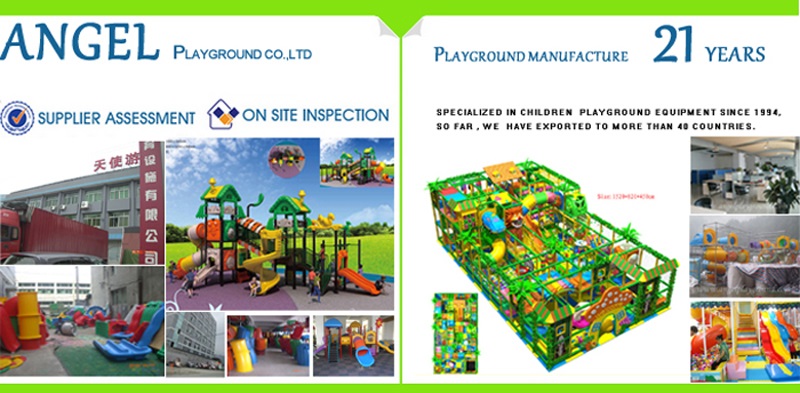 How to Build Simple Outdoor Playground Equipment
Outdoor playground is essential equipment for kid's activity outside, kids can play with each other for hours on the structures. Usually these kids play structures are installed on park, school, super market, scenic region and community. Also on preschool and backyard have playground for small kids, this article will offer suggestion for simple playground, as many other equipment designed for kids, simplicity may better than complexity, simple design require more active imagination for the user. The most important factor of simple play equipment is safety in the construction. Following simple safety guidelines is key to building a outdoor playground.
Before choosing the right simple outdoor playground, you need do research on the variety of plans. You can search on Google for playground building plans; take advice from the professional staff. Check the available planning map and pick one you like, down loading the file and printing it for future steady. Or you may can search in libraries if prefer to read by book! Once you are familiar with all components in play structures, you many can bring some new ideal to the structures according to actual need once you have everything in mind.
Check all material you have and purchase others from market, make sure you have all tools for drill, dig, cut and chop. Follow the plan closely; safety is prior factor for building outdoor play structures, deviating too far is tantamount to building a playground useless. The stability of the play structure is often dependent on the shape, length and specification of components.
Cut and drill all holes on the lumber before go for assembling. It is difficult and unstable to accurately measure and attach the surrounding parts if have not a fixed frame, usually mount the main post in ground 30-35cm, you can make it more deep to 60cm for frequently use. Measure the mark the position for the posts, dig the hole and pour with concrete around the primary posts. Make sure the post is vertical and symmetrical. Use stakes to secure the posts until the cements dry, do not attach anything on it until they are completely unmovable.
After the cements dry, you can attached and assemble platform, slide, handrail, stair to the posts. Ratcheting the bolts in place throng the drilled holes, check if any bolt ends out of the post, hammer the ends make sure it smoothly. Cover the nut with plastic cap, leave no safety hazard on the surface.
For the surface on ground, if you are using mulch or sand make sure the thickness no less 12 inch. We suggestion you use rubber mat, it better for absorb any impact, it is more clean and easy to pick up any waste on surface. No matter which surface material make sure throughout the playground, the safety zone is 6 feet extend the play structures in all directions. Now you complete with outdoor playground on your backyard!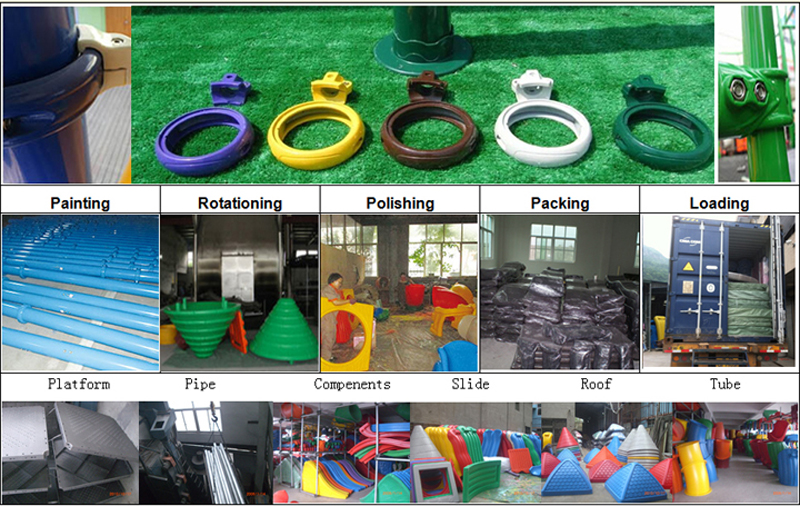 Reviews


Lourdes Says:
Buenos días Quisiera recibir más información sobre vuestros productos. ¿Sería posible el envío de un catálogo? Gracias.

Angel Playground Equipment CO.,LTD Says:
Gracias por ponerse en contacto con nosotros! ¿Sabes hablar inglés? Estamos muy bien placer de hacer la propuesta para su área de juego interior. Por favor, compruebe el proceso a continuación y advsie su plan: 1, Diseño: 100% personalizado, por favor envíenos el plano de planta en el archivo CAD para un nuevo diseño (por lo general, tome 2-3 días). A, Para asegurarse de que el diseño se ajuste perfecto, marque la información en el plano de planta (altura limpia, entrada, ubicación y tamaño de la columna, lugar para la sala de lavado, café, sala de fiestas, etc.) B, Se puede personalizar (color, tema, componentes) de acuerdo con el presupuesto previsto. 2, Producción: Nuestro tiempo de liderazgo del producto es de 15-30 días dependen del diseño. Haremos la instalación de prueba antes de la entrega (pieza de metal y plástico), proporcionaremos imágenes reales y diagrama de instalación 3D, para obtener más detalles, haga clic en (Proyecto-Instalación) en nuestro sitio web. 3, Podemos cuidar de Delviery (Por favor, avise el envío a qué puerto). Mucho diseño en nuestro sitio web con precio FOB en EE. UU. Dólar, Deseo que pueda obtener el ideal de costo aproximado. Cualquier pregunta por favor no dude en ponerse en contacto!


Laure Njoya Says:
Good morning, Do you ship to Cameroon? Please send me you catalog for outdoor commercial kids playground. I need that to have better idea for the floor plan. Thank you

Angel Playground Equipment CO.,LTD Says:
Hi Laure Njoya: Shipping to Cameroon is fine, Please confirm models and quantity you needs. Price list please check your email.


Blake Thompson Says:
Do you ship to Los Angeles CA? I'd like to get an email of your catalogue and pricing. I will then send you my floor plan to have you help create a design.

Angel Playground Equipment CO.,LTD Says:
Hi Blake Thompson: Shipping to Los Angeles no problem, we have done some projects in AL before. Please share me the floor plan by emial.


Fjolla Says:
Please can you email, a catalog our company is interested for indoor children playground. Thank you.

Angel Playground Equipment CO.,LTD Says:
Dear Fjolla: Just sent you G3.0 Catalog by email, please check and provide the layout of your indoor playground area.


viktoria Says:
I would like to have a catalog of your playgrounds so that I can see them fully and make better-informed decisions about what I want and need for my business. Thanks

Angel Playground Equipment CO.,LTD Says:
Thanks for your message! Please share me more information of your inquiry, Indoor playground is 100% cusotmzied? Do you already have the place or try to collect information before rent one.
Add a Review
Your Phone & Email address will not be published. Required fields are mareded*
ANY QUESTION?