TOP 10 Playground per interni Produttori
Views: 8475 Update date: Mar 29,2021
TOP 10 Playground per interni Produttori

Playground per interni tra cui un centro di intrattenimento famly, un parco giochi morbido, un'area
giochi per bambini, un parco trampolino, una parete da arrampicata e un corso di guerrieri Ninja.
Fornitore commerciale di parchi giochi al coperto come di seguito, puoi scegliere come
partner commerciale.
1. Indoor Playgrounds International negli Stati Uniti
2. Soft Play negli Stati Uniti
3. Orcacoast play in Canada
4. Go Play Systems negli Stati Uniti
5. Cheer Amusement in Cina

6. Angel Playground Equipment in Cina
7. KidSteam negli Stati Uniti
8. iPlayCo in Canada
9. ELI Play nei Paesi Bassi
10. Worlds of WOW negli Stati Uniti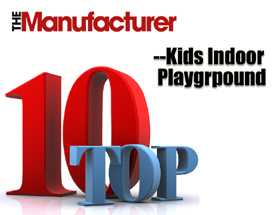 Clicca qui sotto le immagini per visitare il sito web dei fornitori
Se stai cercando set di gioco indoor per uso domestico, per i tuoi figli a casa, dovresti visitare di
seguito il sito Web cedarworks.com, wayfair.com, stateofplay.com, Costco, Homedepost, Amazon.
Possono anche effettuare consegne veloci possono selezionare parti e materiali per il fai-da-te da soli.
1. Indoor Playgrounds International negli Stati Uniti

Siamo il tuo fornitore di strutture di gioco indoor e tutto ciò che è divertente per i Family Entertainment Center (FEC).
Abbiamo aiutato centinaia di aziende a personalizzare la loro soluzione di gioco. Se stai cercando il miglior set di parchi giochi
al coperto, puoi contattarci. Come leader del settore offriamo più di un semplice prodotto, offriamo di camminare al tuo fianco
attraverso il processo e fornire la nostra ricchezza di conoscenze sul settore e cosa significa gestire un FEC. Il nostro partner
produttore aderisce ai nostri elevati standard in termini di qualità e sicurezza e ogni parco giochi messo in vendita è supportato
da una garanzia di 18 mesi!
2. Soft Play negli Stati Uniti

Nel 1984 quattro innovatori in un garage hanno iniziato Soft Play® per reinventare le attrezzature del parco giochi. I fondatori dell'azienda
hanno sviluppato un'alternativa alle tradizionali strutture di gioco all'aperto, superando rapidamente il garage e guadagnandosi la fiducia di
alcuni dei più grandi marchi americani. Oggi siamo leader globali nelle attrezzature per parchi giochi contenute con installazioni in oltre 60
paesi. La nostra esperienza, esperienza e impegno per l'eccellenza ti consente di offrire un'esperienza divertente e positiva ai tuoi clienti e
ai loro figli.

3. Orcacoast play in Canada

Fondata nel 2004, Orca Coast è un'azienda familiare che è stata avviata per migliorare la qualità e il benessere del gioco nel settore oggi.
La nostra reputazione è la chiave del nostro successo e di ciò che ci ha reso la principale azienda di giochi indoor al mondo ad affidare la
tua impresa. Sappiamo che curando veramente i nostri prodotti e clienti abbiamo fatto la differenza. Con forse il miglior record di sicurezza,
la strategia di pullback forex e il miglior tasso di soddisfazione del settore dormirai facilmente di notte sapendo che il tuo investimento è in
buone mani.
4. Go Play Systems negli Stati Uniti
About Go Play Systems Company
Cerchi maggiori informazioni sulla società Go Play Systems? Sei nel posto giusto! Abbiamo installato parchi giochi al coperto e attrazioni
di divertimento in tutto il mondo. Siamo esperti nella progettazione, configurazione, gestione e installazione 3D di sistemi di parchi giochi
al coperto di livello commerciale per bambini e adulti di tutte le età! I nostri rappresentanti e project manager ti guideranno attraverso il
processo dalla progettazione all'installazione e alla consegna finale. La tua soddisfazione è la nostra priorità numero uno. I nostri team
di installazione hanno costruito sistemi di soft play di alta qualità da piccole stanze a enormi magazzini e tutto il resto. I nostri designer
3D sono esperti non solo nel massimizzare lo spazio, ma anche nel creare spazi sicuri per i bambini. Insieme, il nostro team riunisce anni
di esperienza nel lancio di successo di sistemi per parchi giochi al coperto

5. Cheer Amusement in Cina

Cheer Amusement è uno dei maggiori produttori al mondo specializzato nella progettazione, produzione e installazione di attrezzature
per parchi giochi per interni di alta qualità e convenienti progettate per applicazioni commerciali. Abbiamo installato e supervisionato
intallations oltre 1.000 progetti di successo in tutto il mondo e abbiamo guadagnato grande popolarità nel settore delle attrezzature
per parchi giochi. Inoltre, abbiamo collaborato con numerose famose società di soft play in Nord America & Europa. Per soddisfare,
soddisfiamo sempre gli elevati standard e requisiti sulle qualità e sui servizi di tali aziende.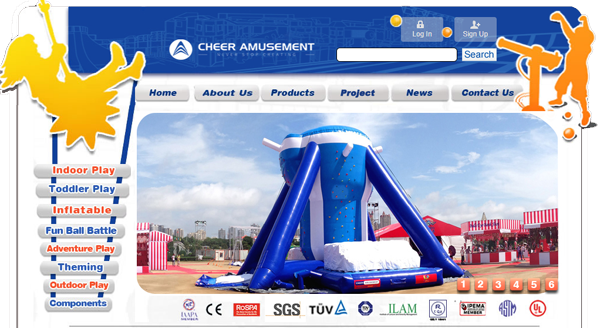 6. Angel Playground Equipment in Cina

Angel playground è combinato Enterprise di produzione e vendita di sviluppo. Il prodotto ha input bellezza e progettazione di funzioni
con la migliore caratteristica della combinazione di stile straniero e domestico, Parco giochi amichevole e sicuro. Tutte le produzioni
sono realizzate con materie prime non velenose e ambientali che sono state testate e ispezionate rigorosamente prima di lasciare la
fabbrica, Tutti i prodotti hanno rispettato gli standard di sicurezza per il parco giochi di CE, ISO TUV ecc. In questo modo! I parchi
giochi Angel si sono guadagnati la fiducia dei clienti a livello nazionale nell'industria dei parchi giochi. I bambini provenienti da 70
paesi si godono le nostre attrezzature per parchi giochi come America, Canada, Brasile, Panama, Colombia, Olanda, Finlandia,
Svezia, Ucraina, Russia, Corea, Spagna, Italia, Belgio, Ceco, Slovacchia, Slovenia, Grecia, Singapore, Giappone, Corea, UA,
Emirati Arabi Uniti........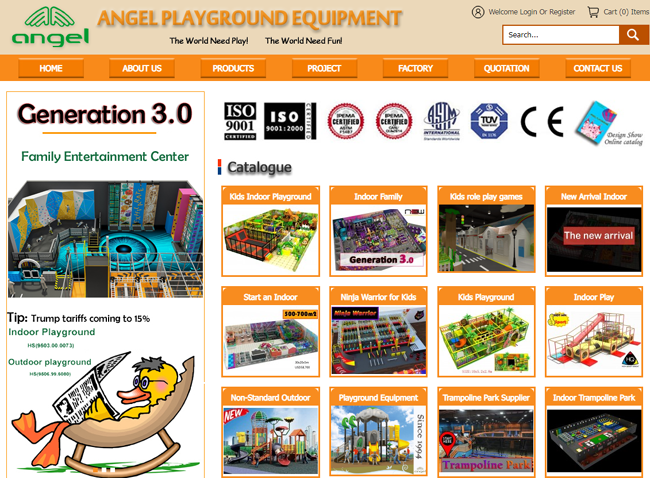 7. KidSteam negli Stati Uniti

KidSteam è un leader internazionale di rigorosi standard di sicurezza per le attrezzature per parchi giochi al coperto e un'azienda
con sede in Stati Uniti che progetta, produce e installa attrazioni per il divertimento in luoghi di tutto il mondo. Con sede a Dallas, Texas,
KidSteam progetta, produce e installa soluzioni chiavi in mano che promuovono la salute e il benessere generale dei bambini.
Miriamo non solo a creare soluzioni divertenti che siano costruite per durare, ma anche quelle che non danneggino il nostro ambiente.
KidSteam's l'iniziativa green è alimentata dai nostri "prodotti verdi", come le nostre attrezzature commerciali per parchi giochi al coperto e
giri in auto a mano. Con zero impronta di carbonio e fonte di energia rinnovabile, il nostro impegno per la salute e la sicurezza non è mai
stato così grande.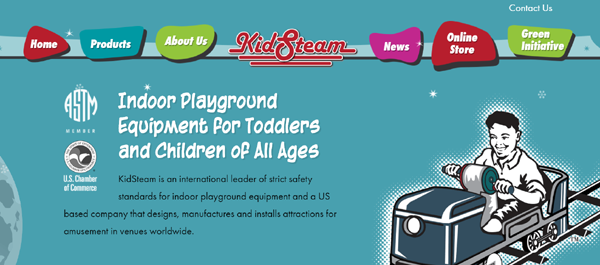 8. iPlayCo in Canada

iPlayCO ha ora uffici e sedi di produzione in Nord America, Europa e Asia. Le nostre operazioni in Nord America continueranno a fornire clienti nelle Americhe e in tutto il mondo, le nostre operazioni asiatiche IREC Corporation si concentreranno sulla fornitura di clienti nella regione Asia-Pacifico. I clienti in Europa beneficeranno anche delle nostre operazioni di produzione e distribuzione. Il mercato di Iplayco è sempre stato globale e ora avremo le capacità di rifornire i nostri clienti provenienti da tre continenti diversi.
Produciamo strutture per giochi indoor progettate su misura dal nostro stabilimento di Langley, British Columbia, Canada.
Fondata nel 1999 iPlayCO ha anni di esperienza nella progettazione, produzione e installazione di strutture di gioco interne ed esterne.


9. ELI Play nei Paesi Bassi

Benvenuti nel nostro dinamico mondo dello sport e del gioco. Siamo il principale produttore e fornitore europeo di parchi giochi al coperto, parchi trampolino e corsi sportivi. Tutte le nostre conoscenze ed esperienze vengono utilizzate per progettare, produrre, installare e mantenere attrezzature per il salto indoor e il gioco di altissima qualità.
ELI Play, European Leisure Industries, ha iniziato nel 1994 con aree di pulizia della piscina a sfera. Nel frattempo l'azienda è diventata un produttore internazionale di attrezzature da gioco. La nostra sede centrale e lo stabilimento di produzione si trovano nel sud dei Paesi Bassi (Boxtel), dove operiamo con un team di circa 75 dipendenti. Inoltre, abbiamo uffici di vendita in Francia, Germania e Danimarca. Questo al fine di fornire il miglior servizio possibile ai clienti di tutto il mondo.


10. Worlds of WOW negli Stati Uniti

Worlds of Wow crea ambienti a lizza ridicolmente cool e parchi giochi. Forniamo opere d'arte e grafica originali per
dare vita alle tue idee! Che tu sia un multi-sito, una chiesa mobile o semplicemente dando al tuo spazio un aspetto completamente nuovo,
sappiamo cosa ci vuole dalla prima conversazione mentre sogniamo insieme fino all'ultimo chiodo messo in atto. Amiamo il processo creativo
di lavorare con te attraverso lo sviluppo di concetti, personaggi, elementi e storie. È solo il nostro ruolo per dare vita a questa visione.
I nostri temi sono sempre originali, mai presi in prestito. Dal check-in, ai corridoi, alle grandi sale di gruppo, i nostri temi sono progettati
per raccontare una storia e creare destinazioni in cui i bambini vogliono essere. I temi sono diversi per ogni partner. A Worlds of Wow,
ti consemo attraverso un brief creativo per comprendere appieno il tuo DNA, cultura, visione e obiettivi. Questo ci permette di creare la perfetta
tema per te che racconta la tua storia e corrisponde alla tua visione.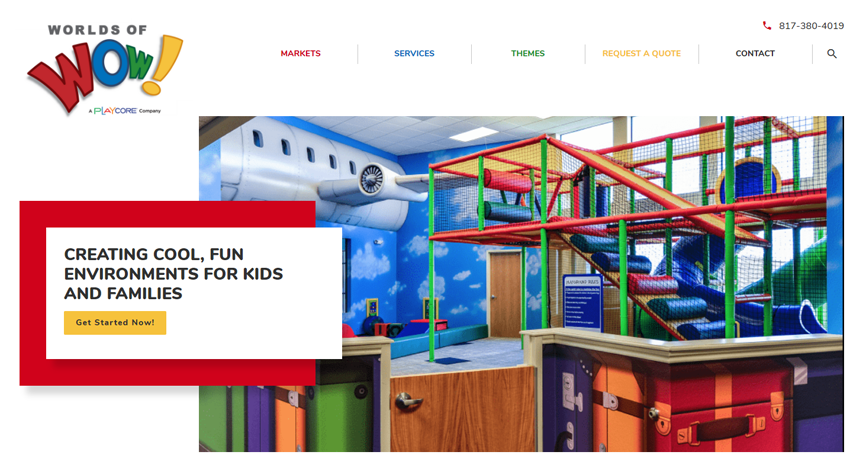 Comments

Rakesh Patel Says:
Indoor Soft play setup for 3 to 10 year age group..plz reply with design and setup cost.

Angel Playground Equipment CO.,LTD Says:
Hope this message find you well, we are pleasure to make proposal for your kids play area, please check our reply to your email. Thanks!

Siri Says:
Hi would like to know the logistics to setup a playarea and party hall for kids

Angel Playground Equipment CO.,LTD Says:
Already sent, Please check. Looking forward to your reply.

Alicia Says:
May I have a catalogue with pricing? Thank you

Angel Playground Equipment CO.,LTD Says:
Got your message, Thanks! Please check your email for process of start indoor playground, Looking forward your reply with layout information.

Rakesh Says:
We are keen to open one of indoorplay park in our town in new zealand. Pls send us information to get ideas

Angel Playground Equipment CO.,LTD Says:
Nice day! All price online are real, If anyone you like just let me know, we are pleasure to share you details, Process please check your email.

Shukria Says:
Hi I would like to open indoor playground in Toronto Canada . Do u guys access to Canada . I really like it the Rush fun park . I would like to talk about how much it cost and what is the progress

Angel Playground Equipment CO.,LTD Says:
Nice day! Please check your email for catalog, please follow the process and provide floor plan, We will make a good design for you.
Leave a Reply
Your Phone & Email address will not be published. Required fields are mareded*