14 Best Kids Indoor Playgrounds in San Jose, CA, USA
Views: 10109 Update date: Oct 25,2021
01,Luv 2 Play San Jose
Address:2200 Eastridge Loop Suite 4020, San Jose, CA 95122
02,Duck Pond Playspace
Address:5884 Eden Park Pl, San Jose, CA 95138

03,Pump It Up San Jose Kids Birthday Party and More

Address:1830B Hillsdale Ave, San Jose, CA 95124

04,The Jungle Island
Address: Avanti Shopping Center, 5401 Camden Ave, San Jose, CA 95124
05,Rockin' Jump Trampoline Park
Address:1901 Monterey Rd, San Jose, CA 95112

06,Lost Worlds Funtropolous

Address:5401 Camden Ave, San Jose, CA 95124

07,Whirlygig

Address:919 The Alameda, San Jose, CA 95126

08,KidTopia Indoor Play Center

Address:4620 Auto Mall Pkwy, Fremont, CA 94538

09,Safari Run, Sunnyvale

Address: 1180 Kern Ave, Sunnyvale, CA 94085

10,La Petite Playhouse

Address: 1264 Oddstad Dr, Redwood City, CA 94063
11,Jumpity Bumpity

Address:31169 Mission Blvd, Hayward, CA 94544

12,jolly roger land
Address:31300 Courthouse Dr, Union City, CA 94587
13,Kids Play Zone
Address:900 Market St Suite M, Oakland, CA 94607
14,Adventure Kinderland
Address:12411 San Pablo Ave, Richmond, CA 94805
01,Luv 2 Play San Jose
Address:2200 Eastridge Loop Suite 4020, San Jose, CA 95122
Phone number:+1 408-404-8178
https://luv2play.com/sanjose/
Open time:11:00-19:00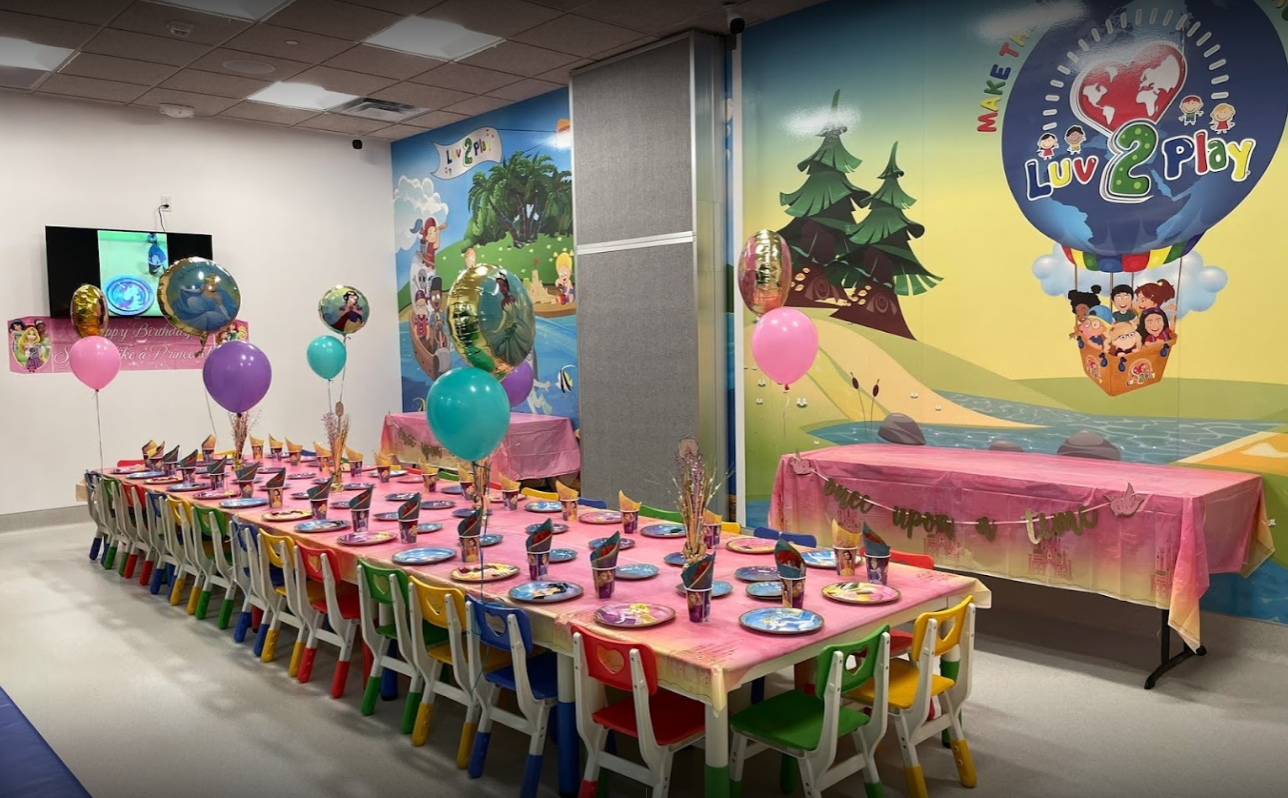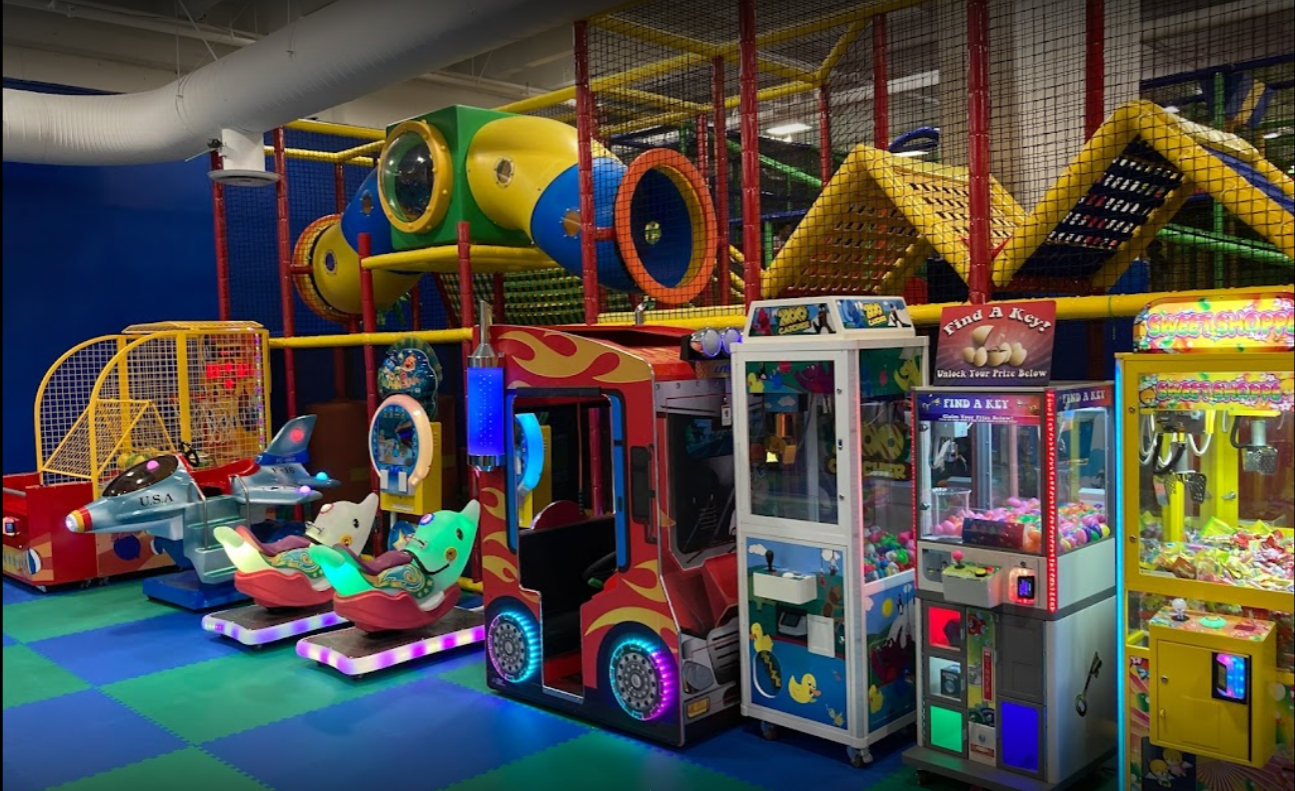 02,Duck Pond Playspace
A non-profit founded in 2012, Duck Pond has become a great place for parents to connect with other parents, while their children develop the essential social interaction skills necessary for personal growth.
Children are enriched through Duck Pond activities that include motor skills development, art, music, as well as imaginative play!
Address:5884 Eden Park Pl, San Jose, CA 95138
Phone number:(408) 826-3636
Open time:09:30-14:30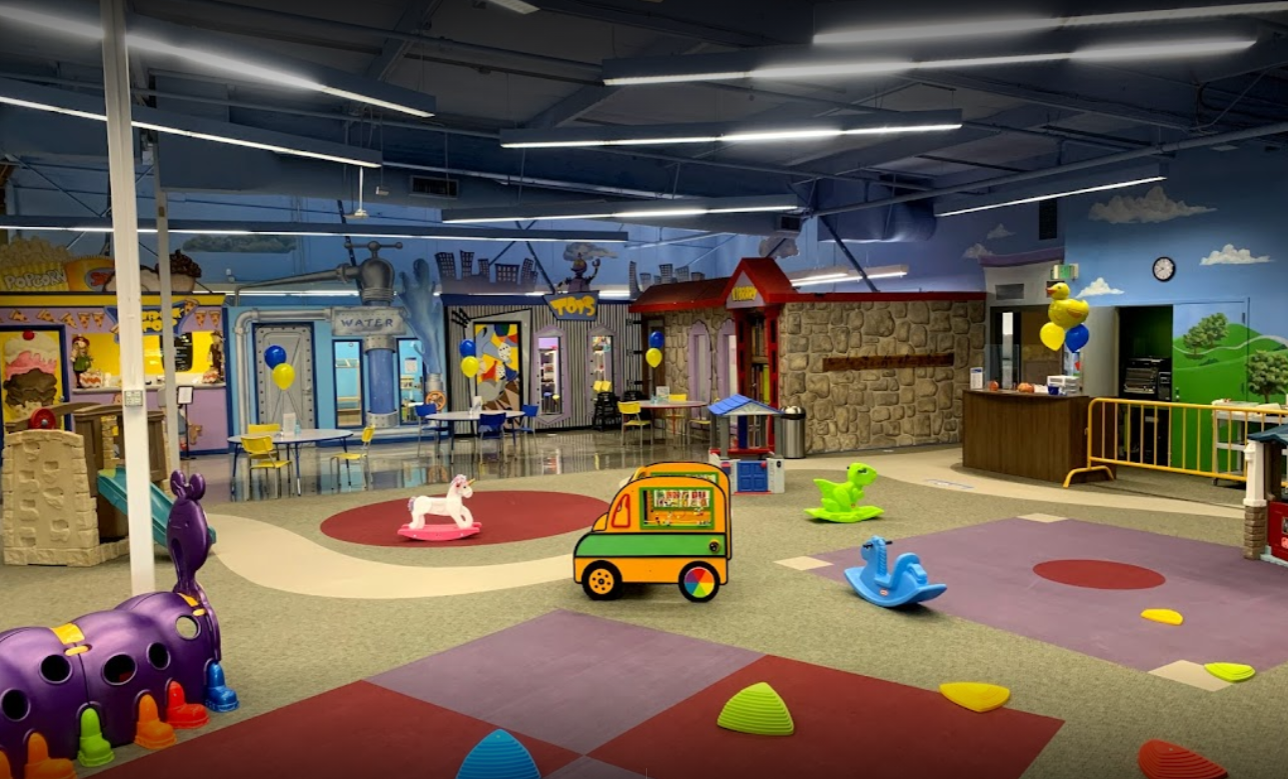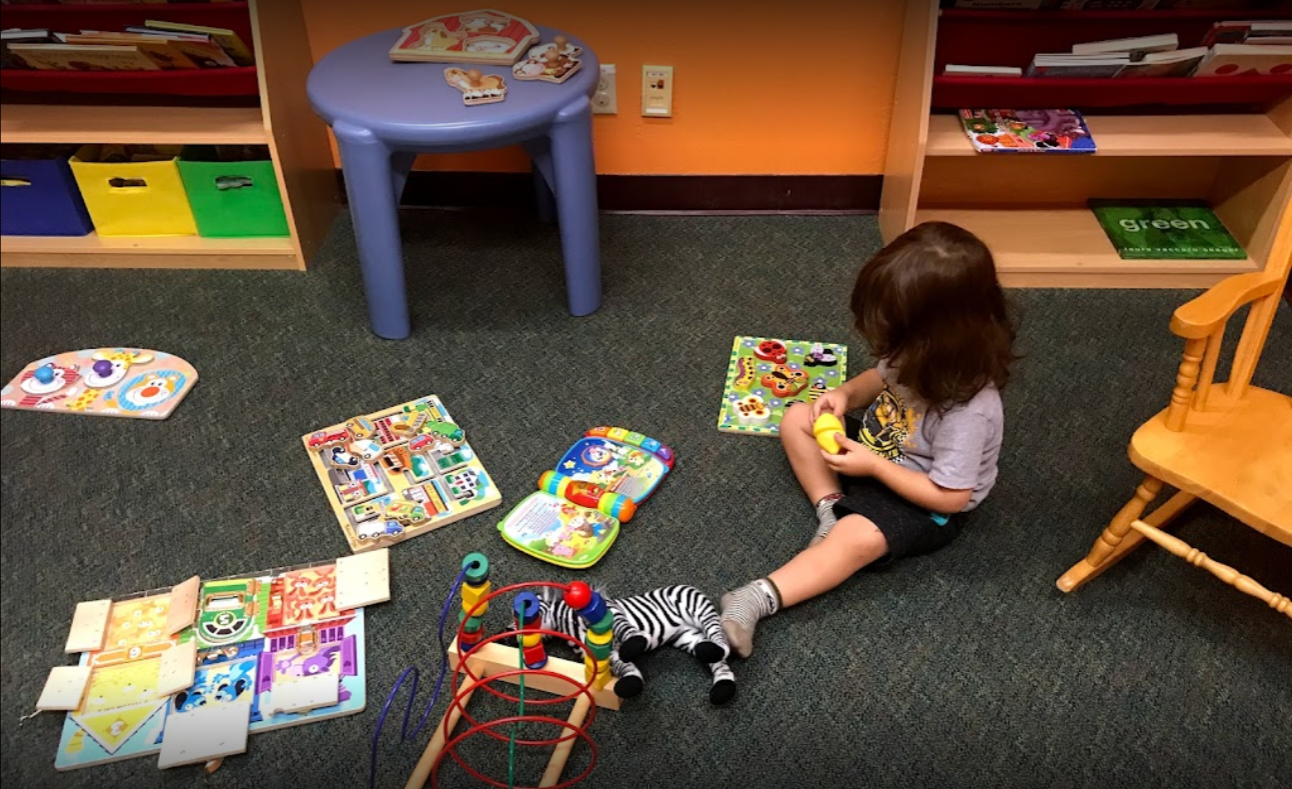 03,Pump It Up San Jose Kids Birthday Party and More
We make sure your kid has everything they need to have the best party ever; Delicious food, larger-than-life inflatables, and a special gift are just some of the fun things that will bring your kid boundless joy on their special day. The best part, their birthday can be enjoyable for you too because it is a day filled with no stress. Our trained Party Pros assist you throughout the celebration to ensure your kid's day is filled with nothing but amusement and cheer for everyone.
Address:1830B Hillsdale Ave, San Jose, CA 95124
Phone number:(408)714-0080
https://www.pumpitupparty.com/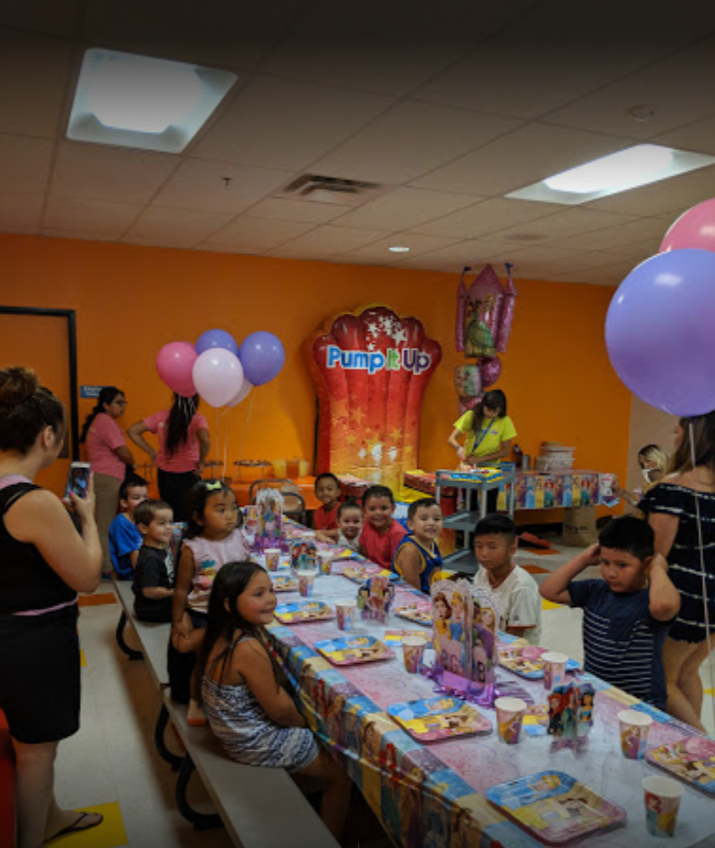 04,The Jungle Island
Address: Avanti Shopping Center, 5401 Camden Ave, San Jose, CA 95124
Phone number: (408) 499-2237
Hours:
Monday: Closed
Tuesday: 12:00pm – 7:00pm
Wednesday: 11:00am – 7:00pm
Thursday: 11:00am – 7:00pm
Friday: 11:00am – 8:00pm
Saturday: 10am – 8pm
Sunday: 10am – 7pm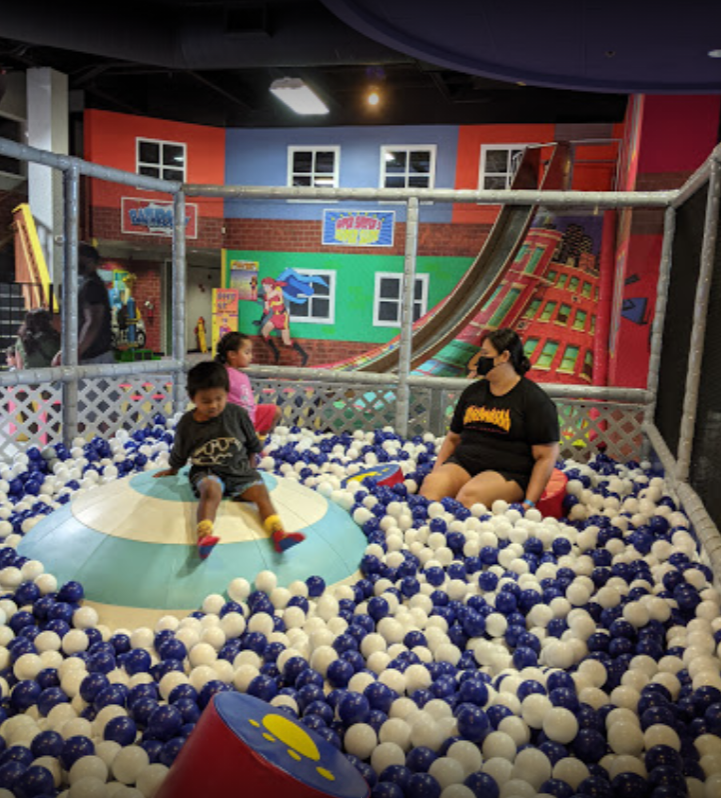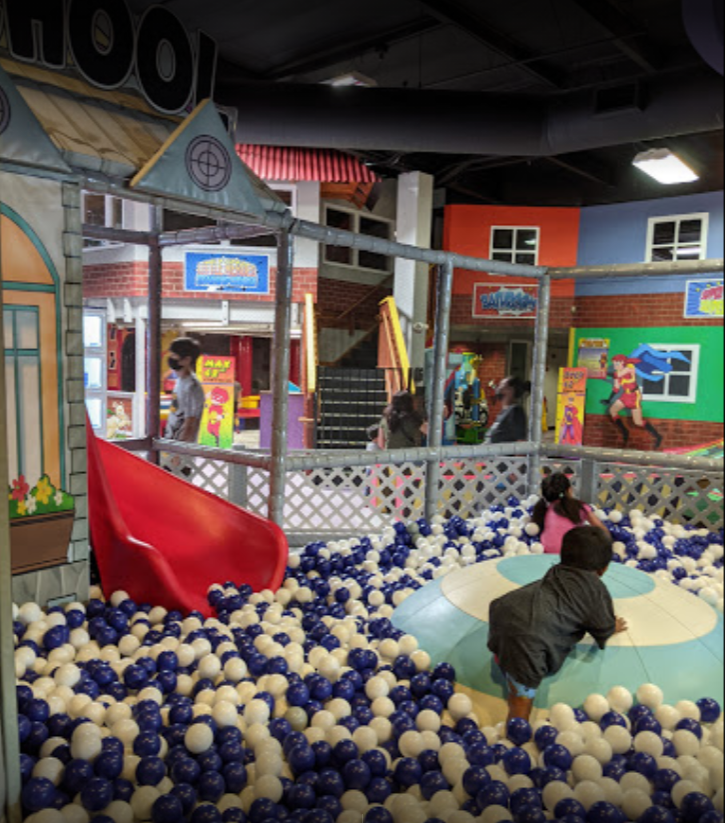 05,Rockin' Jump Trampoline Park
We're actually pretty easy to understand. We're people like you who want to exercise, but also like to have fun. Lots of fun. So instead of stairclimbers and weight machines, we decided to create a place where you can soar in open jump arenas, dive into pools of soft foam cubes, play trampoline dodgeball, do flips and somersaults.
We also wanted a new alternative for birthday parties and family gatherings, where quality food and private party rooms were guaranteed, and our kids could safely play while we socialized with other parents.
Address:1901 Monterey Rd, San Jose, CA 95112
Phone number: 408-837-8888
https://rockinjump.com/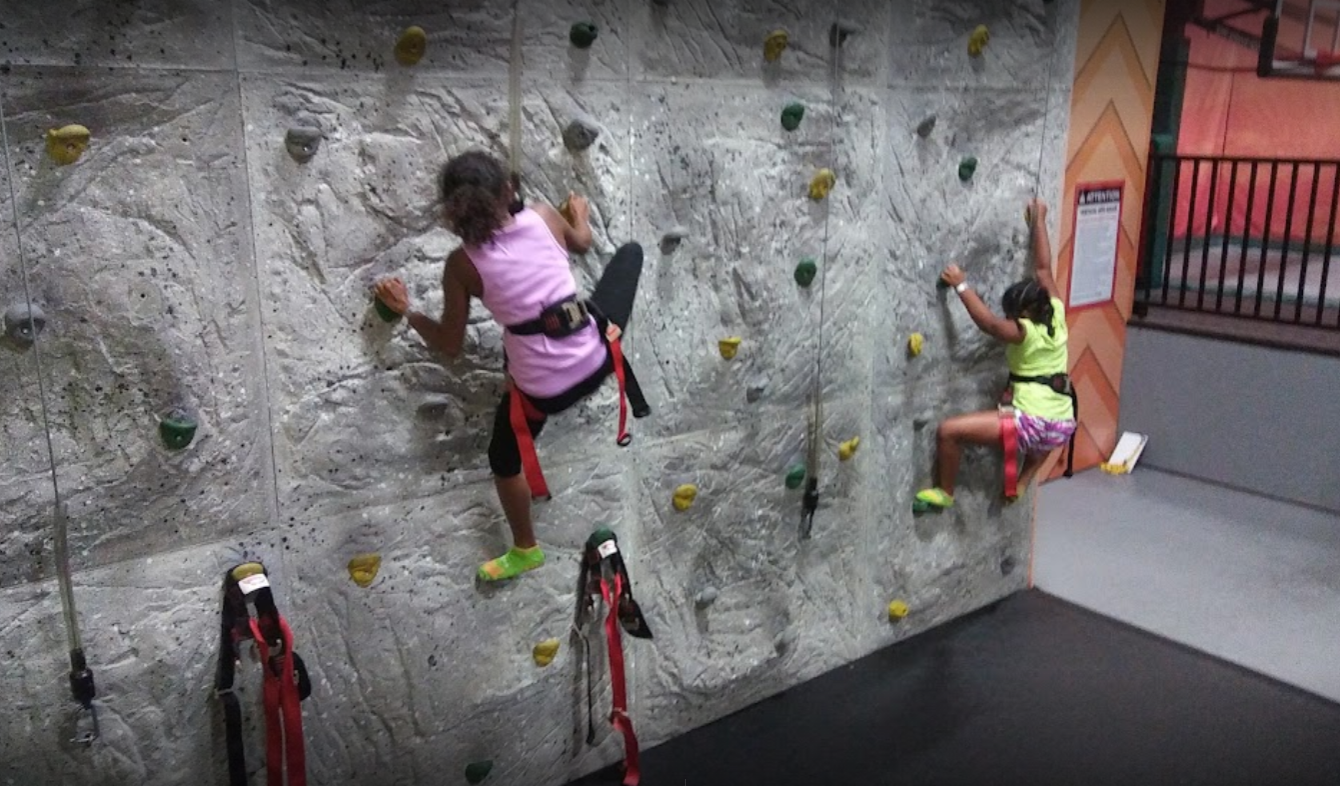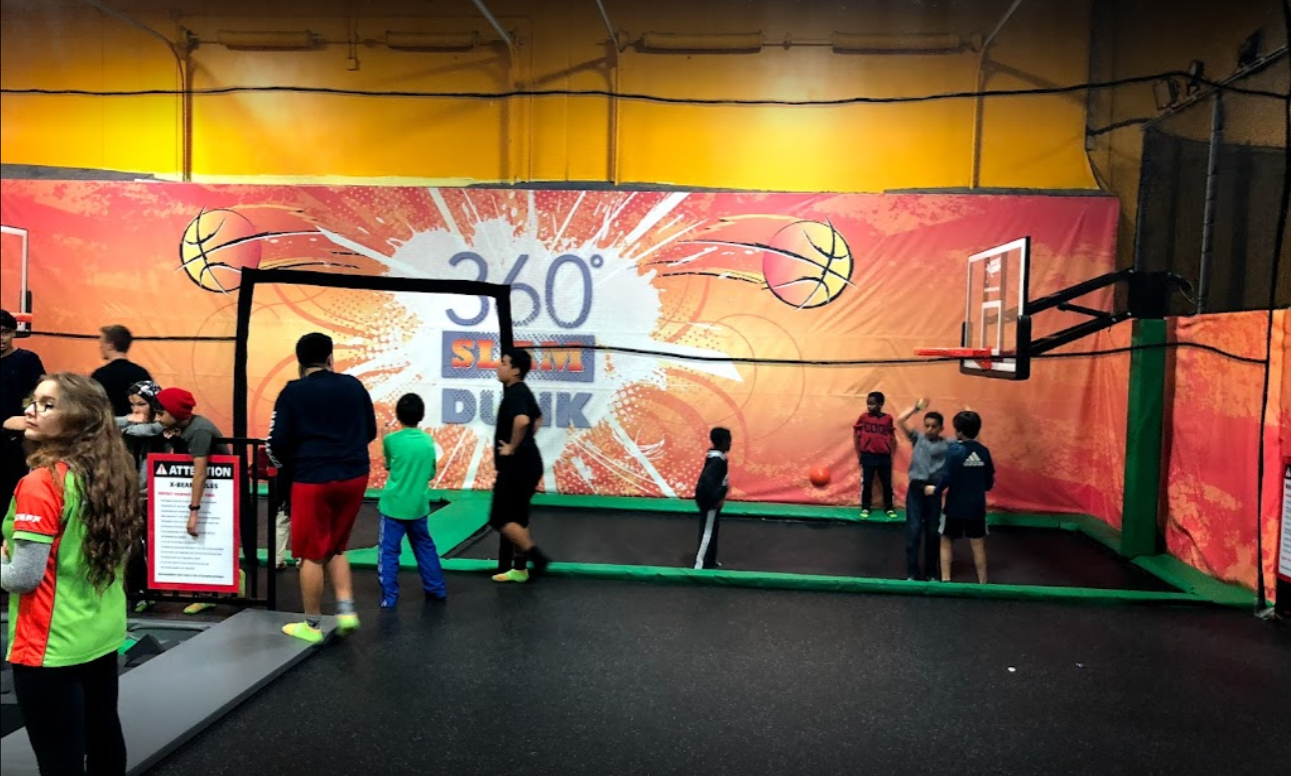 06,Lost Worlds Funtropolous
The world needs Superheroes to save us from sneaky criminals and antiheroes! What would we do without our courageous, STRONG, and death-defying Protectors of the world? WOW! Immerse yourself in 27,000 square feet of attractions with Heroes of the day everywhere you look! Create memories and make every celebration and family outing Super Unforgettable at FUNTROPOLOUS in San Jose! Featuring Bazooka Ball Invasion, Miniature Golf, a Game Arcade and one of the largest Play Structures in Northern California! There is truly something for everyone at FUNTROPOLOUS! Plan a group or family event! We can't wait to SAVE your day!
Address:5401 Camden Ave, San Jose, CA 95124
Phone number: 408-499-2237
OPEN: Tues:
12pm-7pm, Wed-Thur: 11am-7pm, Fri: 11am-8pm, Sat: 10am- 8pm, Sun: 10am- 7pm; Closed Mondays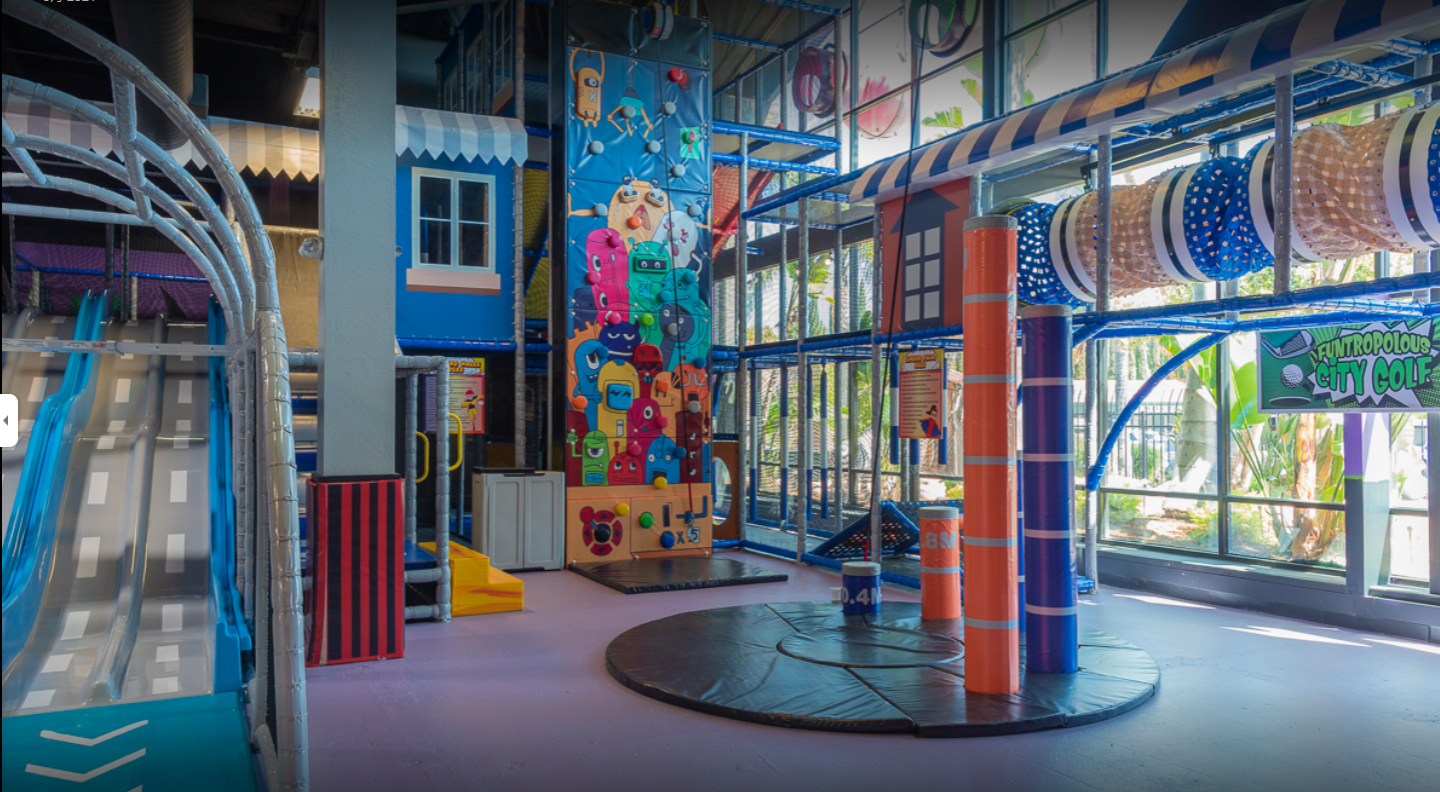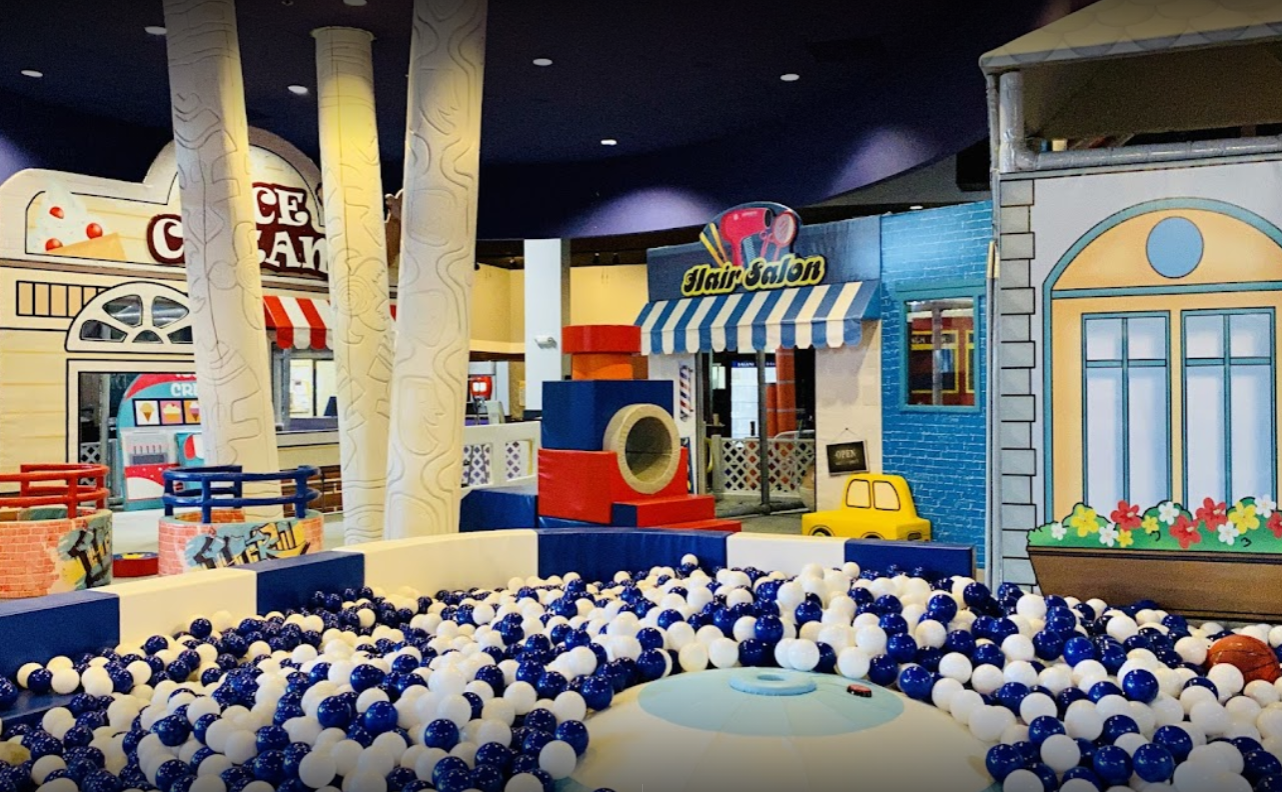 07,Whirlygig
Where kids are active and crafting and scheming to play and celebrate. A place where that Pinterest dream party can become reality. While we're at it, why can't this place be a parent hang-out too? A place where moms connect and make friends, a spot where the baby can crawl around in a playgroup. A place for families...
Address:919 The Alameda, San Jose, CA 95126
Phone number:408-214-3213
https://www.whirlygigparties.com/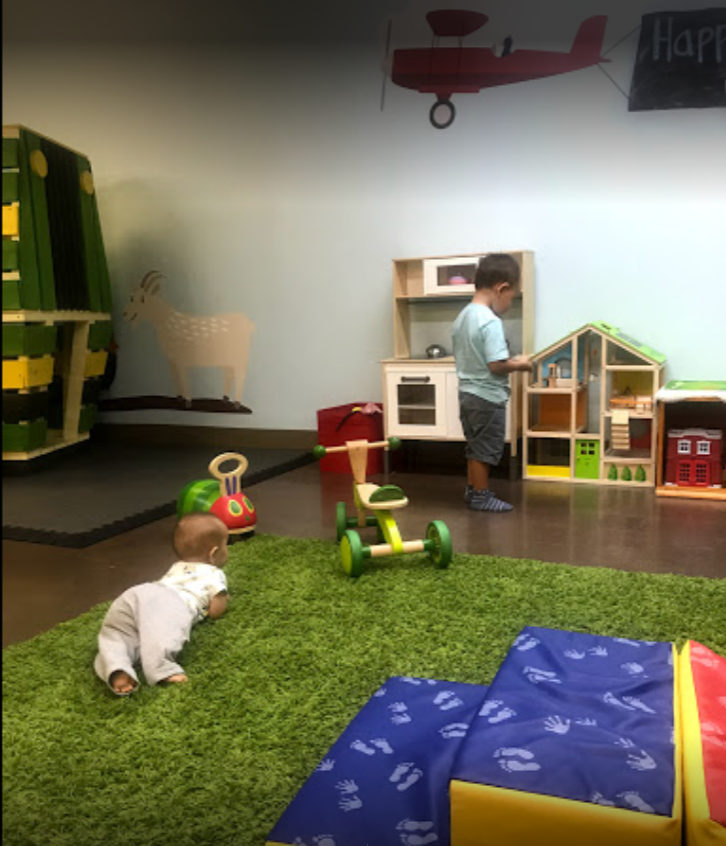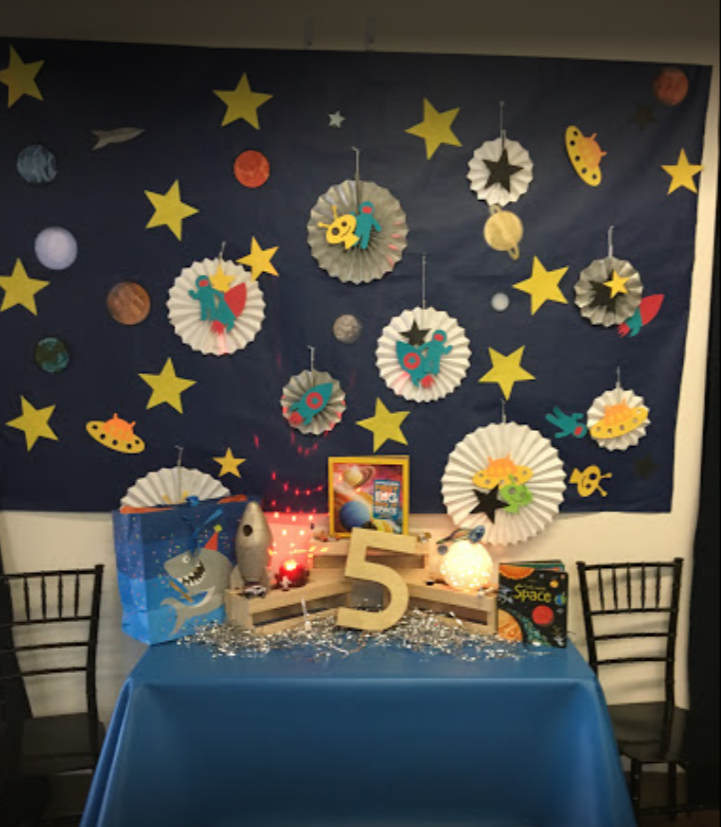 08,KidTopia Indoor Play Center
KidTopia strives to be the Bay Area's largest, soft play indoor recreation and party event center for KIDS. Equipped with some of the most exciting and active play structures, Kidtopia seeks to be a unique indoor recreation center that will allow children to develop critical skills at a young age. Kidtopia proactively seeks to provide a secure, clean, and nurturing environment in order for children to learn and grow as they explore what Kidtopia has to offer. In our center, we provide unmatchable customer service and plan to proactively cater to the growing desires of families in hopes to create a "family-friendly" environment where children can actively "explore, discover, and PLAY!"
Address:4620 Auto Mall Pkwy, Fremont, CA 94538
Phone number:510-573-1763
Monday – Friday:
10am – 7:30pm
Saturday & Sunday:
10:00am – 1:00pm
1:30pm – 4:30pm
5:00pm – 8:00pm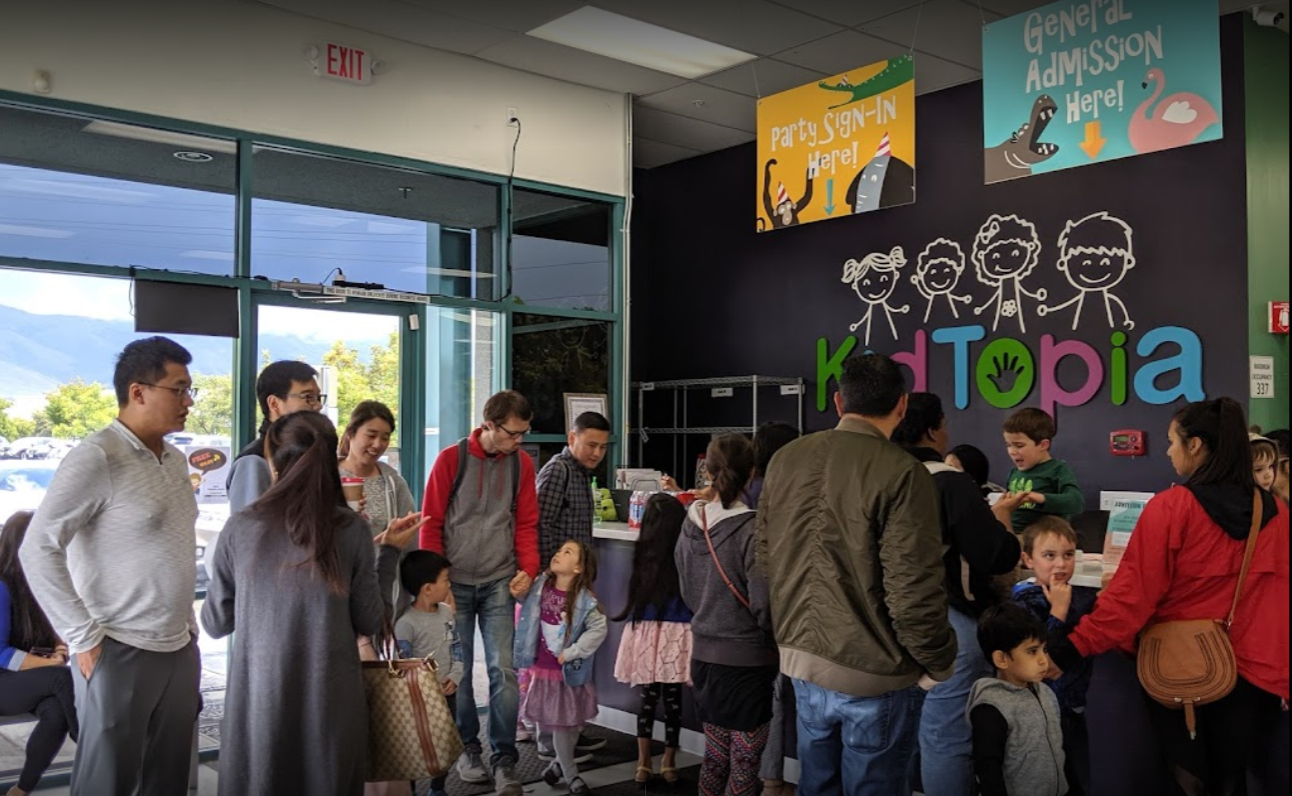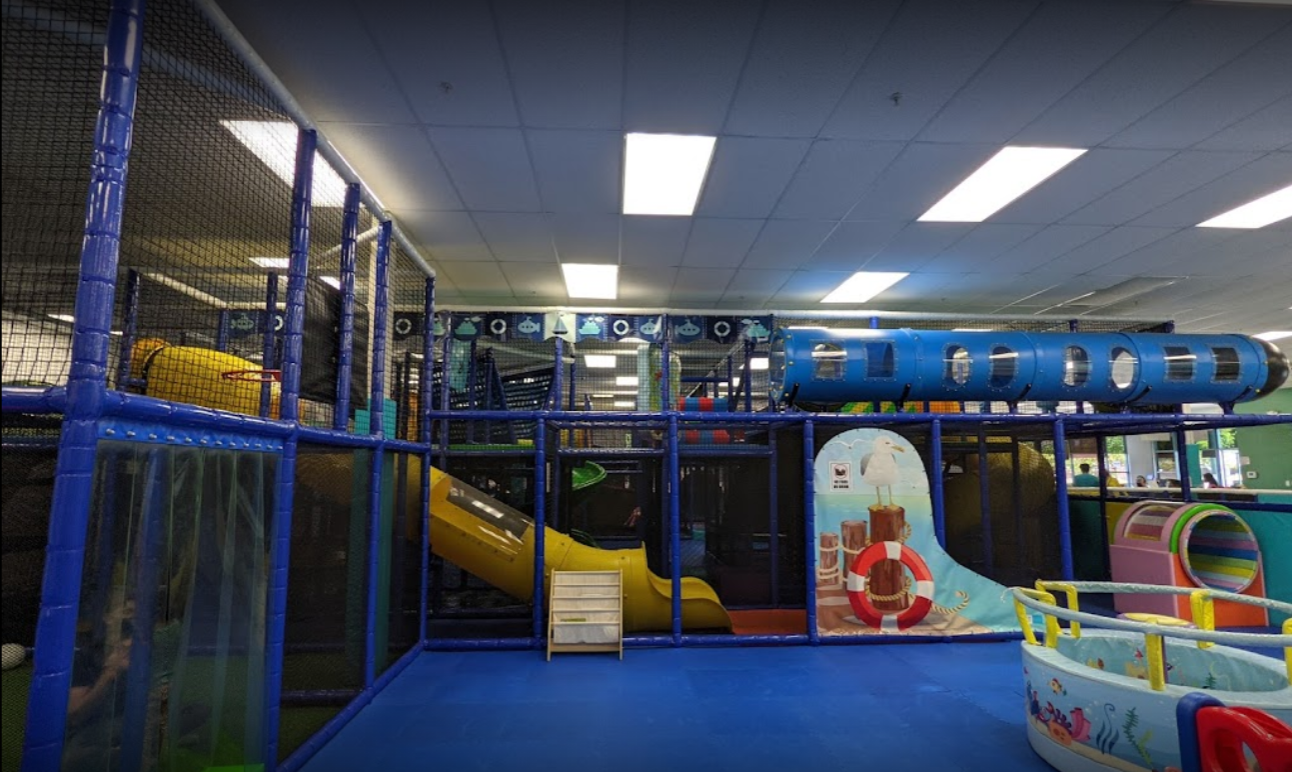 09,Safari Run, Sunnyvale
Safari Run opened in San Mateo in 2006. Founders Jodi and Rob Eichensehr, with the help of their school-aged boys, realized there were few options for parents and kids to play in a fun, clean, and safe environment. The combination of Jodi and Rob knowing what their kids needed, along with their sons bringing the perspective of what kids want, led to the Safari Run you see today.
While play is one important aspect of a child's life, fitness and nutrition are another. Knowing this, Jodi, a Certified Personal Fitness Trainer since 1990, wanted to reach out to kids of all ages and offer structured programs that were lots of fun while also being educational. These programs were also based on teaching kids life skills and values that would enrich their lives along with their family's lives. With the help of her kids, Jodi designed a family-friendly play space celebrating the fun of fitness with games and obstacle courses centered on a track and giant animal-themed jungle gym. The combination of slides, ladders, bridges, and tunnels create a space where kids can build their motor skills, balance, cardio, strength, and confidence.
Our mission is to improve the quality of children's lives by nurturing their minds, bodies, and spirits through programs that reinforce fitness, nutrition, independent learning, and fun activities. Due to the Eichensehr family and all of the Safari Run Staff's labor of love, the atmosphere at every Safari Run has developed into a warm, fun, inviting, and safe place where kids and parents can play like animals!
Address: 1180 Kern Ave, Sunnyvale, CA 94085
Phone number:+1 408-579-9218
http://www.safarirun.com/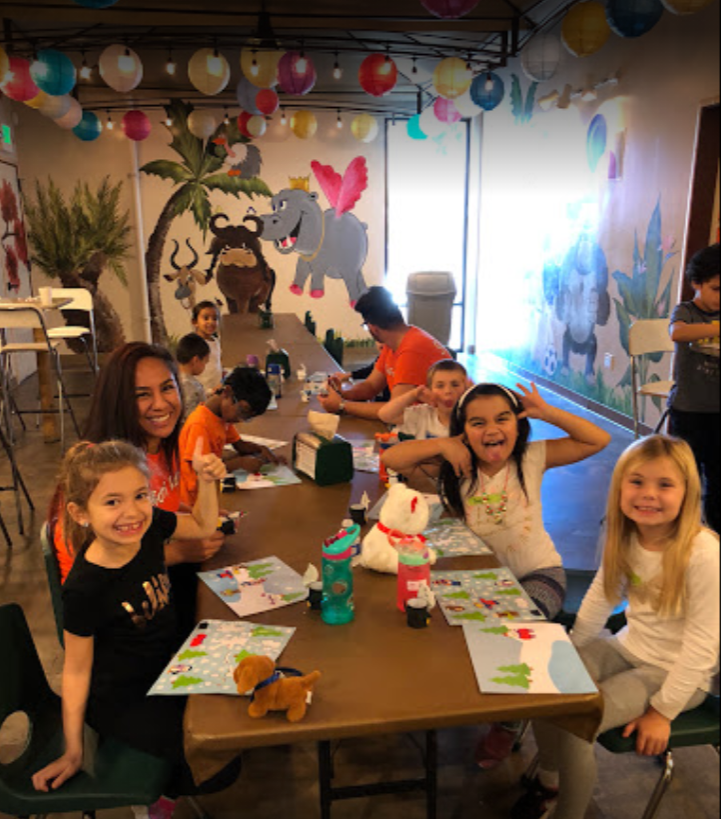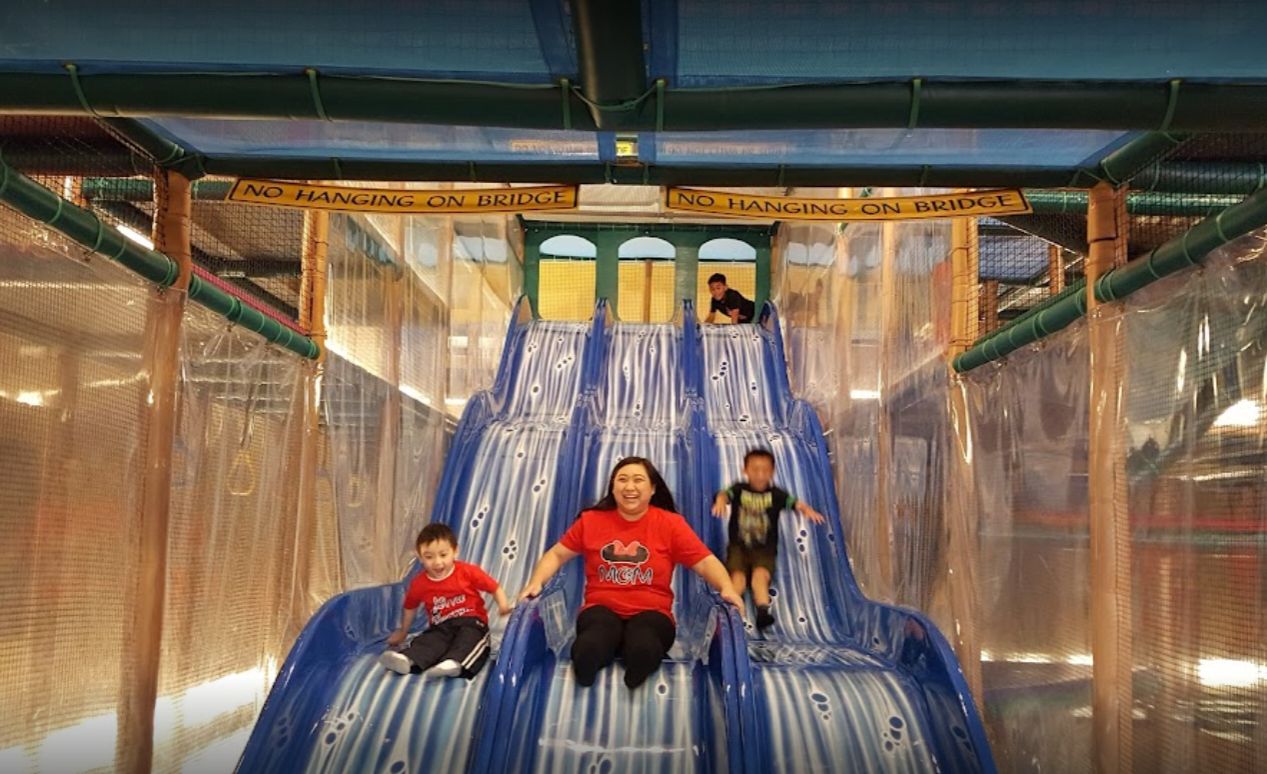 10,La Petite Playhouse
"The look on my son's face in these pictures says it all! His birthday was as happy as it could have been! He got to spend it with his closest friends at his favorite indoor play space. Our memories of his special day are so happy!
It was also as simple for me as it could have been. When you have a birthday party at La Petite Playhouse, the party planners handle a lot of the little details for you. We set up a call and went over everything from food orders, invites, and the party schedule in about 30 minutes. I absolutely loved having someone else to plan with me. They are experts at this and do it all the time! Usually, I'm on my own with all the details since I've always personally hosted birthday parties for my children. I would choose this again in a heartbeat"!
Address: 1264 Oddstad Dr, Redwood City, CA 94063
Phone number:(650) 642-9444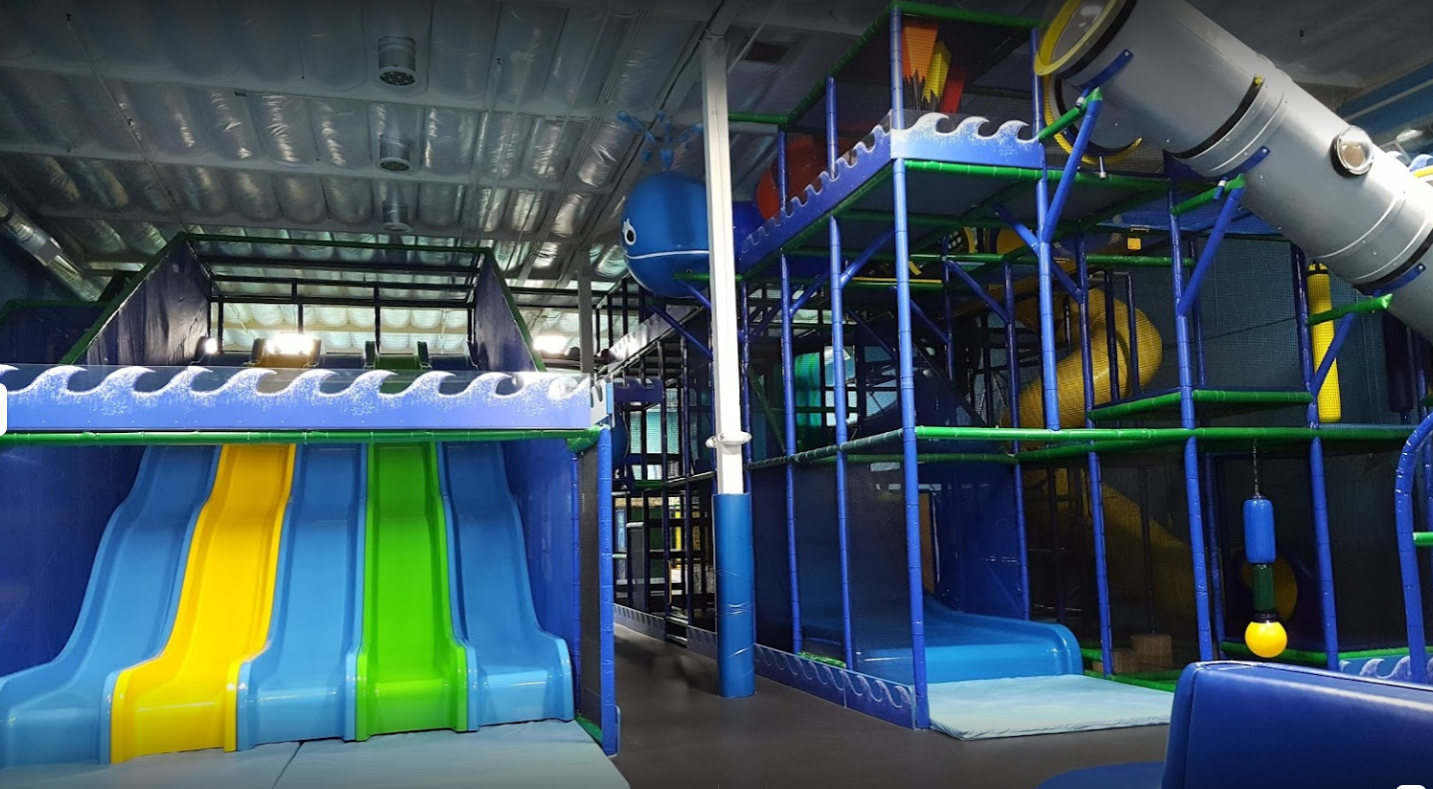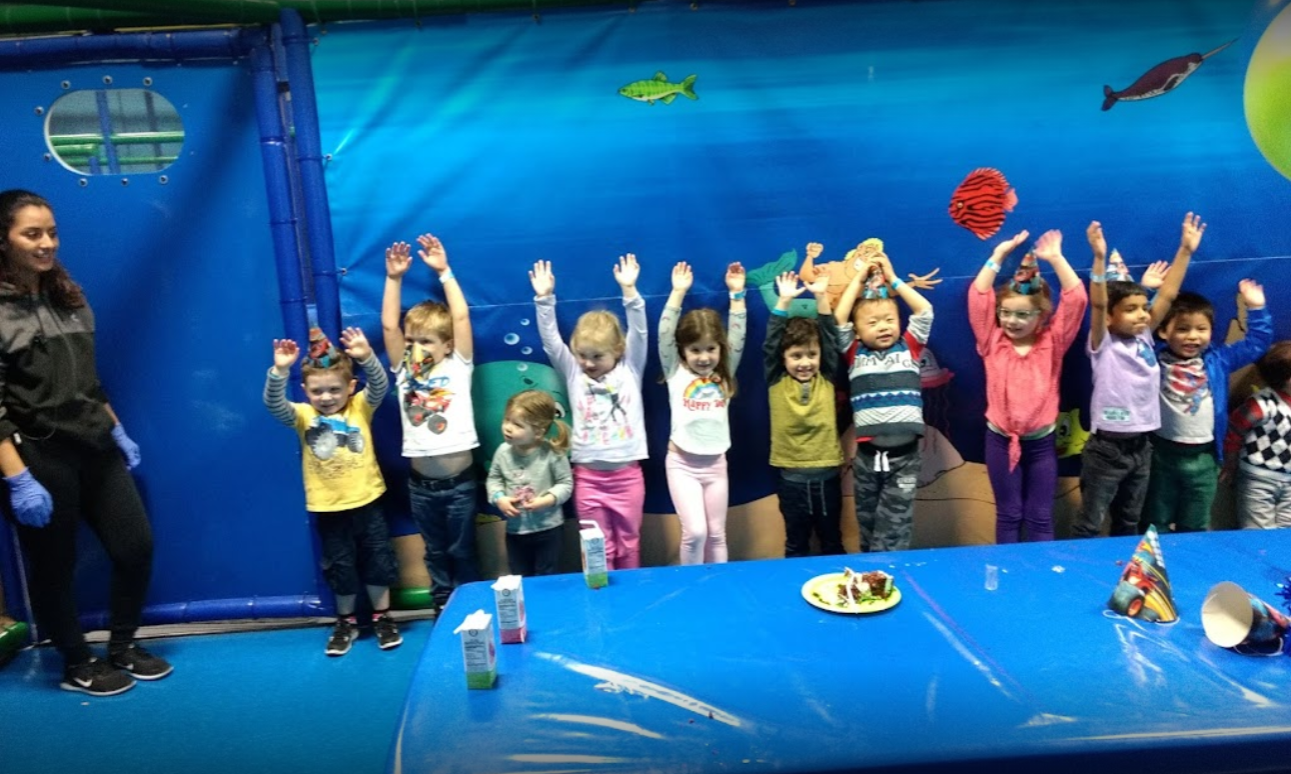 11,Jumpity Bumpity
Childhood obesity rates are on the rise. Children are less active due to excessive TV & video game time. Gross motor skills remain very important to a child's development. According to the American Heart Association, children should engage in at least 60 minutes of daily unstructured physical activity, especially in large muscle activities. Parents need a place for their children to run, hop, jump, slide, crawl, back crawl, squeeze, balance, hang, & bounce. While their children are exercising, they are building strong hearts and healthy bodies.
Address:31169 Mission Blvd, Hayward, CA 94544
Phone number:(510)2567001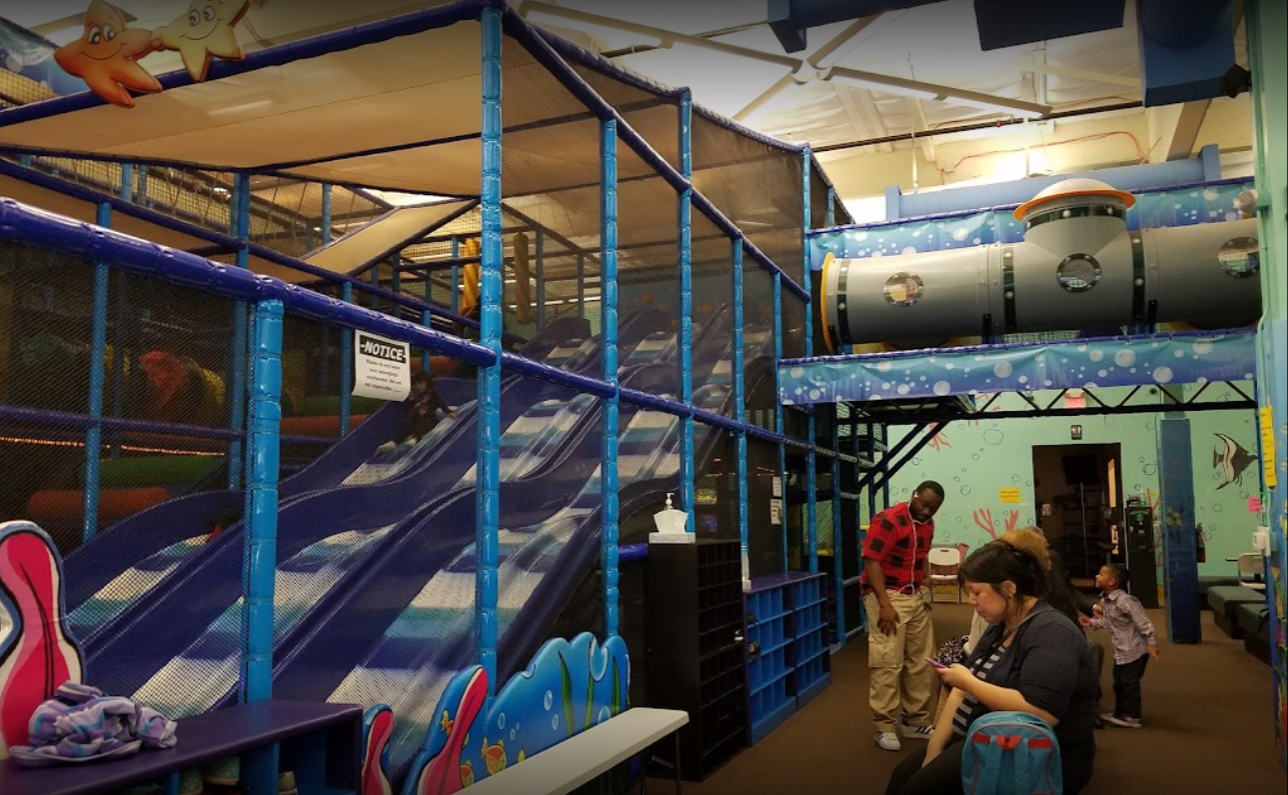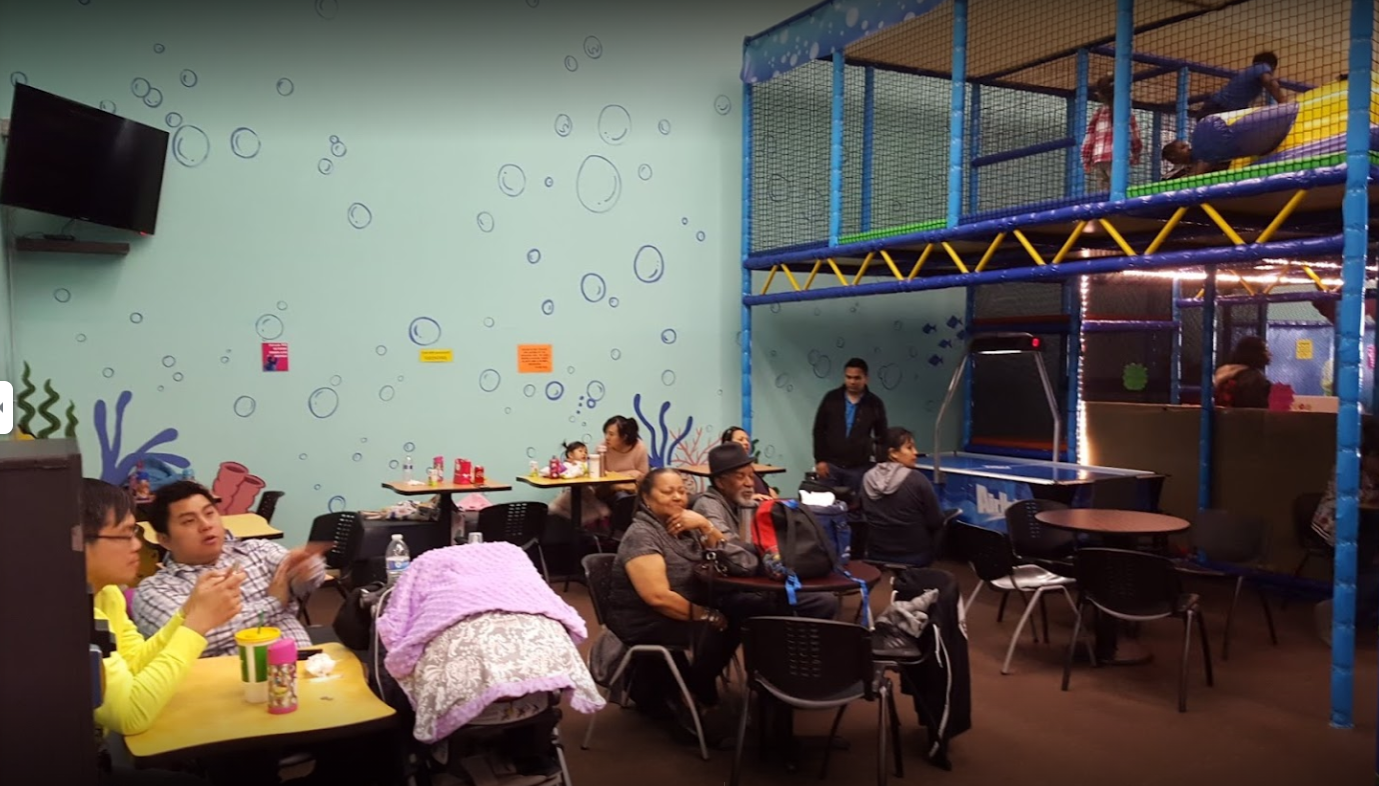 12,jolly roger land
Jolly Roger Land is a children's play center based in Union City, California. Since January 22, 2019, our business has been providing exceptional service with a focus on achieving 100% customer satisfaction.
Address:31300 Courthouse Dr, Union City, CA 94587
Phone number:510-362-7996
Monday to Wednesday: 10:00 AM – 7:30 PM
Thursday to Sunday: 10:00 AM – 8:00 PM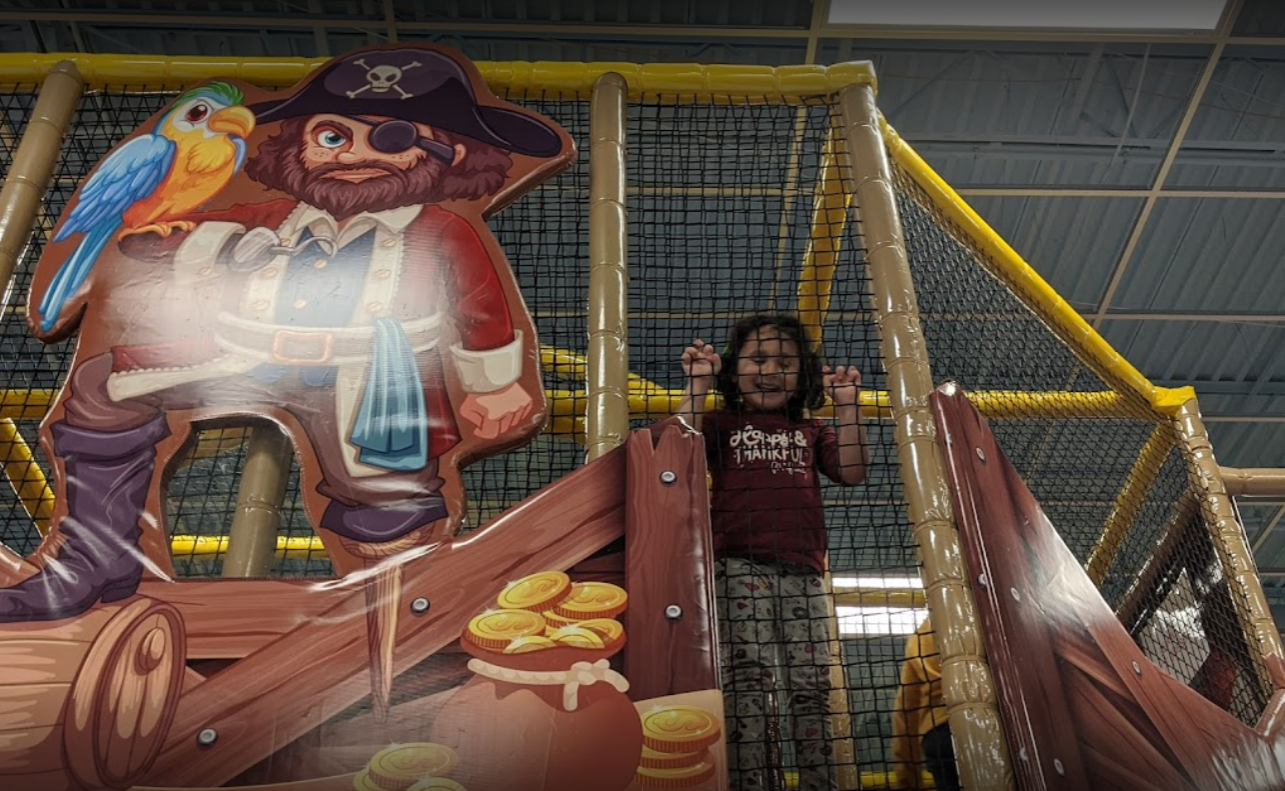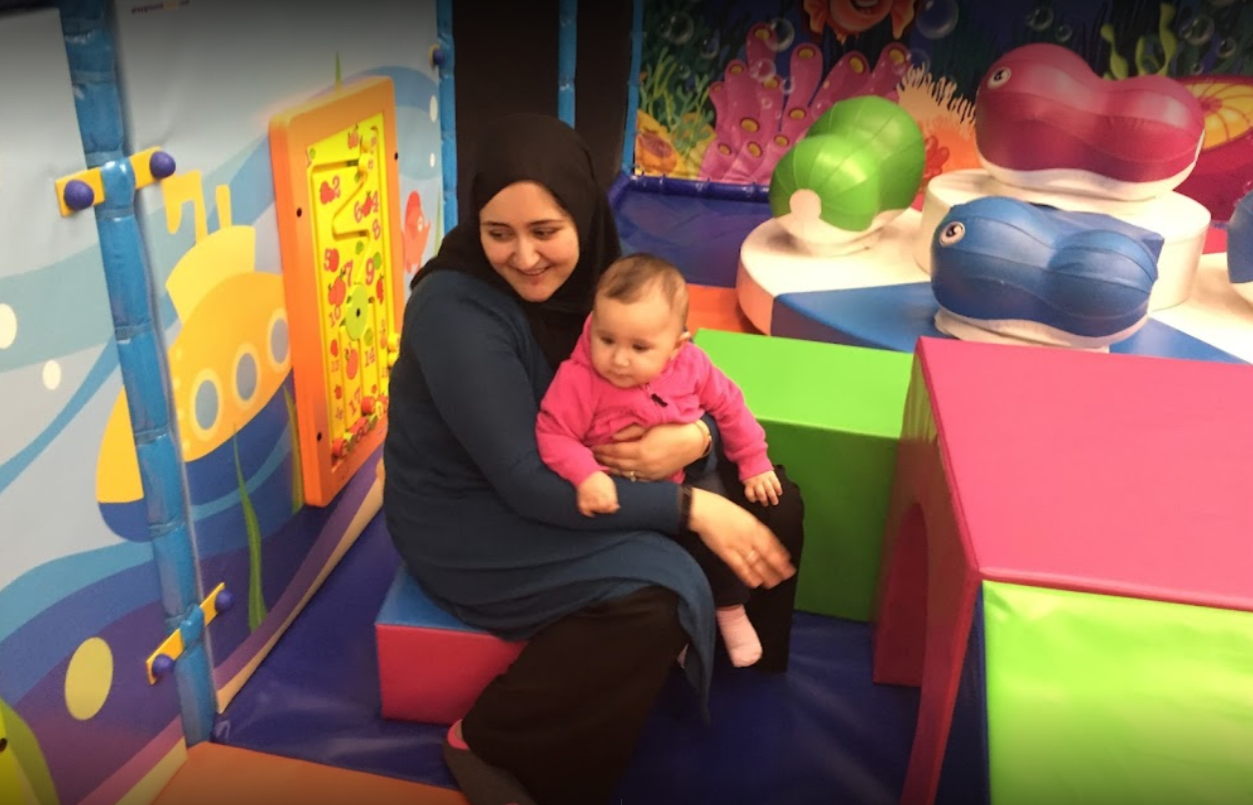 13,Kids Play Zone
With over 2,000 sq. ft of pure fun, Kids Play Zone is a creative, interactive play and event space offering families a place to play, work, party, unwind, and make new memories! Geared for littles ten and under, Kids Play Zone creates an environment that encourages children to interact with the world around them – learning while they play.
With a separate space for the little crawlers and another space for the big littles, our space is designed to spark their imagination, curiosity and creativity. Parents are encouraged to find their inner child, create memories and have fun! KPZ is more than just a play space but a communal space that will offer fun events such as music parties, health and educational events like mommy/daddy and me, and yoga. Kids Play Zone is also great to host private events such as baby showers, graduations, bar mitzvah and anything in between.
At Kids Play Zone, your family and our community is our number one priority. While your children have the opportunity to foster positive experiences through learning and playing, parents and caregivers are given the much needed opportunity to find a little me time of their own.
Address:900 Market St Suite M, Oakland, CA 94607
Phone number:(510)-817-4384
https://kidsplayzoneoakland.com/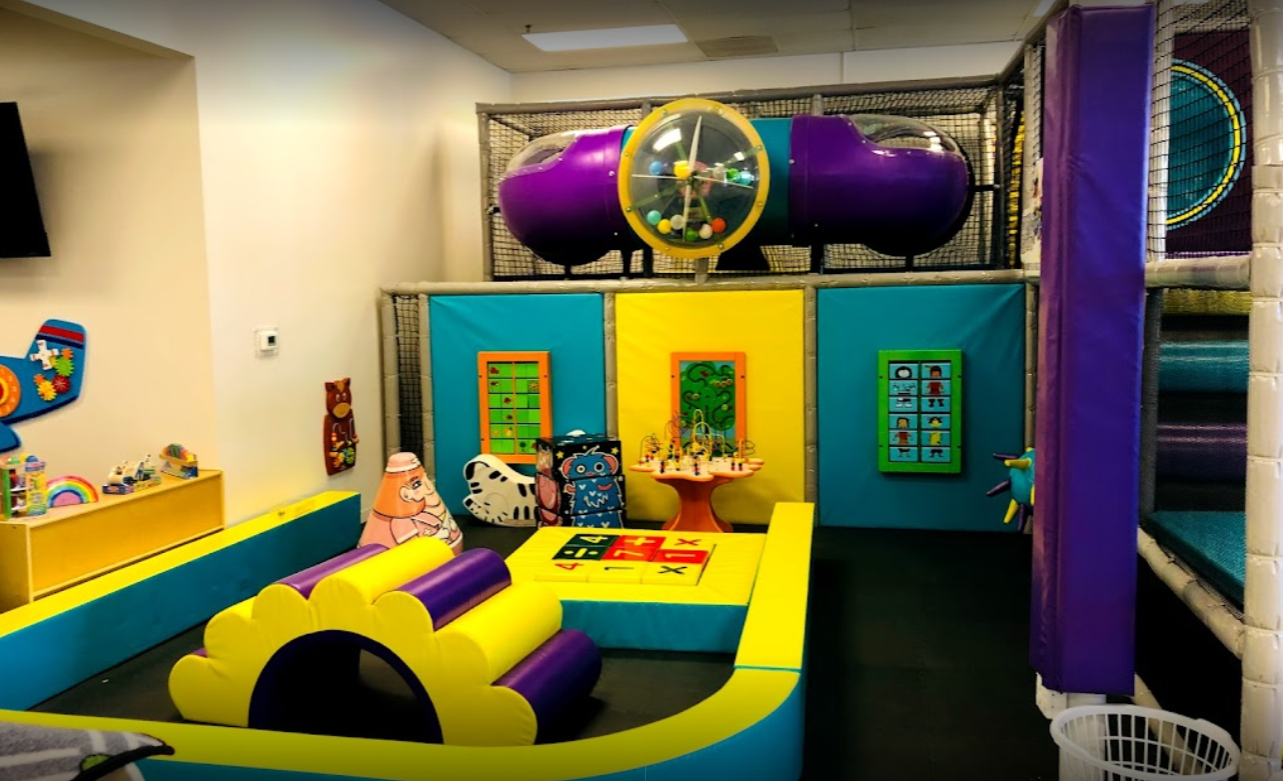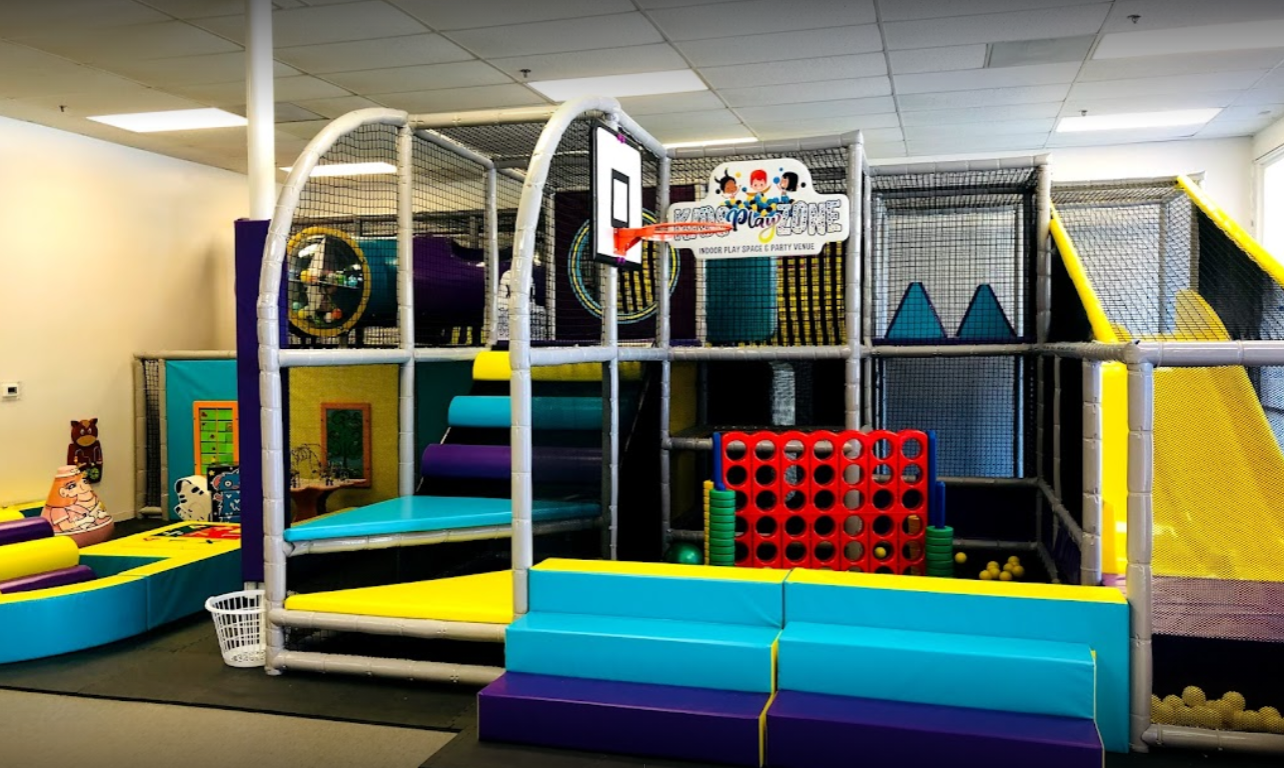 14,Adventure Kinderland
Address:12411 San Pablo Ave, Richmond, CA 94805
Phone number:(510)680-5242
$25 per person or 2 kids/$35; 3 kids/$45;Adults $25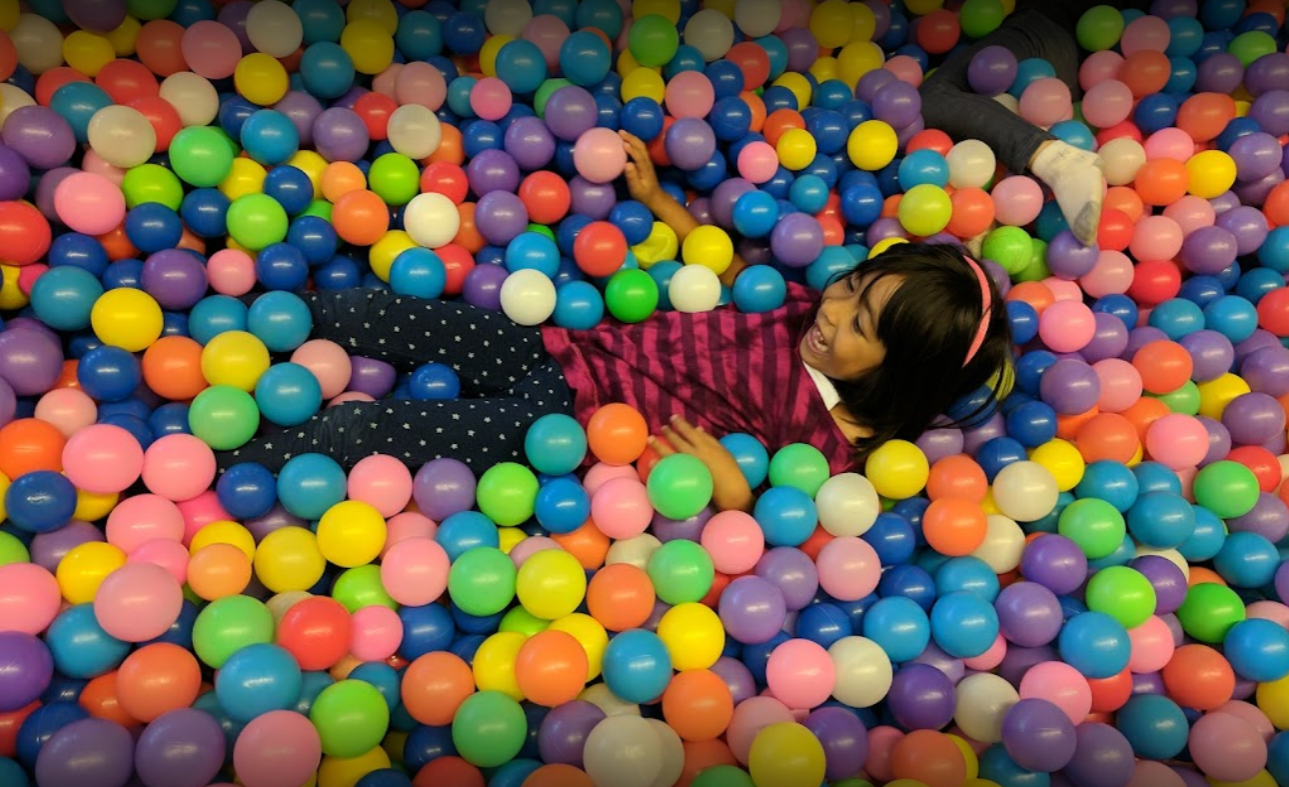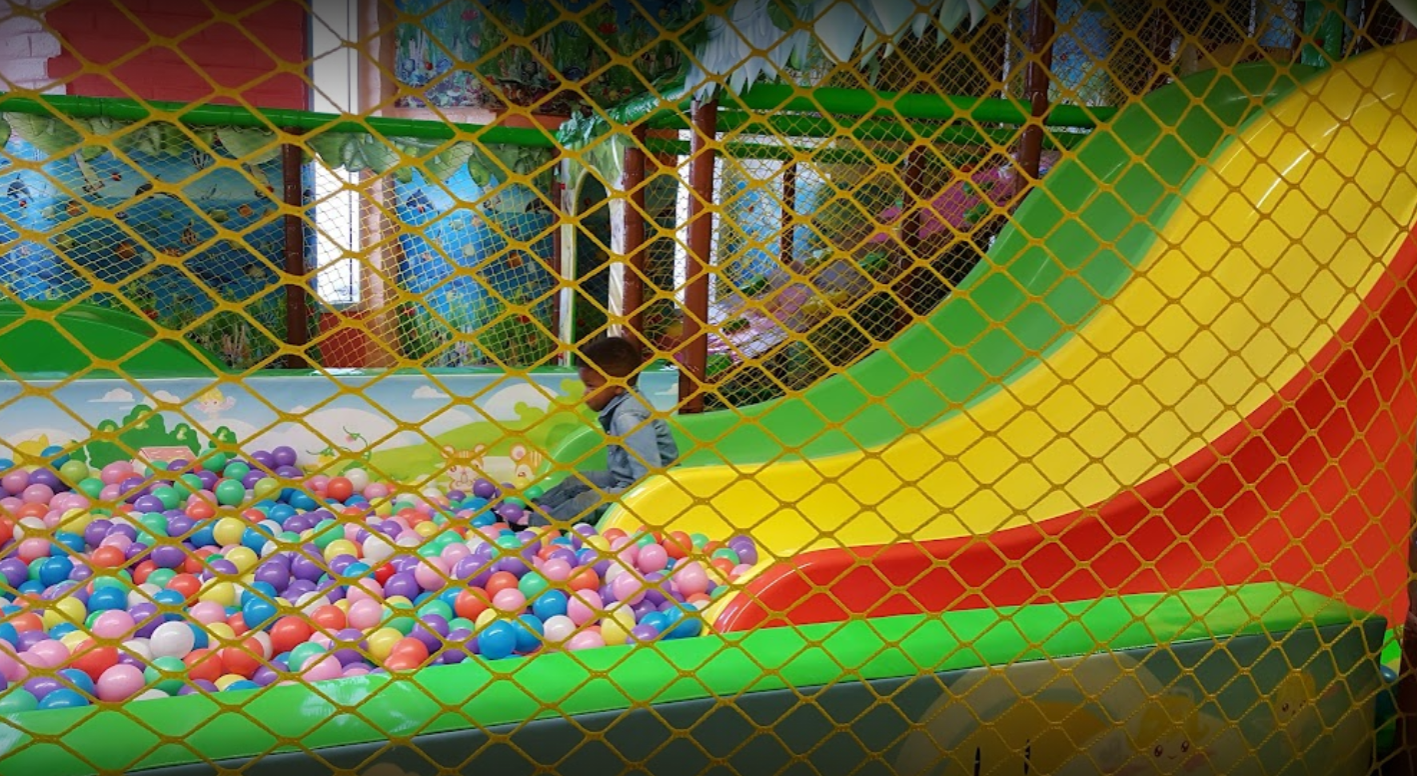 Comments

Rakesh Patel Says:
Indoor Soft play setup for 3 to 10 year age group..plz reply with design and setup cost.

Angel Playground Equipment CO.,LTD Says:
Hope this message find you well, we are pleasure to make proposal for your kids play area, please check our reply to your email. Thanks!

Siri Says:
Hi would like to know the logistics to setup a playarea and party hall for kids

Angel Playground Equipment CO.,LTD Says:
Already sent, Please check. Looking forward to your reply.

Alicia Says:
May I have a catalogue with pricing? Thank you

Angel Playground Equipment CO.,LTD Says:
Got your message, Thanks! Please check your email for process of start indoor playground, Looking forward your reply with layout information.

Rakesh Says:
We are keen to open one of indoorplay park in our town in new zealand. Pls send us information to get ideas

Angel Playground Equipment CO.,LTD Says:
Nice day! All price online are real, If anyone you like just let me know, we are pleasure to share you details, Process please check your email.

Shukria Says:
Hi I would like to open indoor playground in Toronto Canada . Do u guys access to Canada . I really like it the Rush fun park . I would like to talk about how much it cost and what is the progress

Angel Playground Equipment CO.,LTD Says:
Nice day! Please check your email for catalog, please follow the process and provide floor plan, We will make a good design for you.
Leave a Reply
Your Phone & Email address will not be published. Required fields are mareded*