Why We Need Take Our Kids to An Indoor Playground Equipment?
Views: 8355 Update date: Jun 26,2017
Kids will be boring very soon if keep away from their friends and with nothing to do, they need something to entertained and get physically active, indoor playground is such a play which offer many play events for kids to active. Play in an indoor play center can develop better motor functions as well as coordination skills. Kids have hours of fun by climbing, running and sliding, they cooperate with friends and same time compete with other group on some game. It is quite safe and friendly environments to play inside a indoor play structures!
That is no doubt kids are not as do excise often as in the past because of video game and mobile equipment occupy their attention, some parents even encourage this if kids become restless, it is does not take long for kids become restless, but play video game on smart phone is not good solution, the health way is take them outside play on park like swing, slide or just fly a kite. Other options will be play in an indoor play place.
Kids need sport to exhausting their energy, buy computer and smart phone killing kids sport factors, that is why we need to located some place for their have fun and exciting. Indoor playground for kids from 18 months old to 12 years old, they have different play events for each age group. If is a small play area like in a restaurant or coffer shop, the play age are 18 months to 5 years old. If is soft play equipment for home use, the equipment also design for kids under 5 years old. Only the large play center which usually install in a super market or commercial center have indoor playground for kids from 5 to 12 years to play.
Usually an indoor playground in super market have two or three sections, so they can attract kids on different age group to play inside. They have large play area are free to kids to running around. They have rest area for parents to take some snap or read some magazine when waiting for their kids. They have party room and stage for kids to host parts and celebration. Most importantly they have many attractions for kids to play hours. For toddler play there are several different types of play equipment which can be arranged free into several different configurations, most of the play equipment are expendable, for example on toddler slide, the slide and adjust to different height, can connect with slide with a ball pit, or put the toddler slide inside a sand pool. Some balance plank and soft building block also can put inside the ball pit and sand box. The soft play equipment can free combination to different purpose. The fun always there, kids need imagination to create fun by them self. That is how indoor playground help kids on mentality.
There are not just soft play and toddler slide in an indoor playground, there are big slide, shooting game and sport game.
A, Usually slide on outdoor play structures can not be more than 3 meter, and only can use tube slide over 2 meter, but on indoor play structures can use open slide even on height 4 or 5 meter. It is more exciting.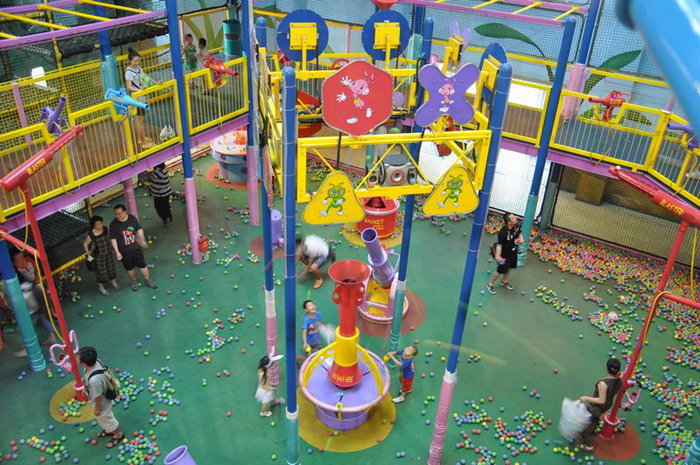 B. Shooting game like ball blaster, ball blower, ball float and ball dump basket only can assemble inside. Kids play this game on different group to compete with others, it is good for kids to make some friends and learn some social skill.
C. Sport game like climbing wall, cross obstacle and spider tower. Climbing wall can building on any height even 10 meter, have rope to security kids body, it is function just like safety belt on car. Cross obstacle including soft block, net tunnel and plastic tunnel, single slop bridge and swag bridge. Spider tower have are made by belt, kids need to climbing from bottom level to top level, each level on different shapes, so even fall will be catch by lower level.
During all of these introduce, you may have better understanding on what play events on indoor playground and how they help kids. Now search a good indoor play place for your family to have fun weekend!
Copyright Reserved by Angel Playground Equipment Co.,Ltd.
Comments

Rakesh Patel Says:
Indoor Soft play setup for 3 to 10 year age group..plz reply with design and setup cost.

Angel Playground Equipment CO.,LTD Says:
Hope this message find you well, we are pleasure to make proposal for your kids play area, please check our reply to your email. Thanks!

Siri Says:
Hi would like to know the logistics to setup a playarea and party hall for kids

Angel Playground Equipment CO.,LTD Says:
Already sent, Please check. Looking forward to your reply.

Alicia Says:
May I have a catalogue with pricing? Thank you

Angel Playground Equipment CO.,LTD Says:
Got your message, Thanks! Please check your email for process of start indoor playground, Looking forward your reply with layout information.

Rakesh Says:
We are keen to open one of indoorplay park in our town in new zealand. Pls send us information to get ideas

Angel Playground Equipment CO.,LTD Says:
Nice day! All price online are real, If anyone you like just let me know, we are pleasure to share you details, Process please check your email.

Shukria Says:
Hi I would like to open indoor playground in Toronto Canada . Do u guys access to Canada . I really like it the Rush fun park . I would like to talk about how much it cost and what is the progress

Angel Playground Equipment CO.,LTD Says:
Nice day! Please check your email for catalog, please follow the process and provide floor plan, We will make a good design for you.
Leave a Reply
Your Phone & Email address will not be published. Required fields are mareded*