Kids Trampoline
Product Description
Send Inquiry
Top Sale trampoline park, free design customized trampoline, dodgeball trampoline, kids indoor trampoline
Size(m): 950x400x300
Code:air-trampoline-hp-jc006
Jumping Mat: Imported from United Stated
Foam Pad: EPE, waterproof closed-cell foam, not easy to lose shape
Pad: 0.45mm thick PVC, anti-water and anti-mildew
Tubes: Galvanized Steel Pipe, Powder Coated
Size: 50*100mm
Thickness: 3.5mm, can be customized
Springs:19cm and 21cm not extended length, super high-strength Chrome plated, of good elastic performance
Trampoline mat: Professional Olympic trampoline mats available
Age Range: Above 5 years old
Certification Approval: CE Certificate, TUV..
Packing: Cotton & Plastic film
Remarks: Kids should play under supervision and instruction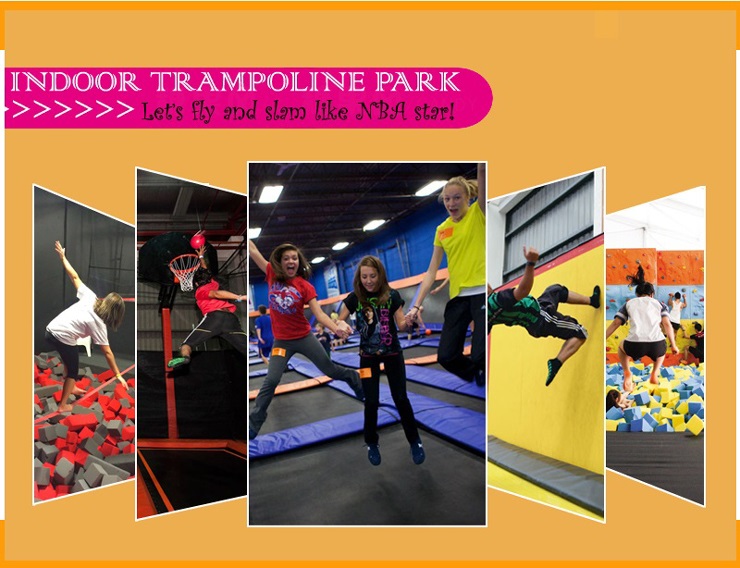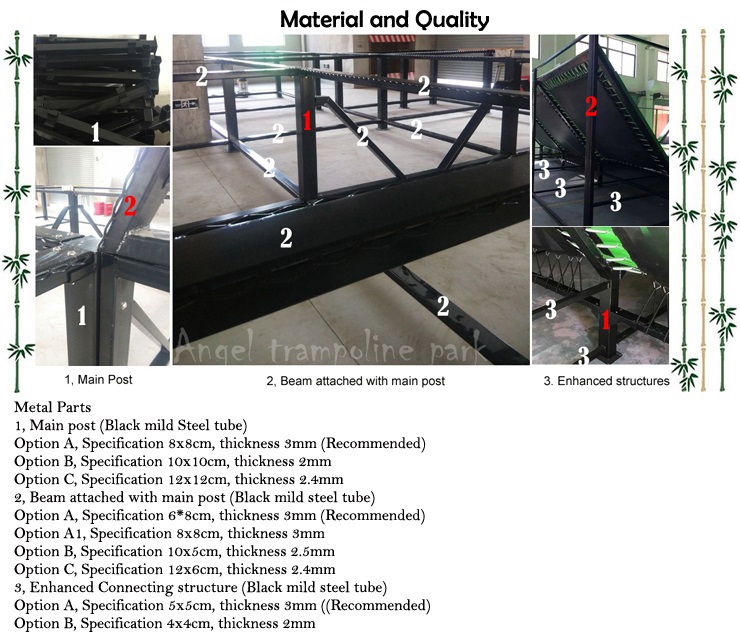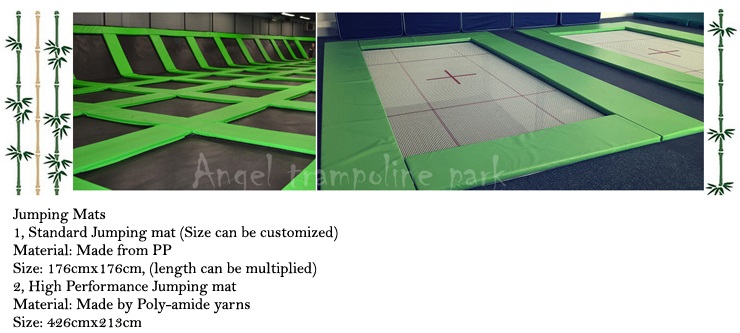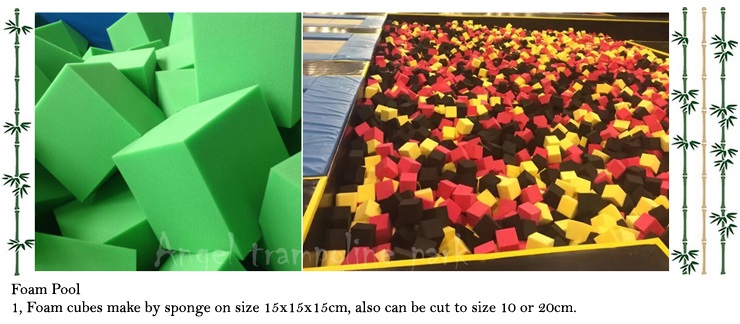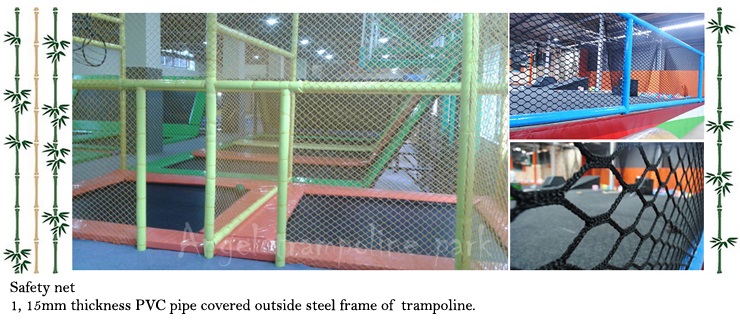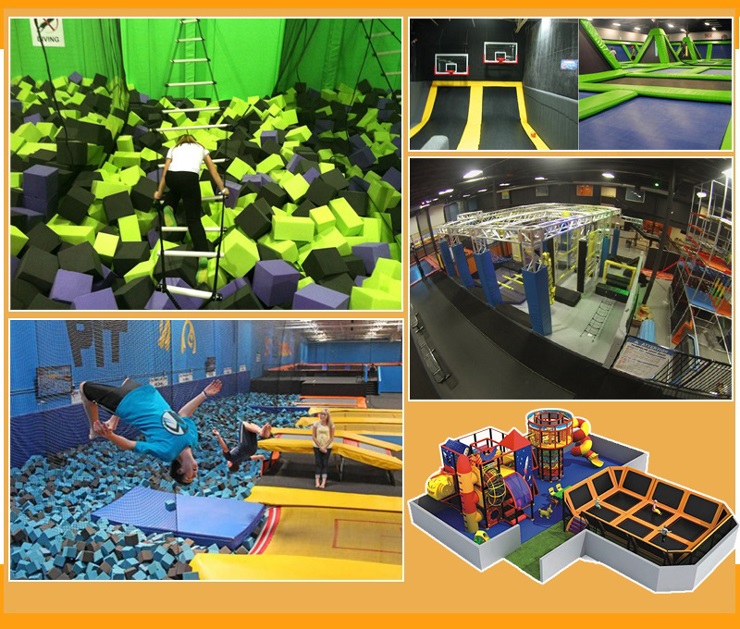 Trampoline Park Prevents Kid from
Getting Over-weighted
Nowadays, obesity has become one of
the most common problems of kids and teenagers, overweight in childhood would
lead to a lot of relative diseases and influence the quality of their daily
life. The causes of children's obesity vary from unhealthy eating habit to lack
of exercises. The thing that kids do most of the time in a day is to remain
seated. In schools, they sit for the whole day to listen to the teacher, at
home; they sit in front the computer or lie on the sofa to play computer games.
Living a life like this, kids would not only become fatter, but also become
duller. Therefore, it is of great urgency to have kids do some exerciser to help
them to burn the additional calories. Trampoline Park, as far as I'm concerned,
will be the suitable place for kids to take frequent visit.
On the on hand, Trampoline Park is a
playground totally different from the traditional ones. It attracts kids with
new and special equipment that kids may seldom get the chance to play in their
everyday life. Children love to experience new things, and nothing would stop
them from trying activities out of their curiosity. In the trampoline park,
instead of being forced by their parents to move their body, they would be
willing to jump up and down with great interest by themselves, without anyone
asking them to do so. Just as a proverb goes," interest is the best teacher." I
think the same is true of Trampoline Park, but it is more proper to say that
"interest is the best motivation to exercise."
On the other hand, a trampoline park
is also a place full of laughter. Children today are not used to smiling at
others and it seems that there is nothing funny to make them laugh in their
life. Actually, laughter is the most important factors that lead to good body.
While at home, kids seldom share their happiness with their parents, the only
thing they do is to take out their phones and smile at the screen while their
fingers are clicking on it. Parents and kids need a place to pull them together
and to cut the invisible distance between the two ends. I think Trampoline Park
plays the role to make it come true.
All in all, the problem of
children's obesity is not only a physical problem, but also flections of
children's life style and attitude. And the trampoline park should be overstated
as a cure to their bad life style and unsatisfying life.
Reviews


Marlyn Salazar Says:
Please send me your catalog or price list. Do you deliver to Puerto Rico? and if yes, delivery charge, if any. Thank you

Angel Playground Equipment CO.,LTD Says:
Thanks for inquiry on the outdoor play structures, please check price list on email. We have shipping to Puerto rico many times.


Nisha Patel Says:
Hi.. can i get a quote for this ?

Angel Playground Equipment CO.,LTD Says:
Hi: Please check the quotation on your email. Looking forward to your reply!


Ana Schlossberg Says:
I would like the list price of the pretend playhouses each and the hole city. Are the decoration inside the little houses included? What about the equipment, play cars and toys? Thanks, Ana.

Angel Playground Equipment CO.,LTD Says:
Thanks for your inquiry! I have sent the details of each house through email, please check. play cars toys and others will be provide once we have the layout information.


Hussein Says:
Hello Can you please send me price list

Angel Playground Equipment CO.,LTD Says:
Nice day! Will send you price list by email, please check!


Betty Says:
Hi im planning to create a play are for kids and in interested to make tranpoline park, so i need to know prices of your iteams thanks

Angel Playground Equipment CO.,LTD Says:
Hi Betty: Thanks for your inquiry, we will reply you with details information very soon, please share us the layout once you got our email.
Add a Review
Your Phone & Email address will not be published. Required fields are mareded*
ANY QUESTION?