Kids Trampoline
Product Description
Send Inquiry
Top Sale trampoline park, free design customized trampoline, dodgeball trampoline, kids indoor trampoline
Size(m): 300x300x500
Code:trampoline-place-hp-jc008
Jumping Mat: Imported from United Stated
Foam Pad: EPE, waterproof closed-cell foam, not easy to lose shape
Pad: 0.45mm thick PVC, anti-water and anti-mildew
Tubes: Galvanized Steel Pipe, Powder Coated
Size: 50*100mm
Thickness: 3.5mm, can be customized
Springs:19cm and 21cm not extended length, super high-strength Chrome plated, of good elastic performance
Trampoline mat: Professional Olympic trampoline mats available
Age Range: Above 5 years old
Certification Approval: CE Certificate, TUV..
Packing: Cotton & Plastic film
Remarks: Kids should play under supervision and instruction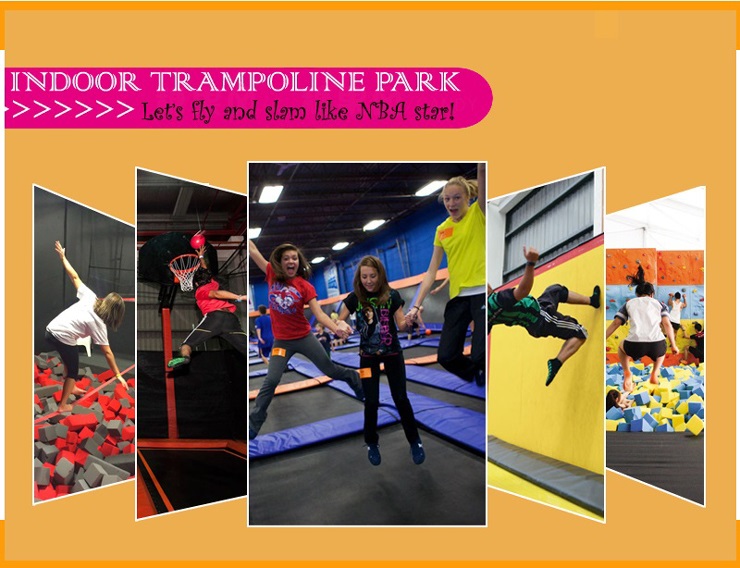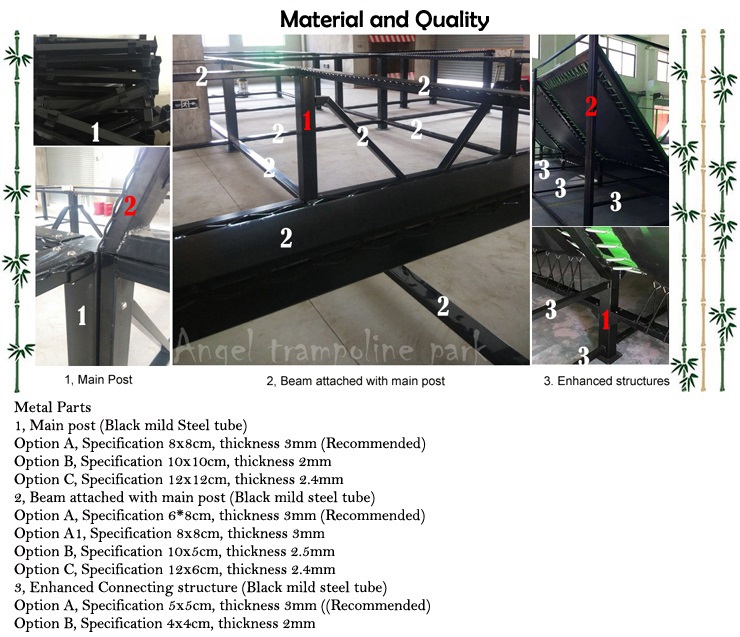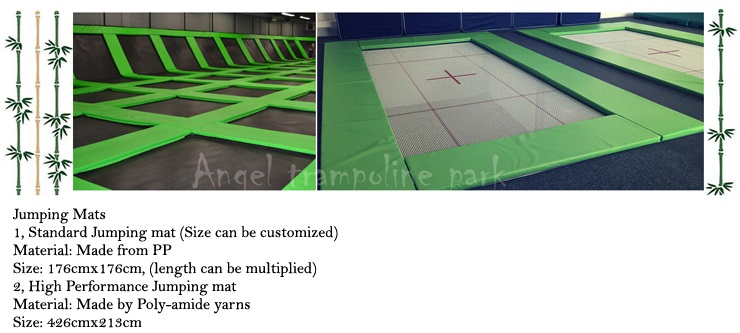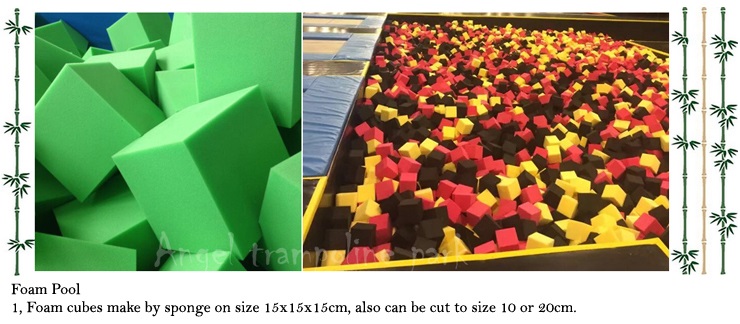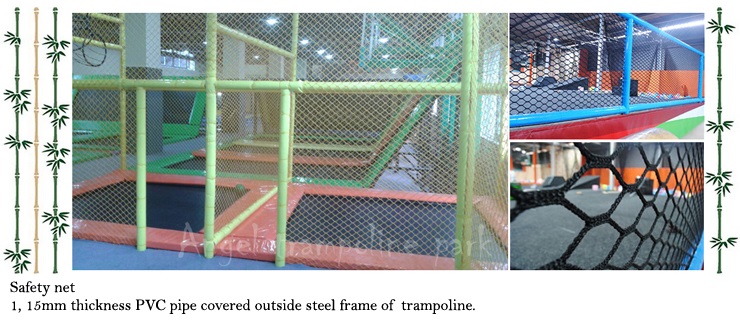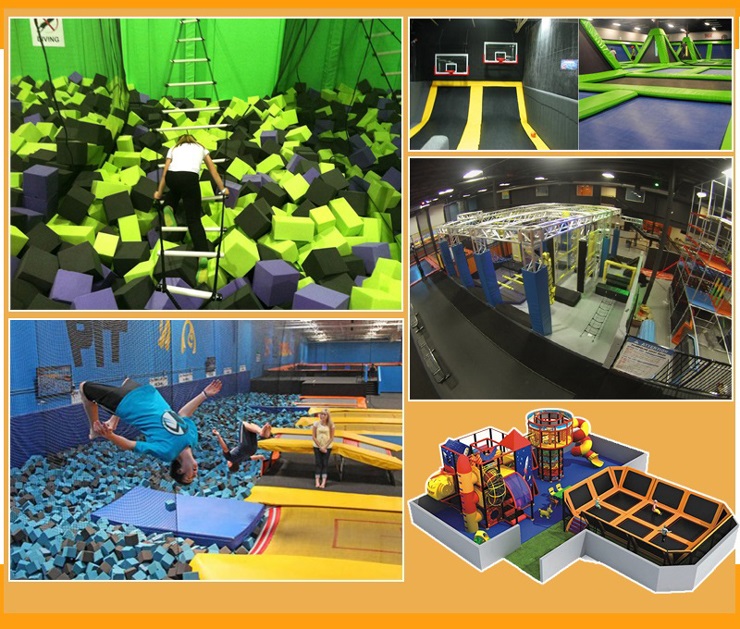 Should Indoor Trampoline Park Adopt Kids of all Kinds?

Indoor Trampoline Park, as we all know, is a place for fierce games and
activities, therefore all the activities require kids to be strong enough to
deal with different problems. But it seems to be a little unfair to forbid weak
kids from joining these activities although the trampoline park made such
decision as the consideration of children's benefit. While the problem that
puzzles people is that whether the decision suit for the common virtue in
today's society. Should we deprived kids of their right to try things of
challenge just because we think it is not good to their health? As far as I'm
concerned, I'm really against this kind of view.
First of all, forbid some groups of weak kids from having fun in the
indoor trampoline park are actually expressing the defaulted moral of
discrimination. It is really not a good thing to have kids to be informed of
what is unjust and how they will be differently treated because of their
physical disability. This is not the role that a positive playground should
play. What they are supposed to do is trying to figure out how to help the kids
get out of the shadow in their life rather than keep them out of the door of
happiness just for the so called "protection".
Secondly, wake children will never become strong if they don't do
exercises. Since trampoline park provides kids with pretty good chances to
exercise their muscle and bones, their state of health will also be largely
improved. As a consequence, through the training they received in the trampoline
park, they may gradually become stronger than other healthy children. Shouldn't
this be the ultimate goal of all playgrounds for children? Don't you think it is
a little wield for the trampoline park to forbid some groups of kids from
entering to have fun?
Furthermore, giving kids the chance to stay with other children who are
at the same age as them in the indoor trampoline park is of great help to their
growth. Sometimes the company from leers works better than the company from
parents. In the trampoline park, all kids are treated the same, so do those
faint children. It is a good place for them to forget that fact that they are
different for their physical disability and should always be paid special
attention to. This is the best part of a public playground.
No one running a trampoline park is give the right
to set prohibitions to children who want to play there, otherwise, it is
betraying its intent if making it a garden for all the kids.
Reviews


Tiffany Stone Says:
Please send a catalog.

Angel Playground Equipment CO.,LTD Says:
Hi Tiffany: Got you message, Please check our reply on your email, Thanks!


Laura Lee Says:
Could you send me your catalog with pricing. Thanks

Angel Playground Equipment CO.,LTD Says:
Hi Laura: Price list of outdoor playground have share by email, please check and confirm items you need.


Mway Says:
Kindly send the catalog please .

Angel Playground Equipment CO.,LTD Says:
Hi Mway: Price list already share though email, please check and confirm the items you like.


FT1996 SDAF Says:
Necesito el catalogo

Angel Playground Equipment CO.,LTD Says:
Hi: Have share information to you through email, please check and reply with more info of your inquire.


norsiah binti mohd nor Says:
HAI, PLEASE SEND ME YOUR CATALOGUE

Angel Playground Equipment CO.,LTD Says:
Hai Norsiah: We already sent, please check your email box.
Add a Review
Your Phone & Email address will not be published. Required fields are mareded*
ANY QUESTION?