Top 10 indoor playground in Lexington, Kentucky, USA
Views: 10131 Update date: Dec 20,2021
01 Monkey Joe's - Lexington
1850 Bryant Rd #120, Lexington, KY 40509
02 Malibu Jack's Lexington
Address:2520 Nicholasville Rd, Lexington, KY 40503
03 Sky Zone Trampoline Park
Address: 3644 Boston Rd #130, Lexington, KY 40514
04 Champs Entertainment Complex
Address:297 Ruccio Way, Lexington, KY 40503
05 Get Air Trampoline Park
Address:400 E Brannon Rd, Nicholasville, KY 40356
06 Explorium of Lexington
Address:440 W Short St, Lexington, KY 40507
07 GattiTown
Address:2524 Nicholasville Rd, Lexington, KY 40503
08 Chuck E. Cheese
Address: 1555 E New Circle Rd, Lexington, KY 40509
09 LEF Climbing
Address: 916 N Broadway, Lexington, KY 40505
10 Masterson Station Sprayground
Address: 3051 Leestown Rd, Lexington, KY 40511
01 Monkey Joe's - Lexington
At Monkey Joe's, young ones find their happy space — unlimited play on inflatable-filled jumps, obstacle courses, arcade action and a snack shack. It's where kids play with friends, both old and new. For parents, they love the dis-connected play, as well as the perfect backdrop for private parties and unplanned outings. In addition to regular daily cleaning, Monkey Joe's uses Enviro-Master's VIRUS VAPORIZER SERVICE™ to disinfect weekly. Today Monkey Joe's enjoys 28 pure-kid-fun in motion destinations around the country.
Address:1850 Bryant Rd #120, Lexington, KY 40509
Phone: (859) 264-0405
https://www.monkeyjoes.com/locations/lexington-ky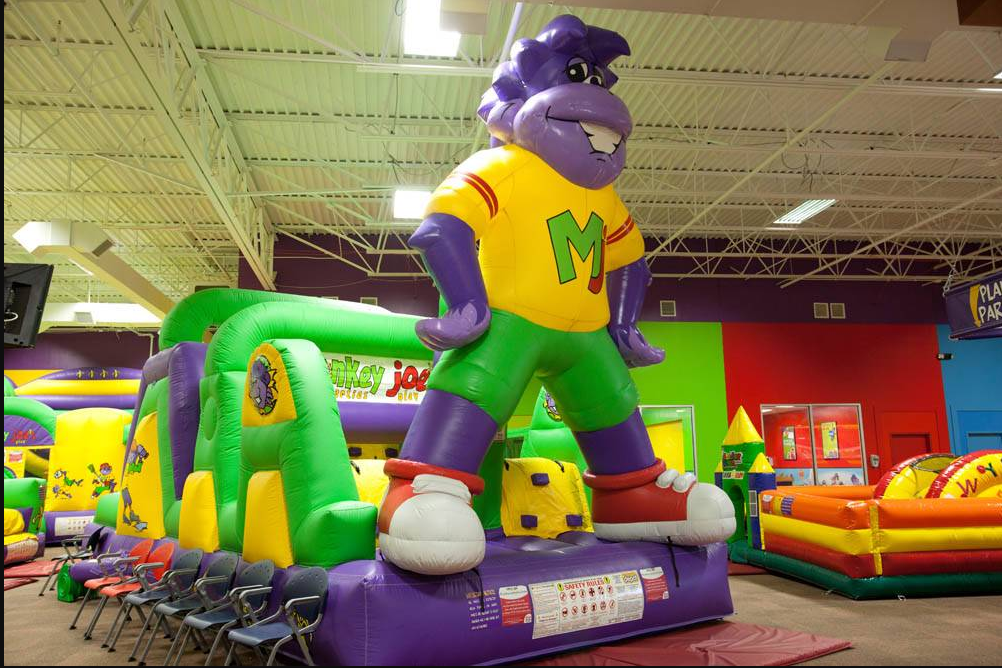 02 Malibu Jack's Lexington
WHERE FUN IS AWESOME!
Go karts, bowling, coaster rides, virtual reality, miniature golf and more! There's something for everyone at Malibu Jack's!
Address:2520 Nicholasville Rd, Lexington, KY 40503
Phone: (859) 687-0401
https://www.malibujacks.net/lexington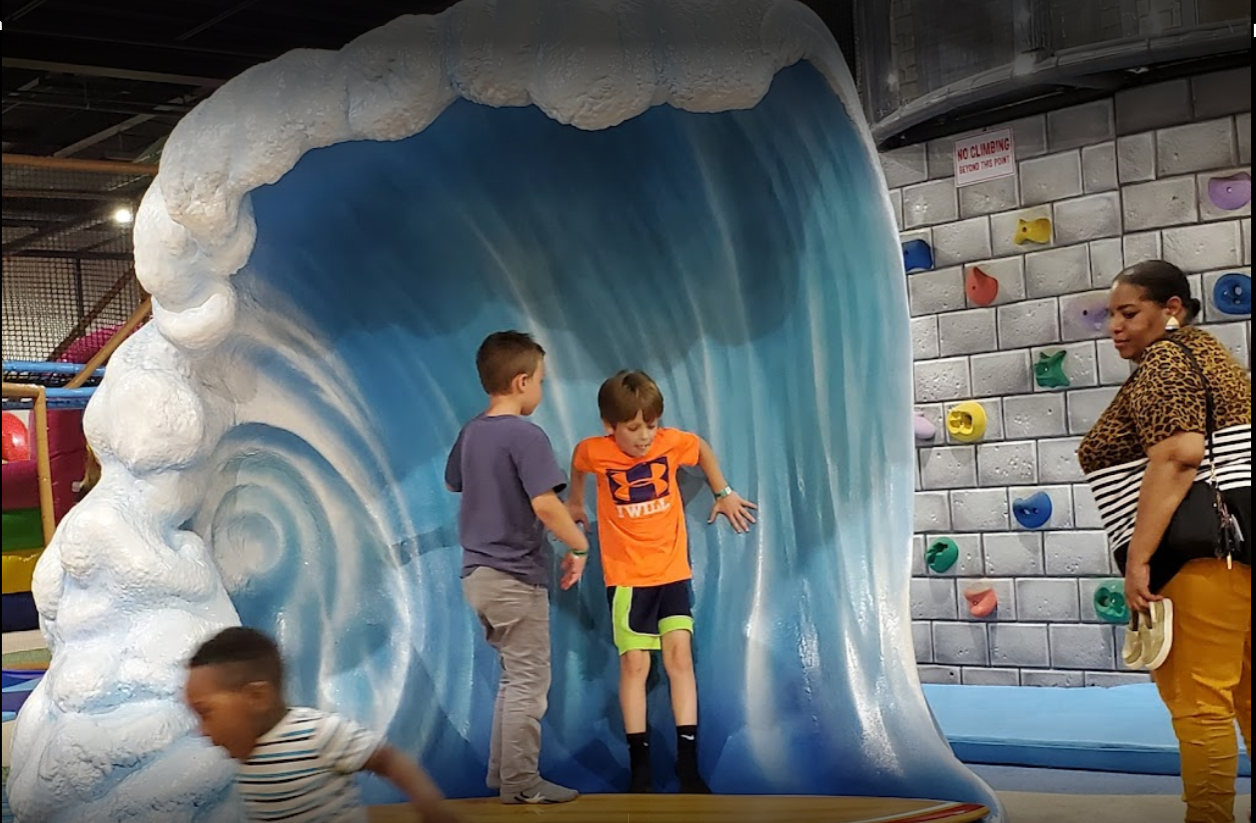 03 Sky Zone Trampoline Park
At Sky Zone Lexington we want people of all ages to enjoy active play experiences. We provide a clean and safe environment to celebrate and have fun on our various attractions.
Address: 3644 Boston Rd #130, Lexington, KY 40514
Phone:(859) 629-4455
https://www.skyzone.com/lexington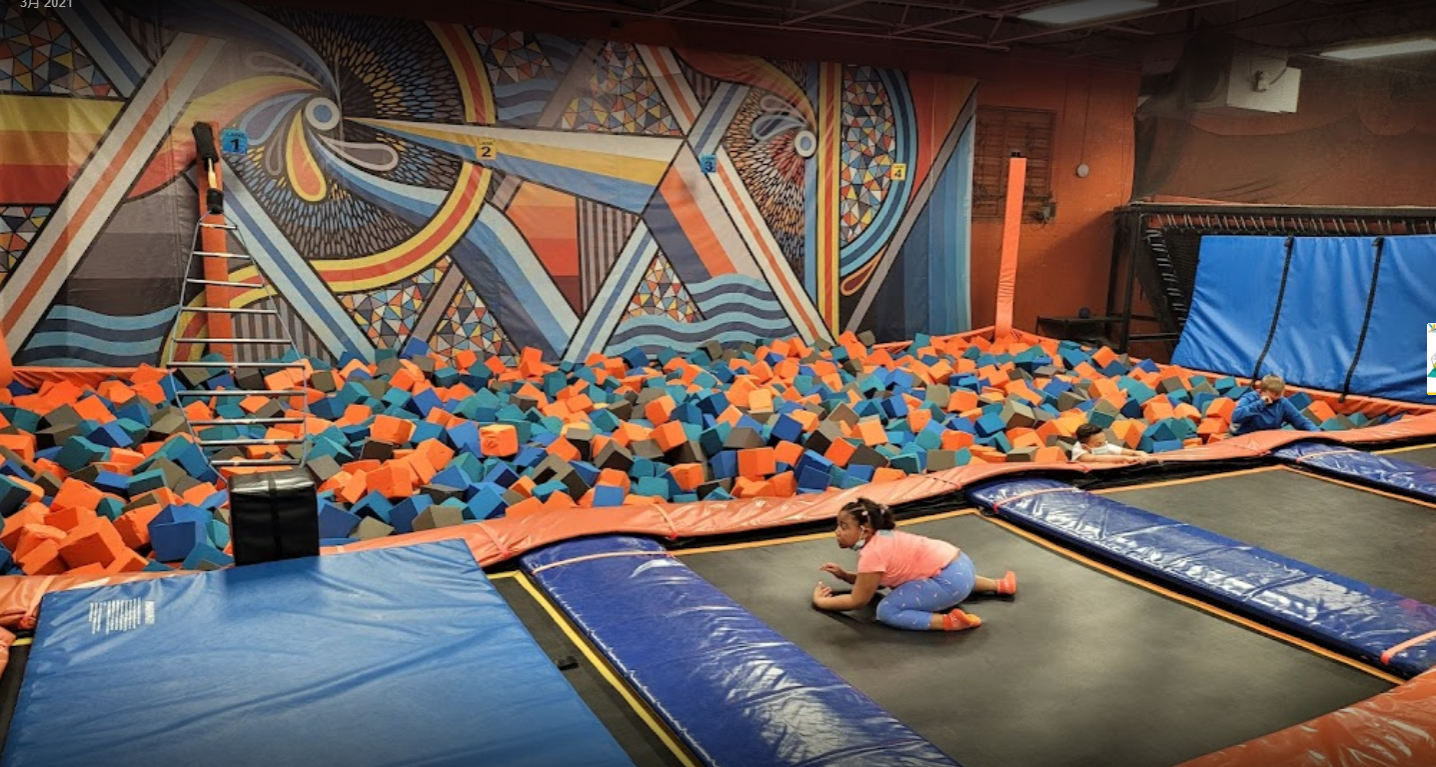 04 Champs Entertainment Complex
Welcome!
Champs Entertainment Complex located in Lexington, is an indoor multilevel facility with 50,000 Square feet of fun. Champs features Roller Skating, Tri Level Laser Tag Arena, 18 Hole Glow in the Dark Championship Miniature Golf Course, Laser Maze, Arcade, Restaurant and Vip Room for all ages. Public and Private Events available.
Address:297 Ruccio Way, Lexington, KY 40503
Phone:(859) 268-3888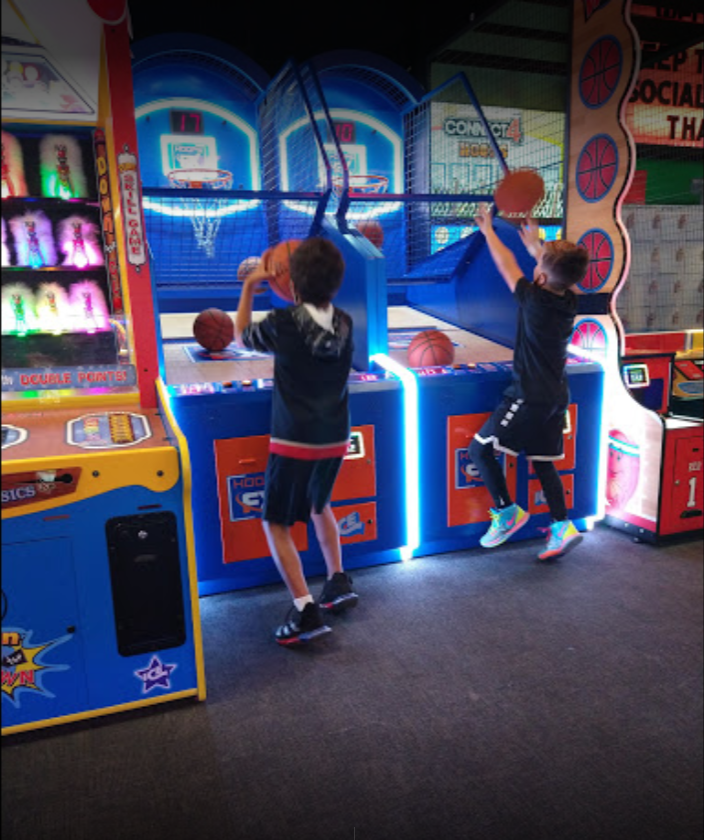 05 Get Air Trampoline Park
We have thousands of square feet of wall-to-wall trampolines to jump, bounce and flip for hours of fun! Our Open Court has side-by-side trampolines – a massive space that allows everyone to jump around.
You'll find vertical trampolines, a trampoline dodgeball area and individual trampolines in the Main Court. Plus, trampoline lanes to get you some serious air to dunk a slamball or launch into a foam pit.
Address:400 E Brannon Rd, Nicholasville, KY 40356
Phone:(859) 303-5868
https://getairsports.com/lexington/

06 Explorium of Lexington
Welcome to the Explorium of Lexington
Children's Museums are the fastest growing type of museum in the country and are unique among museums for the large number of interactive exhibits and educational programming presented to visitors. Visitors engage in hands-on experiences that inspire a curiosity for learning.
In 1987, a group of inspired citizens presented the idea of a children's museum to Lexington Mayor Scotty Baesler and future Mayor Pam Miller. With the assistance of Lord Cultural Resources, a consulting firm in Toronto, the city began serious planning for the Lexington Children's Museum. The site selection committee considered several sites and chose the current location in Victorian Square. Since first opening its doors in 1990 the Museum has hosted over three million visitors.
Address:440 W Short St, Lexington, KY 40507
Phone:(859) 258-3253
http://explorium.com/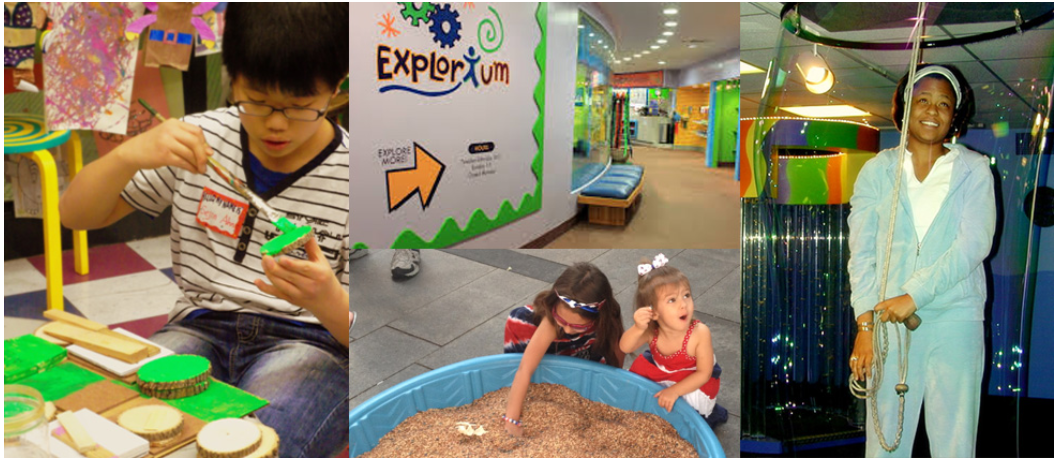 07 GattiTown
Welcome to Gattitown!
Member of the Mr. Gatti's Franchise Network. GattiTown is a 30,000 square foot family entertainment center with over 150 video/redemption games, bumper cars and movies. Enjoy our safe non-smoking, non-drinking family atmosphere. Along with great food and games, GattiTown offers an excellent place to host your birthday party, field trip, meetings and more!
Address:2524 Nicholasville Rd, Lexington, KY 40503
Phone: (859) 277-2323
https://gattitownlexington.com/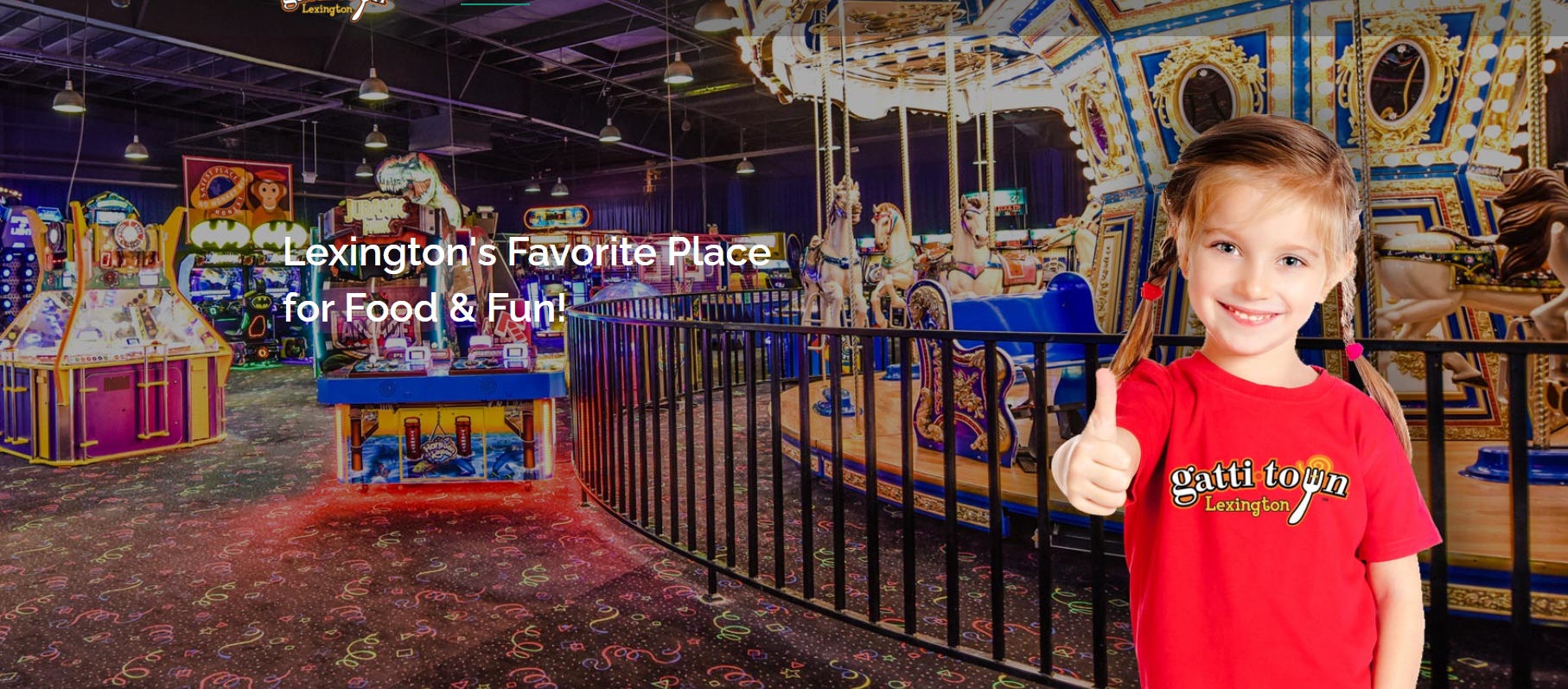 08 Chuck E. Cheese
Visit our Lexington location where we provide a wide selection of entertainment for kids and adults alike. Our family fun center offers diverse menu options, skill-level arcade games and in-store performances for everyone to enjoy. On the hunt for the perfect birthday party destination? Celebrate at Chuck E. Cheese with pizza, cake and all the games you can play! We're also the perfect place to host your next group event. Whether it's a youth group, elementary school or soccer team, we have event packages to accommodate any size and budget. Check our website for exclusive deals, promotions and updates on special events at the Lexington location. Bring the Chuck E. experience home with you by visiting Kid's Corner and downloading our apps to watch videos, listen to music and download activity sheets for your kiddos. Don't miss out on the fun!
Address: 1555 E New Circle Rd, Lexington, KY 40509
Phone:(859) 268-1800
https://locations.chuckecheese.com/us/ky/lexington/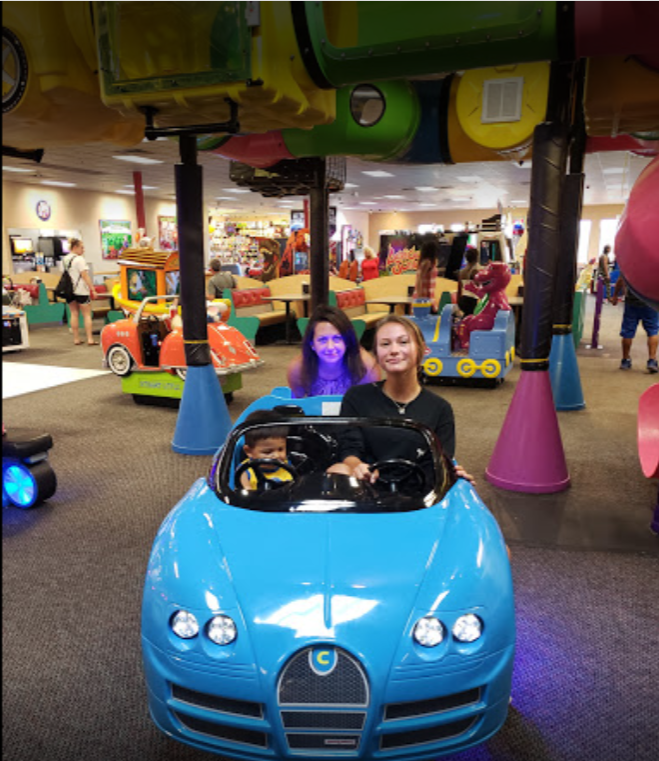 09 LEF Climbing
LEF Climbing is all about helping you find a comfortable way to start and continue climbing. We offer climbs for all skill and ability levels, and are always happy to help you find something that works for you.
Check out our facility and see just how much you love to climb!
Address: 916 N Broadway, Lexington, KY 40505
Phone:(859) 523-0518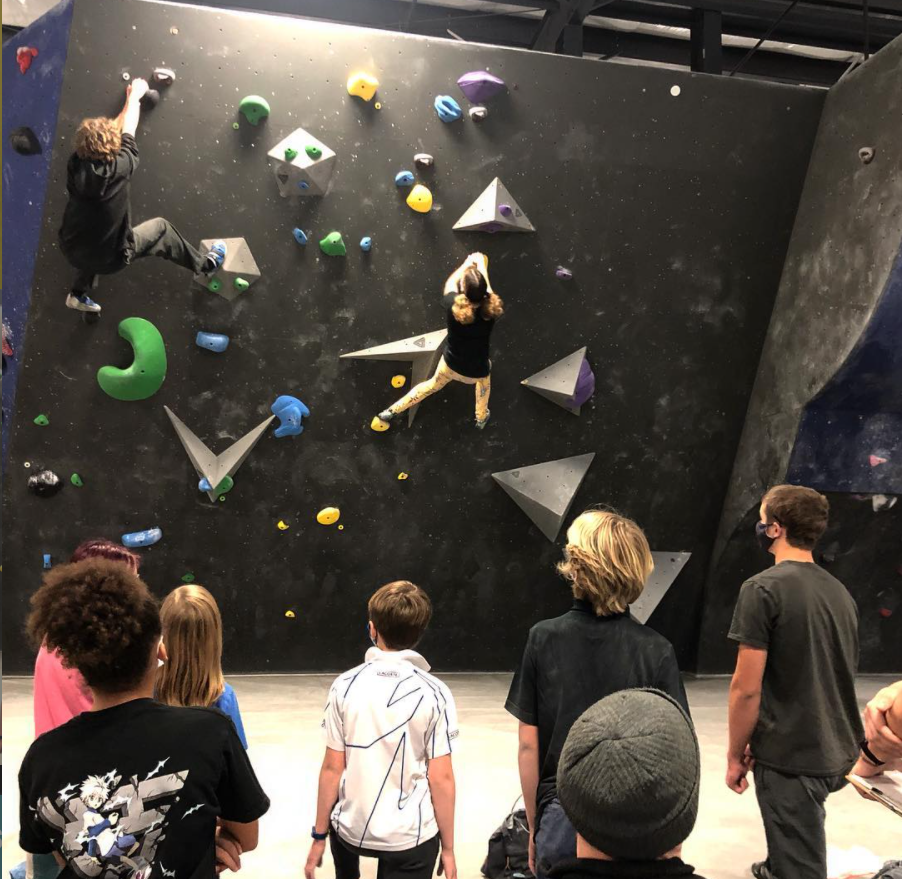 10 Masterson Station Sprayground
Lexington has four spraygrounds located at Castlewood, Douglass, Jacobson and Masterson Station parks. Spraygrounds are interactive water features that are ideal for children of all ages. Designed to have no standing water, there is no lifeguard on duty so parent supervision is required.
Address: 3051 Leestown Rd, Lexington, KY 40511
Phone:(859) 288-2900
https://www.lexingtonky.gov/spraygrounds-0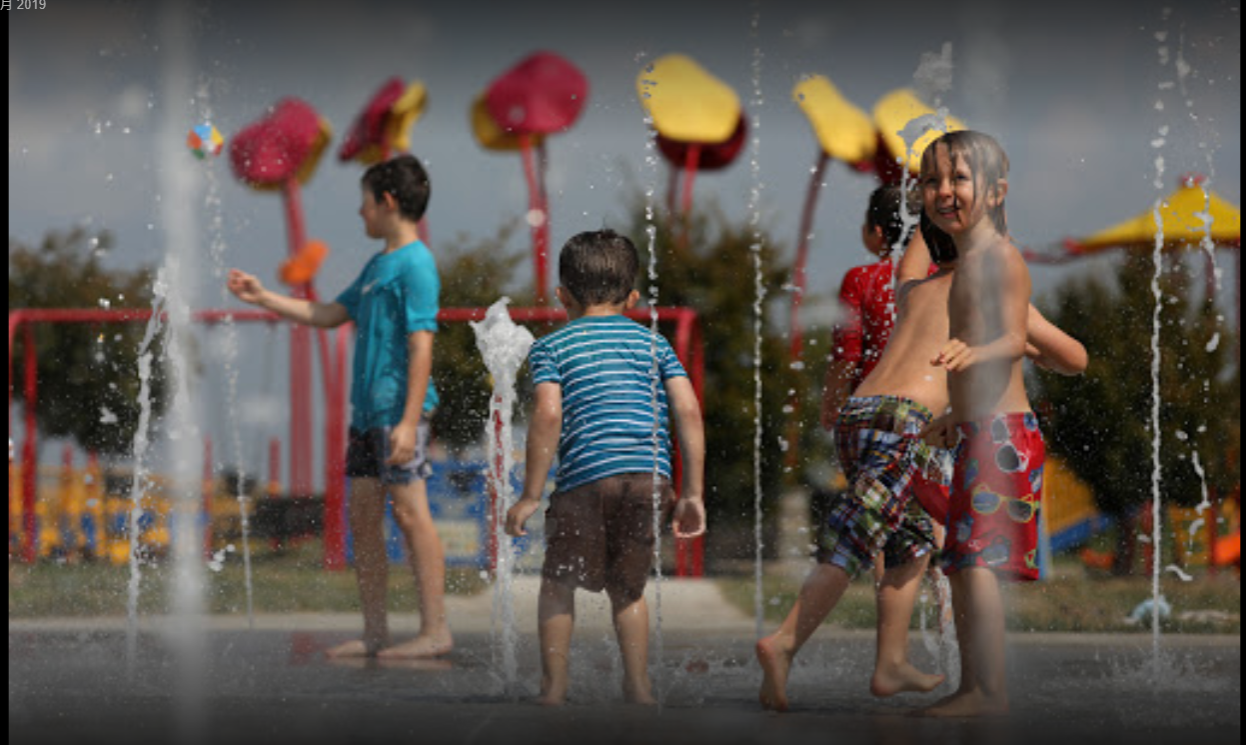 Comments

Rakesh Patel Says:
Indoor Soft play setup for 3 to 10 year age group..plz reply with design and setup cost.

Angel Playground Equipment CO.,LTD Says:
Hope this message find you well, we are pleasure to make proposal for your kids play area, please check our reply to your email. Thanks!

Siri Says:
Hi would like to know the logistics to setup a playarea and party hall for kids

Angel Playground Equipment CO.,LTD Says:
Already sent, Please check. Looking forward to your reply.

Alicia Says:
May I have a catalogue with pricing? Thank you

Angel Playground Equipment CO.,LTD Says:
Got your message, Thanks! Please check your email for process of start indoor playground, Looking forward your reply with layout information.

Rakesh Says:
We are keen to open one of indoorplay park in our town in new zealand. Pls send us information to get ideas

Angel Playground Equipment CO.,LTD Says:
Nice day! All price online are real, If anyone you like just let me know, we are pleasure to share you details, Process please check your email.

Shukria Says:
Hi I would like to open indoor playground in Toronto Canada . Do u guys access to Canada . I really like it the Rush fun park . I would like to talk about how much it cost and what is the progress

Angel Playground Equipment CO.,LTD Says:
Nice day! Please check your email for catalog, please follow the process and provide floor plan, We will make a good design for you.
Leave a Reply
Your Phone & Email address will not be published. Required fields are mareded*