21 Best Indoor Playground in Los Angels, CA, USA
Views: 8931 Update date: Oct 16,2021
01, Glendale: Giggles N' Hugs
3222 Glendale Galleria Way Glendale
02, Nest Indoor Playground
Address: 13645 Vanowen St, Van Nuys, CA 91405
03, Jump Jungle Kids Indoor Playground
Address: 15301 Gale Ave 15309, 15311 Gale Ave, City of Industry, CA 91745
04,Under the Sea
Address: 3871 Grand View Blvd, Los Angeles, CA 90066
05, La La Land Indoor Playground
Address: 443 Irving Dr #F, Burbank, CA 91504
06, Pamper & Play
Address: 2279 Westwood Blvd, Los Angeles, CA 90064
07, We Rock the Spectrum - Santa Monica
Address: 1909 Santa Monica Blvd, Santa Monica, CA 90404
08, Peekaboo Playland
Address: 2030 Colorado Blvd, Los Angeles, CA 90041
09, Funland on Sunland Indoor Playground
Address: 8701 Sunland Blvd, Sun Valley, CA 91352
10, Kidz Planet Indoor Playground
Address: 711 Foothill Blvd Unit J, La Cañada Flintridge, CA 91011
11, PlaylandRus Kids Party Place and Playground
Address: 401 W Los Feliz Rd E, Glendale, CA 91204
12, My Lil Town
Address: 16909 Devonshire Blvd, Granada Hills, CA 91344
13, Kool Kids Boutique
Address: 12512 Victory Blvd C, North Hollywood, CA 91606
14, Kids Empire Northridge
Address: 19500 Plummer St, Northridge, CA 91324
15,Little Dimples Playground
Address: 1415 N Montebello Blvd, Montebello, CA 90640
16, Zoomizoomi Kids Club
Address: 21800 Hawthorne Blvd #705, Torrance, CA 90503
17, AdventurePlex
Address: 1701 Marine Ave, Manhattan Beach, CA 90266
18, Magical Playground
Address: 1778 E Colorado Blvd, Pasadena, CA 91106
19, Kids World Family Fun Center
Address: 618 Lindero Canyon Rd, Oak Park, CA 91377
20,Sky Zone Trampoline Park
Address: 7741 Hayvenhurst Ave, Van Nuys, CA 91406
21, Adam's Garden - Indoor Playground & Party Space
Address: 15301 Ventura Blvd Ste P-37, Sherman Oaks, CA 91403
01, Glendale: Giggles N' Hugs
This children's restaurant and play space in Glendale is full of castles, pirate ships, and dragons—oh my! Kids can have loads of fun here running, jumping, and playing, and there's even plenty o' live entertainment on tap. Play all day and pay based on mobility. Unlike most other spots, this one is open on weekends for free play, although they do host parties then as well so it can get crowded.
Hours: Mon.-Thurs. 10:30 a.m.-8 p.m., Fri. 10:30 a.m.-9 p.m., Sat. 10 a.m.-9 p.m., Sun. 10 a.m.-7 p.m.
Rates: Big kids are $15, $12 for sibs and $9 for crawlers
Insider Tip: It's a restaurant (with organic, kid-friendly food). So lunch doesn't have to be pre-packed or cobbled together out of chips and pastries. And did we mention the wine and beer?
3222 Glendale Galleria Way Glendale
Online: gigglesnhugs.com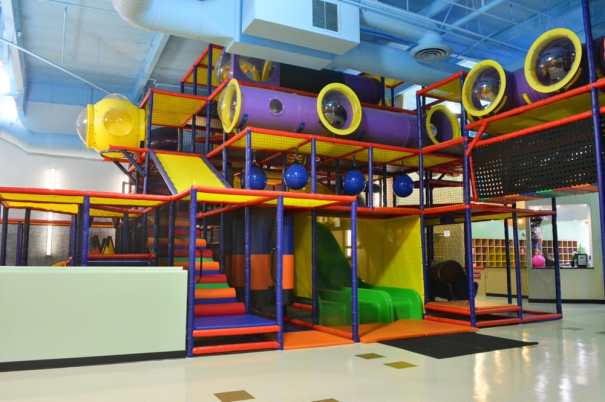 02, Nest Indoor Playground
Innovative, trendy play and party space located in Los Angeles with countless activities for children under 12 years of age. We strive to make your stay pleasant with our complimentary coffee bar, shop, books, magazines and free WiFi for all the parents to enjoy while your kids play in a safe, clean and fun environment. NEST also offers baby space for all our crawlers where they can develop social and mobile skills which help meet their growth milestones.
Address: 13645 Vanowen St, Van Nuys, CA 91405
Phone: (424) 320-6378
https://nestindoorplayground.com/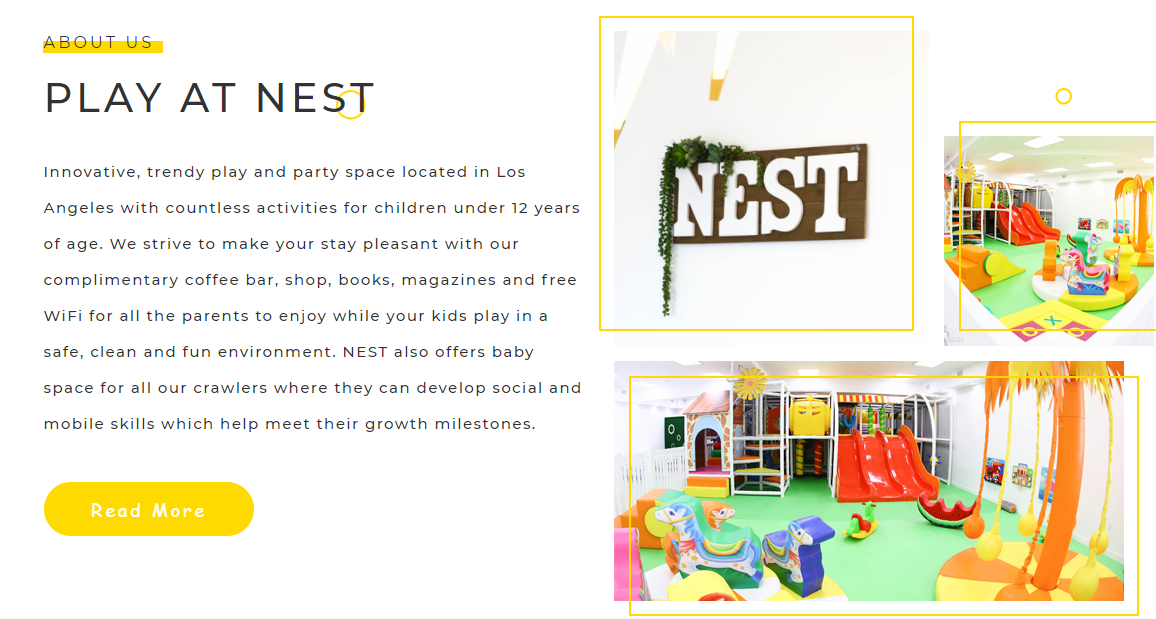 03, Jump Jungle Kids Indoor Playground
Imaginative Play
Kids likes to pretend! They like pretending to be astronauts, princess, superheroes, cooks or pretend to be like mom and dad or anything you can imagine. Playground will kickstart your child's imaginative play.
Playing to Learn
Play and exploration has an important benefit during early child development. It is an important mode for learning. Kids who are engage in physical activities and social interaction, gains practical thinking skills.
Interactive Play
Our indoor play space offers many activities for your child to interact with other children. Social Interaction will help children develop confidence, social intelligence, language skills and creativity.
Through interaction, kids will improve their communication skills with their peers, improves cooperative teamwork and help build their social development.
Address: 15301 Gale Ave 15309, 15311 Gale Ave, City of Industry, CA 91745
Phone: (626) 333-6944
https://jumpjungleplayground.com/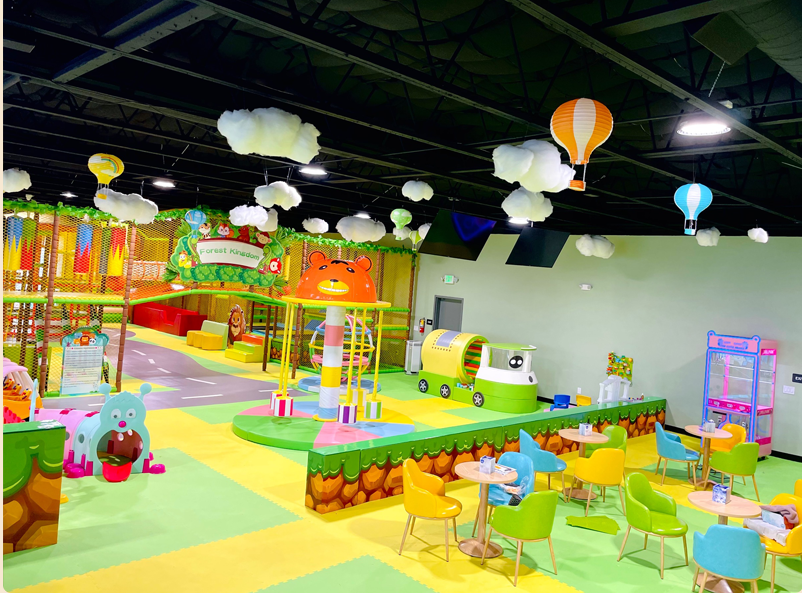 04,Under the Sea
Unleash your child's imagination in a world Under the Sea. Through play, children develop the self-esteem, coordination, and social skills necessary to grow. Children will bounce in the Moon Bouncer, go down the Turbo Slide, crawl through the climbing structure, or climb up to the top of a sea castle.
Address: 3871 Grand View Blvd, Los Angeles, CA 90066
Hours:
Closed ⋅ Opens 10AM Mon
Phone: (310) 915-1133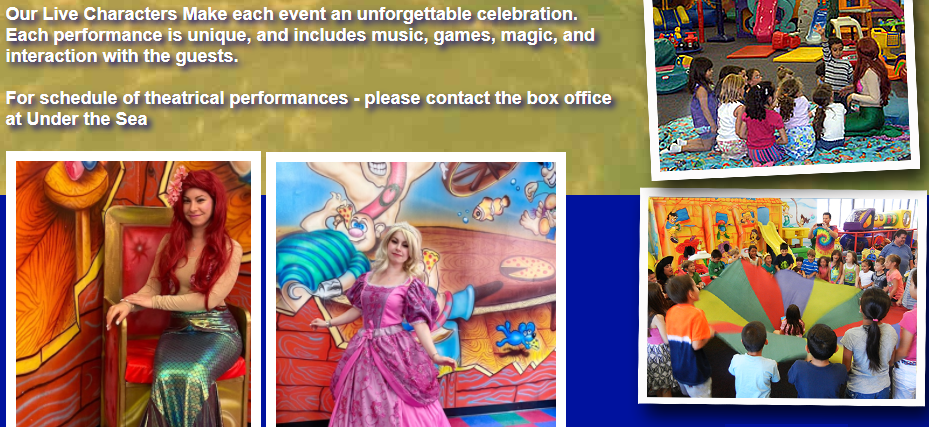 05, La La Land Indoor Playground
La La Land Indoor Playground focuses on physical, imaginative, and interactive play for kids that fosters social, emotional, and motor skills. Our facility is clean, safe, comfortable, and most importantly fun for the kids. The layout of activities are designed in a way that parents can either play with their children or watch them from centrally located dining/sitting area.
Address: 443 Irving Dr #F, Burbank, CA 91504
Phone: (818) 559-2220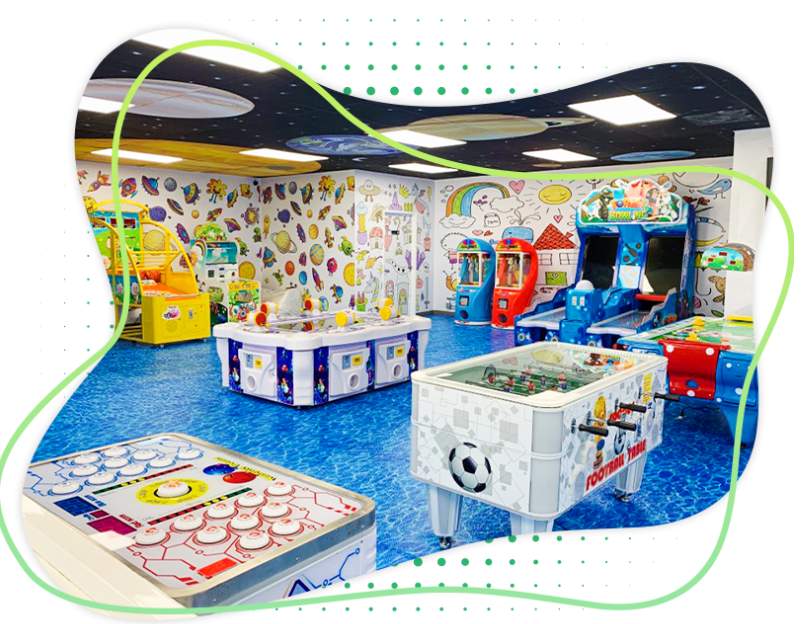 06, Pamper & Play
Pamper & Play was launched in 2011 by Carole and Wil Cablk, the parents of two very energetic and inquisitive boys. After leaving her 9 to 5 job as a Creative Director to become a freelance graphic designer and work from home mom, Carole realized that there was a need for play area that offered play supervisors to nurture and entertain children while parents and caregivers take a break! And she thought a comfy parent lounge, free coffee and WIFI would sweeten the deal, so she created it!
Address: 2279 Westwood Blvd, Los Angeles, CA 90064
Updated by business 2 weeks ago
Products and Services: pamperplay.com
Appointments: pamperplay.com
Phone: (310) 441-0797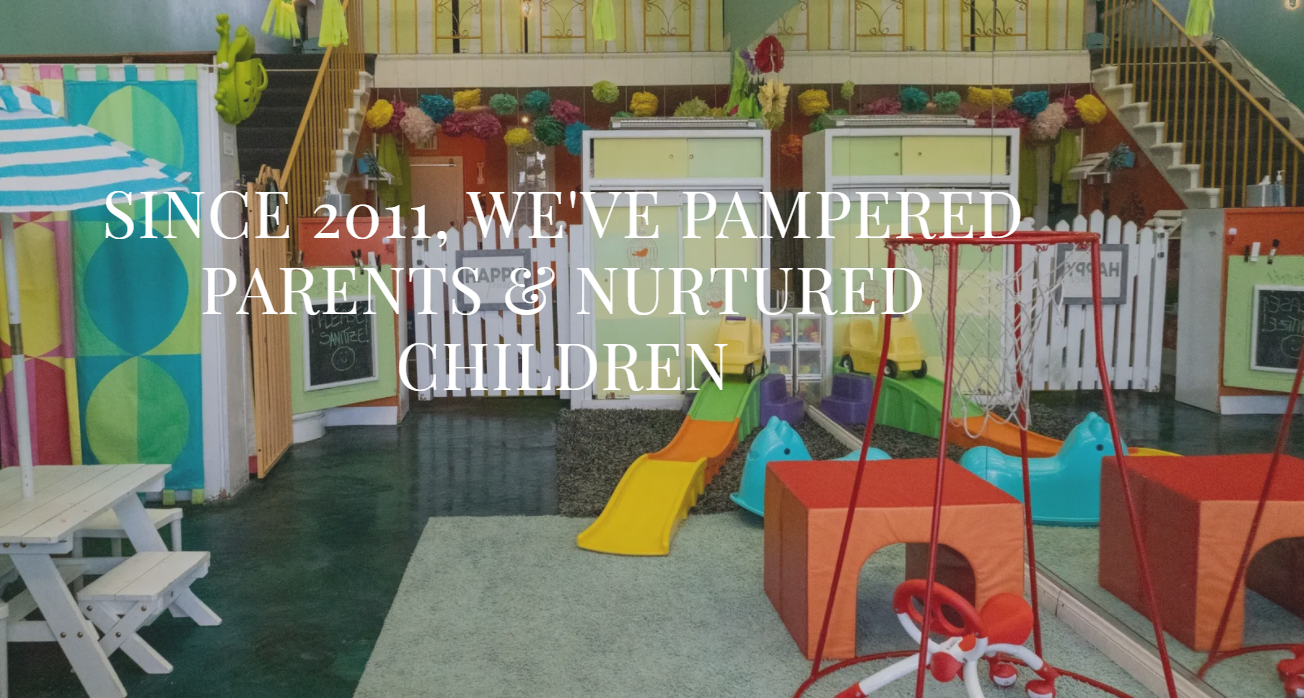 07, We Rock the Spectrum - Santa Monica
WRTS Santa Monica is committed to providing a safe, nurturing, and fun environment to foster learning, exploration and safe sensory experiences. Through our nonprofit My Brother Rocks The Spectrum Foundation, we provide social skills groups and activities for children across the spectrum.WRTS Santa Monica provides children with a fun and motivational environment to help them in the areas of strength, movement, sensory processing, communication, positive behavior modification, social interactions, and self-care skills. Our unique equipment assists all children in their neurological growth and development.Our activities, programs and retail location "The Rock Shop" make it possible for us to provide social and physical opportunities through state funded programs. As a result WRTS is an amazing example of how we can help all children grow and develop by providing an all inclusive environment.
Address: 1909 Santa Monica Blvd, Santa Monica, CA 90404
Phone: (310) 586-2629
https://www.werockthespectrumsantamonica.com/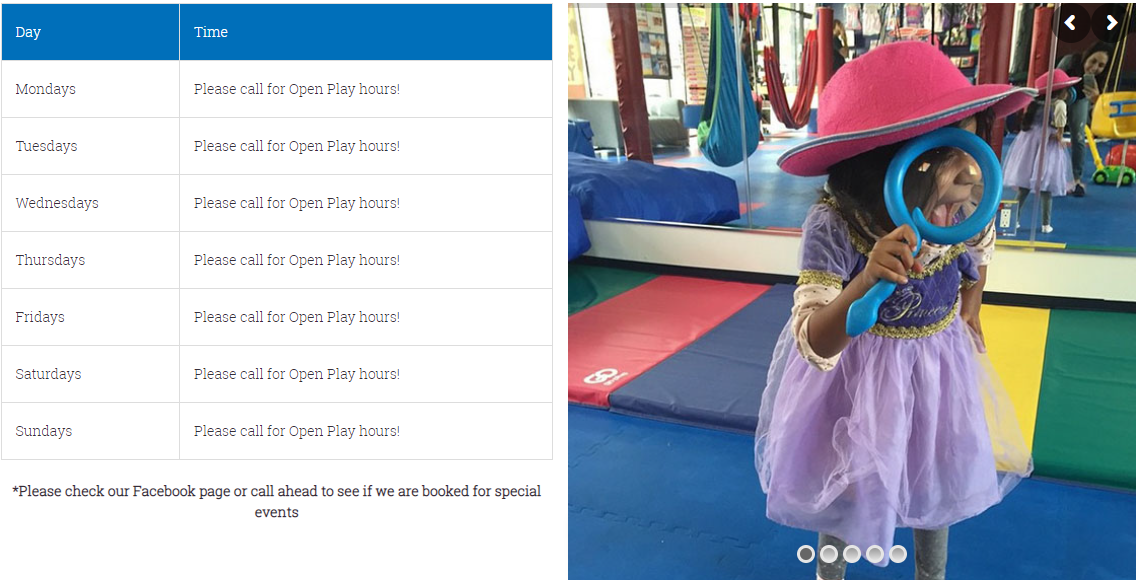 08, Peekaboo Playland
Our Eagle Rock location is available for private events and open play.
The Bel Air location will remain closed until further notice.
The Department of Public Health continues to enforce a mask mandate for family entertainment centers. All adults and children over 2 must wear a mask while at our venue.
Address: 2030 Colorado Blvd, Los Angeles, CA 90041
Phone: (323) 255-1400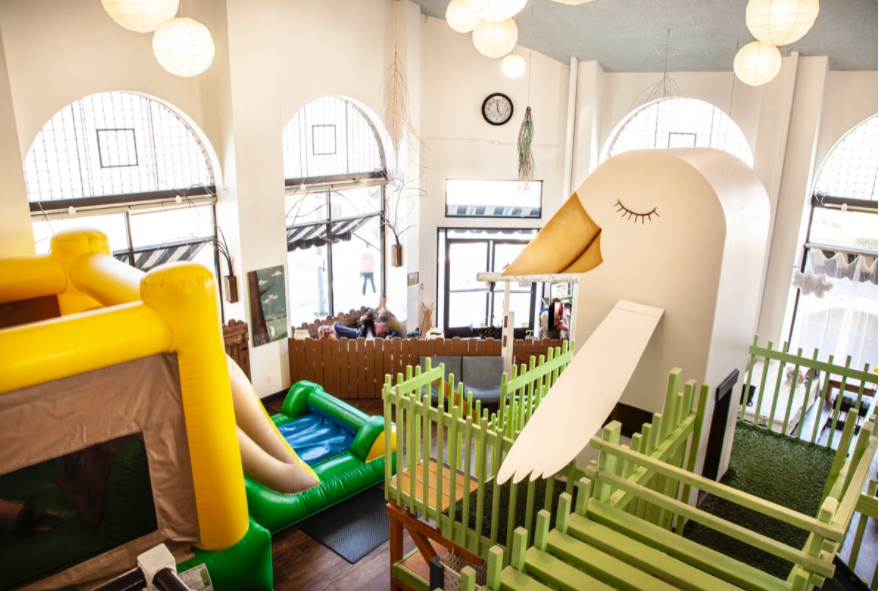 09, Funland on Sunland Indoor Playground
Welcome to Funland on Sunland where the fun never ends and playtime begins. Our 2,500 sq. ft indoor playground provides a safe, clean, supervised and stimulating environment for children to think, interact, explore and to have an phenomenal time. The indoor playground has two separate play areas for toddlers and children ages 4 and up to ensure safety during interaction and play. Our colorful themed play park has a ball blaster, games and entertainment for children to enjoy with some sweet giggles. For celebrations, such as birthdays and special events, Funland on Sunland offers plenty of space and services hosted by our well-trained professional staff to provide parents and their children all that they desire for a memorable time with friends and family. Our goal here is to ensure all your expectations are met and playtime to be as rewarding for parents as it is for the children, as they spend time together.
Address: 8701 Sunland Blvd, Sun Valley, CA 91352
Phone: (818) 934-5263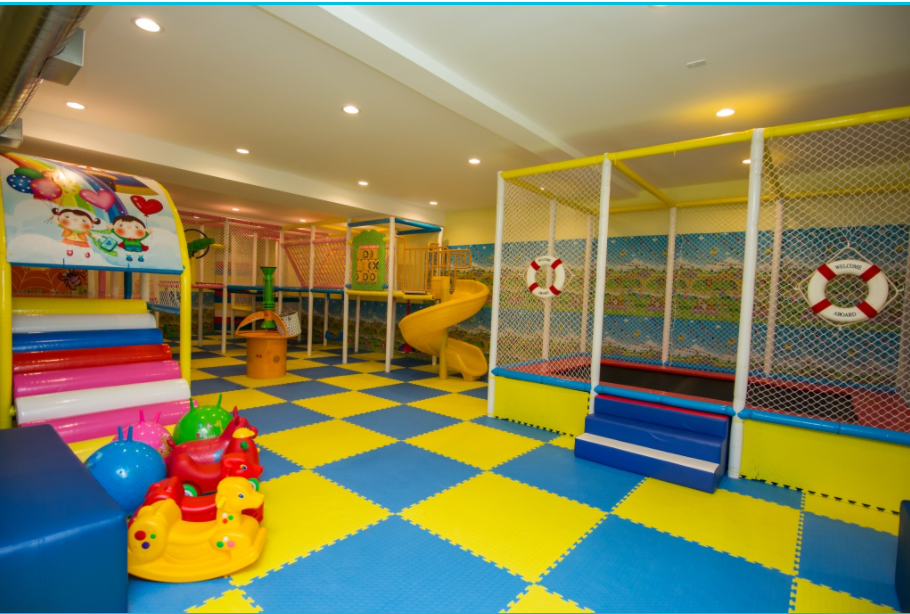 10, Kidz Planet Indoor Playground
Welcome to your indoor destination for fun, safe indoor play for children at Kidz Planet. We offer birthday parties, open play, fundraiser/team events, & specials on a regular basis. We created a unique space that is both comfortable & stress-free for parents but also filled with toys & plays structures that will keep your children excited & engaged.
Address: 711 Foothill Blvd Unit J, La Cañada Flintridge, CA 91011
Phone: (818) 864-6520
https://www.kidzplanetplayground.com/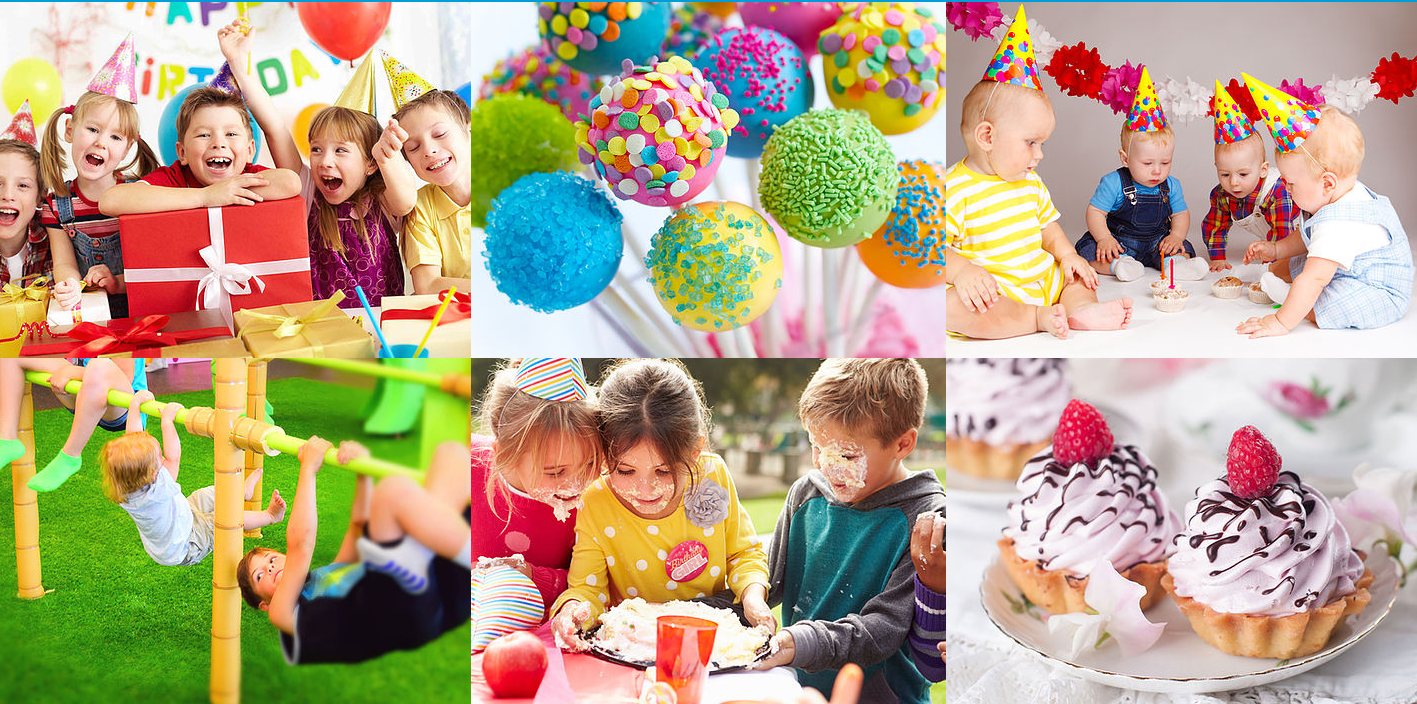 11, PlaylandRus Kids Party Place and Playground
With our Amazing Award Winning, Staff, free Wi-Fi access, an assortment of healthy drinks & snacks & multitude of toys, activities & equipment, Rockin' Kids Burbank offers parents a comfortable space to sit & relax, catch up with friends & meet other parents while their kids PLAY & HAVE THE TIME OF THEIR LIVES. We offer a family friendly atmosphere with a play area dedicated to children ages 7 years & younger. We have created a place where children can have environmentally friendly and healthy interactions with their peers, all while continuing to develop & improve social, motor & learning skills, while never forgetting to HAVE FUN!
Address: 401 W Los Feliz Rd E, Glendale, CA 91204
Phone: (818) 551-1752
http://www.rockinkidsburbank.com/

12, My Lil Town
Picture this — a town run entirely by children. Now picture a less terrifying version of that scenario, one with adult supervision and comprehensive lessons in life skills. That's what we do here at My Lil' Town in Granada Hills. We guide our students through an interactive simulation wherein they role-play a variety of careers and learn the things that both schools and parents often overlook, like how governments run and how to handle their personal finances. We're much more than just an indoor playground, we offer a truly unique experience, providing children with a fun and educational space in which they can get prepared for life to come. Get in touch with us today if you have any questions about our interactive kids' play area or to schedule a tour of our facility.
Address: 16909 Devonshire Blvd, Granada Hills, CA 91344
Phone: (818) 888-1888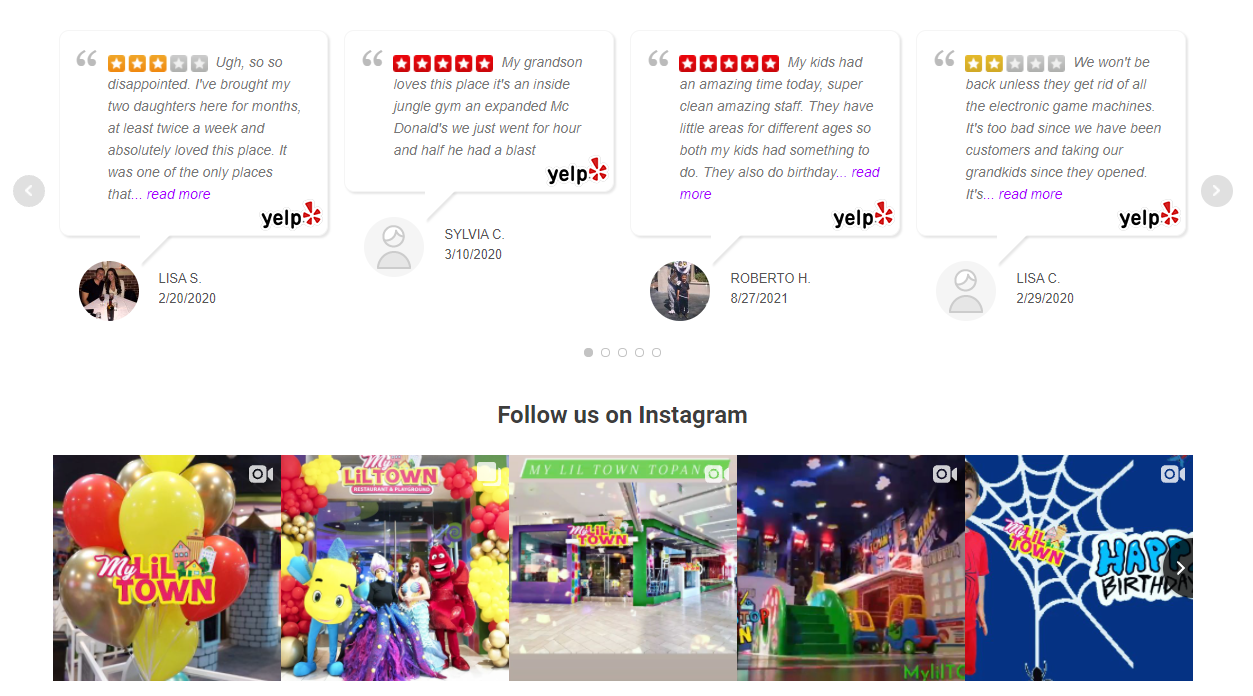 13, Kool Kids Boutique
Address: 12512 Victory Blvd C, North Hollywood, CA 91606
Phone: (818) 308-6660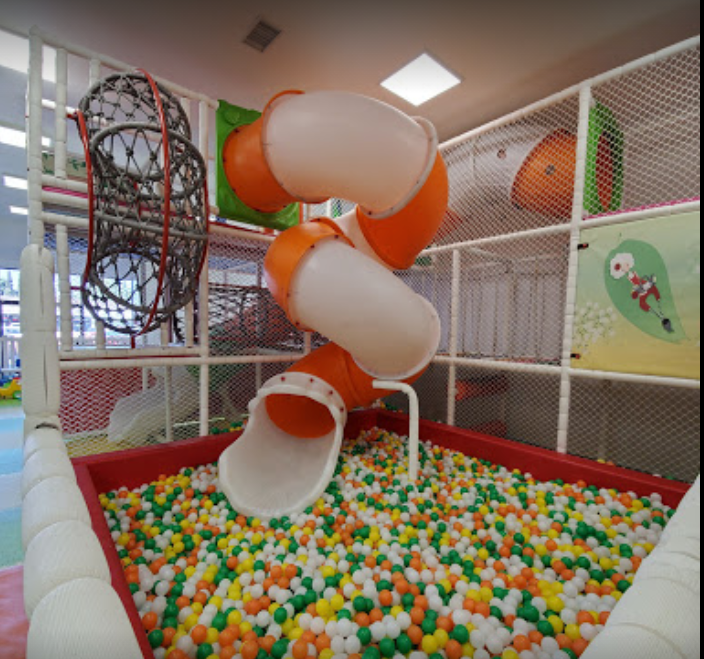 14, Kids Empire Northridge
Address: 19500 Plummer St, Northridge, CA 91324
Phone: (818) 280-5240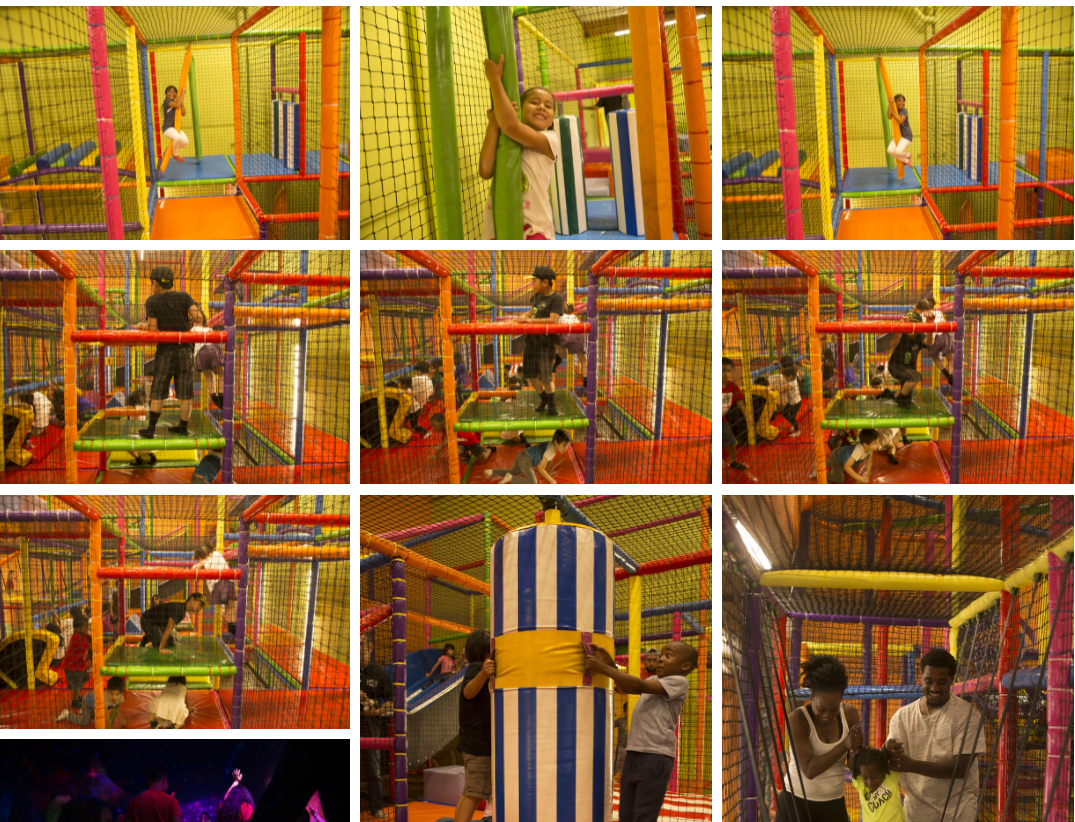 15,Little Dimples Playground
Due to continued concern regarding COVID-19, our priority will continue to be the health and safety of our guests and team members. We have taken enhanced health and safety measures and ask that you follow all posted instructions while visiting Little Dimples Playground.
Please note that an inherent risk of exposure to COVID-19 is an extremely contagious disease that can lead to severe illness and death. According to the Centers for Disease Control and Prevention, senior citizens and Guests with underlying medical conditions are especially vulnerable.
By visiting Little Dimples Playground, you voluntarily assume all risks related to exposure to COVID-19.
Address: 1415 N Montebello Blvd, Montebello, CA 90640
Phone: (626) 456-2271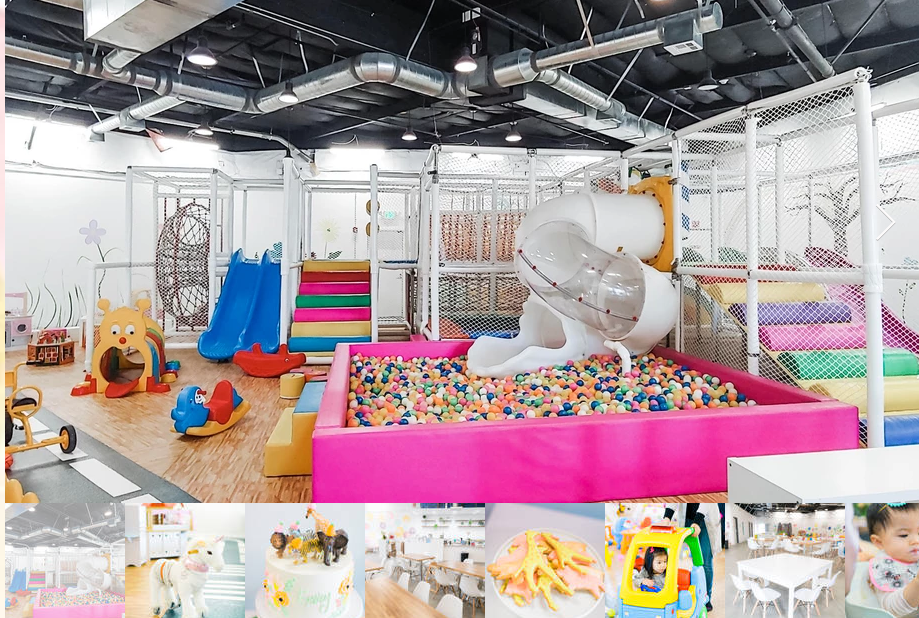 16, Zoomizoomi Kids Club
ZoomiZoomi provides a wide range of games for the family to enjoy. Our fun parties, events, and activities are guaranteed to make you smile. There's something for everyone at our Indoor Family Play Center.ZoomiZoomi offers your little one, a fun, safe and educational environment — combining other family favorites activities. Looking for a fun day out in Los Angeles? You've come to the right place! Since 2019, we've provided a safe, clean, fun-filled environment, a lively atmosphere, with the help of our awesome staff members. Stop by and get ready to play and be creative!
Swing by today and enjoy everything we have to offer.
Address: 21800 Hawthorne Blvd #705, Torrance, CA 90503
Phone: (424) 401-6028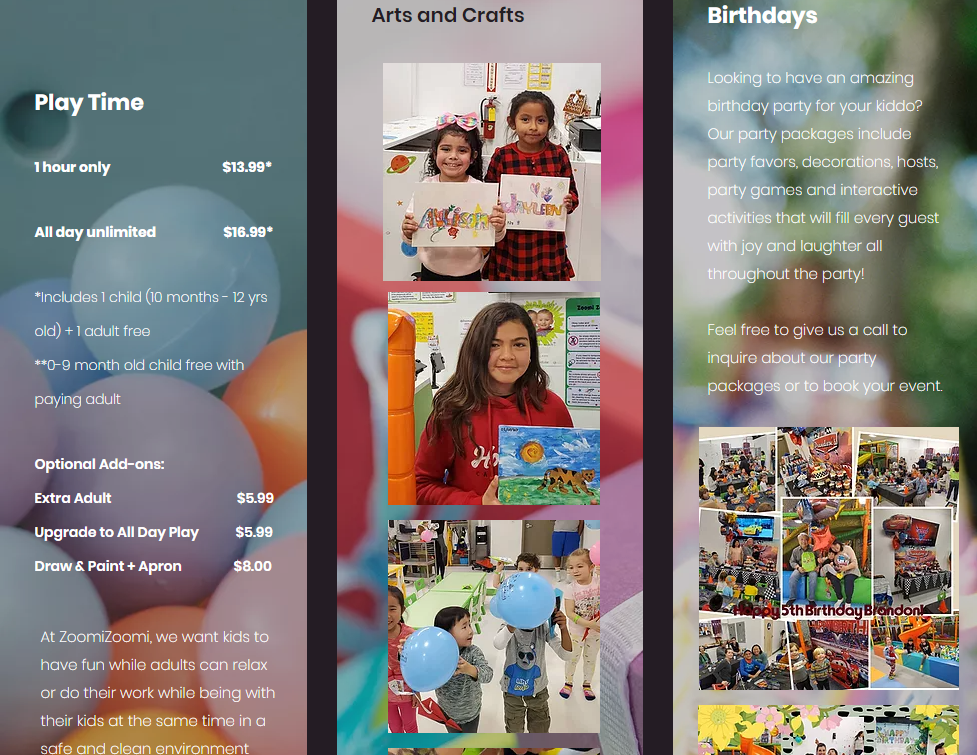 17, AdventurePlex
Our mission is to make healthy habits fun because healthy habits started early last a lifetime. AdventurePlex was created for families to play, learn and grow; to be a dynamic place to get physical, get silly and get healthy. It's a perennial top pick for best indoor playground, best birthday and best camp.
Address: 1701 Marine Ave, Manhattan Beach, CA 90266
Phone: (310) 546-7708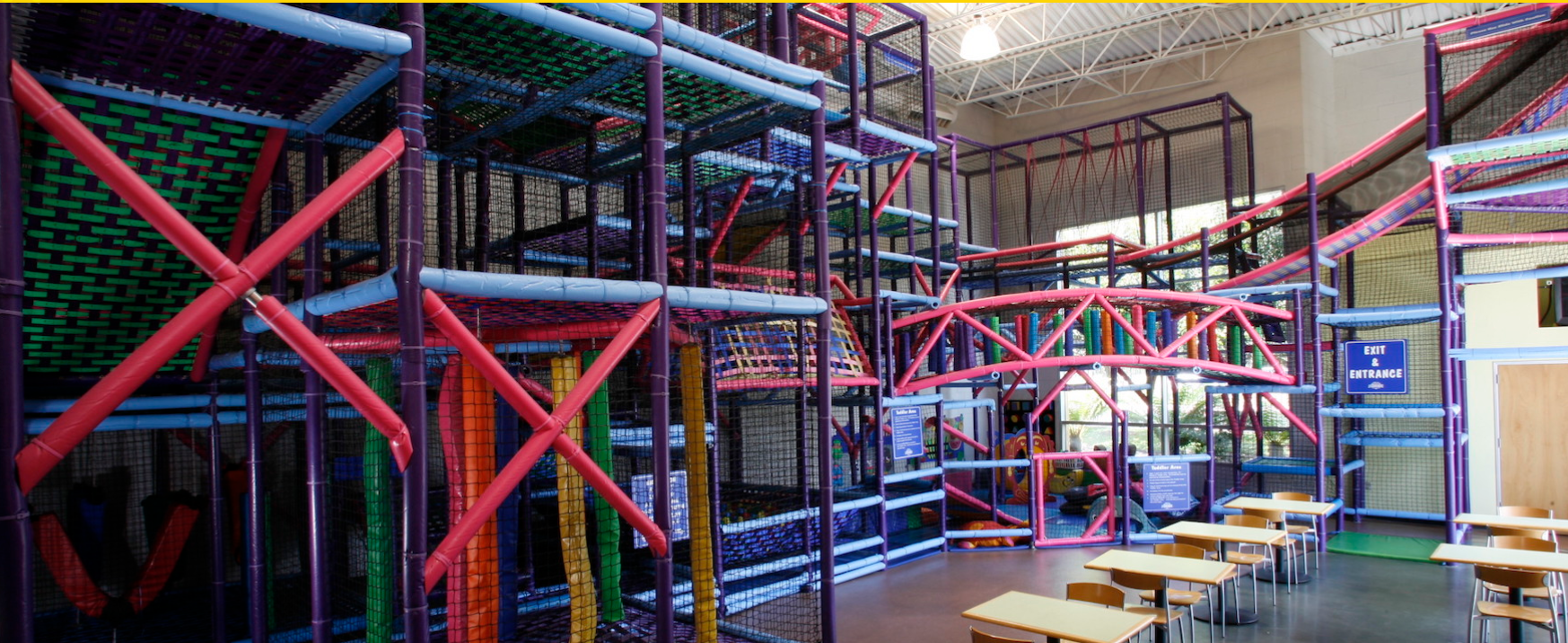 18, Magical Playground
We believe in letting children be children. By providing safe, inviting and interactive space for kids to play, make new friends, explore, pretend, imagine and be creative. Open play allows the children to socialize, make meaningful life long friendships in a safe and self contained clean environment. The little ones never want to leave because they are having barrels of fun.
We make birthday parties a breeze: we provide packages that are designed to make your party a great success. You book the party, we make it work. We have a big party space with multiple activities: from baby section to a bouncer and twin slides, a plethora of toys and large open space. The party assistants will help set up, make sure party flows and at the end of the party clean up, pack your food and presents to be stored in your car. We are in charge of cleaning the space after the party, so all you do is enjoy the family and friends and go home stress free!
Parents Night Out allows children to have fun, play in a supervised environment, eat pizza, watch a movie, while parents are able to go to dinner or movies guilt free. If the little ones are having fun, the parents can do the same. Offered once a month and growing in popularity.
Address: 1778 E Colorado Blvd, Pasadena, CA 91106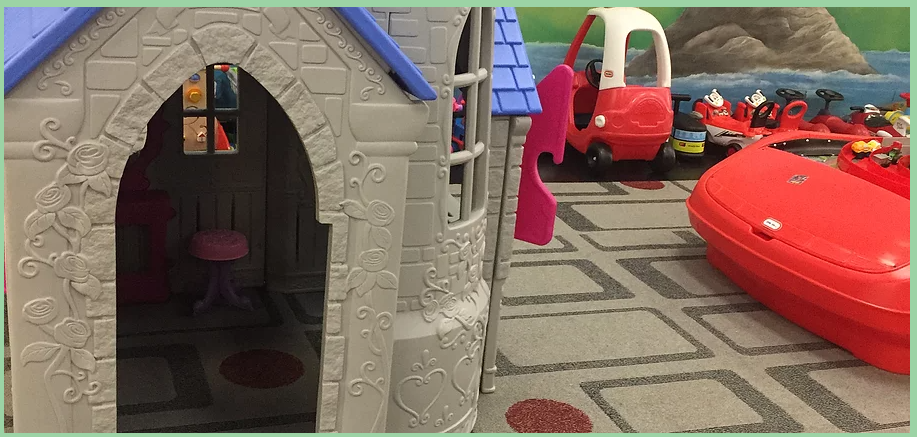 19, Kids World Family Fun Center
We host private events, graduation, team building events, team parties, scouts and youth groups as well as camp, bar/bat mitzvah, corporate parties & more!.
Address: 618 Lindero Canyon Rd, Oak Park, CA 91377

20,Sky Zone Trampoline Park
Sky Zone is the world's first indoor trampoline park. We're the inventors of "fun fitness" and the makers of trampolines as far as the eye can see. We give you one of the greatest workouts ever combined with awesome, healthy fun. We've been voted the number one "out of the box" workout and the "best party ever." Experience WOW – the weightlessness of bouncing, flipping and landing in a pit filled with 10,000 foam cubes.
We are dedicated to providing you with the pure joy that comes with flying. We are sky lovers, thrill seekers and people who believe that jumping is freedom. We believe fitness can be fun and play can be smart. We are healthy and bursting with energy. We fly high and keep it safe. We are Sky Zone.
Address: 7741 Hayvenhurst Ave, Van Nuys, CA 91406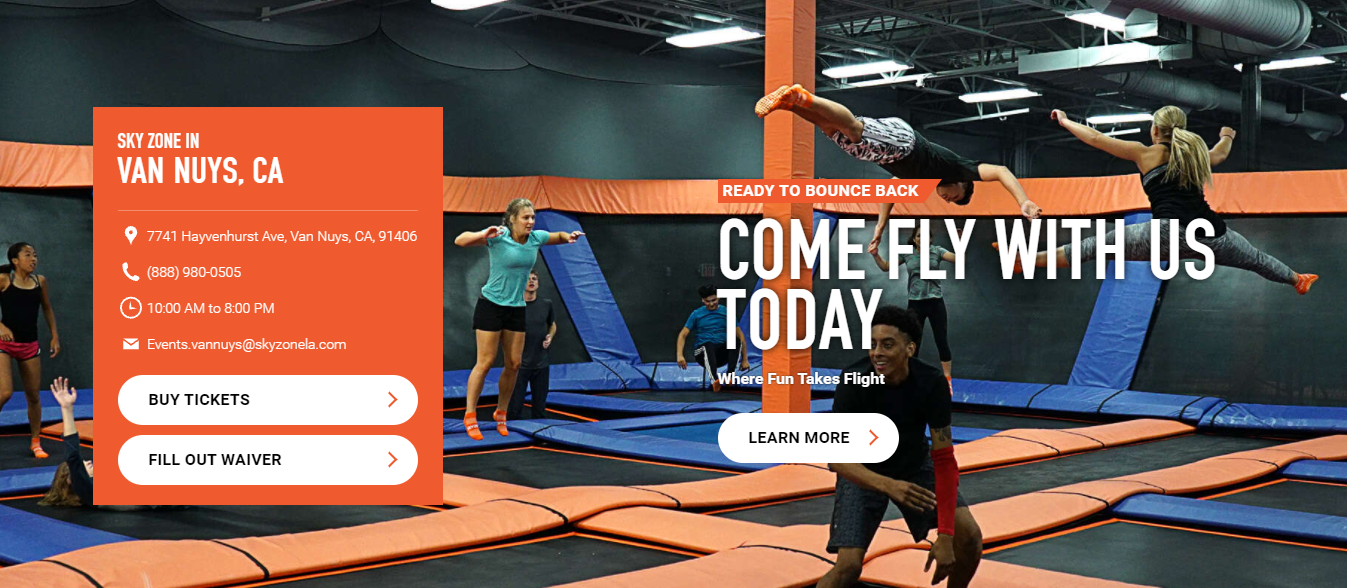 21, Adam's Garden - Indoor Playground & Party Space
Address: 15301 Ventura Blvd Ste P-37, Sherman Oaks, CA 91403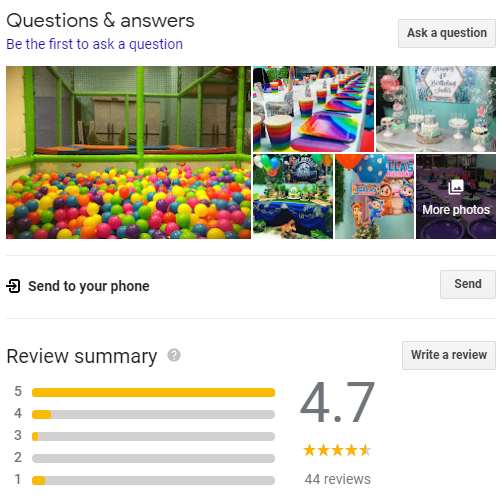 Article contribute by Dimepiece LA
Comments

Pentoria Heyward Says:
I would like a catalog and I would like to also know is the pricing going to be included in that catalog? Thank you.

Angel Playground Equipment CO.,LTD Says:
Nice day! Already sent, please check and reply with information of your play area.

Tiffany Says:
Hello, I want an indoor play area set up for business purposes in Puerto Rico. Please email the catalog and pricing. Thank you.

Angel Playground Equipment CO.,LTD Says:
Family Gate Co. ltd 8th Floor, Pine tree plaza, kindaruma rd, Nairobi, Kenya Thomas T Asmerom: 254 115220541

Sanket patel Says:
Hi We are planning to setup indoor playground in 1000sqm area in Australia,please send me some new designs with trampoline park etc.

Angel Playground Equipment CO.,LTD Says:
Got your message, Thanks! Please check your email for process of start indoor playground, Looking forward your reply with layout information.

Steve Says:
I would like to know about the permits and the price to open an indoor playground in Mississippi

Angel Playground Equipment CO.,LTD Says:
Hope this message find you well, we are pleasure to make proposal for your kids play area, please check our reply to your email. Thanks!

Khalid Says:
I would like to setup play ground for kind to teens indoor activities approximately how much it will cost

Angel Playground Equipment CO.,LTD Says:
Thanks for your message, Plase check our reply to your email about the process.
Leave a Reply
Your Phone & Email address will not be published. Required fields are mareded*