Top 35 Indoor Family Entertainment Centers in the world
Views: 24901 Update date: Jan 05,2020


1. Adventuredome – Las Vegas, NV
Vegas isn't just for adults! At Circus Circus, you'll find the 5-acre Adventuredome, an indoor theme park featuring roller coasters, water rides, free-fall towers, laser tag, bumper cars and more. The casino's hottest thrill rides include the Canyon Blaster, Inverter, Sling Shot and El Loco—the names should say enough to make your teen excited. Toddlers will like the smaller, easy-going carousel and rides in the dedicated section for younger kids. The perfect amusement centers for whole family.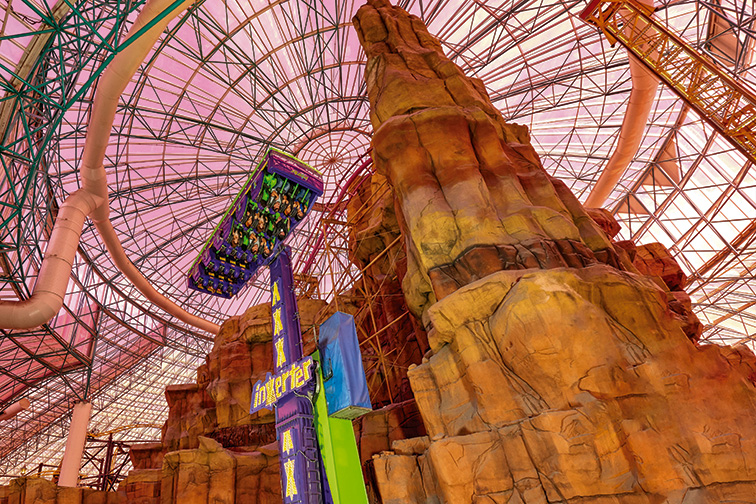 2. Nickelodeon Universe – Bloomington, MN
The country's biggest mall is also home to a huge indoor amusement park, complete with roller coasters and a Ferris wheel. Kid-friendly Nickelodeon brings its universe to the Mall of America, with thrill rides, log flumes, kiddie rides and more. With a Nick-based theme park, young kids won't find as many height restrictions as they do at outdoor amusement parks, but thrills can still be found for older guests on rides that dip, spin and twirl.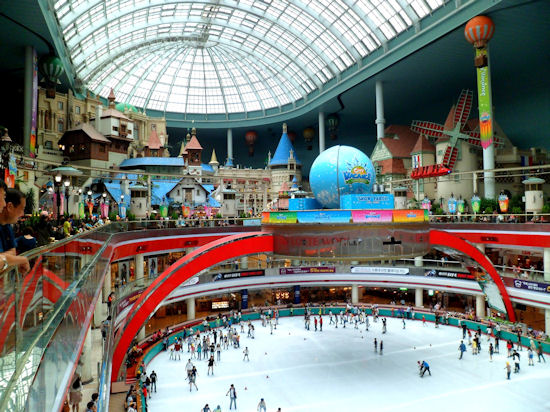 3. I-X Indoor Amusement Park – Cleveland, OH
This 20-acre indoor park, located in Cleveland, Ohio, features the Kidzville zone for small kids and Thrill City for adventure seekers, both with Ferris wheels. I-X Indoor Amusement Park also offers roller coasters, a Scrambler, Tilt-a-Whirl, water flume, swings, ziplines and a carousel. Be sure to catch a live show while you're there.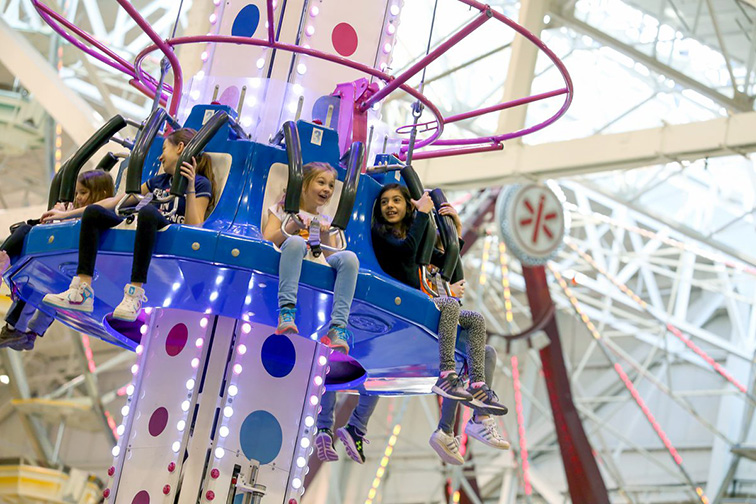 4. The International Exposition Center,
Also known as the I-X Center in Cleveland, is not a permanent place of amusement, but for 23 days during March and April each year, it does host the Annual IX Indoor Amusement Parkin 985,000 sf of space which makes it the world's largest indoor amusement park — for 23 days of the year. It all started in 1992 when the Greater Cleveland Auto Show displayed a 125-foot Ferris wheel. At the time, it was the world's highest indoor Ferris wheel. Today, the 985,000 sf space is the centerpiece of the annual IX Indoor Amusement Park. The organizers create a Kidzville with 30 rides for the little ones and Thrill City with 22 rides for older children and adults.New rides in 2013 include the White Water Ride where riders go through some soggy turns and downhill to a splash zone. And there is the Soaring Eagle Zipline which takes a pair of riders soaring 70-feet above the I-X Center floor. Live performances include Mutts Gone Nuts where comedic canines perform an array of tricks, Roberto the Magnificent, a Christian Jam Session and La Fiesta Latina. Admission is $22 for adults, $19 for children, $10 for seniors and free for children under 3 years old. Hotel packages with 4 breakfasts and 4 park admission fees are $169 at the Courtyard by Marriott Cleveland Airport South. Owned by the City of Cleveland, but leased and operated by the Park Corporation, the I-X Center boasts the largest indoor theme park in the world — even if it is an annual event during Spring Break. For more about the Annual IX Indoor Amusement Park

5. Lotte World's Adventure Indoor Theme Park is one of two main areas that comprise Lotte World in Seoul, Korea. In addition to the indoor theme park, there is an outdoor amusement park called Magic Island which is linked by monorail with a 350-store shopping mall, a 533-room luxury hotel, a museum, sports center, ice rink and movie theaters.Lotte World opened in 1989 at a cost of US$1 billion. It attracts over 8 million people each year and is considered, along with Tokyo Disney Resort, a world-class theme park in Asia. The Adventure Indoor Theme Park features four main areas: (1) Adventures of Sinbad with children's rides, bumper cars, flume and loop roller coaster; (2) French Revolution with a high-octane, rotating roller coaster that goes out and back inside buildings and delivers a feeling of near-miss crashes; (3) Jungle Adventure with a jungle boat water ride and monorail that tours the whole park; and (4) Pharaoh's Fury where passengers board a Jeep ride through Egypt, a balloon ride, a theater with dynamic vibrating seats and an Animal Theater. The Adventure Indoor Theme Park is housed in a multi-floor complex totaling 20 acres or 871,200 sf. The outdoor amusement park, Magic Island, covers 6 acres.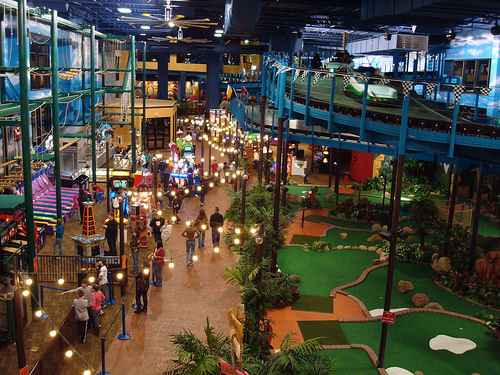 6. Sanrio Puroland is an indoor theme park in Tama New Town, Tokyo, Japan that attracts over 1,500,000 people per year. Opened in 1990, the 494,000 sf indoor theme park is a standalone facility, without anchors, managed by the Sanrio Company.Sanrio Puroland features various musicals, attractions and theme rides using the popular characters Hello Kitty, My Melody, Cinnamoroll, Jewelpet and many more. After a rough startup, the park has become one of Japan's most popular attractions along with Tokyo Disneyland and DisneySea.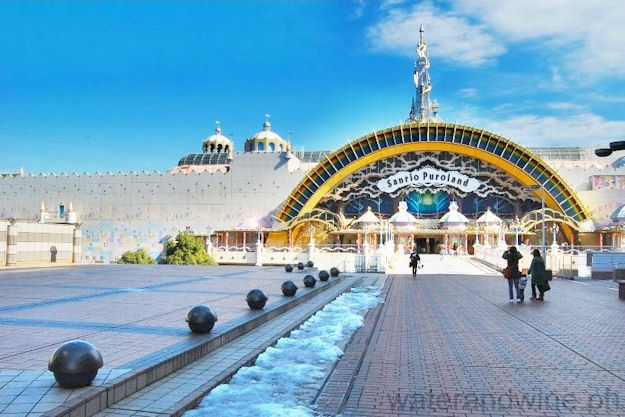 7. DisneyQuest is an indoor 100,000 sf interactive theme park located at Disney Springs (formerly Downtown) at the Walt Disney World Resort in Orlando FL. Opened in 1998, it is housed in a 5-story, windowless building connected to the shopping mall. Guests enter the first floor lobby are transported via a magical elevator to the third floor atrium and the start of their visit. Attractions include a pirate ship with interactive guns to destroy other ships, a virtual jungle cruise, cyber-space mountain, magic carpet ride, animation academy, create-a-toy, touch screen easels and Radio Disney Song Maker. In addition, there's pinball, ride the comics and an alien invasion. There is a single flat fee for entry. After admission is paid, all games and attractions are included. Depending upon daily attendance levels, late-night tickets may be sold for half-price two hours prior to closing each night. Two quick service restaurants are located on site.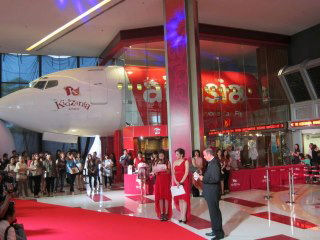 8. KidZania USA – Frisco, TX
Okay, so it's not quite an indoor amusement park since it doesn't offer roller coasters and rides. But it does offer unique amusements you won't find anywhere else in the U.S. (yet). KidZania, which is an interactive kid-sized city, gives kids the opportunity to try more than 100 professions—firefighter, journalist, surgeon, you name it. Designed for ages 4 to 14, each activity teaches kids valuable life skills while inspiring them to be creative. KidZania will open its first location in Frisco, Texas, in fall 2019, with plans to expand throughout the U.S. in coming years.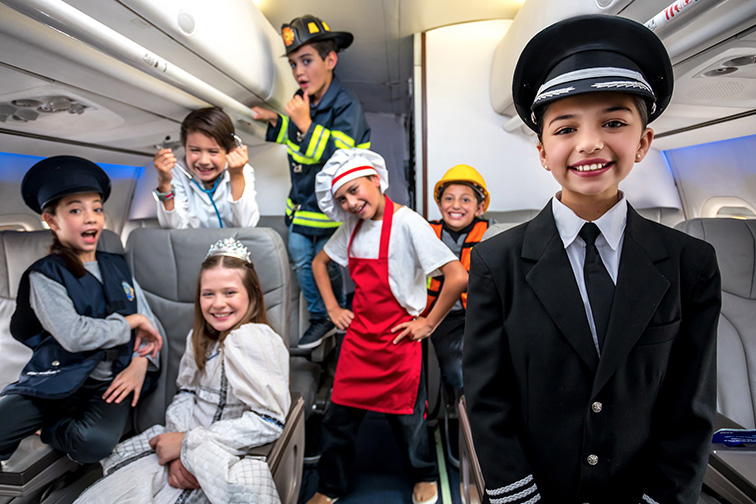 9. Funplex – Houston, TX
The
Fun
plex
in Houston has it all: rides including bumper cars, a giant trampoline, and Ferris wheel; activities such as bowling, go-karts and roller skating; and more than 140 arcade games. This indoor amusement park—perfect for all ages—also offers virtual reality roller coaster, car and motorcycle experiences!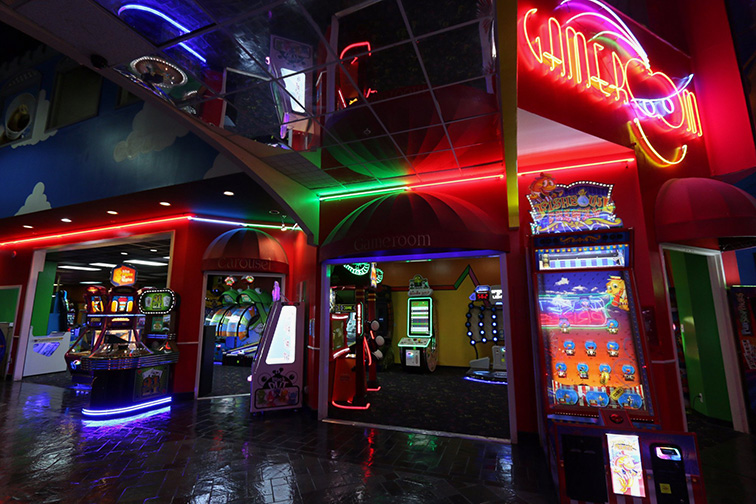 10. Tom Foolerys Adventure Park at Kalahari Resort – Wisconsin Dells, WI
Like Mt. Olympus, Kalahari offers both an indoor water park and theme park (as well as onsite accommodations and restaurants)! Called Tom Foolerys Adventure Park, this indoor amusement park offers a roller coaster, zombie apocalypse attraction (Arizona Sunshine) and optical illusion tunnel for older kids, while youngsters can enjoy the carousel, Lil' Toucan Climb ropes course and Sky Rangers airplane ride. Other attractions include a rock climbing wall and Ferris wheel.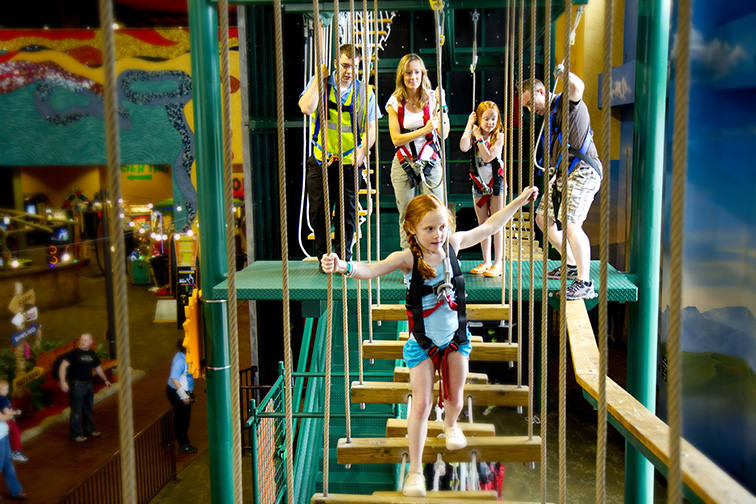 11. Parthenon at Mount Olympus Resort – Wisconsin Dells, WI
One of the best indoor water park resorts in the. U.S. is also home to an indoor amusement park! Mt. Olympus offers an indoor amusement park with a kiddie swing, spring ride, spinning teacups, bumper cars, laser tag, rock climbing wall, and go-karts. There's also an arcade an onsite accommodations and dining. Water park, amusement park, sleep, repeat!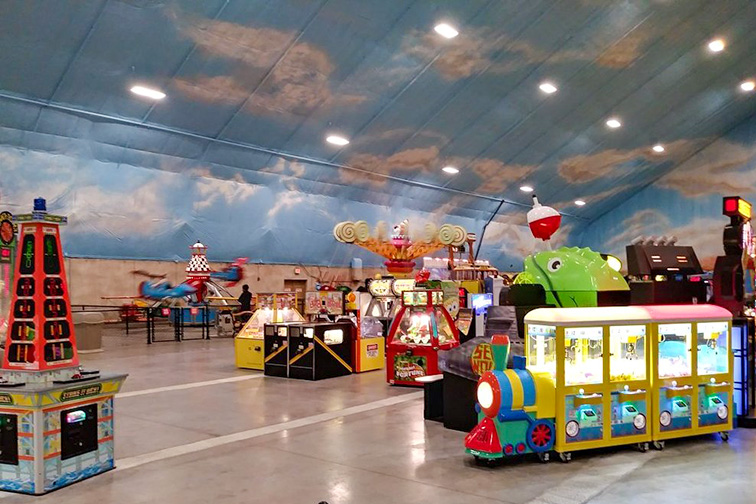 12. iPlay America – Freehold, NJ
The 115,000-square-foot iPlay America, located "where the city meets the boardwalk," features a go-kart speedway, Skyscraper ride, Kite Flyer, Happy Swing, Dizzy Dragons and bumper cars for thrills, as well as more than 200 arcade games where kids can test their skills and challenge their competitive siblings. When you need a break, grab a bite to eat at City Square Bar & Grille or Sonny's Boardwalk Grill.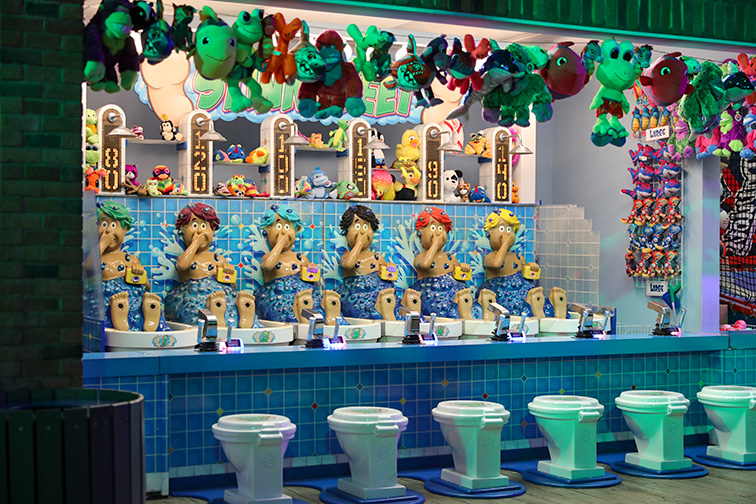 13. Nickelodeon Universe – Rutherford, NJ
Nickelodeon Universe at the American Dream mall in Rutherford, New Jersey, spans 8.5 acres, making it the largest indoor amusement park in North America. Opened in 2019, it features 35-plus roller coasters, rides and attractions (including live entertainment on the Nickelodeon Slime Stage), as well as meet-and-greet opportunities with Dora the Explorer, the Teenage Mutant Ninja Turtles, and SpongeBob. Bonus: Dreams Mall also has a newly opened indoor skating rink and will soon welcome an indoor water park.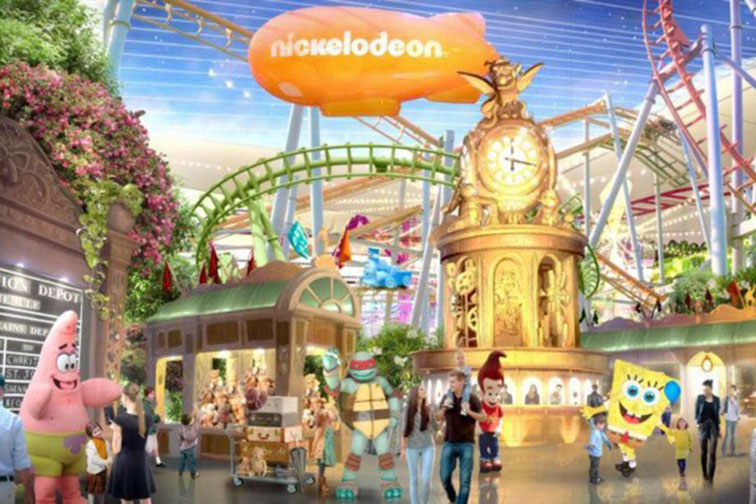 Large indoor theme parks, indoor amusement parks and family entertainment centers are a relatively new phenomenon.
57.9% of all indoor entertainment centers are focused on edutainment
75.5% of all indoor entertainment centers are anchored to shopping malls.
53.8% of all indoor entertainment centers were opened or will open during the period from 2015 – 2025 based on a surge of recent openings and new construction.
14. Ferrari World is an indoor themed experience anchored by a hotel on Yas Island, Abu Dhabi UEA.
The central park opened in 2010 with 925,696 sf of indoor space under a 2,152,000 sf roof making it the 2nd largest indoor theme park in the world. The iconic red roof was designed by Benoy Architects to look like the side profile of a Ferrari GT.Jack Rouse Associates of Cincinnati OH designed many of the park's 21 rides. Guests can walk or drive a Ferrari 250 California Spider through the beautiful cityscapes of Italy. There's a carousel, cinema, interactive 3-D shows, a dual-launched roller coaster and a second coaster called Formula Rossa, the world's fastest roller coaster reaching a top speed of 149 mph. Also, a G-Force space shot tower which launches riders up and out of the building. The park offers several racing schools, virtual tours, galleries, racing simulators, a flume ride and a hang glider voyage over Italy. Owner is Aldar Properties/Investment of Mohammed Nourawale, chairman of Jumeirah Group LLC. Managed by Farah Leisure Parks Management. Guests pay a single admission fee to enter the park and experience the attractions; discounted fees for children.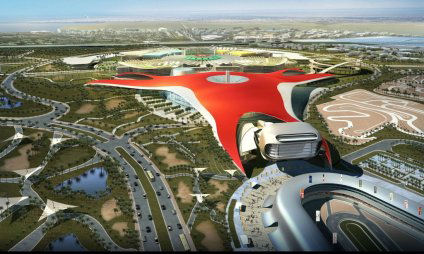 15. First World Hotel & Indoor Theme Park
It is a themed experience anchored by a hotel, casino and shopping plaza at the mountain-top Genting Highlands Resort, just outside Kuala Lumpur in Malaysia. First World Hotel is a 3-star hotel with 6,118 rooms on 28 floors in two towers. Below the hotel is a 500,000 sf plaza housing shopping malls, arcades, 11 food outlets, Starworld Casino and the Genting Indoor Theme Park.The indoor theme park has a mini stage for live performances, replicas of the Statue of Liberty and an Oscar statue. It also features a cinema, carousel, bumper cars, family rides, thrill rides, snow world, splash pool, bowling, snooker center, arcade, archery, cyber world, haunted house and Studio K. Other major attractions include the Watersplash indoor waterpark, Genting Outdoor Theme Park, Ripley's Believe It or Not, Genting Skyway, a cable car system, and Genting Sky Venture, Asia's first indoor skydiving simulator.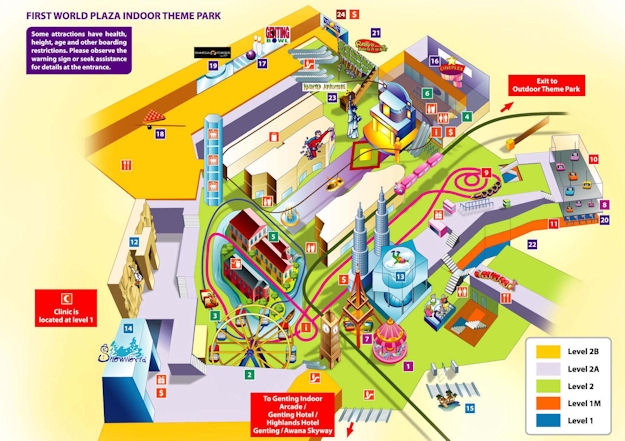 16. Galaxyland at World Waterpark inside West Edmonton Mall is a 400,000 sf indoor amusement park with thrill rides that opened in 1985 in West Edmonton AB, Canada. Of the World's Top 25 Indoor Theme Parks, Galaxyland is the first to open on a grand scale back in 1985. It's now ranked 6th largest in the world. It is home to one of the world's tallest (14 stories) and longest indoor roller coasters. It is home to the Space Shot, the world's tallest (12 stories) indoor tower ride until Ferrari World opened its Space Shot ride in 2010. Galaxyland offers 24 beginner, intermediate and advanced rides. Beginner rides include: miniature dirt bikes, merry-go-round, kiddie convoy, WWII planes, bumper cars, Indy-style go-karts, Ferris wheel and large play area. Intermediate rides include: a space-age tilt-a-whirl, train ride, a gentler Space Shot, swinging boat, turbo-ride theater, small roller coaster, a crashed space ship and a 12-car circular track. Advanced rides include: a spinning roller coaster, a 12-person Space Shot, a solar flare flipper-spinner ride, a giant swing, bumper cars for adults, a sonic twister and the world's largest indoor triple-loop roller coaster.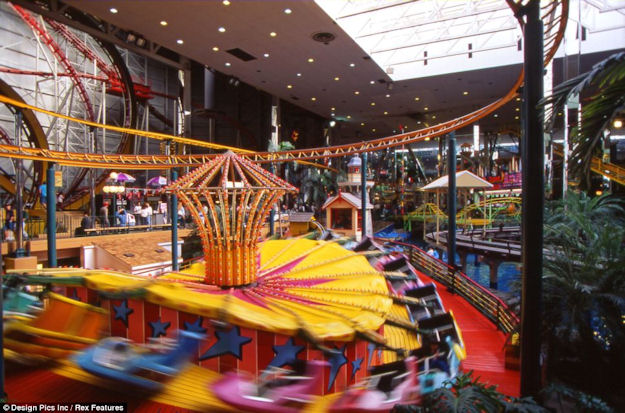 17. Spooky Nook Sports Center is a vast new facility being built inside a 14-acre former Armstrong World Industries Inc warehouse in Manheim, Lancaster County PA. Spooky Nook founder Sam Beiler is converting the huge space into the nation's largest indoor sports & entertainment center — scheduled for completion in June 2013. The components include dozens of athletic courts, climbing walls, pitching lanes and batting cages, dance and yoga studios, fitness center, retail store, food court, video game arcade, conference rooms and offices. All this takes up half the building. On the other side of the wall is the other half, raw space awaiting development in Phase 2.The economic impact of youth sports teams traveling to Lancaster County for events has grown from $10 million in 2008 to between $40 million and $50 million a year, according Stephanie Jordan, marketing coordinator. Spooky Nook expects to contribute about 58,000 room nights per year to local hotels. When USA Field Hockey relocates its headquarters to Spooky Nook, that number will increase to 100,000 hotel room nights.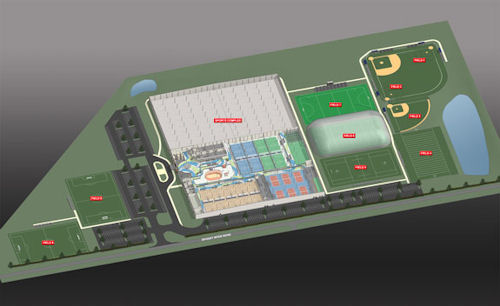 18. Nickelodeon Universe at Mall of America is a themed experience, anchored by a 4,200,000 sf shopping mall in Bloomington MN. Ranked 7th largest, Nickelodeon Universe reopened in 2008 with a 304,920 sf indoor theme park after being Knott's Camp Snoopy for years. New characters include Dora the Explorer and SpongeBob SquarePants. There are 27 rides, 5 roller coasters and one water ride. Many rides, including the giant Ferris wheel, were renamed. New rides include Shell Shock, Brain Surge, Rugrats Reptarmobiles, the SpongeBob rock bottom plunge, a Euro-Fighter style coaster, a tower drop ride in the center of the park and the Avatar Airbender, a surf-rider attraction. The park is open year-round. Admission to the park is free, but the rides require visitors to purchase a varying number of tickets (points), depending upon the type of ride.
Opened in 1992, Mall of America attracts 42 million visitors annually. After a 6-year ownership dispute, the Triple Five Group gained full control of the Mall of America spending US$1 billion to do so. Triple Five consists of the Ghermezian family who also own the West Edmonton Mall in Alberta, the biggest shopping mall in North America.
The Mall of America is expected to double its size to 5.2 million sf with the construction of Phase 2, which includes more retail, more parking, a dinner theater, ice rink, 3 hotels, an indoor waterpark and the integration of the existing IKEA store. Cost of the expansion is US$2.1 billion, but developers say the expansion will draw another 20 million visitors per year. MOA is asking the Minnesota Legislature for up to $250 million in tax breaks to pay for the project's parking ramps, roads and infrastructure. It appears the house and senate could tap a special fund — money that is not part of the state budget — to make it happen.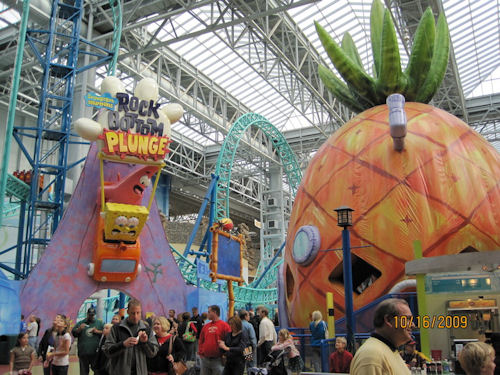 20. Trans Studio Makassar is the 9th largest indoor entertainment center in the world located in Makassar, the capital of South Sulawesi, Indonesia. It opened in 2009. Trans Studio has four play zones with 22 rides and games in a 290,501 sf indoor theme park inside a 20 story building built on 30 acres at a cost of $104 million. It can accommodate 5,000 people at one time.
At the heart of Trans Studio, visitors can get the feeling of being a celebrity in front of the camera or being the production crew of a television show. Studio Central provides visitors with the glamour of Hollywood and reveals tricks behind the scenes of great movies.
Trans Studio Indoor Theme Park was designed by the Goddard Group of Los Angeles CA, whose projects include Universal Studios and Six Flags.
The park is part of the larger Trans Studio World project that includes a shopping mall, supermarket, hotel, offices, residential, a recreational beach and the first monorail in Indonesia.
Trans Studio was developed by PT Trans Kalla, a partnership between Para Group and Kallas Group. Para Group chairman, Chairul Tanjung, is the 18th richest man in Indonesia. He owns Bank Mega and television broadcasting company Trans Corp, the first TV station ever to own an indoor theme park. Kalla Group owner, Jusuf Kalla, is the former vice president of Indonesia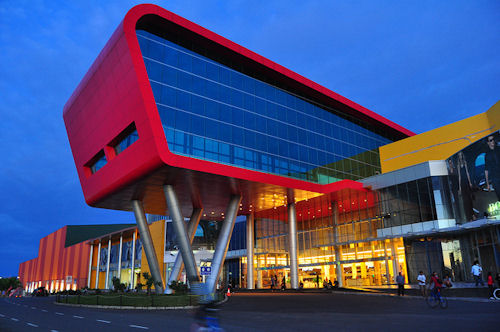 21. Kalahari Indoor Theme Park opened a 110,000 sf indoor theme park with amusements and adventure facilities in 2008, part of Kalahari Waterpark Resort & Convention Center in Wisconsin Dells WI.Take a ride on the 6-story Ferris wheel located in a spectacular glass enclosure or ride the African-theme carousel. Challenge yourself to a ropes course or climbing walls. Blast your way through a game of laser tag. Enjoy 24 lanes of bowling, 18 holes of mini-golf or practice golf using two high-definition golf simulators. Or you can race 430 feet around the 2-story elevated go-cart track. Plus, there is a giant 12-person kiddie swing. Recently, the owner opened the Safari Outdoor Adventure Park which includes a zipline, rock-climbing wall, ropes challenge course and a small petting zoo.At Kalahari, owner Todd Nelson says bigger is better. His resort has 735 hotel rooms, 125,000 sf indoor waterpark, 125,000 sf conference center. Now his 110,000 sf indoor theme park is ranked 17th largest indoor entertainment center in the world.

22. iPlay America is a standalone indoor amusement park with thrill rides that opened in 2011 in Freehold NJ, USA, with 115,000 sf of indoor space.Open year round, it boasts 200 arcade games, soft play areas for young children, traditional boardwalk games, go-karts, 2-story laser tag, bowling, a 4-D theater and several eateries, such as City Square Bar & Grille, Sonny's Boardwalk Grill, Mixx self-service yogurt shop and Broadway Sweets candy store. Exciting rides include a swing that propels thrill seekers 15 feet into the air, a dragon roller coaster, a free-flight experience and the iPA Speedway, where visitors can show off their go-kart racing skills. When kids are out of school iPlay America offers extended hours. They also cater to company picnics, youth groups and team-building programs. No admission charge to enter. They offer a variety of pay-as-you-go options including $20 unlimited iRide bands from open to close.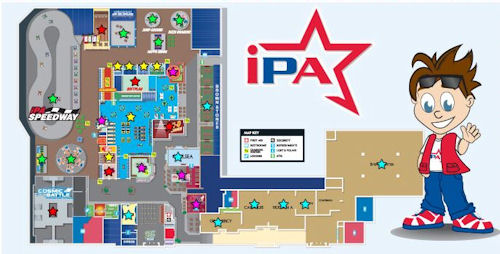 23. KidZania Bangkok is the 12th center opened by the Mexico City-based chain of edutainment centers where kids learn to role-play adult occupations. The edutainment center opened in March 2013 with a 107,000 sf facility that is connected to a large shopping mall in Bangkok, Thailand.In Bangkok, kids learn to fly airplanes and manage an airport.At KidZania, kids role-play adult occupations.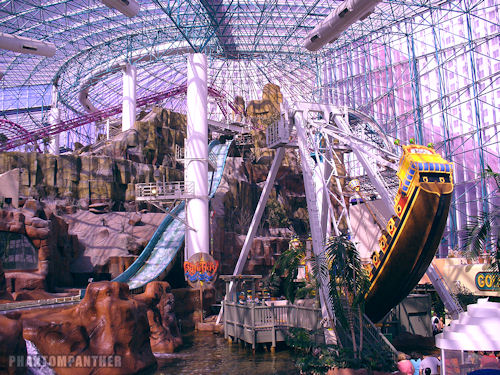 24. DisneyQuest is an indoor 100,000 sf interactive theme park located at Disney Springs (formerly Downtown) at the Walt Disney World Resort in Orlando FL. Opened in 1998, it is housed in a 5-story, windowless building connected to the shopping mall. Guests enter the first floor lobby are transported via a magical elevator to the third floor atrium and the start of their visit. Attractions include a pirate ship with interactive guns to destroy other ships, a virtual jungle cruise, cyber-space mountain, magic carpet ride, animation academy, create-a-toy, touch screen easels and Radio Disney Song Maker. In addition, there's pinball, ride the comics and an alien invasion. There is a single flat fee for entry. After admission is paid, all games and attractions are included. Depending upon daily attendance levels, late-night tickets may be sold for half-price two hours prior to closing each night. Two quick service restaurants are located on site.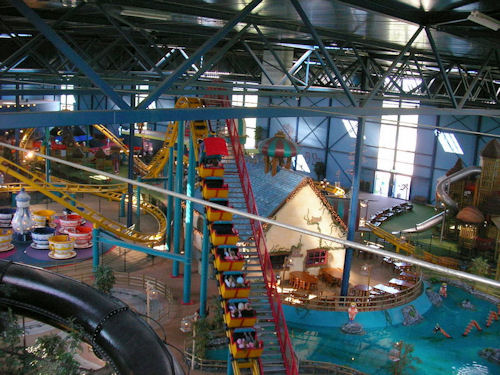 25. Joypolis-Sega at Umeda-Osaka, Japan opened in 1998 with 96,867 sf on the 8th and 9th floor of the HEP 5 Shopping Center, where an iconic red Ferris wheel rises above the 7th floor. HEP stands for Hankyo Entertainment Park. It is one of Osaka's best shopping and entertainment complexes, partly owned by the Henkyo Railway Company. Inside, Joypolis provides space for over 600 games and 6 large-scale simulators that feature a UFO Catcher, Wild River and a Giant Jungle Creatures.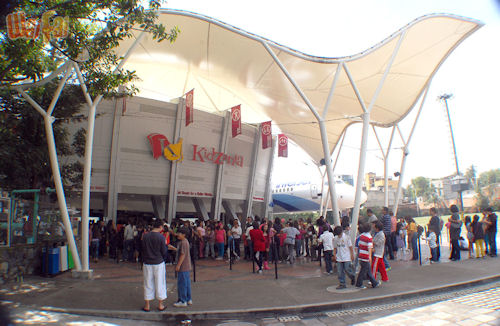 26. Joypolis-Sega Okayama is another 88,275 sf entertainment complex inside the actual Joypolis-Sega building. There is a large statue of Sonic the Hedgehog; those who have played the game know that Sega is the company that created the original Sonic games. Aside from the high-tech games, the Okayama shopping mall also has a bowling alley and karaoke. It is not only a night spot, you can go there in the daytime, but for those looking for a fun night out without going to a bar, Joypolis-Sega is a great option.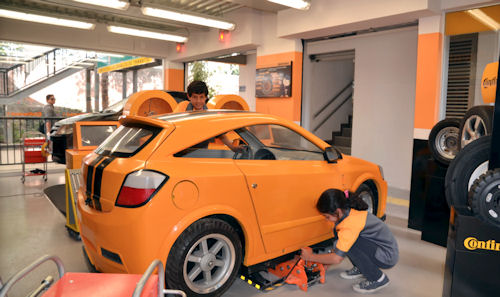 27. KidZania 4 in Jakarta, Indonesia opened with 80,722 sf in 2007. The KidZania Company occupies 10 positions among the World's Top 30 Largest Indoor Entertainment Centers, including the last six positions — #25, #26, #27, #28, #29 and #30. Not only is KidZania the fastest-growing edutainment company in the world, it has centers that are among the largest in the industry. Typically, a KidZania center is 80,000 sf to 160,000 sf in size.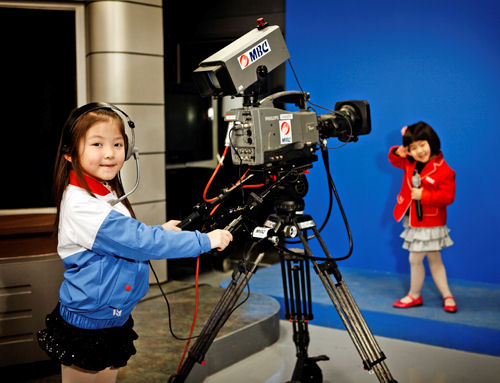 28. Joypolis-Sega Odaiba is an 88,275 sf indoor entertainment center, part of Deck's Tokyo Beach shopping mall that offers high-tech games in Tokyo-Odaiba, Japan. It opened in 1996 and then reopened in July 2012 after renovations. You can simulate snowboarding in the half-pipe canyon or ride a virtual hang glider through tropical islands at this indoor park in Odaiba that is packed with Sega virtual reality machines on 6 floors — games such as Halfpipe Canyon, Burnout Running, Dance Dance Revolution, the Initial Drift car game and more. There is also the Spin Bullet, a whirling roller coaster and laser tag.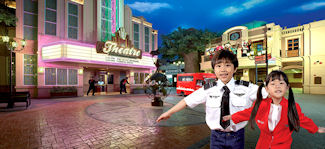 29. KidZania 11 in Santiago, Chile opened with 80,722 sf in May 2012.
30. KidZania at Cairo Festival City in Egypt is opening right now, June 2013, with 80,250 sf inside a shopping mall.
31. KidZania 10 in Kuala Lumpur-Petaling Jaya opened with 79,646 sf in January 2012.
32. KidZania 7 at Dubai Mall in the UAE opened with 80,000 sf in 2010.
33. KidZania at R-City Mall in Mumbai-Ghatkopar, India is scheduled to open next month, July 2013, with 79,991 sf.
34. Plopsa Indoor Theme Park is a 96,300 sf entertainment center that opened in 2005 as part of an exposition center in Hasselt, Belgium. It is ranked 21st largest indoor entertainment center in the world.
35. KidZania Sao Paulo is about to open at Eldorado Shopping Mall in Brazil. Opening is scheduled for August 2013. The edutainment center has 91,485 sf and is ranked the 22nd largest indoor entertainment center in the world.
Summary
That's it for the World's Top 35!
Visit an Indoor Family Entertainment Center! If you decide you want to build one or add one to your existing
Comments

Chris Says:
Could you design for my 6,000 sqft area? When can you finish it?

Angel Playground Equipment CO.,LTD Says:
Nice day! Design only take 3-4 days, production take about 30 days.

Laura Says:
I want to have an indoor playground but for smaller kids, so a type of city or a playground built for small kids. Please let me know if you have a brochure or something.

Angel Playground Equipment CO.,LTD Says:
Thanks for your message, we have some good suggetion for this area, maybe you are looking for the pretend city.

Yazmin Mayer Says:
I saw playground from your company before, Very interesting, please call me

Angel Playground Equipment CO.,LTD Says:
Thanks, have add you on Whatsapp.

mary Says:
Hi. how much is the installation of this area in 5000 sqft area. Do you do installation in America? thanks

Angel Playground Equipment CO.,LTD Says:
50% of our project in USA, We are pleasure to make proposal for you.

Jamie Running Says:
Is it possible to buy this one piece for my playground? so how do I proceed. Thank your Jamie

Angel Playground Equipment CO.,LTD Says:
Thanks, we have send you process by email please check.
Leave a Reply
Your Phone & Email address will not be published. Required fields are mareded*