The Most Welcoming Indoor Playgrounds in the Los Angeles Area
Views: 6453 Update date: May 29,2021
It's raining. Or it's too hot. Or you need a break from trying to entertain your kids at home. It's definitely time to find an indoor playground for some hours of fun and food. If you live in the Los Angeles area, you're in luck. You have a huge number of options, based on your kids' ages and what they like to do, as well as how much involvement (or not) you want.
So, let's unpack some of the most popular and highly-rated indoor playgrounds from which to choose.
1. The Coop - Three Locations
Here's a play place that will satisfy kids of a wide age range, compete with a slide-in ball pit, a luminescent dance floor, and even a dress-up play area. And for adults? Free Wi-Fi and a cappuccino bar, among other things. If you are a busy grad student working with a consultant from Supreme Dissertations, this is the perfect place to get the kids "out of your hair" for a while, so you can work.
There are three locations – Studio City, Redondo Beach, and Woodland Hills.
2. Snooknuk in Larchmont
This is a place to just come and play or even take classes if your kids are older (up to 12). Parents can come with their children and participate, or they can sign up for supervised play while they sit out on the patio and get work done. It's open 6 days a week.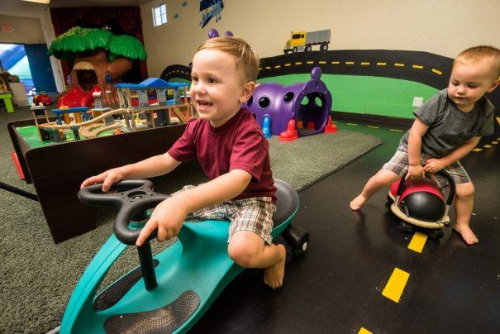 source
3. Wild Child Gym – Culver City
Here's a mix of Hawaii and California decor and style, looking all eco-friendly, complete with a hill of "grass" and other attractive indoor play gear for kids, infants through older elementary levels.
The big draw of Wild Child Gym is its classes for newborns through 7–9-year-olds, camps, workshops, along with free play during all of its operating hours. Parents can participate with their kids, of course, but for busy parents, who are working or in school, this can be a Godsend. They even have extended hours. Suppose you are a student attending classes, completing coursework, and even working with a writing service like TrustMyPaper, you will have alone time to focus on your studies. Suppose you are a parent who must work late or during school vacations/holidays – Wild Child Gym can be your answer. Memberships are available which bring discounts.
4. The Awesome Playground – Highland Park
This place actually has two names – Awesome Playground and Awesome Academy. It operates as a free-play place as well as an "academy" with classes for kids from preschool through age 10. Weather permitting, there is also an outdoor space for water play. Inside, there is an inflatable obstacle course, a crooked house, and a racetrack, among a host of other things.
Safety for kids is really important here. Everything is sanitized throughout the day. The indoor place space features soft floors, and outdoor play is supervised.
This facility does not leave parents out. There is free Wi-Fi and a dining area for alone time or to share with kids. They also offer a "Parents Night Out" at a reasonable price
5. Playlab Family Playspace – Eagle Rock
The Playlab Playspace is a reservations-only spot, but still offers a great family experience, as well as a super destination for birthday parties. They also offer playdate options ranging from one-to-two hours in length, in a clean, healthy environment with lots of play equipment and toys, especially for toddlers, preschoolers, and early elementary-aged children.
One of the unique features of Playlab is its "dinner and playtime" or "dinner night with a movie."
6. Jump n' Jammin – Arcadia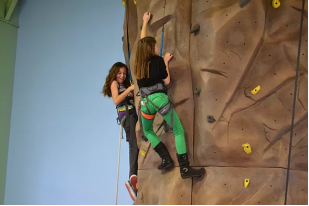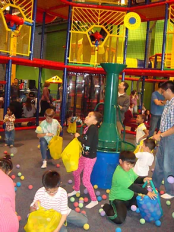 Here's a place for kids of all ages, from toddlers through teens. Jump n' Jammin is a multilevel structure with tube crawls, slides, rock climbs, ball blasters, and more. It is open to the public, but also has a large clientele for birthday parties for all ages. Private parties can be booked for up to 145 people. One unique feature of this indoor playground is its J-care program. Parents can drop their young children off for up to four hours, in the care of a staff member, while they run errands, do holiday shopping, or just have some time off for themselves.
7. Big and Tiny – Santa Monica and Hollywood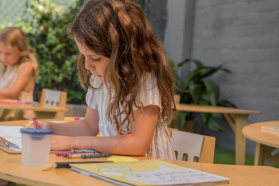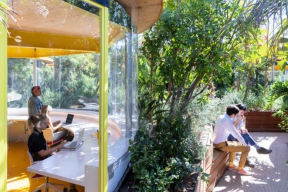 This recently opened company is focused on providing space for young children and their parents in a holistic environment. Parents who work remotely or as entrepreneurs have a large co-working space with other parents. Children, from infancy through age 5, are provided age-appropriate educational programs.
Admission is by membership only, and the centers provide up to four hours of care for children for the monthly fee. Additional hours, of course, can be purchased as well. Parents and children have access to one another at any time.
During the summer, when kids are out of school, Big and Tiny offers summer camp programs, again participating while their parents are close by at work.
This type of adult/child co-occupancy of space is a model that is becoming more and more popular across the country.
8. Westwood – Pamper and Play
The concept here is a familiar one. Pamper and Play offers supervised playtime for little ones, while parents house themselves in a loft complete with complimentary refreshments, free Wi-Fi, and more. There is also a parents' time-out on Saturdays, that can be booked by reservation.
For school-aged kids, the company offers summer camps of all varieties.
There are three levels of monthly memberships, each with specific perks.
An additional offering, of course, is parties, based upon themes and housing up to 70 guests. Pamper and Play staff handles it all.
9. Simi Valley – Kids World Family Fun Center
Older kids who think that play centers are only for little kids will quickly realize that this is not true. Here is a center that fully caters to older children with virtual games, ball launchers, a basketball court, zip lines, and even a video game floor. Little ones (ages 3 and under) have their own gated space.
Kids World Center is also a popular spot for great parties for kids and adults, as well as teen lock-ins.
Indoor Play Has Certainly Evolved
Indoor play has traditionally been in the form of "play dates," where kids go to one another's homes to play for a few hours. Things have certainly changed. Indoor play centers now provide active and healthy environments, as well as opportunities for children to socialize in larger groups of diverse peers. Certainly, these are also great respites for parents who struggle to entertain their children whether you won't permit outside play.
Comments

Rakesh Patel Says:
Indoor Soft play setup for 3 to 10 year age group..plz reply with design and setup cost.

Angel Playground Equipment CO.,LTD Says:
Hope this message find you well, we are pleasure to make proposal for your kids play area, please check our reply to your email. Thanks!

Siri Says:
Hi would like to know the logistics to setup a playarea and party hall for kids

Angel Playground Equipment CO.,LTD Says:
Already sent, Please check. Looking forward to your reply.

Alicia Says:
May I have a catalogue with pricing? Thank you

Angel Playground Equipment CO.,LTD Says:
Got your message, Thanks! Please check your email for process of start indoor playground, Looking forward your reply with layout information.

Rakesh Says:
We are keen to open one of indoorplay park in our town in new zealand. Pls send us information to get ideas

Angel Playground Equipment CO.,LTD Says:
Nice day! All price online are real, If anyone you like just let me know, we are pleasure to share you details, Process please check your email.

Shukria Says:
Hi I would like to open indoor playground in Toronto Canada . Do u guys access to Canada . I really like it the Rush fun park . I would like to talk about how much it cost and what is the progress

Angel Playground Equipment CO.,LTD Says:
Nice day! Please check your email for catalog, please follow the process and provide floor plan, We will make a good design for you.
Leave a Reply
Your Phone & Email address will not be published. Required fields are mareded*