Is the Experience in Outdoor Playground a Long-time Treasure or a Short-term Pleasure?
Views: 3689 Update date: Jun 25,2017
People of various kinds have their own set of standard to measure whether things they are engaged in is worthy or not. Taking the time they would have their kids spend in the outdoor playground for example. Some parents hold the view that children are supposed to be sent to schools to learn useful knowledge instead of wasting time playing all day long in the playground sets; while other hold the opposite view that the pleasure children obtained in outdoor playground is worth a mite. Indeed, parents' attitude toward this lividly reflect their values which are reared through different education and backgrounds. We can't tell the right party from the wrong. Therefore, my view is also a representative of my own value. And I hold the view that the experience in outdoor play equipment is a long-time treasure for children.
In the first place, happy memories in the outdoor playground is one of the most important factors that will help your kids grow up with an opposite attitude toward life. We all know that nowadays, the problems with children's growth is increasing rapidly, such as precocious sexuality, teen-age marriage, aggressive behaviors and so on. Causes leading to these wrong behaviors are mainly pressure from family. It seems that parents have intervened too much into children's life since when they were little kids who were supposed to have fun in the playground sets with their peers. The happiness that parents deprived from children's childhood is doomed to pay for their wrong behaviors as teenagers.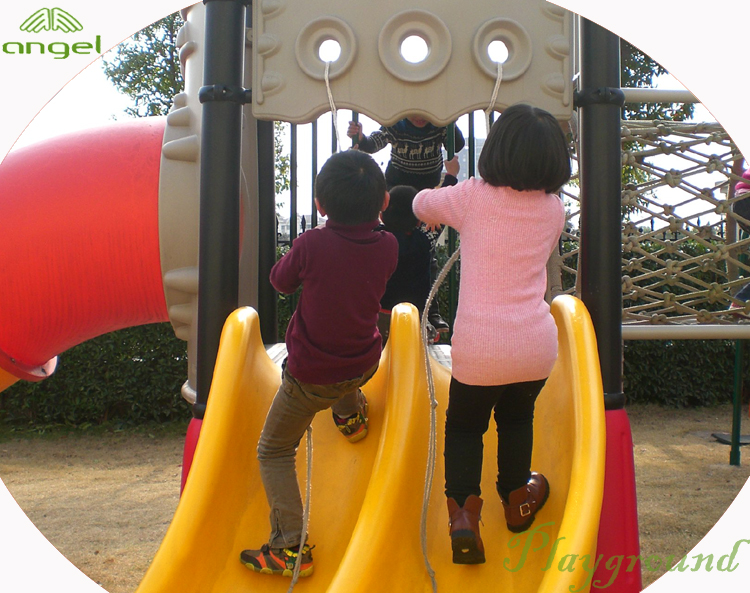 In addition, parents think the enjoyable time children have in the outdoor playground as a short-term pleasure because they've forgot things that ones made them happy when they were kids. Naturally, they view children's life style from their own aspect as adults, which seriously distorted the meaning of happiness for little kids. After joining the society, adults lose every character on childish and hence they couldn't see that outdoor playground means much to kids. Another defect is that they always forgets the really meaningful thing in their life-- innocence. And nothing would more cruel than taking this personality away from their own kids and have them become the so called adults.
All in all, outdoor playground means much more than what parents thought to be, it could give more than a short-time pleasure to children's life, children will meanwhile benefit from its experience in having fun with other kids, and enjoying the relaxing and delight happiness as kids. All these are no doubt life-long treasure for these young souls.
Copyright Reserved by Angel Playground Equipment Co.,Ltd.
Comments

Rajit Says:
Already have an indoor playground of 5000sqft, looking for a new outlet, what do you suggest for 15000sqft space?

Angel Playground Equipment CO.,LTD Says:
Indoor Playground is 100% customzied, We will make proposal as soon as you provide layout to us, Please check projects files in your email for reference!

Kerry Somerville-Brown Says:
request for a catalog. Can you send it please? Thank you. Kerry

Angel Playground Equipment CO.,LTD Says:
Hi Kerry: Please check files in your email, we have advise the process of order kids playground, please follow.

Mayra Says:
Buenas tardes me interesa adquirir un área de juegos

Angel Playground Equipment CO.,LTD Says:
Gracias por su mensaje, por favor revise nuestra respuesta por correo electrónico, Esperando obtener más información de su lado

william fore Says:
Looking for the musical items

Angel Playground Equipment CO.,LTD Says:
Hi William: Thanks for your message on the outdoor playsets, Cataloge please check your email.

Hans Says:
Does the cost include shipping and container cost? To USA? total cost ?

Angel Playground Equipment CO.,LTD Says:
Hi Hans: Price we offer online is FOB price, shipping does not including, Please advise items you need and quantity, Also port name for check freight. Same message have reply to you by email.
Leave a Reply
Your Phone & Email address will not be published. Required fields are mareded*