Should children keep the hobby of playing in indoor playground a
Views: 3507 Update date: Jun 21,2017
Inevitably, children have to start their school life and say goodbye to their favorite indoor playground and their partners. At this moment, kids would feel sad and lonely for they can't go back to such relaxing and happy life again. Instead, what lies ahead is dreary school life which would lock their freedom and happiness up. After schools activities are not as interesting and attracting as what they've got in indoor playground. So as regard to most little kids, leaving indoor playground means parting with their happy childhood. So in order to improve their ability to overcome the difficulties they may come across in the course of growing up, indoor playground should be the last thing that should be totally removed from their life.
First of all, due to the function that indoor playground plays in smoothing children's emotion, it is the best cure to children's homesickness and the deep memory of their friends. In their first days at school, most of them would fail to accustom themselves to new school life. They would either distract from the class or can't concentrate on what the teacher is talking about. Therefore, they are in need of something that may help them better accustomed to the new life. Indoor playground is exactly what they need. If they are allowed to have fun in the indoor playground by their parents, they would be happier in the time they stayed in schools.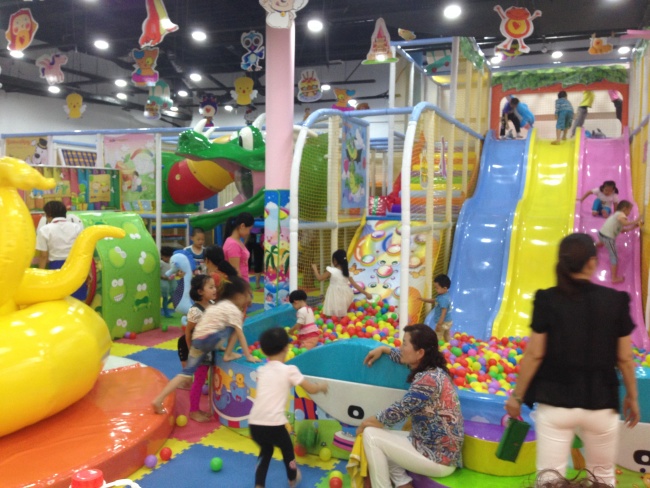 In addition, every kid deserves to own a happy childhood. Without indoor playground, it is impossible for children to live a life that is as happy as that of others. Kids who are given a lot of assignments by their parents and are forbidden from having fun in indoor playground may get more time for study and achieve higher grades. But they are doomed to gain less happiness and freedom in the process of growing up. Take the example of the famous Jay Chou, his success in music is almost irreplaceable, but when recalling his childhood, he was suffering loneliness and unhappiness. Though we can learn from his song that he thanked his strict mother so much, but we can't deny that his mother has deprived the most treasonable part of his life away forever.
According to the above analysis, we can safely draw the conclusion that kids should continue to have fun in indoor playground from time to time. Every kid deserves an interesting and meaningful childhood. No kid should be forbidden to play in indoor playground just for the reason that they need more time for school. No matter how important the school task is, it should remain basic right of young children to play in indoor playground. The best solution to that is to maintain a reasonable balance between having fun in indoor playground and school. Without a doubt, children's progress made in study owns much to the satisfaction they've achieved in indoor playground.
Copy right by Angel playground equipment™, please site the origination when you quote the information!
Comments

Hans Says:
Does the cost include shipping and container cost? To USA? total cost ?

Angel Playground Equipment CO.,LTD Says:
Hi Hans: The price we show online is FOB price, Shipping cost not including, you need advise which port or exactly address for we to check the freight.

Stephanie Says:
we have about 1400 square feet would it be possible for you to send us what you have available for that amount of space along with costs?

Angel Playground Equipment CO.,LTD Says:
For 14000sqft place usually cost around USD20,000. the final cost need to check with your real layout of the place.

Navin Vaishnav Says:
Hello, Please share Quotation list for indoor play grounds. Also mention other costs like Shipping, installation and taxes ( for India). Thanks a lot..

Angel Playground Equipment CO.,LTD Says:
Hi Navin: Good day! Please check the cataloge in your email, please share the details information of the place you have.

Prachi Jain Says:
Hi, nice blog. It is a very descriptive and informative blog. The outdoor playground is very beneficial for children. It can be placed in schools, colleges, resorts, and restaurants, etc.

Angel Playground Equipment CO.,LTD Says:
Thanks

Godwin Chukwurah Says:
Request quote for different products

Angel Playground Equipment CO.,LTD Says:
Thanks! Please check our reply by email.
Leave a Reply
Your Phone & Email address will not be published. Required fields are mareded*