A place for children to experience their life—Indoor Jungle Gym
Views: 3032 Update date: Jun 22,2017
In China, most parents have only one child. The parents and grandparents have shown too much love to their only child. The number of spoiled children has increased in China. Consequently, kids become too fragile to do anything by themselves. Meanwhile, how to bring up the child becomes a serious problem to many young parents. Do not be anxious and upset. Next, I will introduce a place, Indoor Jungle Gym, where children can experience their life, but which is different from the real society full of a lot of obstacles. To all intents and purposes, it is a fairground which creates an environment similar with the real society. But all of the trouble will not be worried; children will experience and learn from it. Then I will lead you to come into the Indoor Jungle Gym.
First of all, when you come to the place, you can see a big plank which is marked with big words, Indoor playground equipment. On the right, there is a room, used to sell tickets. You just need pay $20 for a ticket, and then you can take your kids in. You will see a magic world in which there are a lot of children to do all kinds of staffs. As we all know, the only one child has shown complete dependence on the parents, hanging on their parents in almost every aspect of life, from buttoning clothes to going to the toilet. And they have never learned to do elementary household chores. Even worse, the only children tend to be ill mannered and self-centered. However, all of these are not problems. Once children come into the park, they will do all of these things willingly. For when kids see other peers doing, they would love to do the same and everyone wants to do better than others.
Next, after kids finish the first step, they can continue to see second step. Although maybe some of the kids could not make it, they will also learn some knowledge more or less which they can't learn in the protected and loving environment. Those who reach to the second step will meet various people, where they need the ability of communicating with others, and through which they will learn how to deal with the relationship of others. In Indoor Jungle Gym, it is no need for parents and grandparents to worry about the safety of the kids.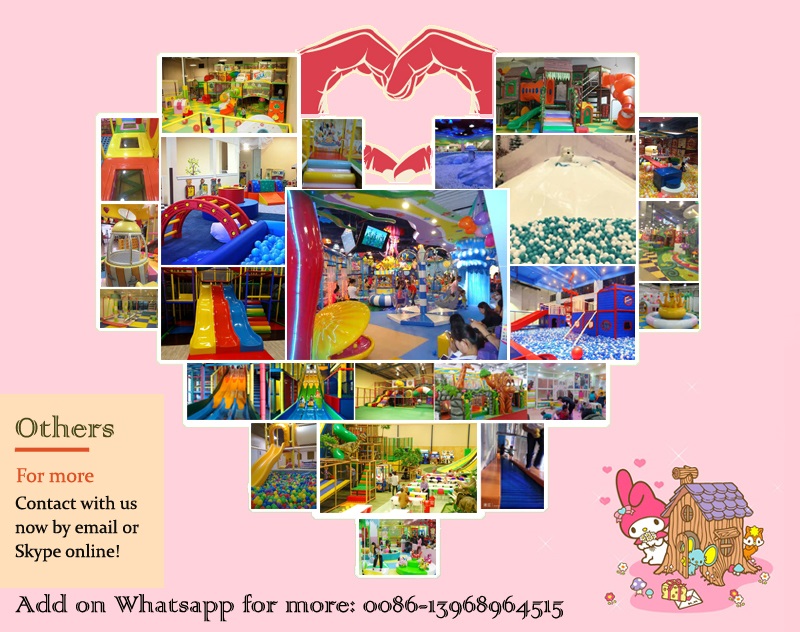 Human society is full of tests and trails. Flowers from a greenhouse can never withstand a storm. Likewise, children who live luxuriously and comfortably can never become somebody in the future. Now, there is a place, Indoor Jungle Gym, where parents do not have to worry that their kids would be hurt or injured. There is no doubt that a stone kills two birds. Not only parents can have a good time, but also children will obtain knowledge more or less which can't be learned from home or school. Therefore, give the right to your kids, and let them come to Indoor Jungle Gym.
Copyright Reserved by Angel Playground Equipment Co.,Ltd
Comments

Hans Says:
Does the cost include shipping and container cost? To USA? total cost ?

Angel Playground Equipment CO.,LTD Says:
Hi Hans: The price we show online is FOB price, Shipping cost not including, you need advise which port or exactly address for we to check the freight.

Stephanie Says:
we have about 1400 square feet would it be possible for you to send us what you have available for that amount of space along with costs?

Angel Playground Equipment CO.,LTD Says:
For 14000sqft place usually cost around USD20,000. the final cost need to check with your real layout of the place.

Navin Vaishnav Says:
Hello, Please share Quotation list for indoor play grounds. Also mention other costs like Shipping, installation and taxes ( for India). Thanks a lot..

Angel Playground Equipment CO.,LTD Says:
Hi Navin: Good day! Please check the cataloge in your email, please share the details information of the place you have.

Prachi Jain Says:
Hi, nice blog. It is a very descriptive and informative blog. The outdoor playground is very beneficial for children. It can be placed in schools, colleges, resorts, and restaurants, etc.

Angel Playground Equipment CO.,LTD Says:
Thanks

Godwin Chukwurah Says:
Request quote for different products

Angel Playground Equipment CO.,LTD Says:
Thanks! Please check our reply by email.
Leave a Reply
Your Phone & Email address will not be published. Required fields are mareded*