Outdoor Playground Allows Kids to Do the Right Things at the Right Time
Views: 3223 Update date: Jun 25,2017
Many things that are quite important about the future require that we start doing things now rather than waiting for later to happen. Things like saving for retirement, studying for college entry exams, revising papers, preparing for work reports, sending your kids to play in the outdoor playground... Well, like Professor Oyserman says, things in the future may never happen or seem too far off for you to take seriously. For example, when you're young, sorting out a pension plan doesn't feel like a priority or something that's more important than other things. But that's the most urgent part of the secrecy to success is to do it. Do not delay. People should be engaged in the right things at the right time, so do kids. Therefore, it is necessary to do it immediately to send them to play in the outdoor playground to have fun.
There is a famous word said by a well-know writer:" one over 30 should never be an official, and one over 50 should never merry, otherwise one would be doing the wrong thing at the wrong time." The same is true of young children, those who grow old enough should never be devoted in playing in the outdoor playground anymore. I don't mean that kids over 10 are not allowed to play in the outdoor playground, but that as they grow old, the happiness of playing with other young kids would never be the same as the feeling they enjoyed when they were little kids. Therefore, it is very important to have your kids do what they are supposed to do in a natural way.
In addition, childhood is indeed a very short period of time. Time would tickle away minute by minute without having you aware of that. As parents, what should you really expect from your kids? What kind of people you what them to be? Is it more pleasing for you to see your kids playing in the outdoor playground with great fun or see them in great distress because of all the stress that you have laid on them? I think the answer is very clear.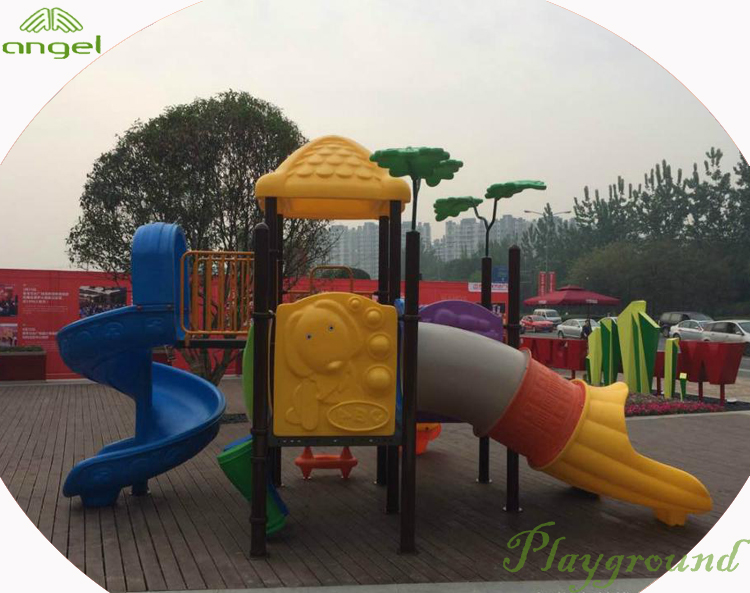 The last thing I want to overstate is that nothing will be waiting for you ahead. All would gone like wind with time passing by. The outdoor playground is also a gust of wind that will soon goes far away from children's life soon. However, together with the gone of outdoor is the unforgettable moment of childhood. Therefore, it is more urgent for parents to catch the last piece of moment to take your kids to enjoy their time with their peers in the outdoor playground. Don't push it off anymore!
Copyright Reserved by Angel Playground Equipment Co.,Ltd.
Comments

Hans Says:
Does the cost include shipping and container cost? To USA? total cost ?

Angel Playground Equipment CO.,LTD Says:
Hi Hans: The price we show online is FOB price, Shipping cost not including, you need advise which port or exactly address for we to check the freight.

Stephanie Says:
we have about 1400 square feet would it be possible for you to send us what you have available for that amount of space along with costs?

Angel Playground Equipment CO.,LTD Says:
For 14000sqft place usually cost around USD20,000. the final cost need to check with your real layout of the place.

Navin Vaishnav Says:
Hello, Please share Quotation list for indoor play grounds. Also mention other costs like Shipping, installation and taxes ( for India). Thanks a lot..

Angel Playground Equipment CO.,LTD Says:
Hi Navin: Good day! Please check the cataloge in your email, please share the details information of the place you have.

Prachi Jain Says:
Hi, nice blog. It is a very descriptive and informative blog. The outdoor playground is very beneficial for children. It can be placed in schools, colleges, resorts, and restaurants, etc.

Angel Playground Equipment CO.,LTD Says:
Thanks

Godwin Chukwurah Says:
Request quote for different products

Angel Playground Equipment CO.,LTD Says:
Thanks! Please check our reply by email.
Leave a Reply
Your Phone & Email address will not be published. Required fields are mareded*