Outdoor Play Structures Has to Encourage Kids to Wash Their Hands as Often as Possible
Views: 2988 Update date: Jun 25,2017
Most kids have the bad habit of sucking their fingers, which is a very harmful behavior to their health, because the bacterial that their fingers carry are enormous enough to lead to some serious disease. Such impact will even be worse in public places like schools, outdoor play structures and so on. It is urgent to help kids get rid of the bad habit as soon as possible. However, though parents can watch their children behavior at home, it is impossible to keep an eye on them every day when they are out for work. So outdoor play structures should take the responsibility to keep on asking children to washes their hands from time to time while they are having fun by playing on it.
To begin with, children haven't got a well developed immune system as adults do, bacterial carried by their fingers sometimes are hard to be defeated by their body, and as a result, they will catch cold, start to cough and catch other diseases. Once one kids are sick, others will be easily get infected, which is the last thing that parents and the outdoor play structure managers want to see. So the importance of washing hands frequently should be overstated for sale of children's health.
In addition, though the behavior of washing hands is a trivial thing in our life, it indeed benefit people for the whole life. The earlier we learned that, the more benefit we will gain. Children who built up the habit in the outdoor play structure will bring it back home and will influence more kids who over look the habit of washing hands frequently. The habit for kids should at last become something as natural as having meals or sleeping, which they will be spontaneous to do that for a life-long time.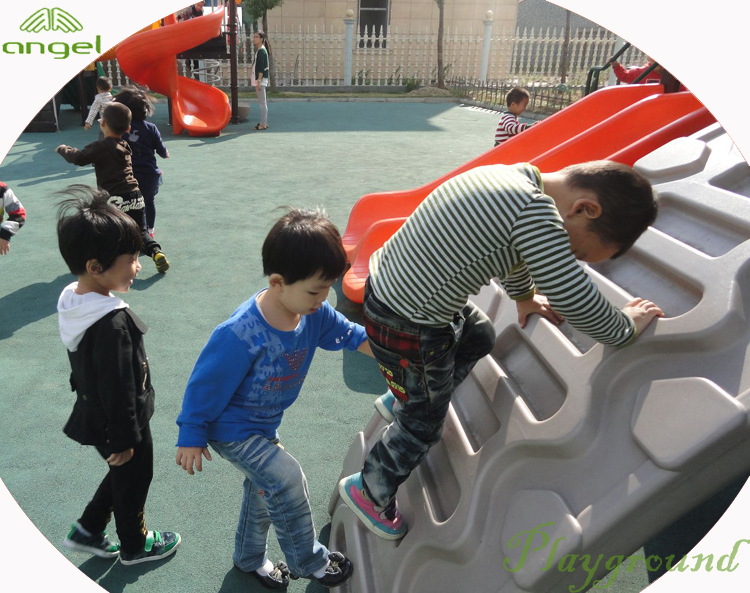 Last but not least, children keep their hands clean will also do good to others, too. Bacterial can also be passed through handing food among children, in the process of food passing, the bacterial amounted in the food can harm kids who eat it. Therefore, it is never too late to send the kids to the wash room to clean their hand before eating in the outdoor play structures.
All in all, since we learned the necessity and significant of hands washing for kids, it is not only the outdoor play structures should set up to focus on it, but also all the other public places for kids to study and have fun.
Copyright Reserved by Angel Playground Equipment Co.,Ltd.
Comments

Hans Says:
Does the cost include shipping and container cost? To USA? total cost ?

Angel Playground Equipment CO.,LTD Says:
Hi Hans: The price we show online is FOB price, Shipping cost not including, you need advise which port or exactly address for we to check the freight.

Stephanie Says:
we have about 1400 square feet would it be possible for you to send us what you have available for that amount of space along with costs?

Angel Playground Equipment CO.,LTD Says:
For 14000sqft place usually cost around USD20,000. the final cost need to check with your real layout of the place.

Navin Vaishnav Says:
Hello, Please share Quotation list for indoor play grounds. Also mention other costs like Shipping, installation and taxes ( for India). Thanks a lot..

Angel Playground Equipment CO.,LTD Says:
Hi Navin: Good day! Please check the cataloge in your email, please share the details information of the place you have.

Prachi Jain Says:
Hi, nice blog. It is a very descriptive and informative blog. The outdoor playground is very beneficial for children. It can be placed in schools, colleges, resorts, and restaurants, etc.

Angel Playground Equipment CO.,LTD Says:
Thanks

Godwin Chukwurah Says:
Request quote for different products

Angel Playground Equipment CO.,LTD Says:
Thanks! Please check our reply by email.
Leave a Reply
Your Phone & Email address will not be published. Required fields are mareded*