Key Study Skills in the Indoor Playground Equipment
Views: 2739 Update date: Jun 22,2017
As indoor playground equipment are becoming more and more accessible in people's life, kids would almost go there to have fun every day after school. However, without the direction of adults, it is likely that kids can learn nothing there except for how to play some of the activities. They can get no improvement after spending long time there. And this is not the final purpose of indoor playground equipment for children. Therefore, it is of great necessity that parents or babysitter help to teach them some key study skills to promote their ability in learning.
The first thing that adults are supposed to do is to make good use of indoor playground equipment and activities to help kids to remove distractions and improve concentration. As it is common problem among kids who have just went to schools for the first year that they can seldom concentrate in classes. While indoor play structures exactly provide kids with activities to strengthen their concentration, thus getting parent out of the trouble of worrying about their children's ability to learn.
The second useful skill that kids need to acquire is that indoor playground equipment is an efficient tool to force kids to maintain a balance between homework and other activities. For example, indoor play equipment can be used as a reward for kids who finish their home work, and at the same time, certain relaxation in indoor playground equipment will in return aggravate their passion in studying. Once the balanced is achieved, it will be much easier for kids to do their homework before you asked them to do so.
Third, playing in indoor playground equipment after school is a good way to reduce stress. Most kids today are under pressure of achieving good grades so that they won't fall behind others. While kids who are pressed to study all day long are suffering from the problem of getting near-sighted, big being creative and active and some even lack the capability of socializing. And these are all indispensable characters of kids in the 21st century. If kids can learn to make good use of indoor play structure, they'll find their life brighter and study not as depressed as it was before.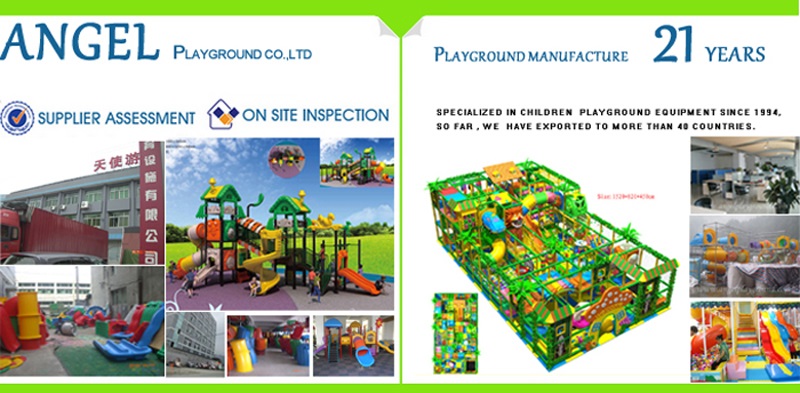 Finally, there are numerous skills for kids to learn in indoor playground equipment, and the above mentions skills is only a small part of the whole system. As long as both kids and parents view the world with a creative view, then everywhere in their life can be a source of abundant knowledge.
Copyright Reserved by Angel Playground Equipment Co.,Ltd
Comments

Hans Says:
Does the cost include shipping and container cost? To USA? total cost ?

Angel Playground Equipment CO.,LTD Says:
Hi Hans: The price we show online is FOB price, Shipping cost not including, you need advise which port or exactly address for we to check the freight.

Stephanie Says:
we have about 1400 square feet would it be possible for you to send us what you have available for that amount of space along with costs?

Angel Playground Equipment CO.,LTD Says:
For 14000sqft place usually cost around USD20,000. the final cost need to check with your real layout of the place.

Navin Vaishnav Says:
Hello, Please share Quotation list for indoor play grounds. Also mention other costs like Shipping, installation and taxes ( for India). Thanks a lot..

Angel Playground Equipment CO.,LTD Says:
Hi Navin: Good day! Please check the cataloge in your email, please share the details information of the place you have.

Prachi Jain Says:
Hi, nice blog. It is a very descriptive and informative blog. The outdoor playground is very beneficial for children. It can be placed in schools, colleges, resorts, and restaurants, etc.

Angel Playground Equipment CO.,LTD Says:
Thanks

Godwin Chukwurah Says:
Request quote for different products

Angel Playground Equipment CO.,LTD Says:
Thanks! Please check our reply by email.
Leave a Reply
Your Phone & Email address will not be published. Required fields are mareded*