Kids Trampoline
Product Description
Send Inquiry
Top Sale trampoline park, free design customized trampoline, dodgeball trampoline, kids indoor trampoline
Size(m): 1640x1000x250
Code:indoor-trampoline-hp-jc002
Jumping Mat: Imported from United Stated
Foam Pad: EPE, waterproof closed-cell foam, not easy to lose shape
Pad: 0.45mm thick PVC, anti-water and anti-mildew
Tubes: Galvanized Steel Pipe, Powder Coated
Size: 50*100mm
Thickness: 3.5mm, can be customized
Springs:19cm and 21cm not extended length, super high-strength Chrome plated, of good elastic performance
Trampoline mat: Professional Olympic trampoline mats available
Age Range: Above 5 years old
Certification Approval: CE Certificate, TUV..
Packing: Cotton & Plastic film
Remarks: Kids should play under supervision and instruction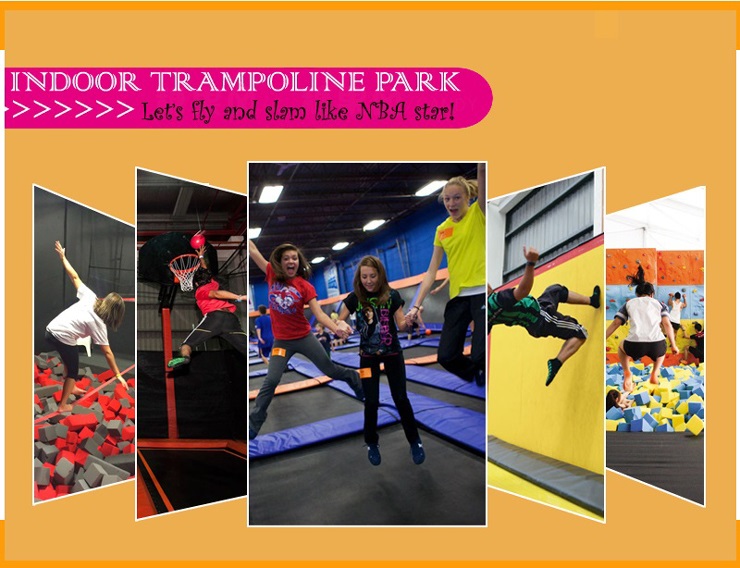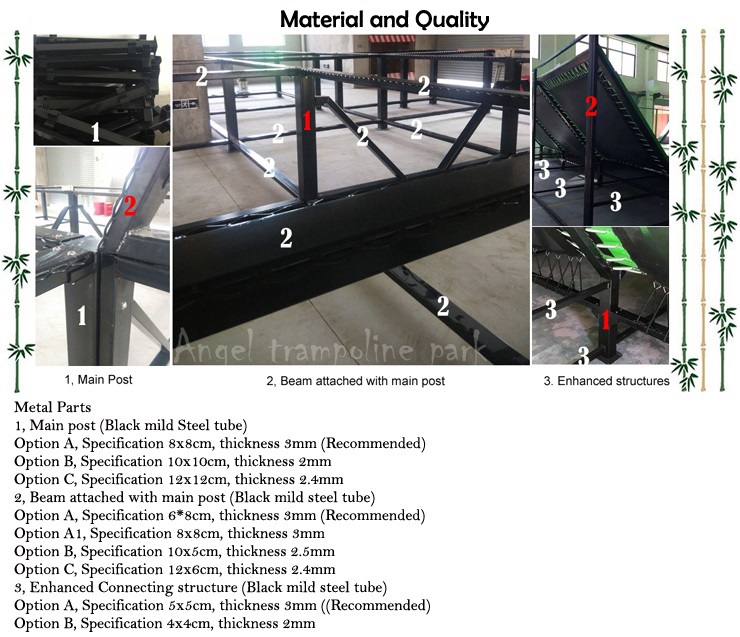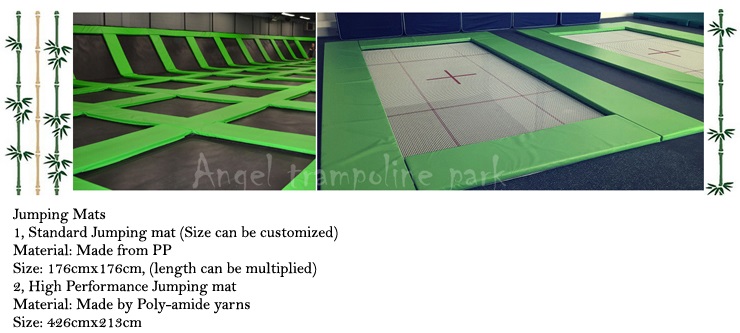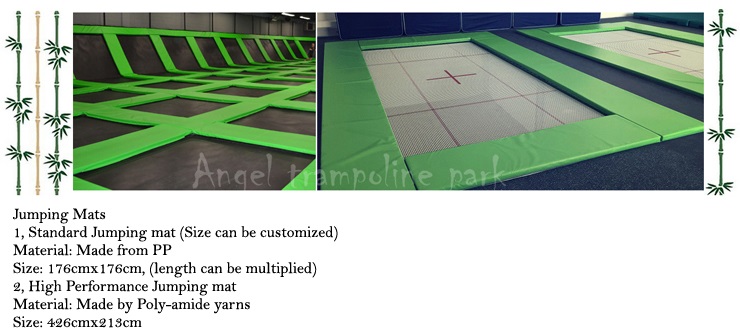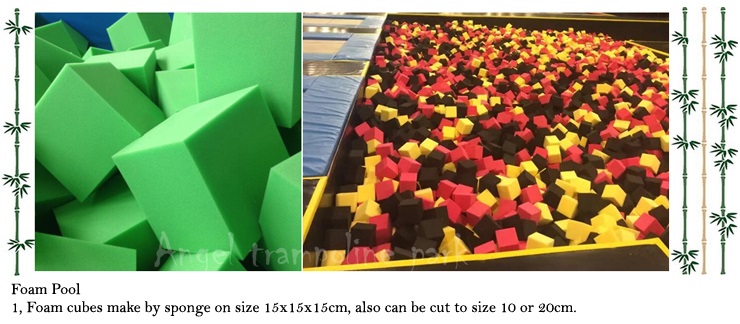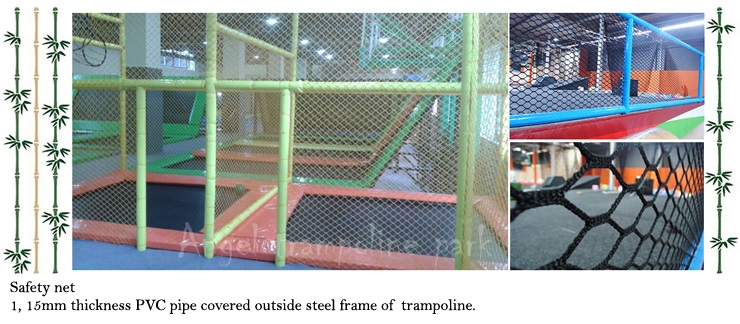 Children Like Trampoline Park for
Its Exciting Activities
Playgrounds of different kinds hold
different attractions to children, but they share the same function in amusing
kids. Take the trampoline park for example, some kids dare not to take a try for
they are afraid of getting hurt, while others love it for activities in
trampoline park are more exciting than that in other indoor playground. As
parents, they shouldn't interfere children's decision to choose a playground
that they like to stay. Then what kind of exciting activities there are in the
trampoline park? Let's have a chitchat about it.
Firstly, children can take the
chance of jumping freely without their parents criticizing them beside their
ears. In the trampoline park, jumping is a normal activity here rather than a
mischievous action of naughty kids. Most kids like to jump, it is common to see
them jumping on the sofa, on the bed, and even on the stairs. However, jumping
on furniture is something dangerous for children because they've got no
protection from injuries. Therefore, their parents would always stop them from
doing so. But when in trampoline park, things will be different, children can
get both protections as well as amusement.
Secondly, children can so activities
freely in the trampoline part because there are spacious rooms for them to jump
around. Jumping equipment is soft and flexible, which will leave children a very
good impression when they are touch the material. Different from the playing
equipment in indoor playground, devices in the trampoline park are always tender
and comfortable. Children like soft things much more than hard and cold
equipment.
Thirdly, trampoline park provides
children with a spacious room where they can have fun with any other kids here.
They can even invite their parents to join them and have fun. They can play
games under the organization of the tutors, and these games enable them to
experience the happiness that they can seldom enjoy in normal playground. The
tasks in these activities may be much difficult for the kids to complete but it
is not bad to have kids get used to the life of some challenges. In conclusion,
with the development of technical, trampoline parks are no as dangerous as
parents thought to be, and most kids will have a great time having fun there
instead of getting themselves hurt. So, if your kids are fond of exciting games
and it wise action for parents satisfy their eagerness by taking them to the
trampoline park. I'm sure they'll like and it would not discount you,
either.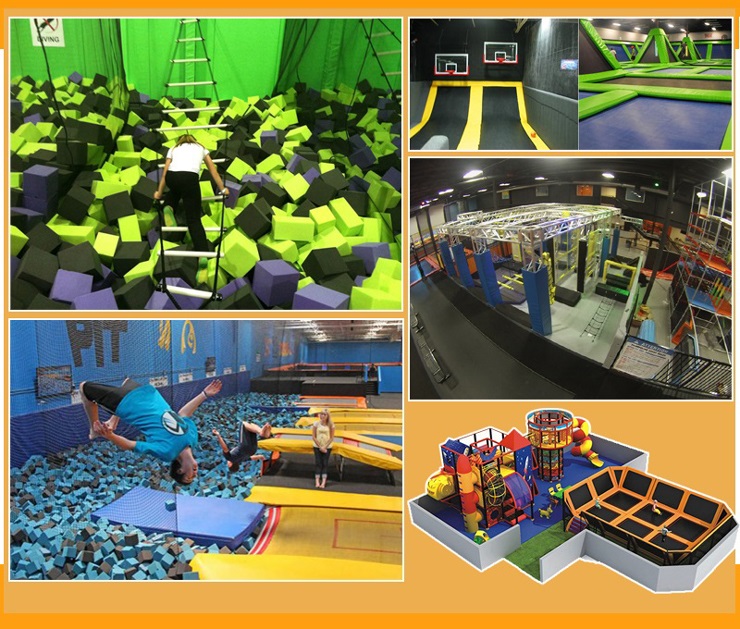 Reviews


Martha Dayns Says:
I want this item. How do I buy it and how much is shipping...

Angel Playground Equipment CO.,LTD Says:
Please advise shipping to where, so we can check the freight.


zoie wallace Says:
What is the pricing range on the What is project games?

Angel Playground Equipment CO.,LTD Says:
Thanks, Price of project games have share by email, please check!


Roberto Garcia Says:
Hello I'd like to know the orice please. thank you best regards

Angel Playground Equipment CO.,LTD Says:
Hi! Price list have share to you on email, please check


Lamberto Tudela Says:
Goodnight,I am interested in your signature products. I need to know if you have representation in Spain. Greetings.

Angel Playground Equipment CO.,LTD Says:
Hi: We have some clients from Spain, so far no agency! You can buy directly from us. More details please check email


colin Adams Says:
my intrest lays in your Family Enteraiment Center as Exposed- Price: delivered to Germany wizh kind regards, Colin Adams

Angel Playground Equipment CO.,LTD Says:
Thanks! Please check reply on your email.
Add a Review
Your Phone & Email address will not be published. Required fields are mareded*
ANY QUESTION?