Indoor jungle gym is efficient in cultivating sweet kids
Views: 3035 Update date: Jun 20,2017
The development of the society has changed a lot of things in people's life, as witnessed by the transportation, people's lifestyle, eating habit as well as people's way of education. Kids today are educated to be smarter and more intelligent, but not to be sweet. Why? Is it because the character worth little attention? Maybe not. It is because parents expect other things that they counts more, such as good grades, the master of special skills, or the ability to get along with others. But few expect their kids to be sweet girls or boys. Some say the character of being sweet is a born nature that parents can seldom change, while as far as I'm concerned, this has much to do with their education and living environment. And I always believe that a good indoor jungle gym can help parents to cultivate a sweet kid.
On the one hand, when kids are in a group where they seldom know each other, the only way to make new friends is by being nice and sweet to others. If they behave as they do at home and always turn a cold face to others, it is hard for them to make any good friends. And if they have failed to make friends, their life in the indoor jungle gym will end up in sorrow. Will children give up having fun in the indoor jungle gym for they don't want to change their character to satisfy other children? May be some of them will do that, but most children, according to a research, will behave to be more friendly so as to get themselves accustomed to the environment and to find several partners in a game.
On the other hand, the reason that leads to kids cold character could be the influence of their parents. People of different works turn to be of varied characters. For example, teachers tend to be more serious at their children because their belief is that a kid's behavior somewhat reveal the quality of the family. In such families, kids would be more cautious in doing things and be more prudent in talking and playing. While kids who from families where their parents are business men, they are given more freedom in choosing, which will lead to a more outgoing character. But the lack of family education would also result in some fault in characters. So kids are in need of an indoor jungle gym to polish their character so that they can be both sweet and independent children.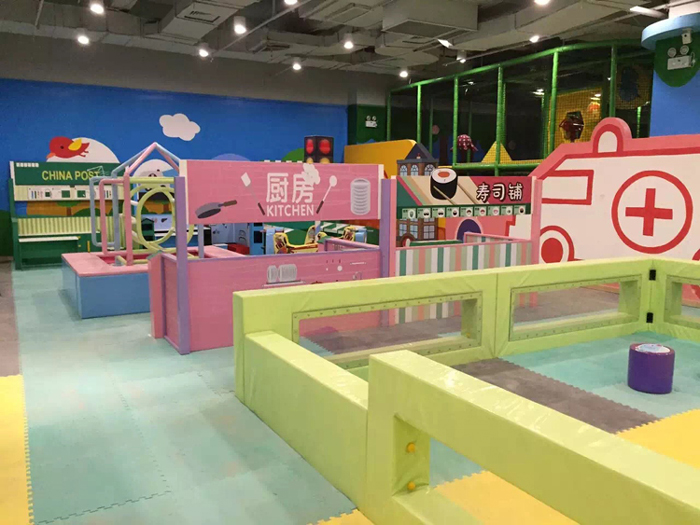 Generally speaking, kids are like mud that can be kneaded into different shapes. They are like angels, all with innocent and clear heart. As parents, our job is to lead them to a way that improves them, builds them. Indoor jungle gym is just one of the ways. The last thing we should do is to have the children walk on the way that we wish them to be. And this is the secret of having a sweet kid.
Copy right by Angel playground equipment©
please site the origination when you quote the information!
Comments

Hans Says:
Does the cost include shipping and container cost? To USA? total cost ?

Angel Playground Equipment CO.,LTD Says:
Hi Hans: The price we show online is FOB price, Shipping cost not including, you need advise which port or exactly address for we to check the freight.

Stephanie Says:
we have about 1400 square feet would it be possible for you to send us what you have available for that amount of space along with costs?

Angel Playground Equipment CO.,LTD Says:
For 14000sqft place usually cost around USD20,000. the final cost need to check with your real layout of the place.

Navin Vaishnav Says:
Hello, Please share Quotation list for indoor play grounds. Also mention other costs like Shipping, installation and taxes ( for India). Thanks a lot..

Angel Playground Equipment CO.,LTD Says:
Hi Navin: Good day! Please check the cataloge in your email, please share the details information of the place you have.

Prachi Jain Says:
Hi, nice blog. It is a very descriptive and informative blog. The outdoor playground is very beneficial for children. It can be placed in schools, colleges, resorts, and restaurants, etc.

Angel Playground Equipment CO.,LTD Says:
Thanks

Godwin Chukwurah Says:
Request quote for different products

Angel Playground Equipment CO.,LTD Says:
Thanks! Please check our reply by email.
Leave a Reply
Your Phone & Email address will not be published. Required fields are mareded*