Forest Theme
Product Description
Send Inquiry
Kids outdoor playground for supermarket on high quality!
21 years on kids outdoor playground business, Best Supplier in playground!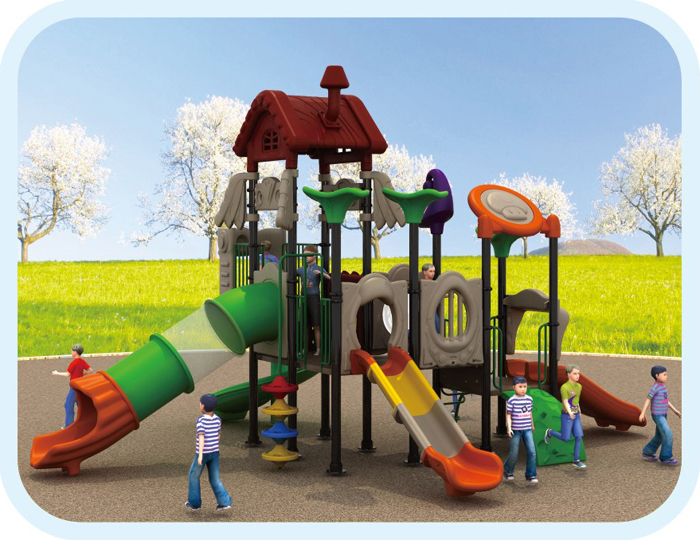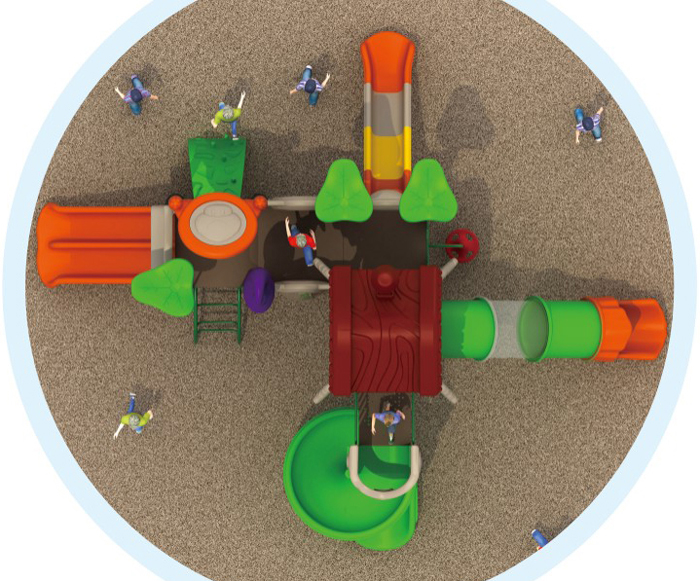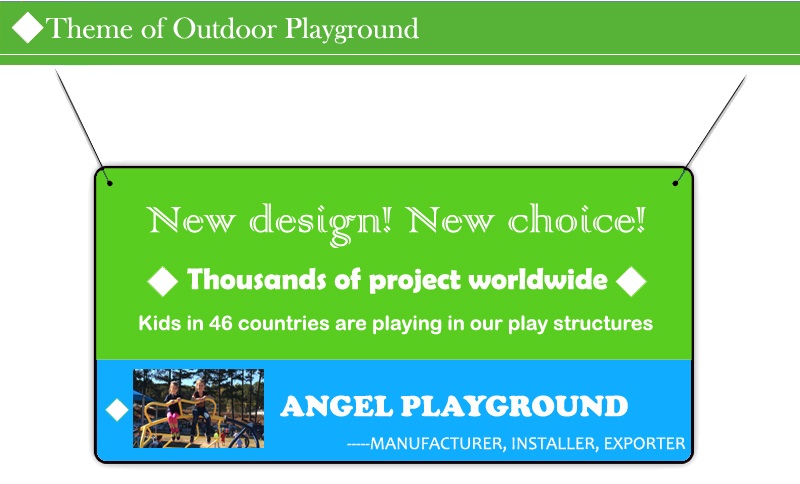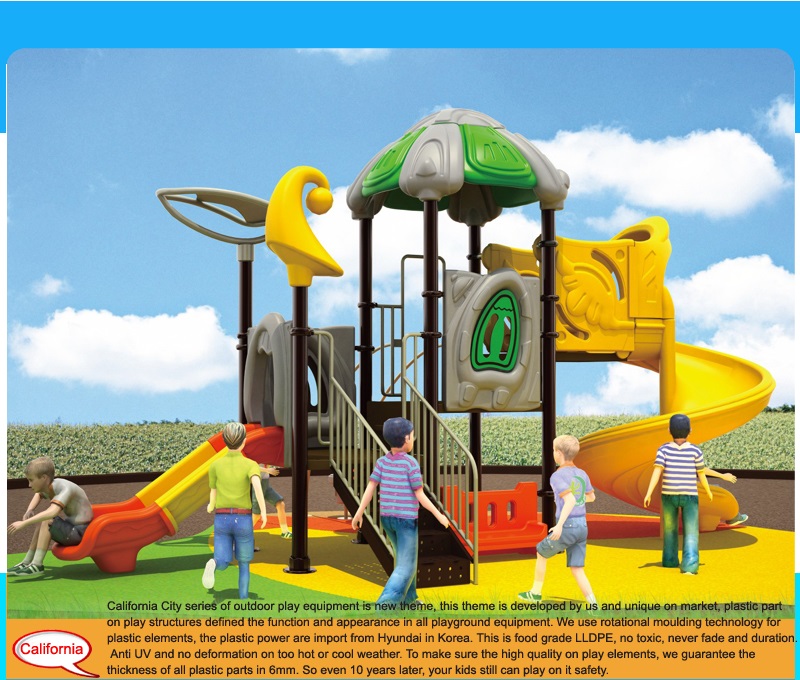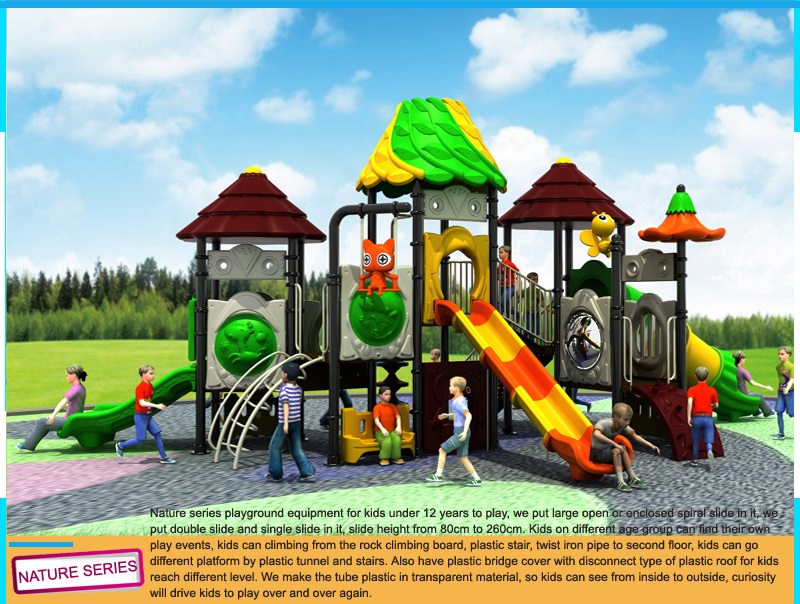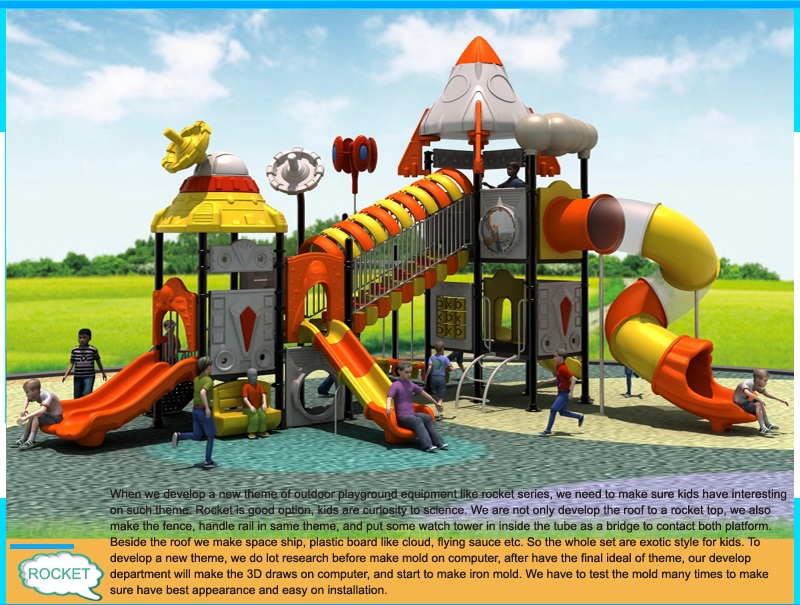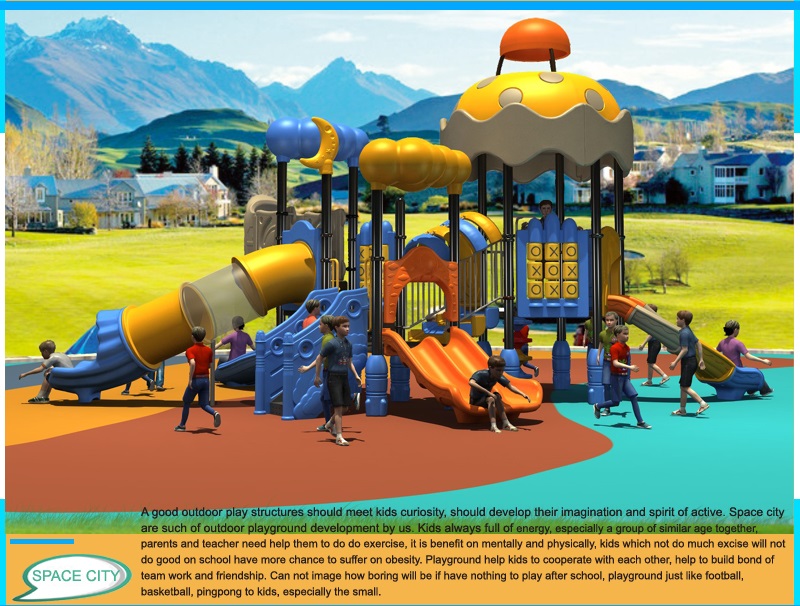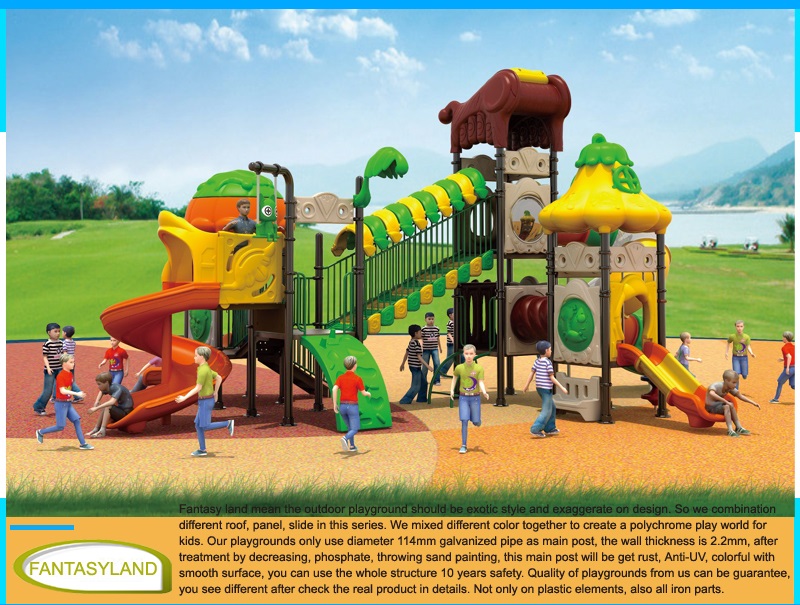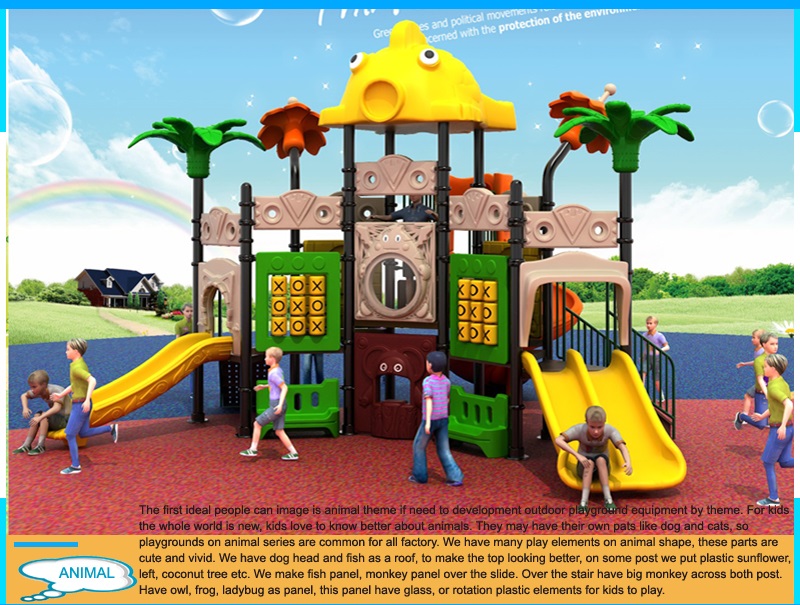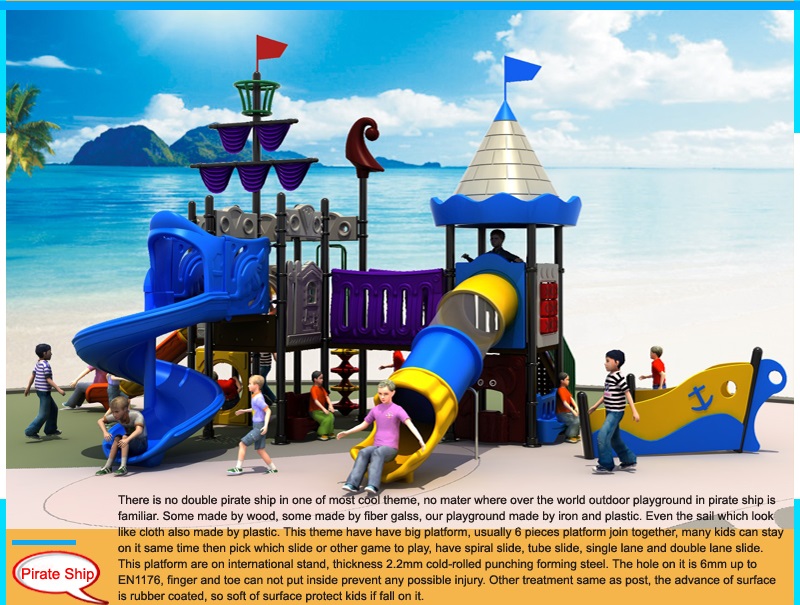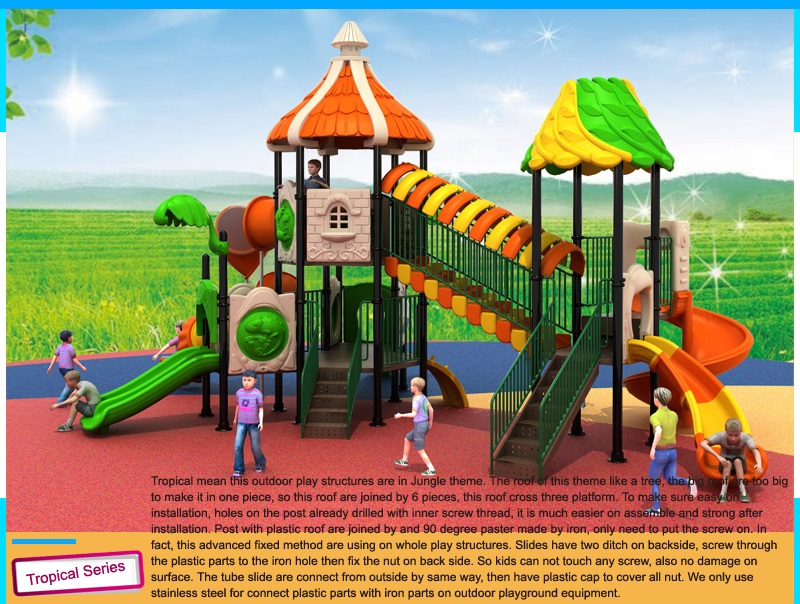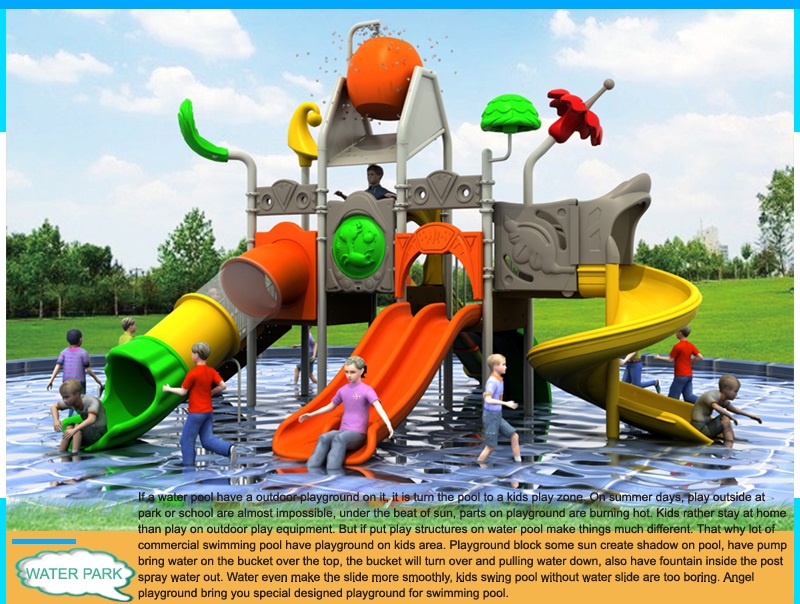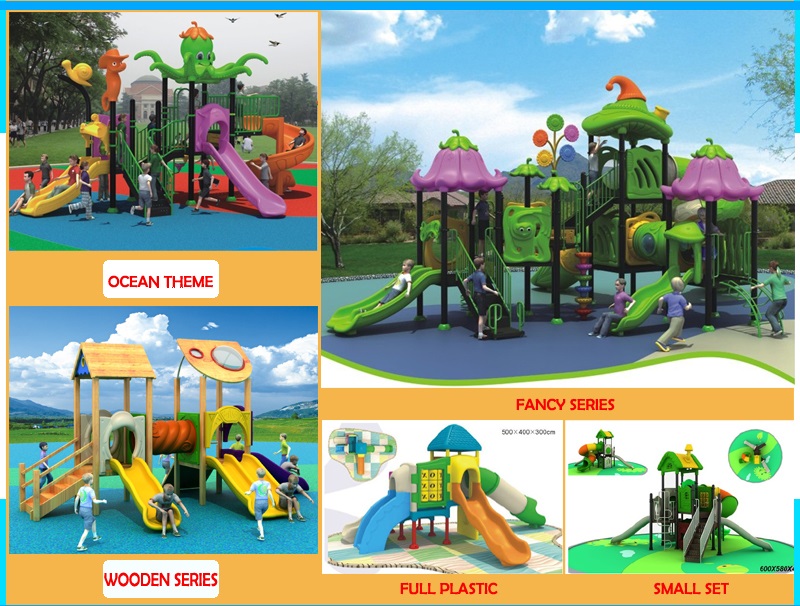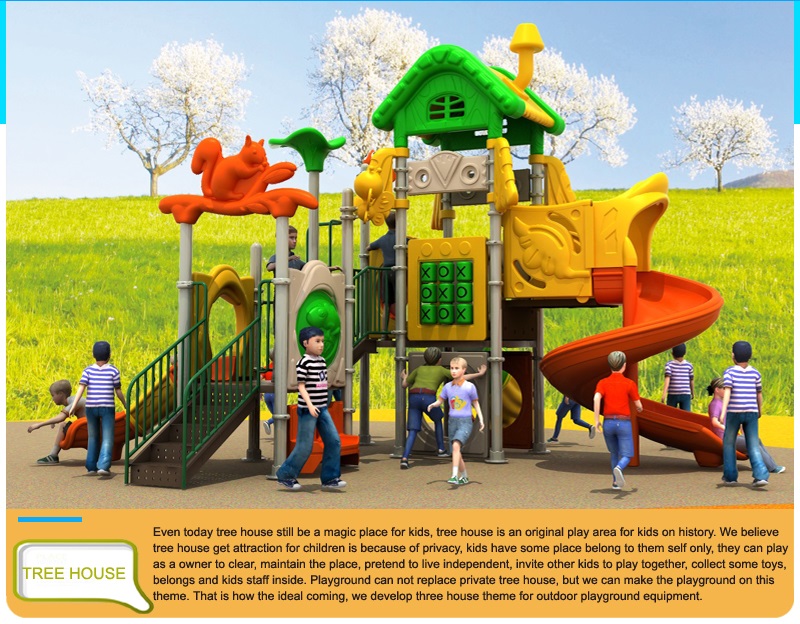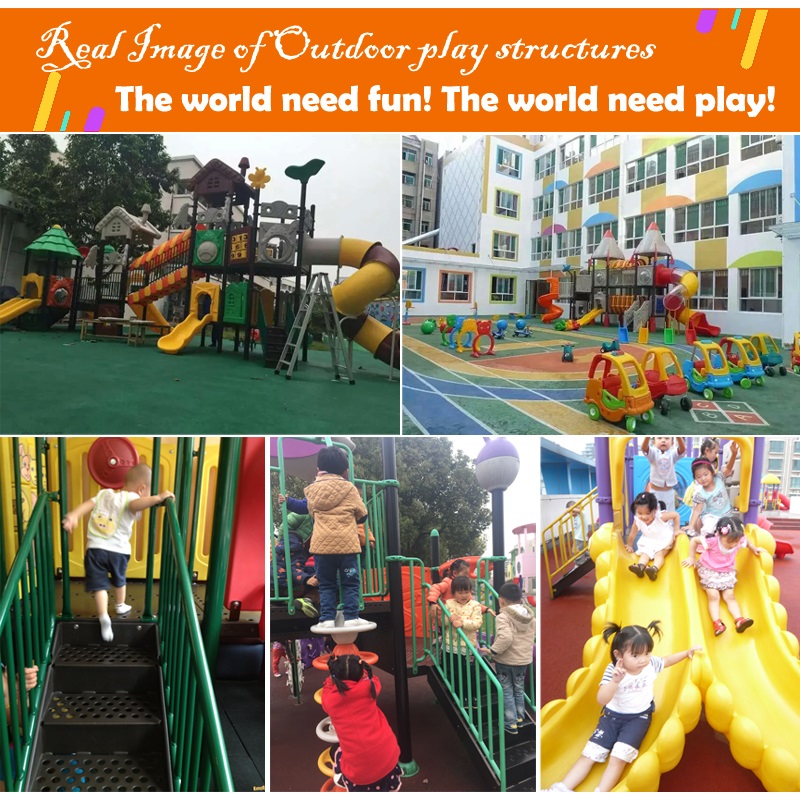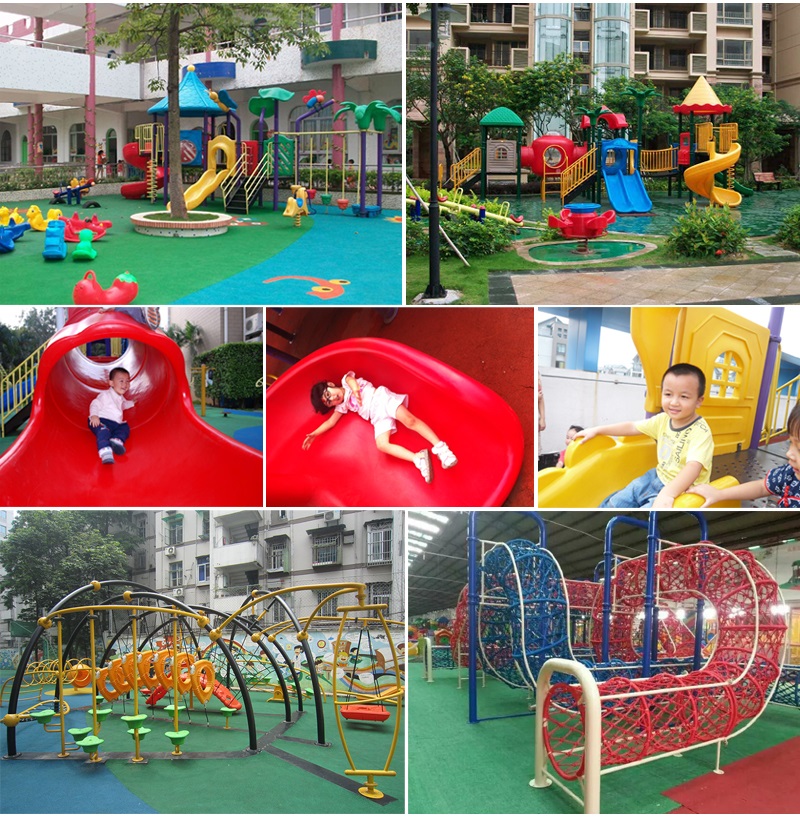 On the necessity for children to go outdoor playground
Knowledge maybe roughly acquired from two sources: books and experience. The latter is no less valuable than the former, and the best means for getting knowledge of the latter is to go outdoor playground for children. Only by going outdoor playground can children see things beyond the theory and the concept. For example, suppose you children have heard and read about spook house, and have ever learned it very terrified from partners who have been to, but they have a very vague idea of it unless they have personally visited it. Therefore, it is indispensable for parents to take the kids to go some outdoor playground.
Fist of all, going outdoor playground can widen children's knowledge and broaden children's horizons. They can also get the knowledge of geography, customs, cultures and lifestyle of the different places and countries. During the process of playing, kids can make more friends and know more about the origin of some devices in fairground. Such as merry-go-round, sky wheels, and so on. Moreover, going for outdoor playground is also one of the best ways of pastime. After long period of hard and tense study, kids can relax themselves completely by enjoying playing sky wheels, looking down to the earth, experiencing the spook house in flesh. At the meanwhile, parents can also relax themselves after long time hard and tense work when they company with the kids.
Secondly, going outdoor playground is good for health. One who keeps him indoors all day long is likely to be sick. Both kids and parents get the chance to jump, walk on foot, do more exercises and inhale more fresh air. Health is the most important thing in our life. As an old saying goes: "he who health has hope, and he who has hope has everything." Besides, it can build kids' personality. Kids will become braver. Once they come to attend some school activities, for example, summer camp, they will not feel upset and anxious. In addition, kids will have a good time and gain a large amount of knowledge during the summer camp.
Thirdly, as the proverb says: "everybody should strike a balance between work and rest." In another word, one wants to do work efficiently, he should have a good rest first. Not only adults but also kids need making a balance between work and rest. After all, energy is limited. Furthermore, it can also promote the relationships between children and parents and have more conversations with each other. And finally, they may become close friends. When the kids meet some trouble about how to deal with the relationship between their boyfriends or girlfriend, they will have no full of worries to frighten to talk with parents and ask for some advice. Hence, it is necessary for kids to be taken to outdoor playground.
Nowadays, with all the comforts available in route and the thrilling speed, more and more parents take the kids to other big cities and other countries' outdoor playground just for the pleasure and sightseeing. Going outdoor playground is really beneficial in many ways. It is well worth our time and money.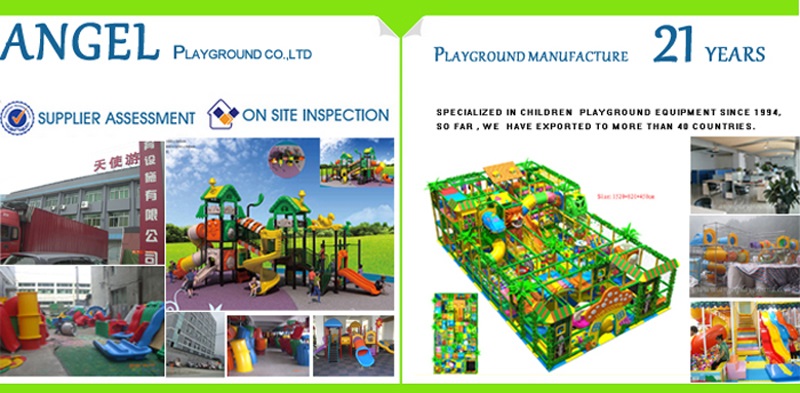 Reviews


MONICA FOFANAH Says:
HELLO, I'D LOVE TO HAVE A CATALOG. I'M INTERESTEDIN INESTING IN A PLAYAREA PLAYGROUND FOR TODDLERS.

Angel Playground Equipment CO.,LTD Says:
Thanks for your inquiry, Have share information by email, please check and advise room size for we to make final proposal.


Akram Yaslam Says:
I'd like to get an email of your catalogue and pricing please

Angel Playground Equipment CO.,LTD Says:
Thanks for leave us message online, please check our catalogue in attachment of email, waiting for your reply on the floor plan.


Samantha Mechling Says:
Trying to collect more information about space and indoor playground possibilities. Could I please have more information and a catalog? Thanks

Angel Playground Equipment CO.,LTD Says:
We are pleasure to make proposal for you indoor playground, please check cataloge on your email.


Jennifer Z. Says:
Can you please email me a catalog with your soft play equipments? , indoor playground.I want to start my business ,this would be really helpful ! Thank you in Advance.

Angel Playground Equipment CO.,LTD Says:
Hi Jennifer. Thanks for contact, Have share you price list of soft play and process of purchase indoor playground by email, please have a look.


Lourdes Says:
Buenos días Quisiera recibir más información sobre vuestros productos. ¿Sería posible el envío de un catálogo? Gracias.

Angel Playground Equipment CO.,LTD Says:
Gracias por ponerse en contacto con nosotros! ¿Sabes hablar inglés? Estamos muy bien placer de hacer la propuesta para su área de juego interior. Por favor, compruebe el proceso a continuación y advsie su plan: 1, Diseño: 100% personalizado, por favor envíenos el plano de planta en el archivo CAD para un nuevo diseño (por lo general, tome 2-3 días). A, Para asegurarse de que el diseño se ajuste perfecto, marque la información en el plano de planta (altura limpia, entrada, ubicación y tamaño de la columna, lugar para la sala de lavado, café, sala de fiestas, etc.) B, Se puede personalizar (color, tema, componentes) de acuerdo con el presupuesto previsto. 2, Producción: Nuestro tiempo de liderazgo del producto es de 15-30 días dependen del diseño. Haremos la instalación de prueba antes de la entrega (pieza de metal y plástico), proporcionaremos imágenes reales y diagrama de instalación 3D, para obtener más detalles, haga clic en (Proyecto-Instalación) en nuestro sitio web. 3, Podemos cuidar de Delviery (Por favor, avise el envío a qué puerto). Mucho diseño en nuestro sitio web con precio FOB en EE. UU. Dólar, Deseo que pueda obtener el ideal de costo aproximado. Cualquier pregunta por favor no dude en ponerse en contacto!
Add a Review
Your Phone & Email address will not be published. Required fields are mareded*
ANY QUESTION?