Amazing Ways to Make Children's Play Area More Enthralling
Views: 3444 Update date: Feb 26,2020
Amazing Ways to Make Children's Play Area More Enthralling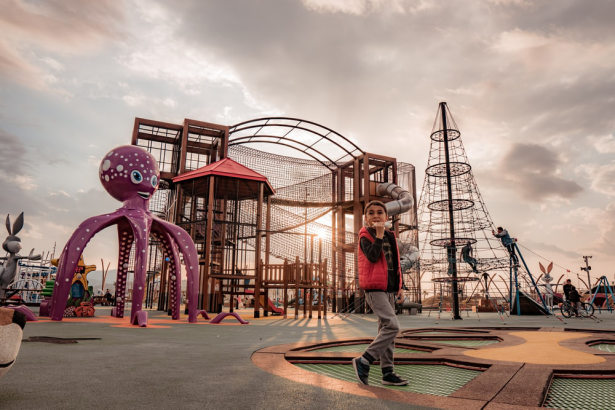 An exciting play area can help kids get some fresh air and physical activity, which is crucial for staying happy and healthy.
In this article, we will share some fantastic tips and tricks to make your play area fun and safe without investing in an expensive
nanny cam for monitoring your kids outdoors.
Tips to Revamp an Outdoor Kids Play Area
The following are some quick and easy ways that can motivate your kids to play and enjoy outdoors. This helps in strengthening
their imagination, creativity, motor, and social skills.
Experimenting With Different Themes for a Play Area
Using a theme to set up a play area gives it a distinctive feel and identity. You can either opt for a forest, nature, ocean, space or
a fun waterpark theme. You can even create a fun fitness area for kids where kids can practice climbing, hanging and drilling.
A Special Playhouse for Kids
A colorful playhouse is probably the most popular element for any outdoor or indoor play area for kids. A play area has
numerous benefits for kids. It helps kids to play with their imagination and create new friends. Kids can even play different
board games inside a playhouse. They can also decorate it with their stuff toys, figurines, and paintings.
Inflatable Trampolines
According to a study made by NASA, a person can burn more calories by jumping on a trampoline than running.
A trampoline, therefore, is a fun way to let kids work out and stay active, especially if they are overweight and do not play
outdoors.
Moreover, there is no age limit for jumping on a trampoline. It is an equally fun activity for kids and adults. Therefore,
a trampoline installed in a play area is an excellent way for families to enjoy and have some quality time together.
Also, there are various other benefits of playing with a trampoline. Firstly, it helps to help to improve the brain-body
coordination. Secondly, it enhances a person's motor skills. Lastly, it is useful in strengthening weak muscles, joints, or ligaments.
Other Playground Equipment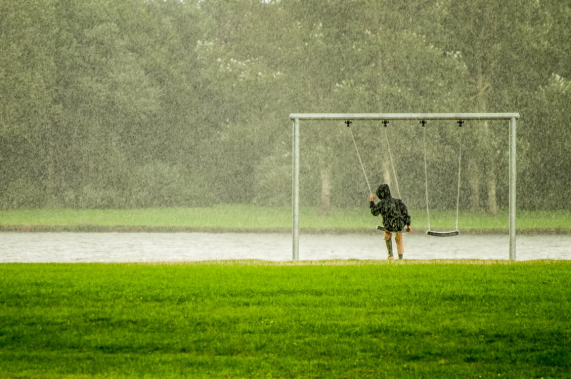 No outdoor play area is complete without fun slides, climbers, seesaws, swings, and roundabouts. It is excellent for kids of all
ages and helps to keep kids active and energetic all day long.
Nevertheless, there are certain things that you need to take care of while setting up a play area to avoid any accidents or injuries.
You need to consider the play area's ground surface, layout, equipment, and maintenance.
· While installing heavy playground equipment, make sure to check the ground surface first. It should be soft enough to
provide a cushion in case someone falls off from a swing or a slide.
· Avoid using concrete, soil, or grass. Placing sand, rubber mats or even wood chips on the ground area under the swings
is a safer option.
· Try to set your play area in a place where there aren't many trees, walls, cables, electrical wiring, or hard surfaces.
· Always invest in high-quality equipment that has all the necessary safety features. Whether it is a simple swing or an
intricate climbing frame, make sure to assemble and install it correctly.
· Always read the manufacturer's instructions first. Make sure to check the equipment regularly to avoid any possible
accidents. Make sure to check out any signs of cracks, rust, or corrosion in the material. All equipment needs to be
firmly installed on the ground.
· It is equally important to monitor kids when they play outdoors. Make sure that the swings they are riding are
appropriate for their size and age.
Using Play Area to Celebrate Special Occasions
Instead of renting a venue for celebrating birthdays or other events for kids, you easily organize one in your backyard or play area.
You can rent high quality bouncer slides and castle. These slides come in various themes, colors, and designs and are readily
available for rent at Angels Equipment.
You can select one according to the theme of your party. Similarly, they come in various sizes as well. Therefore, in case you have
very limited space, you can select one based on the size of your backyard or play area.
Comments

Rajit Says:
Already have an indoor playground of 5000sqft, looking for a new outlet, what do you suggest for 15000sqft space?

Angel Playground Equipment CO.,LTD Says:
Indoor Playground is 100% customzied, We will make proposal as soon as you provide layout to us, Please check projects files in your email for reference!

Kerry Somerville-Brown Says:
request for a catalog. Can you send it please? Thank you. Kerry

Angel Playground Equipment CO.,LTD Says:
Hi Kerry: Please check files in your email, we have advise the process of order kids playground, please follow.

Mayra Says:
Buenas tardes me interesa adquirir un área de juegos

Angel Playground Equipment CO.,LTD Says:
Gracias por su mensaje, por favor revise nuestra respuesta por correo electrónico, Esperando obtener más información de su lado

william fore Says:
Looking for the musical items

Angel Playground Equipment CO.,LTD Says:
Hi William: Thanks for your message on the outdoor playsets, Cataloge please check your email.

Hans Says:
Does the cost include shipping and container cost? To USA? total cost ?

Angel Playground Equipment CO.,LTD Says:
Hi Hans: Price we offer online is FOB price, shipping does not including, Please advise items you need and quantity, Also port name for check freight. Same message have reply to you by email.
Leave a Reply
Your Phone & Email address will not be published. Required fields are mareded*