Is it acceptable to have your children stay in the indoor playgr
Views: 2827 Update date: Jun 21,2017
Undeniably, indoor playground has already been a very important part of children's life, we can almost say that a childhood without indoor playground is doomed to leave the child with some kind of regret. I remember when I was a kid, indoor playground is something that was seldom heard by me and my peers around me, all we can play with is a small square of land on which we can build up shapeless sand piles with the only tools we can get-- a box or a bucket. Today, indoor playground goes into the life of every kid, the happiness it brought to children has been further testify to the importance of the whole society. Since indoor playground has such an important role in children's life, is it acceptable to have your children stay in there for a long time?
To begin with, indoor playground is the most direct way for children to connect the outside world. Children's learning about the outside world is a long time endeavor that deserve multiple support from parents. In today's society, kids are granted stable source and material support from their parents to receive necessary education but quite limited amount of time to play. Nevertheless, the only time to rest by playing in the indoor playground is deprived of by their school works or their expectation of their parents. So, leaving the kids in the indoor playground doesn't mean that you are ignoring them, on the contrary, most kids wish to be given such a chance to relax there.
Secondly, people regard indoor playground as somewhere waste children's time for they have overestimated the negative influence it had on children. In my opinion, indoor playground has more far-reaching benefits than its bad effect. Parents, when sitting at somewhere in the indoor playground and watching the kids play, will realize that you are making the right choice for them for nothing works better than happiness in the process of children's growing up.
Last but not least, joining physical exercise in the indoor playground helps children to endure pains that they may easily come across in their daily life. It's common to see kids burst out crying after getting a little harm on their body. Through engaging in physical exercise, children would accustom to the trifle pains. By the way, "sub-health" has become a typical word to describe young people who are not in good state of health. I think the same word works well on children. Obesity, remaining too thin, being easily stroked by diseases are all the sub-health phenomenons of children. Therefore, providing kids with enough time to do physical exercises in the indoor playground is rather reasonable.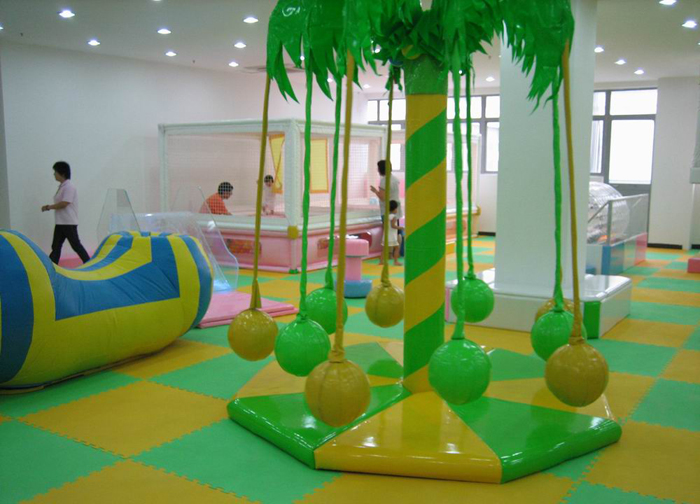 To sum it up, Mao once said that" health is the wealth of revolution". In a sense, the physical exercises provided by the indoor playground paves way to children's health as well as a bright childhood. No matter how much expectation you have on your children, it is necessary to leave them with time for relax in the indoor playground and none will blame you in leaving them there for too long.
Copy right by Angel playground equipment™, please site the origination when you quote the information!
Comments

Hans Says:
Does the cost include shipping and container cost? To USA? total cost ?

Angel Playground Equipment CO.,LTD Says:
Hi Hans: The price we show online is FOB price, Shipping cost not including, you need advise which port or exactly address for we to check the freight.

Stephanie Says:
we have about 1400 square feet would it be possible for you to send us what you have available for that amount of space along with costs?

Angel Playground Equipment CO.,LTD Says:
For 14000sqft place usually cost around USD20,000. the final cost need to check with your real layout of the place.

Navin Vaishnav Says:
Hello, Please share Quotation list for indoor play grounds. Also mention other costs like Shipping, installation and taxes ( for India). Thanks a lot..

Angel Playground Equipment CO.,LTD Says:
Hi Navin: Good day! Please check the cataloge in your email, please share the details information of the place you have.

Prachi Jain Says:
Hi, nice blog. It is a very descriptive and informative blog. The outdoor playground is very beneficial for children. It can be placed in schools, colleges, resorts, and restaurants, etc.

Angel Playground Equipment CO.,LTD Says:
Thanks

Godwin Chukwurah Says:
Request quote for different products

Angel Playground Equipment CO.,LTD Says:
Thanks! Please check our reply by email.
Leave a Reply
Your Phone & Email address will not be published. Required fields are mareded*